The Pig Who Tours the U.S. Reading to Children
The world's least likely literacy ambassador is big and bristly and loves to kiss authority figures.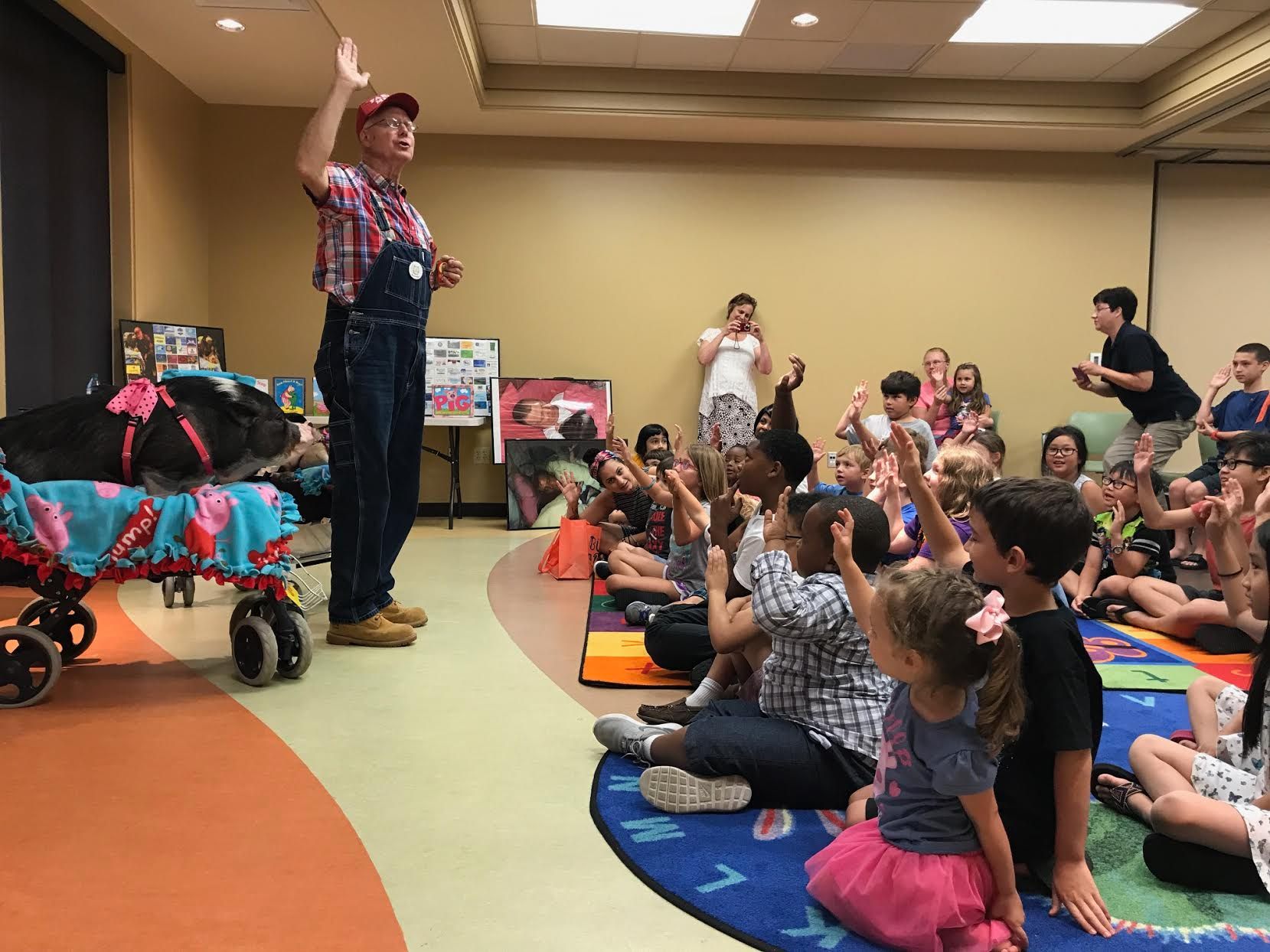 Children's literature is full of pigs. There's Wilbur, the relatable runt who makes interspecies friends in Charlotte's Web. There's Babe, who learns to herd sheep with kindness. And don't forget Olivia, who has had a whole series of picture book adventures in her signature red dress.
For the most recent generation of children, there is also Daisy (and even more recently, Daisy II): potbellied pigs who, like characters loosed from the page, spend much of their lives traveling from library to library, helping to teach children that reading is fun.
It all started, like most fairytales, long ago and far away—in this case, around 1995, in Bristol, Connecticut. Paul and Victoria Minor had just watched their youngest child, Jessica, leave home, and they were starting to feel a bit lonely. One day, Victoria, who'd always wanted a potbellied pig, drove by a sign that advertised piglets for sale. She picked out the runt of the litter, named her Daisy, and brought her home to Paul.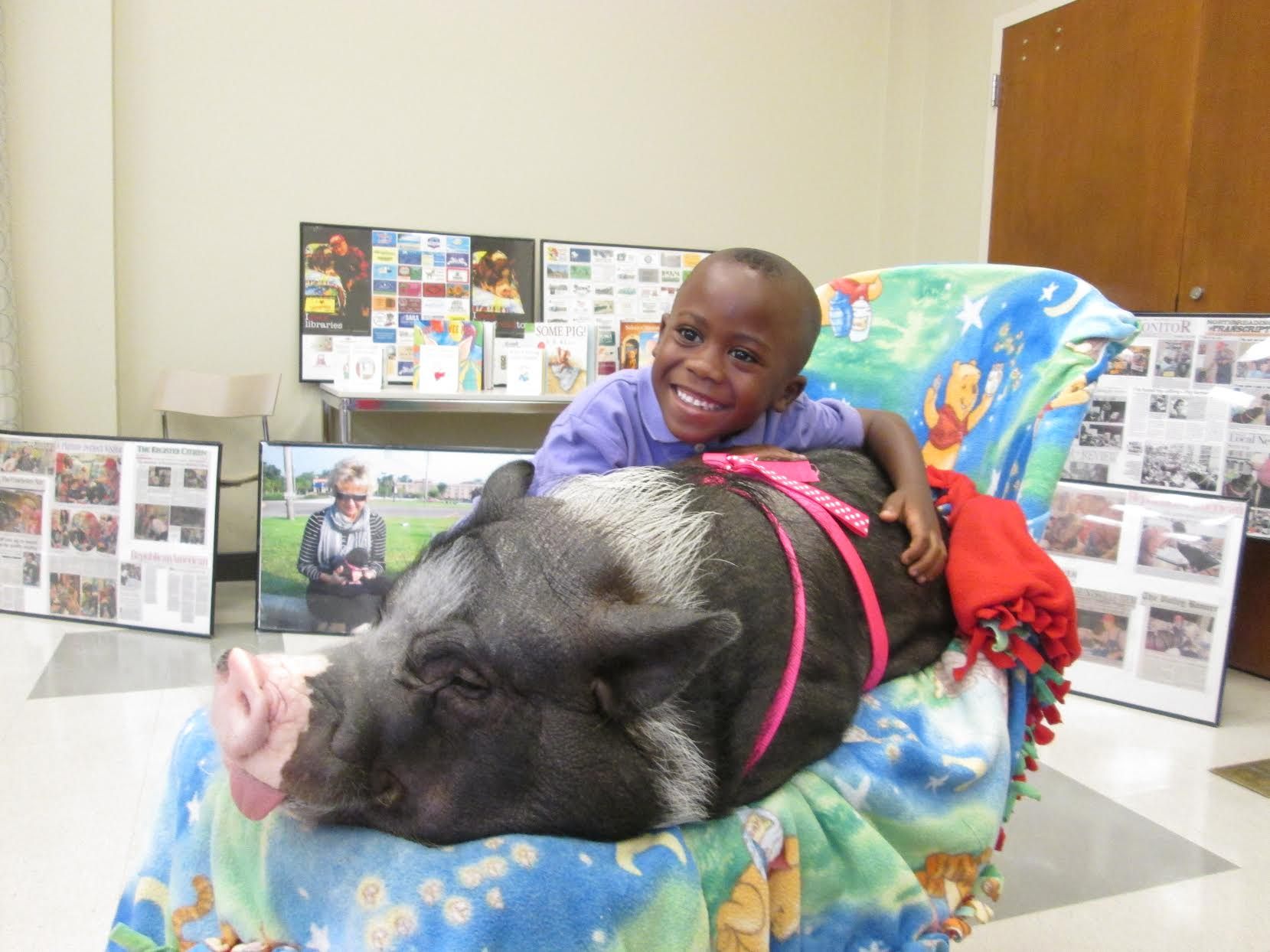 The pig took to her new family immediately, clambering into bed with the Minors on her very first evening home. "We had to get a king-sized bed," says Paul Minor. Her love of humans made her a natural fit for the Boys & Girls Club's annual Kiss-A-Pig fundraiser—in which people pay money in order to get community notables to kiss a pig—and from there, her star kept rising. The Hartford Library children's librarian asked Minor if he'd consider bringing his famous pig in for a story hour, so he did.
She was a hit. Within a couple of years, Daisy had so many gig offers that Minor gave up his day job and hit the road. After she died of old age, in 2009, Daisy II—another natural—took over, and the band played on.
"I've been doing this for sixteen and a half years, but who's counting?" says Minor over the phone from his Baton Rouge motel room. He and Daisy II are currently miles away from home, but they've made themselves comfortable—Daisy is flopped down on the bed snoozing, says Minor. The two are now on the road about nine months out of the year, occasionally accompanied by members of their entourage: Victoria, or their two pugs, Lily Pug and Dixie Cup.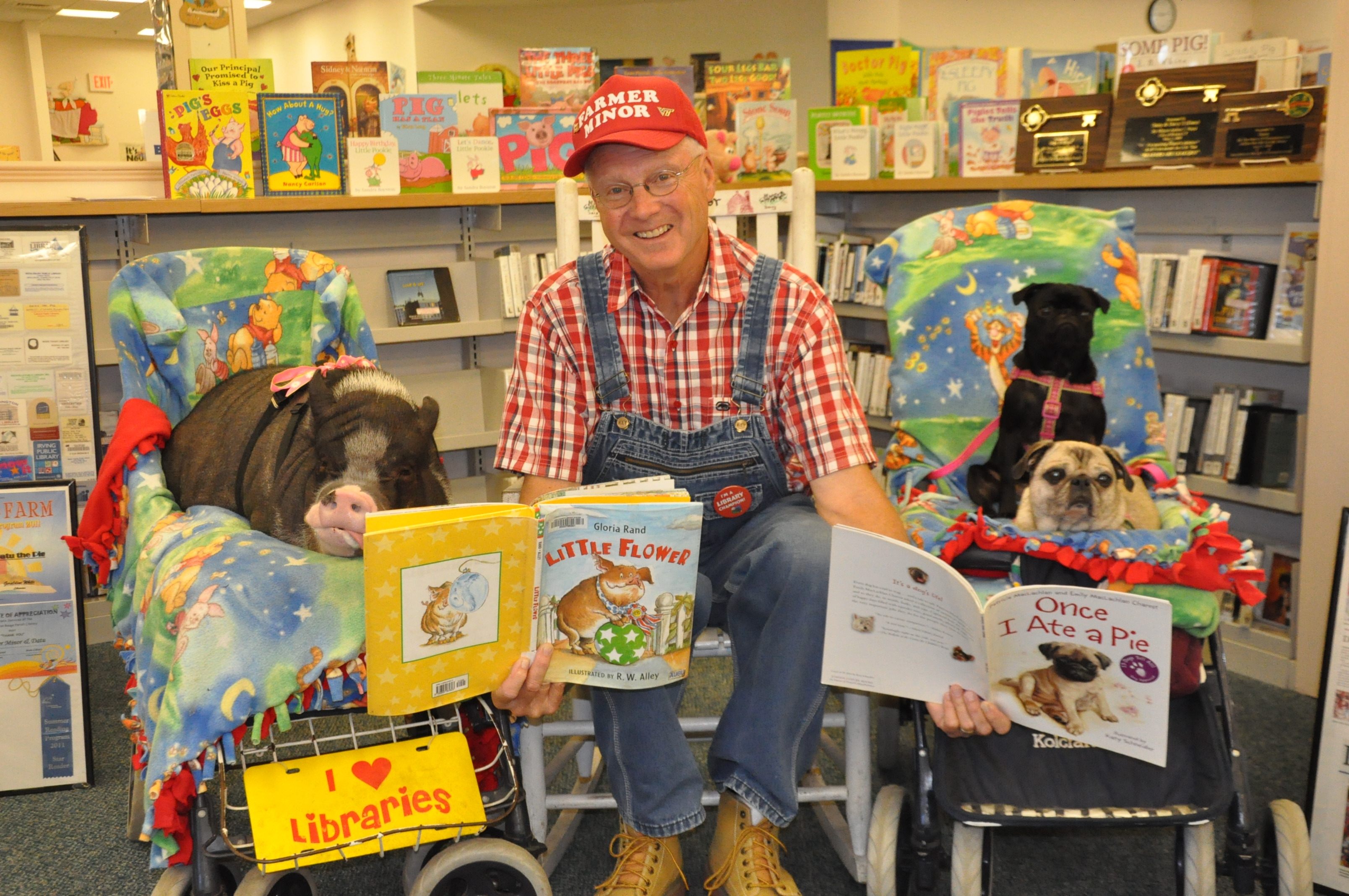 "My mission is to encourage children to develop a love of reading," says Minor. For kids, a library is a bit of a sacred space—full of knowledge and wonder, sure, but also quiet, organized, and staffed by adults. Bring a pig into a place like that, and suddenly anything seems possible. Minor generally wheels Daisy II in a baby stroller, and loosens everyone up with stories about her life and routines.
Depending on the age of his audience, he might show newspaper clippings about Daisy's exploits, or play audio recordings of her eating her food. ("The little kids get a kick out of that," he says.) He ends by reading a pig-themed classic. Everyone gets to pet Daisy, and then they roll on to the next town.
Minor may be the brains of this operation, but he knows who the real draw is. As such, he acts more like a celebrity manager—a combination escort and hype man. He now goes by Paul "Farmer" Minor, and he signs his emails "Hogs & Kisses." He brings his star around in style, in a van emblazoned with the slogan "Pig Out on Reading," and refers to her tirelessly as "the most famous pig in the world." She still sleeps in bed with him every night. "These aren't pets in the traditional sense," he says. "These are third children."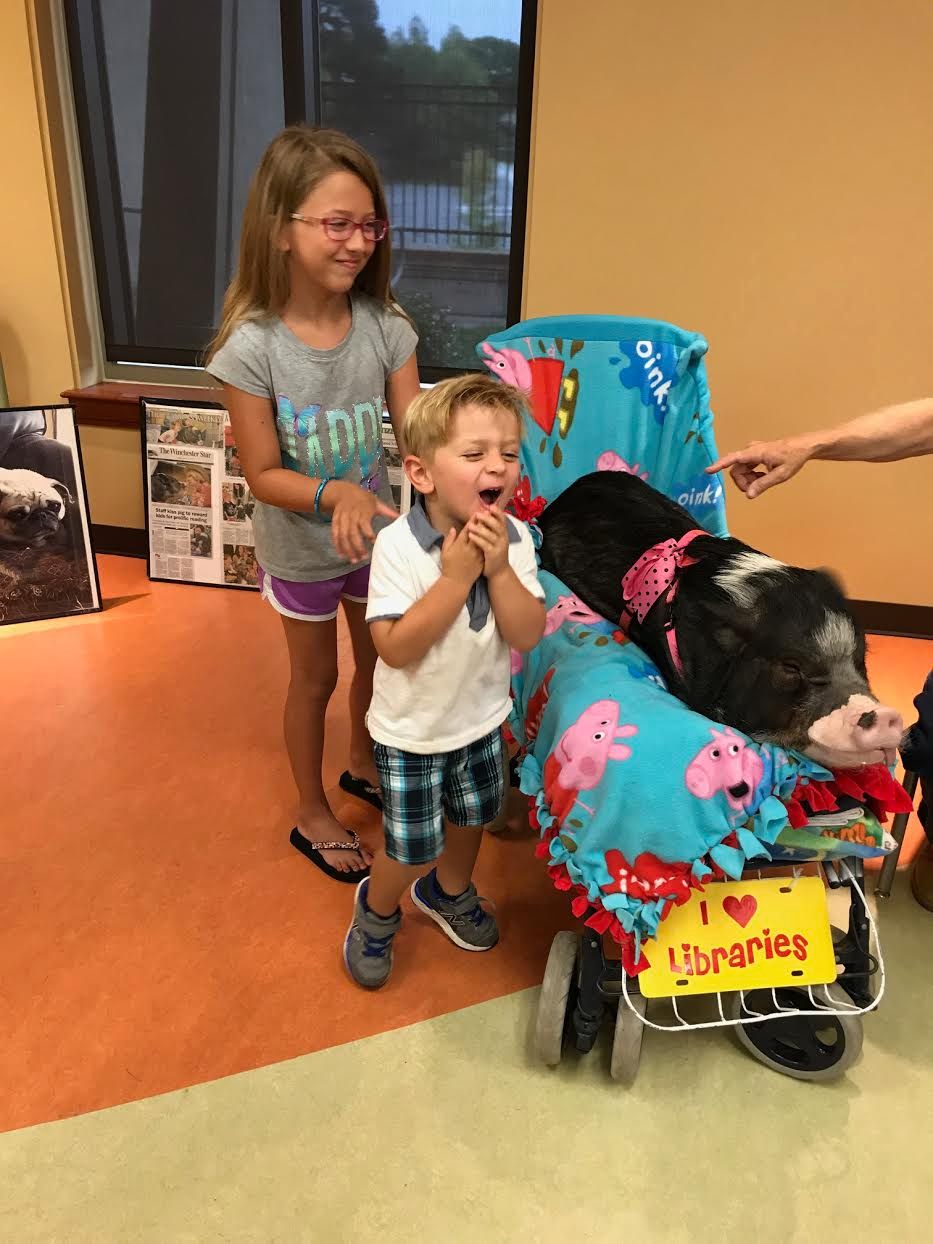 Some of this attachment comes from the fact that, more than any of the kids they've met, Minor's own life was transformed by Daisy. "I was in the corporate world for almost 30 years, and wore a suit and tie," he says. "And now, for the past 16 and half years, I've been wearing my bib overalls and traveling with a world-famous pig."
Over the past decade and a half, the act has changed somewhat. The dogs, Lily Pug and Dixie Cup, are now a big part of the show. (They joined up after a USDA field inspector informed the Minors that they could have up to four animals on their license.) Minor has also diversified the programs he offers, and now brings his stars to assisted living facilities, convalescent homes, and juvenile detention centers. "I've found animals can create magic with people of all ages, from 2 to 102," he says. It helps that Lily Pug, who is smaller than the others, fits comfortably on the lap of a wheelchair user.
When we spoke, man, pig, and pugs were halfway through a rigorous schedule of library programs; by the time this article goes to press, they'll have moved on to Albuquerque, New Mexico, for the next set. "I did over 300 shows last year, and I'm going to be doing more this year," he says. "I'm going to be 69 in September, but I have no desire to slow down."
Over the years, the Daisies have gained a devoted following. "People have sent her pig books from all over the world," Minor says. (The most popular is Charlotte's Web, although books about Peppa Pig, the cartoon star of a Nick Jr. television series, are going strong right now.) Daisy also has a growing collection of library cards—she's at about 1,300—as well as keys to five different cities. The pig fields a constant stream of letters from fans of all ages. Last fall, Minor says, he met a college student who recognized him from a program the student had attended in the third grade.
What about kids these days, though, with their video games and television and cell phones? "The texting stuff drives me crazy," Minor admits. But, he says, the lesson he has honed over 16-odd years still holds true: "It's all about getting them to read something that's interesting to them." When a giant pig is sitting in front of them in a baby stroller, they want to crack open a book about pigs. Afterward, they'll seek out something else that piques their curiosity.
Of course, it helps that Minor travels with a big, lovable literacy ambassador, ready to deliver a unique reward. "A lot of times, we're tied to a reading incentive program where the principal promises to kiss the pig if they read a certain amount of books," says Minor. "The kids say, 'We gotta read a lot of books so our principal will have to kiss the pig.'" Some things never change.