Read a Japanese Region's New Anti-Flatulence Brochure for Tourists
The booklet, now available in English, counsels tourists on how to "understand the Japanese mind" by refraining from screaming and farting.
Japan region revises 'patronising' Chinese tourist guide #NewsFromElsewhere https://t.co/w4NjMuptlH pic.twitter.com/UpeL21nBCv

— BBC Monitoring (@BBCMonitoring) April 26, 2016
So you're heading to Hokkaido, Japan! Very exciting. Do you have your toothbrush? Do you have your SIM card? Do you have the booklet reminding you not to fart? No? Here you go.
Following a rash of bad experiences with foreign visitors, the Hokkaido Tourism Organization released an educational brochure last summer aimed at making some subtle cultural differences slightly more explicit. After complaints that it was patronizing and maybe a little too explicit, they recently revised it, and added an English-language version as well, Japan Times reports.
The old guide, "Common Sense When Traveling Hokkaido," was released last August, in Chinese only. It featured multiple illustrations of bad tourist behavior—throwing used toilet paper in the trash; wearing pajamas in the lobby—marked as such with giant red X's. When Chinese tourists complained that this was patronizing, the bureau softened their tone.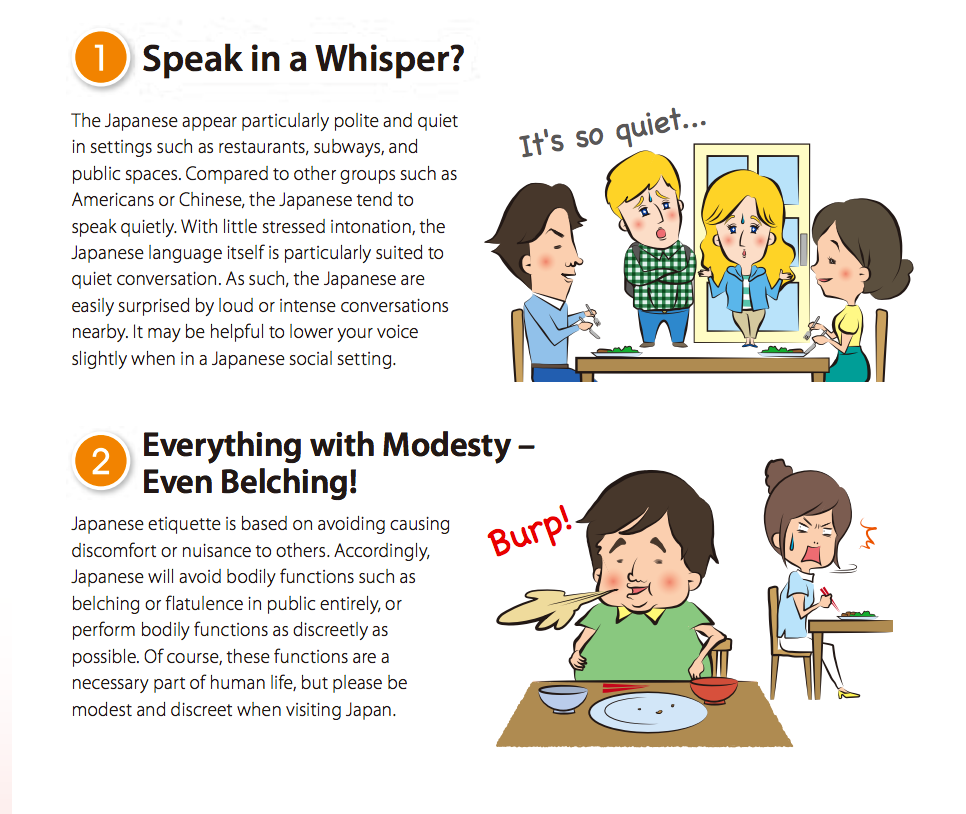 A selection from the new etiquette guide. (Image: Hokkaido Tourism Organization)
This version is called "The Traveler's Etiquette Guide to Hokkaido," and features gentle explanations instead of glyphs. "For example, the old version indicated that ripping open packaging before purchasing a product, which is acceptable in China, is 'a crime,'" explains JT. "The new version says instead, 'In Japan, you can buy products with a sense of security that they are good, without opening their packages.'"
It also counsels travelers to always be on time, to refrain from stealing cutlery, and that Japanese people prefer "Everything with Modesty—Even Belching!" Tens of thousands have been printed, and copies will soon be available in inns and hotels across the region. You can also read the whole thing here—and if you're going to Japan, you should, you gassy animal.
Every day, we track down a fleeting wonder—something amazing that's only happening right now. Have a tip for us? Tell us about it! Send your temporary miracles to cara@atlasobscura.com.