In Greenland, Thai Restaurants Serve Whale Skin Sushi and Reindeer Pad Krapow
A large immigrant community has made their cuisine popular.
The scent of chili, holy basil, and lemongrass is familiar. So is the obligatory framed photo of the King of Thailand adorning the spacious dining room of red tablecloths and gold placemats. But here at Inbox Cafe: A Little Thai Corner, the menu contains dishes found at few other Thai restaurants. The green curry is made with seal, the pad krapow with reindeer.
With around 3,000 residents, Qaqortoq is one of Greenland's largest cities and a popular stop for cruise ships en route to the Arctic. Tourists meandering through the quaint town and past the museum often find Inbox Cafe, which is one of the town's few restaurants and marked by a Thai flag waving outside the ferry building. But it's particularly popular with locals.
"They love spice more than Thai people," owner Suriya Paprajong says of Greenlanders. "They eat a lot of chilies, and it keeps them warm when they go outside."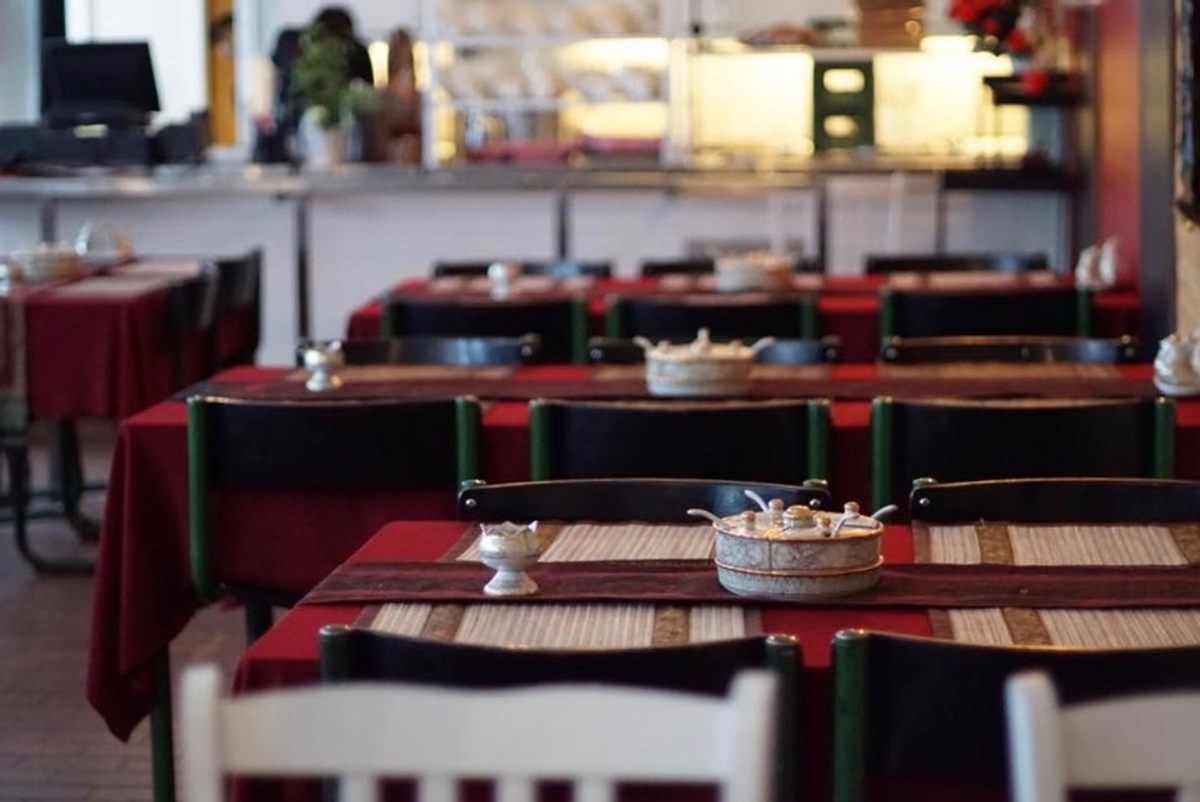 Paprajong moved to Greenland from Pattaya, Thailand, more than 18 years ago, and he now calls Qaqortoq home. "Everyone knows my family and me, and they wave and say hello in the street," he says. Alluding to Thailand's reputation as the Land of Smiles, he adds, "They are like Thai Eskimos."
Inbox Cafe is a far-flung restaurant, but it's far from Greenland's sole Thai eatery. Since the first-recorded Thai immigrant arrived in 1977, the population has grown to 182 Thai people out of Greenland's total population of 56,225, making them one of the country's largest immigrant groups behind Danish (Greenland is an autonomous territory of Denmark) and Filipino.
With a recorded 290 immigrants as of 2019, Filipinos make up the largest portion of Asian immigrants. But there is just one Filipino restaurant in the country. "I think the reason why Thai food is popular in Greenland is because it is a famous food around the world," says Jenjira Inthawong, owner of Hong Kong Pizzaria in Nuuk. "So people are excited to taste it."
When Paprajong arrived in Greenland, he didn't have a winter jacket. The bitingly cold winters shock most Thai immigrants, and some, including Paprajong and his family, shut their shops and return to Thailand during the winter.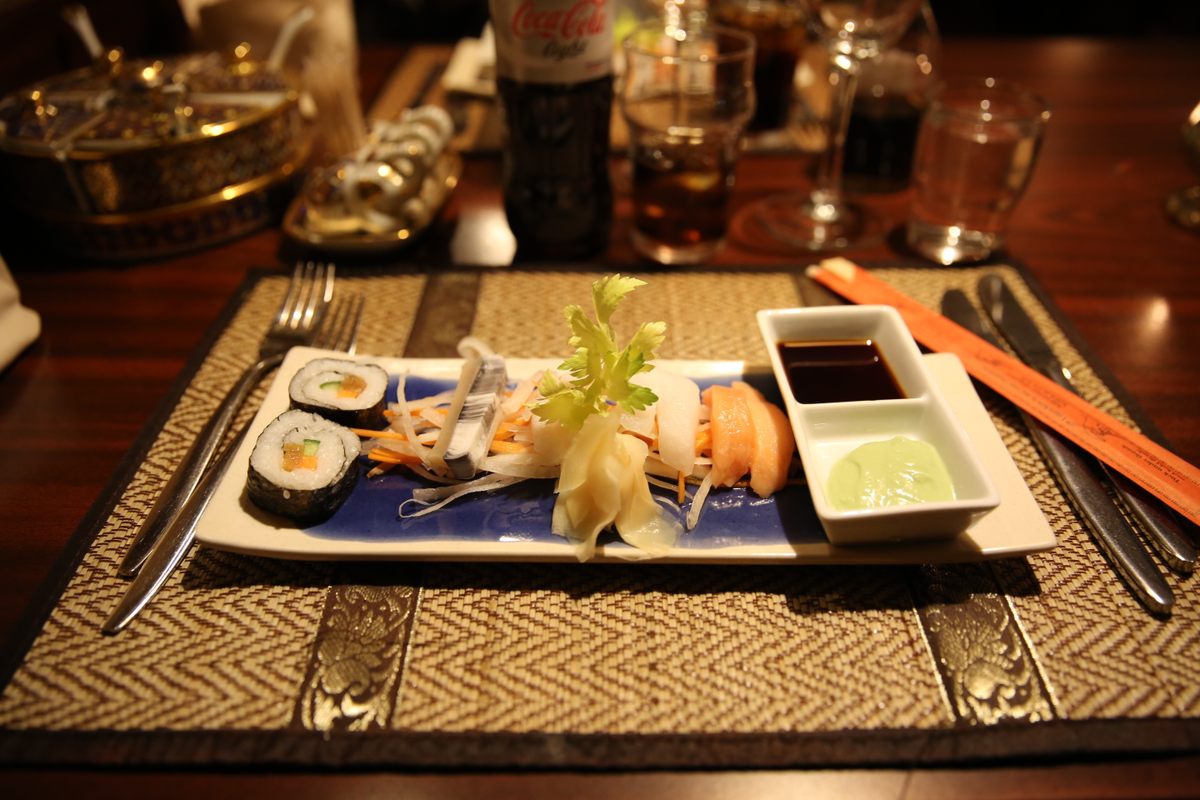 Like many Thai immigrants, Paprajong braved the cold of one of the world's most remote countries because of the work opportunities. Since many Greenlanders are moving to Denmark in search of job opportunities, it has left a labor shortage in hospitality industries for immigrants to fill. When a Danish employer invited him to work in Nuuk as a waiter at Chareon Porn Thai restaurant, he says, he didn't know anything about Greenland, but thought it would be a good opportunity for his family.
While most men come for work, mainly in the hotel and restaurant industries, many women come for marriage. Inside a small red house in Nuuk, Ann, the owner of Sawadii Take Away, makes curries, larb, and fried snacks. She moved to Greenland 15 years ago to marry a Danish man, and has since moved her family to Greenland to join the family business.
Greenland's most popular Thai restaurant, Charoen Porn, is a one-minute walk from Sawadii Take Away. Owned by a Danish couple, their entire staff of 14, including the general manager, is Thai. They serve dishes such as chicken satay and homemade spring rolls with sweet plum sauce, and their most popular dishes are classic Thai: pla choo chee, a whole-fried redfish with coconut milk, chili paste, and lemongrass sauce, and nua phad krapow, stir-fried beef tenderloin with sweet basil leaves, chili, garlic, and oyster sauce.
"In Nuuk, chili and garlic is very popular," says owner Rikke Pedersen.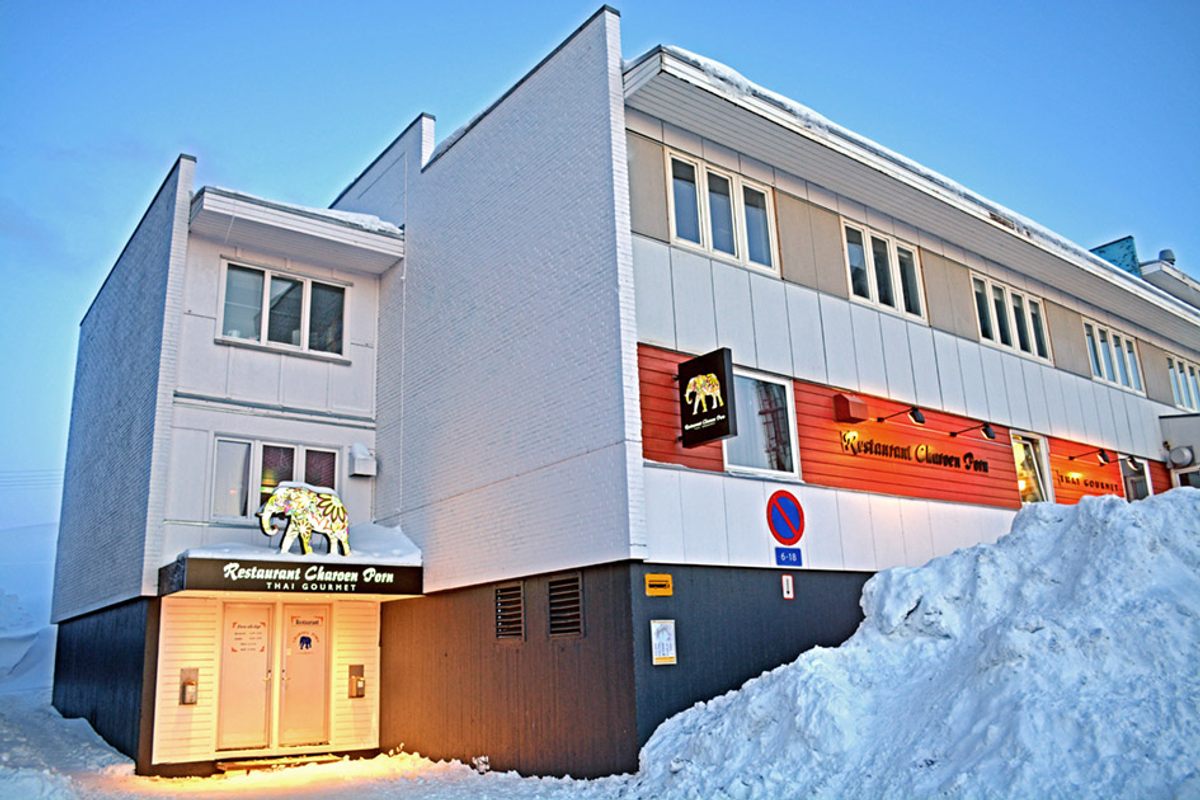 While Thai dishes have found a home in Greenland, so too have fusions that use local ingredients. Greenland's Inuit community eats raw whale, seal, and fish known as "country food" to stay healthy, warm, and strong during the harsh winters. Charoen Porn offers an Asian twist on that with their Greenlandic sushi that includes raw whale meat, mattak (whale skin), and local cod and redfish. A soup on the menu is described as "a powerful soup with cut whale meat, marinated in Mekong whiskey."
During my Thai meals in Greenland, I found that the reindeer tasted like gamey beef, and seal's fishy, salty taste was enhanced by chili, garlic, and Thai spices. In my experience, eating Inuit country food raw doesn't satisfy the palate, although the minke whale is quite nice. But cooking and smothering these local meats in Thai sauces took them to a new level.
Greenland is attracting an increasing number of Arctic tourists. Companies like Adventure Canada are launching new voyages ("In The Wake of the Vikings"), and the number of cruise-ship passengers jumped nearly 20 percent from 2017 to 2018. With a blossoming immigrant community and tourists seeking tastes of home and a wider restaurant scene, many more dishes may soon be paired with whale, seal, and reindeer.
Gastro Obscura covers the world's most wondrous food and drink.
Sign up for our email, delivered twice a week.