Dancing Robots, Da Vinci, and a Dunking Bunny Highlight the Year in World Records
Feed your feat fetish.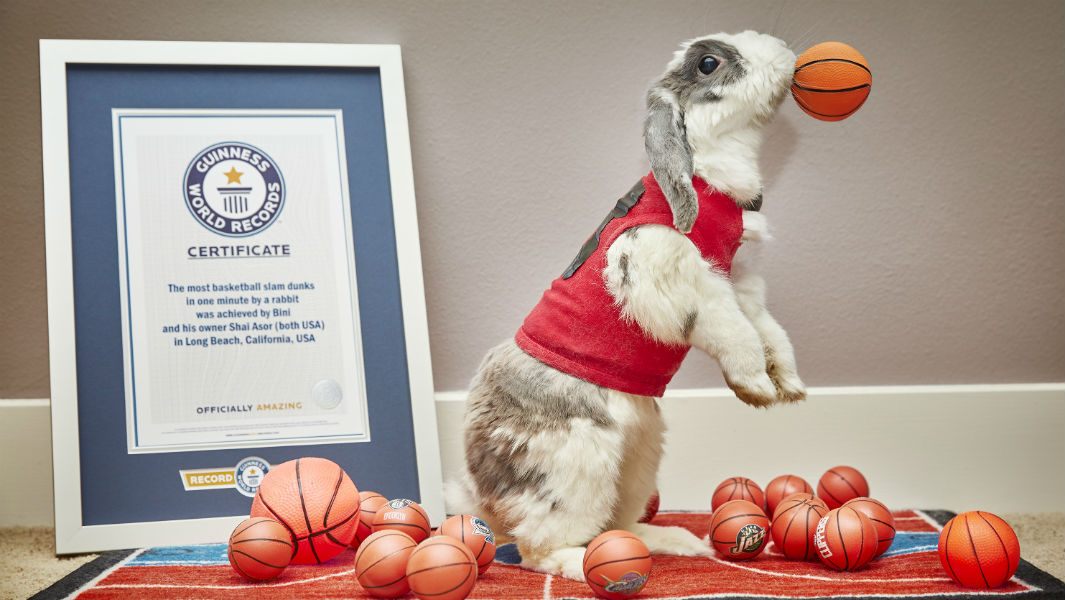 This year, as we are wont to do, people all over the globe broke records, reached new heights, and did silly things to ensure their immortality—at least until someone comes along to top them. Since people make up new world records faster than established ones are broken, there is no way to catalogue here all of the year's singular achievements, but we do have favorites. Some we covered earlier in the year (the bee beard and the dancing robots) and some we missed (the water squirter and all the records set during the London Marathon), but they're all monuments to achievement (human and otherwise), in their own ways. Take a few minutes to bask in some unusual successes.
Fastest Circumnavigation by Bicycle
It famously took Jules Verne's fictional adventurer Phileas Fogg 80 days to travel around the world via an assortment of conveyances, but it took British cyclist Mark Beaumont just 79 (technically 78 days, 14 hours, 40 minutes). Beaumont cycled from France to France with mind-boggling speed (with plane rides between continents), covering some 18,000 miles to best Verne's classic fictional record. Sometimes reality is stranger than fiction, but in this case it was just faster.
Largest Collection of Flamingo-Related Items
There were a number of collections that earned the title of "world's largest" this year, including of both X-Men and Batman memorabilia. But the Official Florida Flamingo Museum stands above the rest—not only for being delightfully specific, but also for being one of the longer-running collections. Starting in 1969, the proprietor of the museum has been hoarding flamingo tchotchkes, and earlier this year it reaffirmed its place as the world's largest such collection. The museum continues to grow, putting the record further and further out of reach.
Most Robots Dancing Simultaneously
In the near future, the sight of more than a thousand robots moving in lockstep will probably be cause for no small amount of alarm, but this year it was kind of delightful. To break the world record for the most robots all dancing at the same time, China's WL Intelligent Technology Co. set up 1,069 small humanoid robots and programmed them to bust a simultaneous move. The record holds for now, but let's just hope that this doesn't inspire someone to try to break the record for the most robots simultaneously trying to overthrow the human power structure.
Bee Warned: Man's recording-breaking "bee beard" will completely freak you out https://t.co/TUSyrw0XqB pic.twitter.com/EKFBtMAA7R

— Critter Files (@CritterFiles) August 31, 2017
Most Time With Face and Head Fully Covered in Living Bees
Despite sounding like a bizarre form of torture, the stunt known as "bee-bearding" has been around for over a hundred years for some reason. The spectacle involves hanging a queen bee near your chin and allowing thousands of other bees to swarm your face to create a writhing "beard." Earlier this year a Canadian man wore one such living postiche for longer than anyone else on record—61 minutes—during a promotional stunt for a movie called Blood Honey. The psychological thriller has mostly been forgotten already, but the record stands, at least until Blood Honey 2.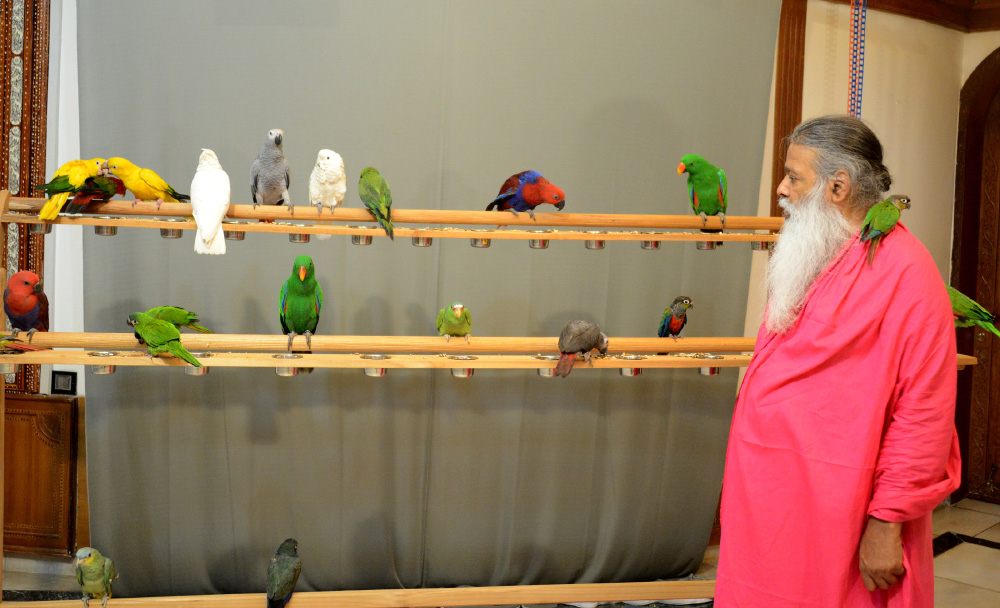 Most Bird Species in an Aviary
There are bird sanctuaries and then there is Shuka Vana in Mysuru, India, sometimes called the "Forest of Parrots," which has garnered the world record for having the most species of birds. At some 2,000 birds representing 468 different species—cockatoos, conures, and parrots, among others—the indoor facility has a clearly impressive variety of avian occupants. Given how many birds the sanctuary cares for, the world could only be so lucky as to have someone try to beat its record.
Largest Gathering of People Dressed as Scientists
Creating another world record that isn't likely to be broken thanks to its sheer inessentiality, a group of Salt Lake City employees of a multi-level marketing company gathered to set the record for most people dressed as scientists. An incredible 893 took part, each clad in a white lab coat and goggles, and carrying a beaker or vial—because who needs a Ph.D.? As we wrote earlier this year, it wasn't very scientific, but it sure looked like it.
Most Expensive Artwork Ever
Probably the biggest auction story of the year was the incredible sale of a Leonardo da Vinci painting for more than $450 million—the most expensive piece of art ever sold. While the painting was expected to go for big bucks, the hammer price still came as a shock to many. The buyer was identified by The New York Times as Saudi prince Bader bin Abdullah bin Mohammed bin Farhan al-Saud. The painting is set to go on display in the Louvre Abu Dhabi, where it will presumably be much cheaper to see.
Tons of Records Set During the London Marathon
As it has for the past 11 years, the Guinness Book of World Records teamed with the London Marathon to create a sort of free-for-all of marathon-related records. Among the 40 records set this year were Fastest Marathon Dressed as a Crustacean, Fastest Marathon in a Two-Person Costume, and Fastest Marathon Dressed as a Padlock. If you can run 26.2 miles and want to break a record in 2018, the London Marathon will be the place to be.
Longest Time to Spray Water From the Mouth
Spitting is gross. But watching a guy push a stream of water out of his mouth continuously for almost a minute straight is strangely impressive. Officially, the record broken by Ethiopia's Kirubel Yilma is Longest Time to Spray Water From the Mouth, but really it should be World's Most Impressive Human Fountain. After taking in a few bottles of water, and strategically somehow storing the liquid in his body, Yilma craned his neck and pushed it all back out, for 56.36 seconds. To some this might seem a bit gross, but considering that many people can't even hold their breath for a minute, the medical student deserves all the recognition he gets.
Most Basketball Slam Dunks In One Minute by a Rabbit
And our award for most adorable, absurd, and life-affirming world record of the year goes to … Bini the Bunny, who set the record for most slam dunks by a rabbit this year—seven in a minute. Even though it sounds like it was devised by a Twitter bot, this record is amazing. Somewhere there's a joke in this about rabbits and how they jump, but we haven't figured it out just yet.