See A Restored Mail-Order Sears Home From 1916
Nice work, Reddit user.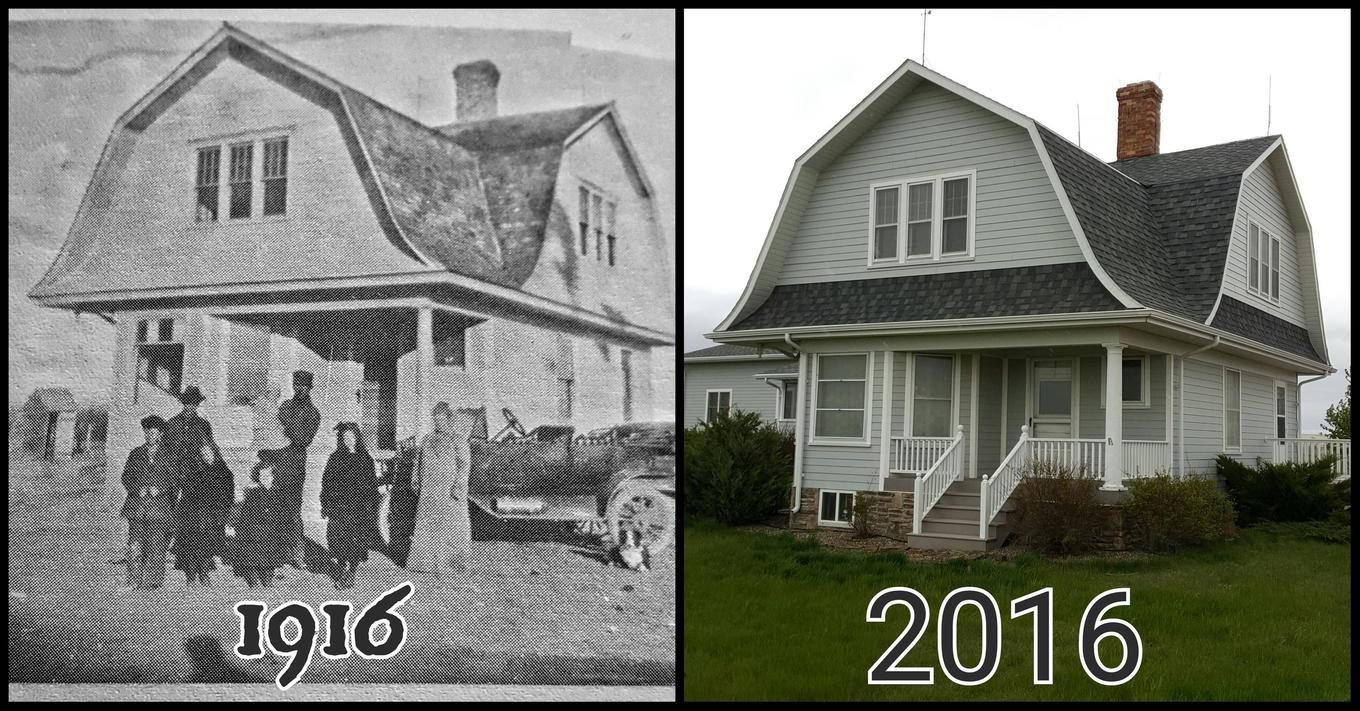 Reddit user RealHotSauceBoss's grandfather's North Dakota home, in 1916 and 2016. (Photo: Imgur)
Next time you need some Ikea inspiration, take a look at the family in this photo. See that house they're standing in front of? They built the entire thing from a kit they ordered out of the Sears catalog.
Over the decades, the baby in the middle grew up and had kids of his own. They had kids, too, and one of them grew into Reddit user RedHotSauceBoss—who decided to bring that old home back to life.
Nine years before this photo was taken, RHSB's great-grandparents picked up 120 acres of North Dakota land for free—likely through the Homestead Act, a 19th century law that gave land to citizens and intended citizens who proved they could take care of it. They then ordered a house from Sears, which was delivered into town by train. Horse-drawn wagons brought the boxes to the lot, and the family started building.
According to the Sears Archives, the company sold about 75,000 homes this way between 1908 and 1940. (A quick scan of available designs suggests this one might be a "Model No. 137," which sold for about $1,200—the equivalent of $27,000 today).
Getting it back up to snuff required exterior weatherproofing, new outside storm windows, and a full roof replacement (somewhere along the line, the nearby outhouse was also replaced by an expansion).
According to the thread, the poster is now working on fixing up the inside. Although he has never spent the night in the house, he has big plans for it: "We will fill it with pictures and memories so it can be a place where future generations of our family can learn not only about our genealogy, but our history," he writes.
Update, 6/3: According to Judith Chabot, a member of the Sears Kit House-spotting community and creator of the blog "Sears House Seeker," this may not be a Sears house at all! "That looks to be a Radford No. 1121, which was just a plan book (folks bought the blueprints, but not the lumber)," says Chabot. More details are available in this blog post. It's still pretty cool, though.
Every day, we track down a fleeting wonder—something amazing that's only happening right now. Have a tip for us? Tell us about it! Send your temporary miracles to cara@atlasobscura.com.