The U.S.S.R.'s Hottest Collectibles Are All Over eBay and Instagram
"Here was a piece of history that you could pin to your lapel."
In 1981, Robert Moeller traveled to Moscow to visit his wife, a graduate student who was doing research there, and she handed him some Soviet rubles. Maybe he could pick up a warm fur hat, she said, or perhaps some of the "silly Soviet pins" for sale all over town. Called znachki in Russian, these tiny works of art honored all kinds of subjects, from Soviet cities and Communist Party anniversaries to the space dog Laika and the latest Lada sedan.
Moeller, now a retired professor of European history, watched with fascination as pin collectors, mostly middle-aged men, approached the huge displays of znachki at the GUM department store by Red Square. "Each pin had a discrete number; they'd go in with the ones they were missing and make their orders from there," he says. Soon he, too, was hooked: "Here was a piece of history that you could pin to your lapel, material culture that embodied the past and celebrated the present."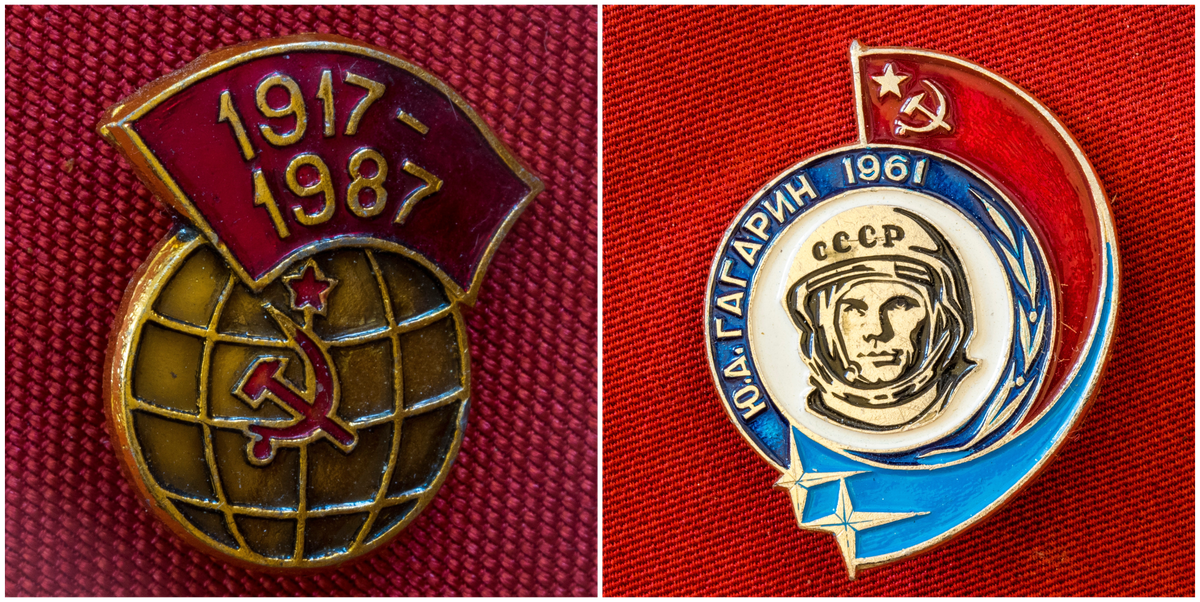 Moeller bought around 100 znachki during his stay in Moscow. Today, his collection—expanded with eBay purchases and gifts from friends—contains close to 4,000 pins, sorted into jars by theme and hung on the walls of his Irvine, California, home. His Instagram account conveys the sheer breadth of the form. He has pins awarded to outstanding young workers and winners of "socialist competitions" held by factories. There are znachki in Estonian, Tajik, Ukrainian, and other languages of the 15 Soviet Socialist Republics. He has Lenins for all tastes—you can find the revolutionary authoritarian as a curly-haired toddler; wearing a cap; bald; or staring out from a tiny, metal book inscribed with the words "for excellence in studies." Some of Moeller's znachki are comically niche: One of his favorites is a pin from the All-Union Association of Cactus Lovers' Clubs, which bears an image of a flowering Turbinicarpus schwarzii.
While many znachki are miniature pieces of Soviet propaganda, the form is much older than the 1917 revolution. Russia's first medals committee was created in 1722, and "by the nineteenth century, Russian skilled workers wore the pins as recognition for their labor in industrialization projects," wrote Cathleen S. Lewis, a curator at the National Air and Space Museum who has studied the role of space-related znachki, in the anthology Into the Cosmos: Space Exploration and Soviet Culture. Under the Bolsheviks, they could be earned for attending political meetings. "Party delegates took to wearing congress pins much in the way war veterans wore military medals," Lewis says.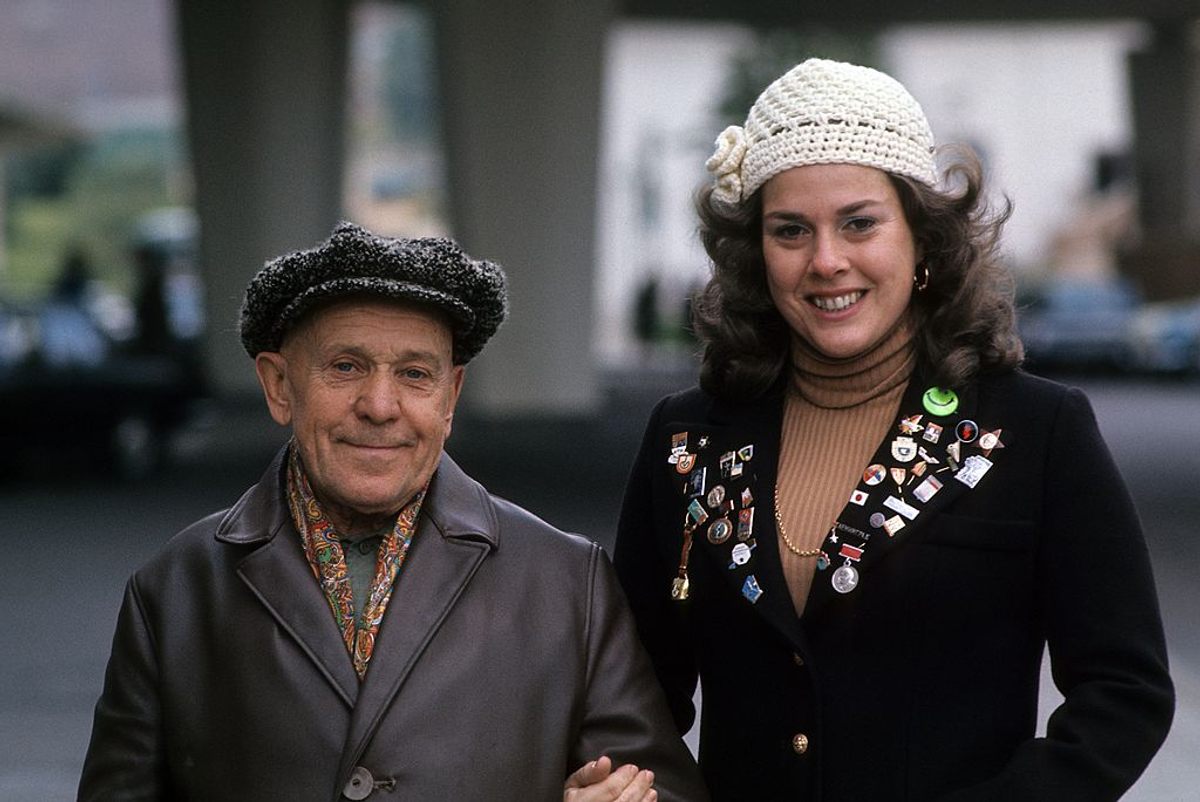 Znachki were an important branding tool for the young Soviet Union, helping create a sense of collective national identity. They commemorated revolutionary anniversaries and military prowess, with pins for excellent snipers, land mine specialists, medics, army cooks, and drivers. To earn the rare 1939 "Tourist of the USSR" pin, which is coveted by today's collectors, you had to master "skills in pitching a tent, lighting a fire, and orienteering using a compass" and complete a six-day journey "by foot, on skis, on a bicycle, in a rowboat or sailboat, or finally on a motorboat, motorcycle, or automobile driven by the tourist," writes Diane P. Koenker in a Slavic Review paper called "Travel to Work, Travel to Play: On Russian Tourism, Travel, and Leisure."
The number and range of pins exploded after World War II, launching a collecting craze among children and teens. According to Lewis, this was no accident. Znachki were part of "the Soviet effort to appeal to the youth market and control the emerging student movements of the early 1960s," she wrote. "Youth organizations introduced znachki to student groups in the late 1950s and encouraged their collection through their official organs."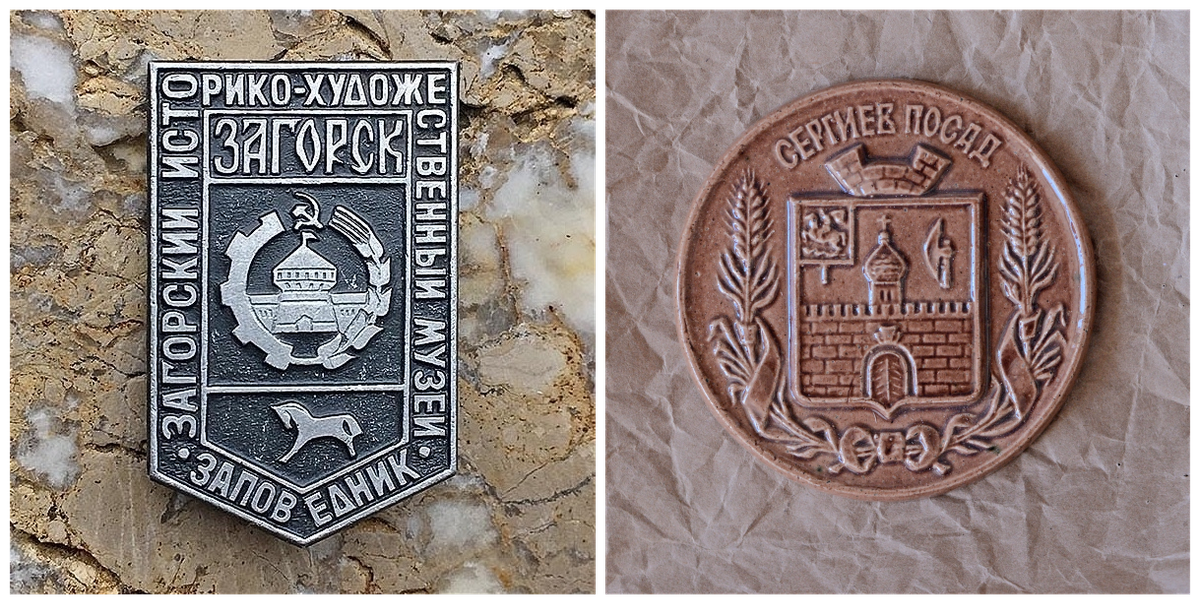 Pinheads such as Valerian Artsimovich, featured in a 1963 USSR magazine article for accumulating over 11,000 znachki, displayed them proudly in their homes or squirreled them away in boxes for safekeeping. "It was the culture: Do something and you get a pin," says Sergei, a 43-year-old collector in Moscow who runs a Russian-language website dedicated to cataloguing Soviet znachki, in an email. Since the pins were cheap to buy—about the same price as a loaf of bread, Sergei says—collecting them was an accessible hobby. With znachki for sale at every kiosk across the country, "it was hard not to buy them," he adds. "Some people purchased them as gifts, others bought their own and got into it."
By the mid-1970s, the pins had become so popular that Soviet authorities warned their production was "'growing catastrophically' and using up precious raw materials," the New York Times reported. Factories and metal shops all over the U.S.S.R. manufactured znachki rather than any one state body; this decentralization allowed for gems such as the tiny toilet seats that a group of cheeky plumbers apparently created for "Best Plumber of the Azerbaijan Sanitary Technical Assembly Enterprise," according to the Times. This also means nobody actually knows how many different pins were produced in the Soviet Union.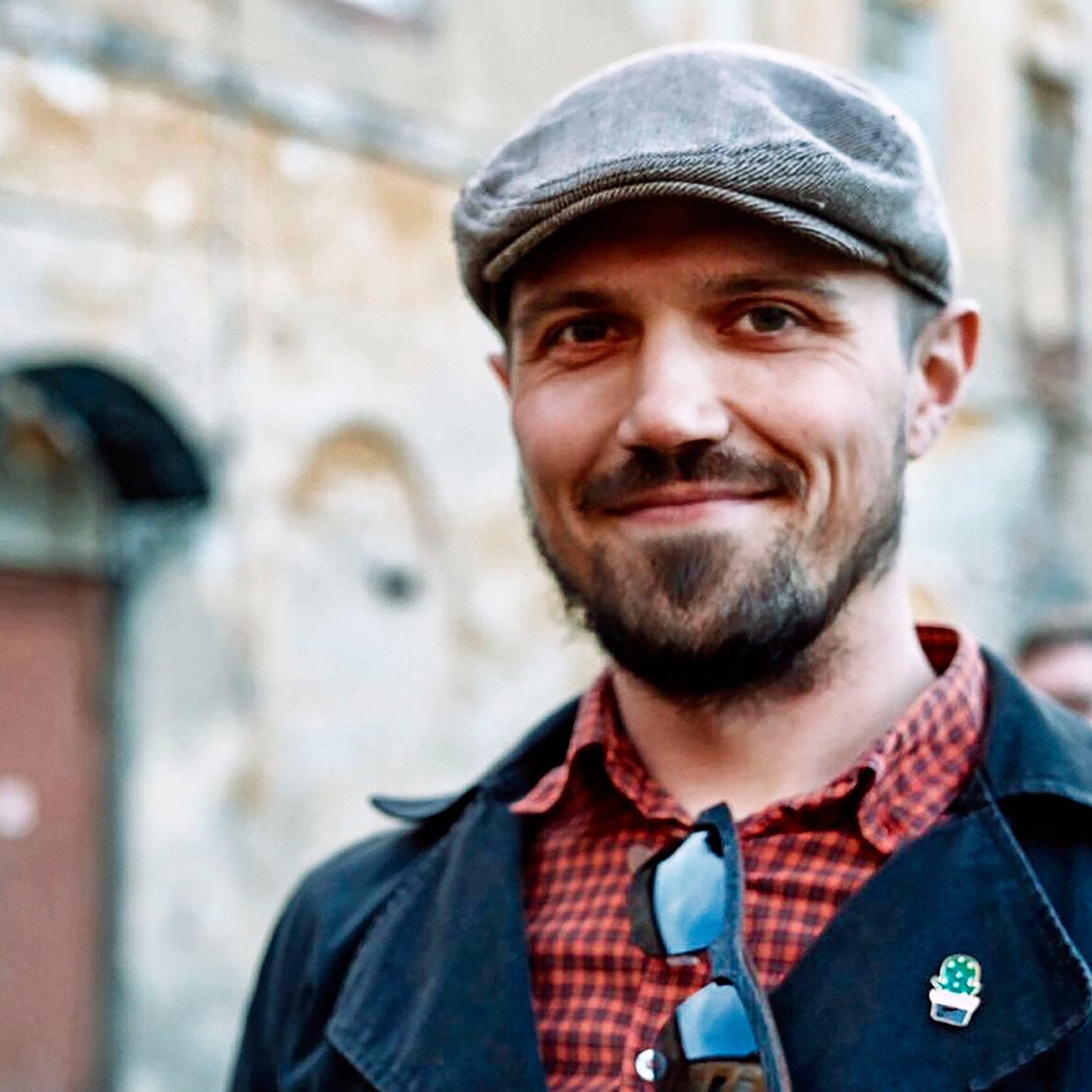 Officials came to feel that pin production, once encouraged by the government, was getting out of hand. But demand for znachki remained high. As Lewis notes, they were "a commodity in a society that was notorious for the absence of consumer goods." They also allowed people to own and hold a little piece of something bigger, transferring "public commemoration of national accomplishments from solely mass events to a personal scale."
After the fall of the Soviet Union, many pin collectors sold their znachki to foreign tourists and eBay buyers like Moeller. His online transactions sparked an interesting business relationship. In the late 90s, Moeller bought some pins from a man he'd rather not name, who lived in one of the Baltic states. The seller was rich in pins but really wanted Western music magazines, which were scarce in Eastern Europe and featured Björk and other stars. The man had his magazines shipped to Moeller, who forwarded them on in exchange for more pins. (At one point, the two were eyeing the same lot of 1500 Lenin pins from a seller in Ukraine; when Moeller scored them for $225, the man emailed him, "I see you got the Lenins," and proposed another trade.)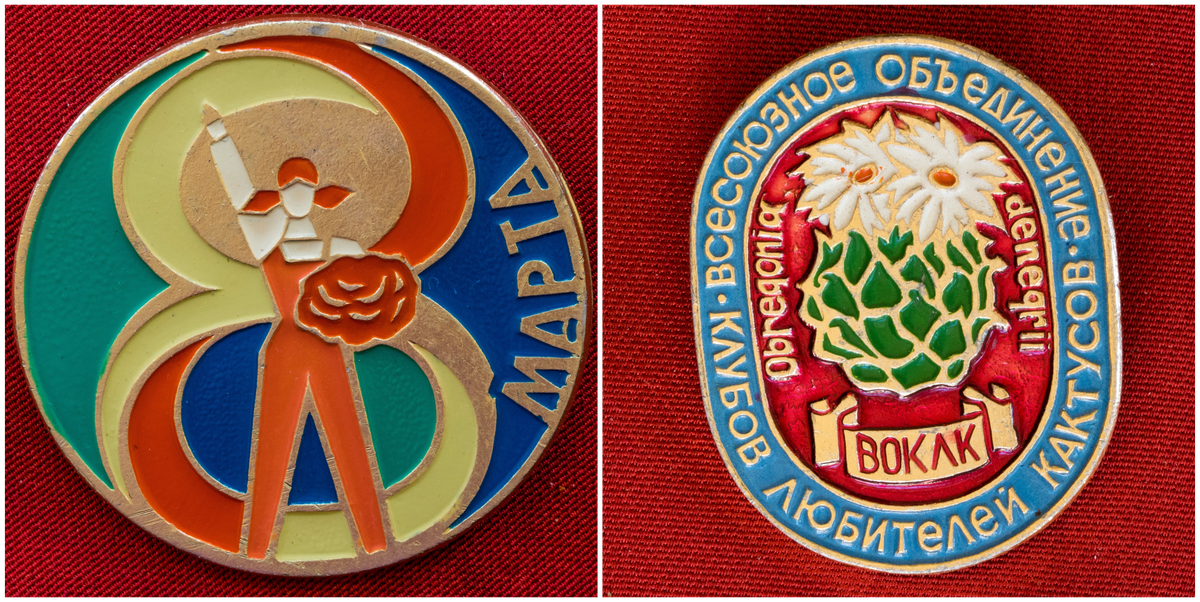 Despite fun anecdotes such as these, Moeller said, he is saddened by an awareness that most of his znachki "came from collectors who were wildly trying to get hard currency in the 90s," when the U.S.S.R. dissolved and the ruble crashed. As someone so enthralled by the pin-collecting culture, he worries that he played a part in its demise.
While mass interest in znachki has largely faded in Russia, some hobbyists are still on the hunt. For Mikhail Semenov, a 33-year-old artist and designer who blogs about the history of his hometown, Sergiev Posad, and collects pins related to the city, it's part of a bigger fascination with the past. "Znachki are a story about the city," he says in Russian. He marvels at the meticulous designs packed into a small space, and how the pins show changes in Sergiev Posad's coat of arms. You can read the pins like "a book, just in a different format." He adds to his library through gifts from friends and by corresponding online with other collectors, many of them a generation older than him.
Like Moeller, Semenov shares photos of his pins on Instagram. "Since childhood my father collected znachki and now it's my turn," he writes in one post, next to a delicate rendering of a 14th-century monastery on a tiny metal rectangle. Pin collecting is like a drug, he says; each new addition is a chapter of history "you can touch with your hands."