Space Badges Might Be the U.S. Army's Coolest Award
It's not Starfleet, but it sure looks like it.

We're pretty far from the utopian future of Star Trek, but in at least one regard, we're making baby steps toward establishing a real-world Starfleet. Within the U.S. Army and Air Force, there's a little-known training path that can earn you an honest-to-goodness Space Badge—and it looks like something right out of Gene Roddenberry's vision of the future (if a bit more militarized).
American astronauts who have gone to space earn a specific set of flight wings and medals depending on whether they are with one of the branches of the military or are a civilian. Space Operations Badges are only available to members of the Army and the Air Force. "The badge is a very unique badge. You can't push on it, nobody's gonna beam you up," says Mike Connolly, director of the Army Space Personnel Development Office. Connolly is retired military, but now serves the Army in space operations, and has himself earned one of the rare badges. "I'm actually a civilian, so I've earned my Space Badge, but I don't wear it anymore."
While it may look futuristic, the accolade has actually been around for a while. It was originally introduced as the Air Force Space and Missile Badge back in the 1990s. This first badge had a somewhat more standard military design, with intricate laurel wreaths surrounding the outside of the central symbol, which incorporated a complicated design consisting of a globe with shooting stars ringing it. In higher ranks it was topped by a star, or a star surrounded by a smaller laurel wreath. Overall, it incorporated classical military imagery with a retro-futuristic symbol of "space" that would have been at home at a World's Fair in the 1930s.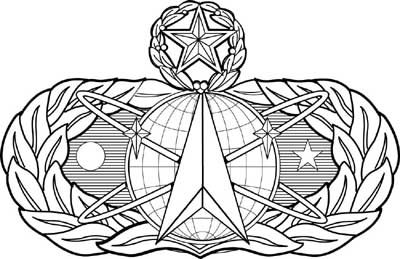 The badge was given a sleek-looking update in 2005, and renamed the Air Force Space Badge. Gone was the dense traditional design, replaced by stark Art Nouveau-esque wings accentuating that star-ringed globe. It comes in three editions based on someone's level of training or experience in space operations. Just as before, on the Senior Space Badge a star is added to the top of the globe, and on the Master edition, that star is ringed in a laurel wreath. 
Like its previous incarnation, at first this badge was only available to Air Force personnel who became adequately trained or worked in a space operations billet. Then around 2006, members of the Army became eligible to earn the badge as well, and in 2011, they officially made it a joint badge between the Air Force and Army, renaming it the Space Operations Badge, or just the Space Badge.

Earning one of these badges isn't like taking an overnight course. While qualifications are somewhat different in the Air Force, in the modern Army, an officer needs to spend a full year in the fairly niche preparatory courses designed for those who are going into space operations, Functional Area 40 (FA40), as an Army career. That said, space operations can encompass a fairly wide variety of specialties.
A pamphlet from ASPDO describes the space operations force as "a diverse group with various areas of concentration, military occupational specialties and occupational series with a common mission—to develop, plan, acquire and operate space capabilities to fulfill mission requirements in the five space mission areas: Space Situational Awareness; Space Force Enhancement; Space Support; Space Control; and Space Force Application." Connolly says that people in the space operations community do everything from fixing satellites to coordinating communications from space direct to soldiers on the ground. It takes another four years of training and experience in the field to earn the Senior Space Badge, and a further seven years to earn the Master Space Badge.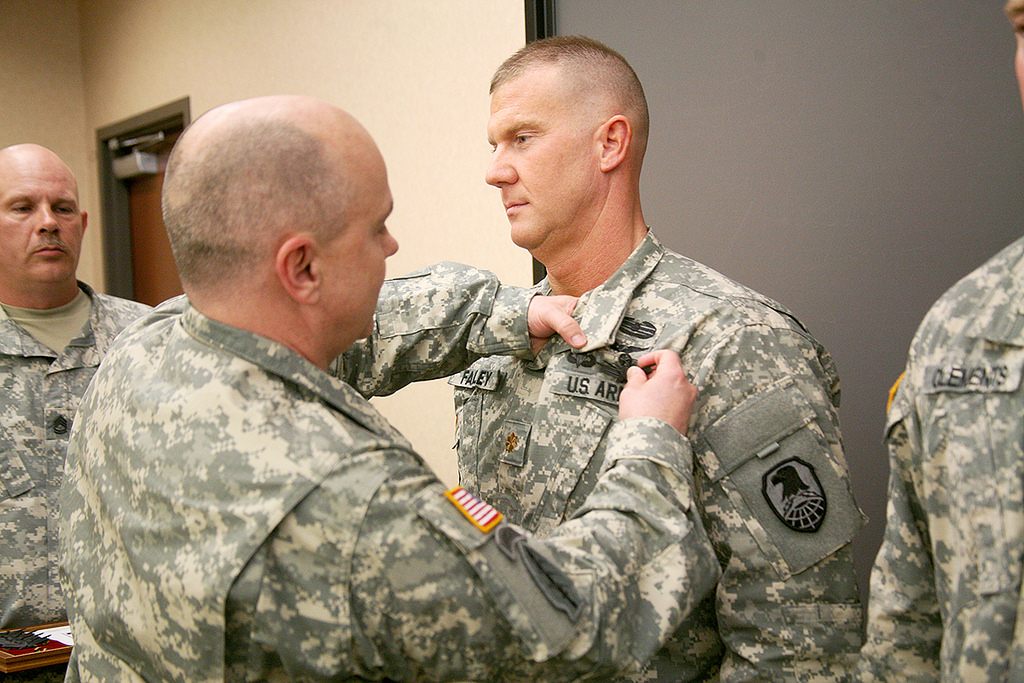 People other than FA40 officers (including soldiers and civilians) can also earn Space Badges by working the requisite amount of time in one of the Army's 4,400-some postings that are considered space-related. But in the Army at least, space operations is still a tiny division. Since 2011, the Army has awarded exactly 2,454 Basic, 500 Senior, and 125 Master Space Badges, and some of those recipients are counted three times, as they earned each badge. Connolly says there are just 330 officers in FA40 at the moment, making the Army Space Badge a rare sight. "It's unique in appearance and there's a lot of questions about it," he says. "So young soldiers don't know what it is."
For those in space operations, the Space Badge is taken quite seriously, even after its sci-fi redesign. "I've heard no negative reaction to the new badge. It is pretty bold to say the least," says Connelly. And it seems to be beloved outside of the specialty, too. "I gotta be honest, as many soldiers as want to wear the badge, I think they like it," he says.
The Space Badge is an evocative name and image, but when asked whether the men and women involved in space operations would one day be in charge of sci-fi military space battles, Connolly demurs. "I'm not qualified to answer that question," he says.