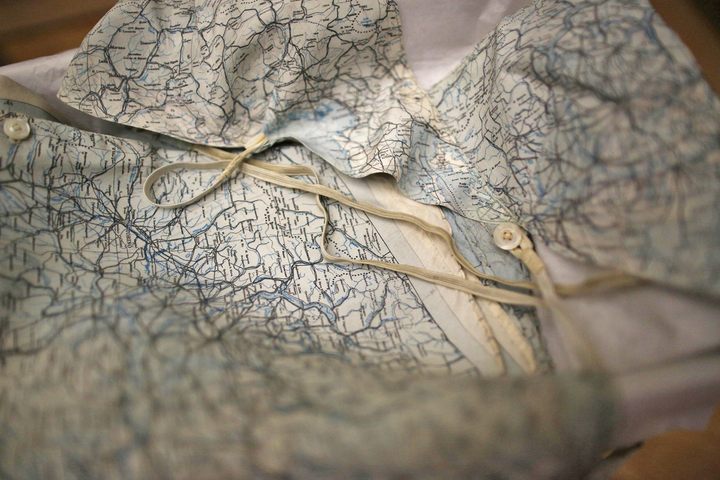 The Chic Garments Made From WWII Escape Maps
These silk military artifacts have been transformed into hoodies, underwear, and a wedding dress.
English printmaker Hester Cox knew she didn't want a traditional white dress for her North Yorkshire wedding in 2016. Her now-husband agreed. So Cox chose something different: a dress made from silk maps of Scandinavia dating back to the 1940s. Working with designer Sara Jane Murray, Cox chose maps of Sweden showing a pale blue sea dotted with small islands. She based the style on a favorite sundress. The unique garment received global media attention, but it's not as unprecedented as it may seem.
During the second World War, MI9 inventor Christopher Clayton Hutton created these silk maps, which were used for escape and evasion. They became invaluable tools for Allied forces shot down or taken as prisoners of war in Europe and the Pacific. Hutton worked with Wallace Ellison, himself a POW in the First World War, to figure out how to fix ink onto the maps.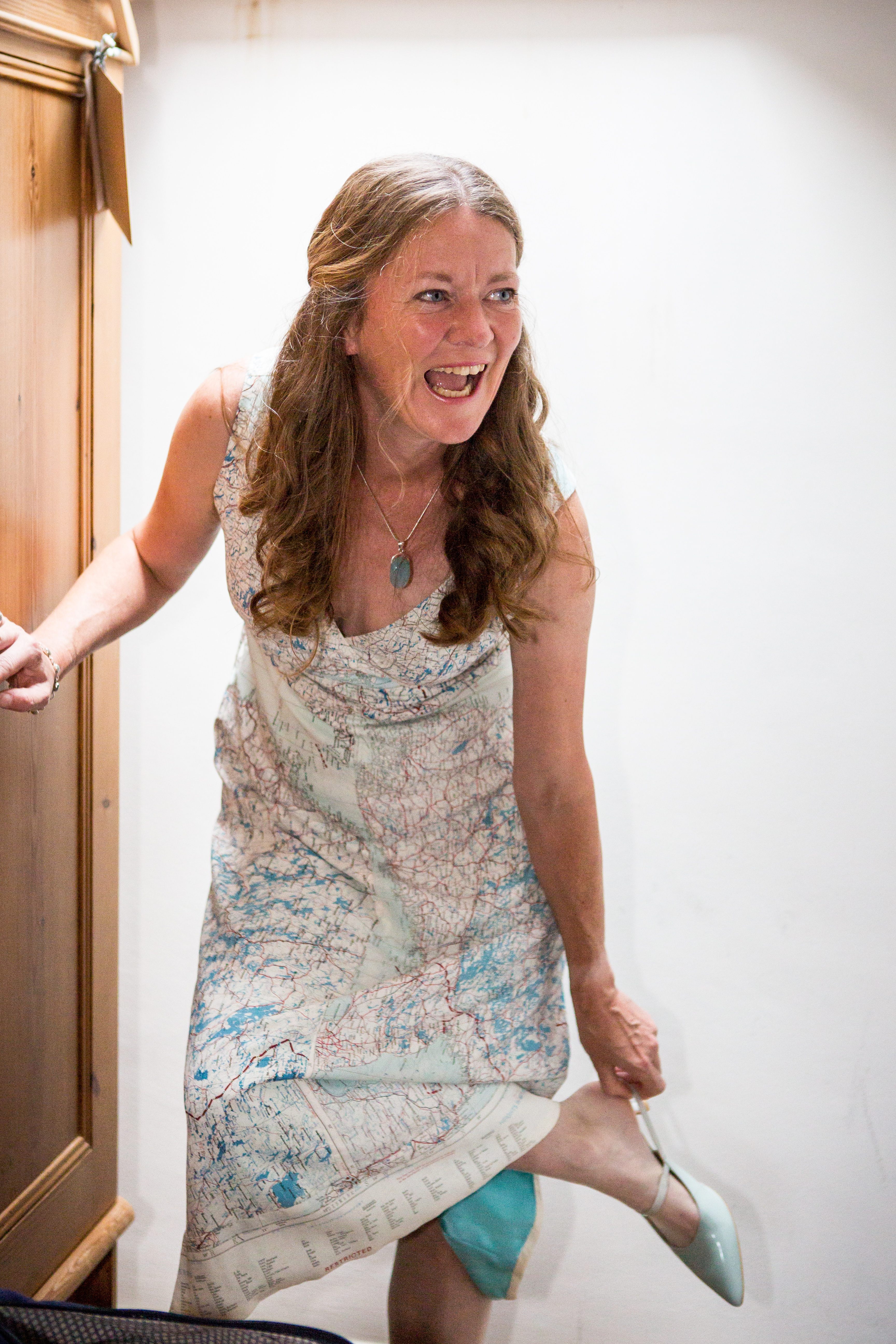 As Erin McCarthy details in Mental Floss, the company that printed Hutton's silk maps for him, John Waddington Ltd., also manufactured all of the country's Monopoly boards. After Hutton approached them, the Waddingtons set up a secret room in their factory, where a select cadre of employees rejiggered the game boards—punching small compartments into them, hiding the tiny tools, and covering the hole with a game space decal.
The maps were durable against the outdoor elements and could be easily hidden in a jacket or boot. (And, of course, they were silent when unfolded.) Hundreds of thousands of maps produced in Great Britain and the United States aided in some 750 escapes. They also represent wartime creativity when resources are scarce. (During the same period, Maidenform made bras for carrier pigeons to keep them contained against paratroopers' chests as they fell from the sky.)
After the war, fabric rationing continued in conflict-ravaged Europe, but a triumphant British public wanted to celebrate and experience the material frivolity of peacetime. The shortage encouraged returning soldiers to offer their maps to be transformed into clothes, often by their wives and female loved ones. Fashion historian Anna Vaughan Kett says the maps fit into the "Make Do and Mend" message disseminated by the Ministry of Information to encourage reusing and recycling clothing.
"We all know the story about people who took down their curtains and made skirts out of them," says Vaughan Kett. "People genuinely used every scrap of fabric. And who wouldn't want to use a lovely soft rectangle of beautiful quality silk?"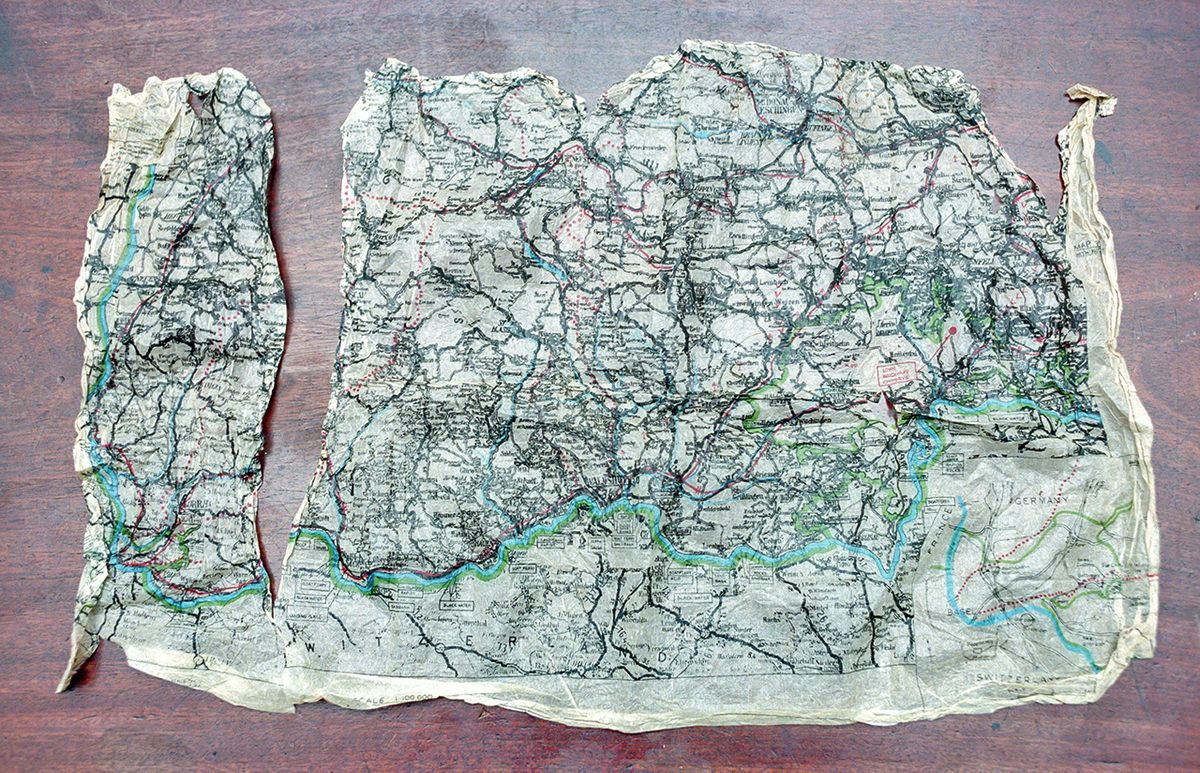 The maps' popularity was aided by the fact unlike other sewing materials, they weren't subject to the coupon system that limited the amount of purchasable fabric. (Garments made from parachutes were also popular, including for weddings.) Maps flooded the civilian market at surplus Army and Navy stores around the United Kingdom. Given the maps' relatively small size, garments like bra and panty sets, as well as sun suits and rompers for children were common DIY projects. But sewers also got creative in piecing maps together for dresses and the popular housecoats of the era. Vaughan Kett says these full-skirted garments represented a return to more excessive fabric use. A well-made map piece required significant hand and machine stitching, and the precision of an experienced garment maker to place the pattern in interesting ways.
Current designers have risen to the challenge and are embracing the maps with modern eyes. Paris-based brand BRUT, bringing new life to traditional military and workwear, even made face masks with the maps. Christopher Raeburn, a London-based designer, describes finding recycled military garments, products, and other vintage artefacts for his brand RÆBURN as an archaeological process. Raeburn says finding a stash of 1950s, Cold War-era silk maps seven years ago was a serendipitous moment.
"I opened an inconspicuous cardboard box at a vintage market booth, and like a needle in a haystack, I found 800 untouched Royal Air Force navigation maps carefully stacked away inside," he says. "So intricately printed on luxurious silk, I knew I had found something really special."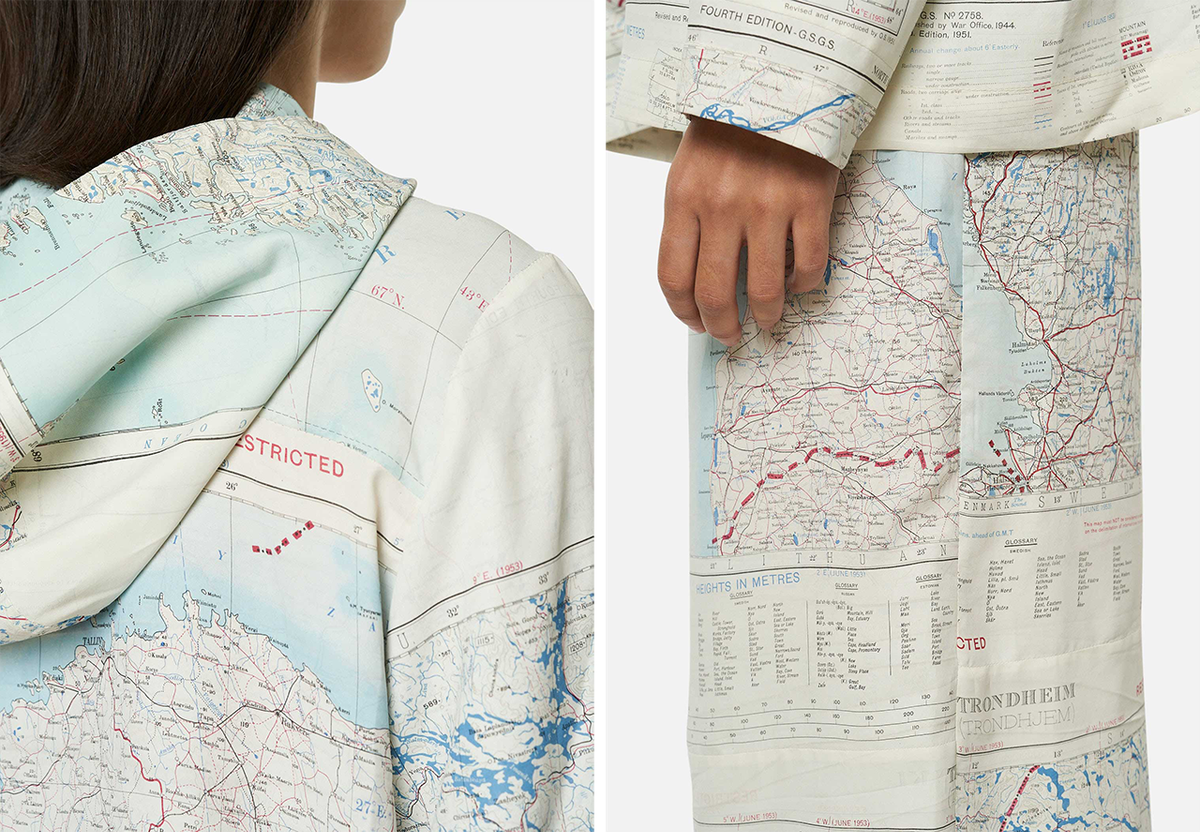 Model/actress Lily Cole and sustainable fashion leader Orsola de Castro have worn RÆBURN's map garments, which include a T-shirt dress, an anorak, and flowy trousers. Amelie Jannoe, RÆBURN's digital and creative content assistant, says the maps have become an iconic part of the brand's identity.
"These maps were originally manufactured in a climate of fear and uncertainty, a feeling that I'm sure we can all relate to in the current climate, and we have transformed the fabric to serve a new function," says Jannoe. "This design still resonates with us today as it shows how transformation and creativity can come from chaos."
Having seen some of the garments housed in museums around the UK, Vaughan Kett was taken by the maps' bright colors and elegant lines, but also haunted by their dark history.
"If you look closely at the maps they refer to places of war, battlefields, usually in Asia," she says. "There were terrible atrocities and terrible loss of life."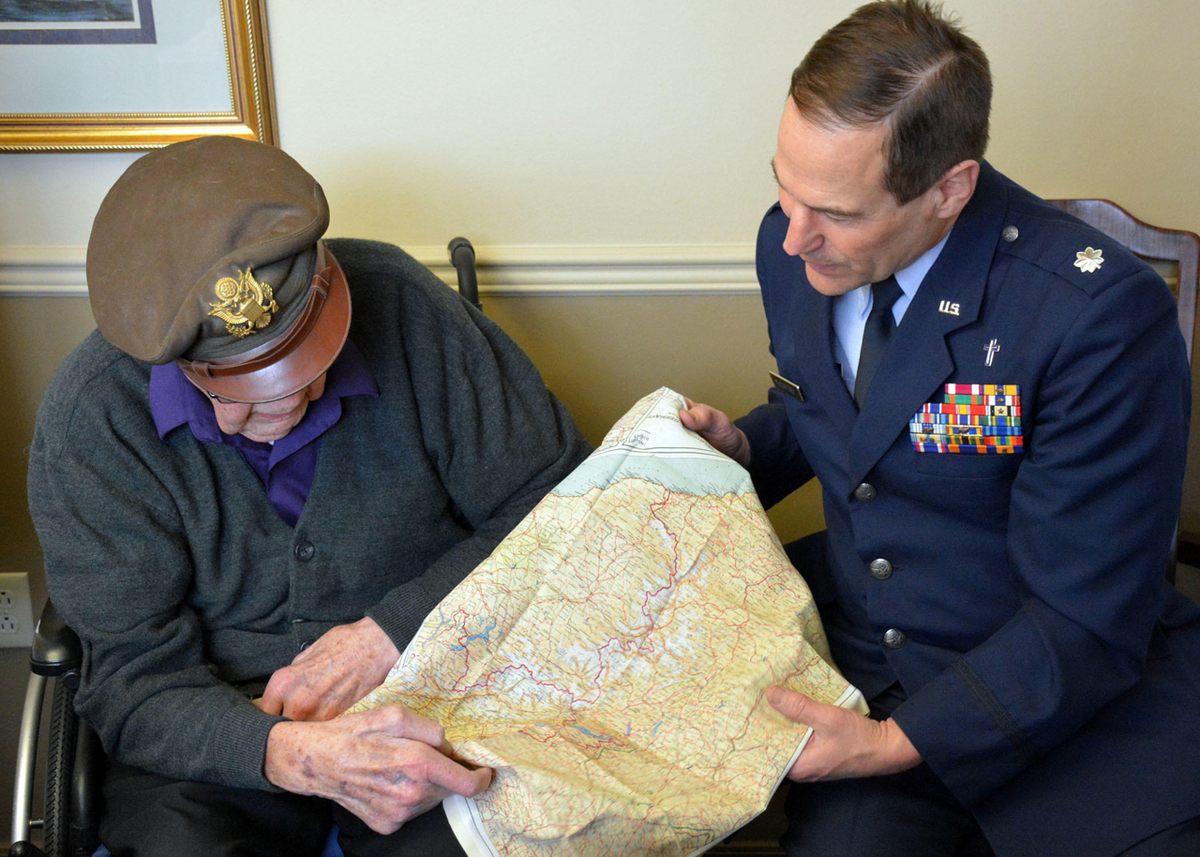 Map garments are fashion statements, but they're also artifacts of war. Honoring those who relied on them to survive is a way to remember and appreciate their history. Even as styles change, the stories behind silk maps are being preserved. The maps used in Cox's wedding dress came from an ex-Army officer whose father had used one in World War II. The original map was made into a scarf, which the son (who has gone on to collect silk maps) still owns. He asked Murray, the designer, to pass on photos of his parents to whoever ended up with his maps. Cox said it was extra special to know the origin of her garment.
She says, "I haven't worn it again yet but I hope to one day and it is hanging in our bedroom for me to look at. It is a beautiful work of art."