Make the Official Mocktail of the European Space Agency
Inspired by a mission to Jupiter, this bright blue drink bested 69 other 'space juices'.
On April 14, the Jupiter Icy Moons Explorer blasted off from French Guiana in search of signs of life in outer space. The probe, known officially as "Juice," has already brought mankind something previously unseen: a collection of 70 "space juice" mocktails, all in one virtual recipe book. The drinks, from an iced coffee mimicking the swirls of Jupiter's surface to a mocktail topped with ice in homage to the frozen crust of Jupiter's moons, were all entries in a European Space Agency (ESA) competition to create a drink inspired by Juice's voyage.
For the next 12 years, Juice will be looking for signs of life in the warm oceans underneath the icy crusts of Jupiter's moons: Europa, Callisto, and Ganymede. The space probe is scheduled to reach the moon after eight years, eventually orbiting and crash-landing onto Ganymede around 2035.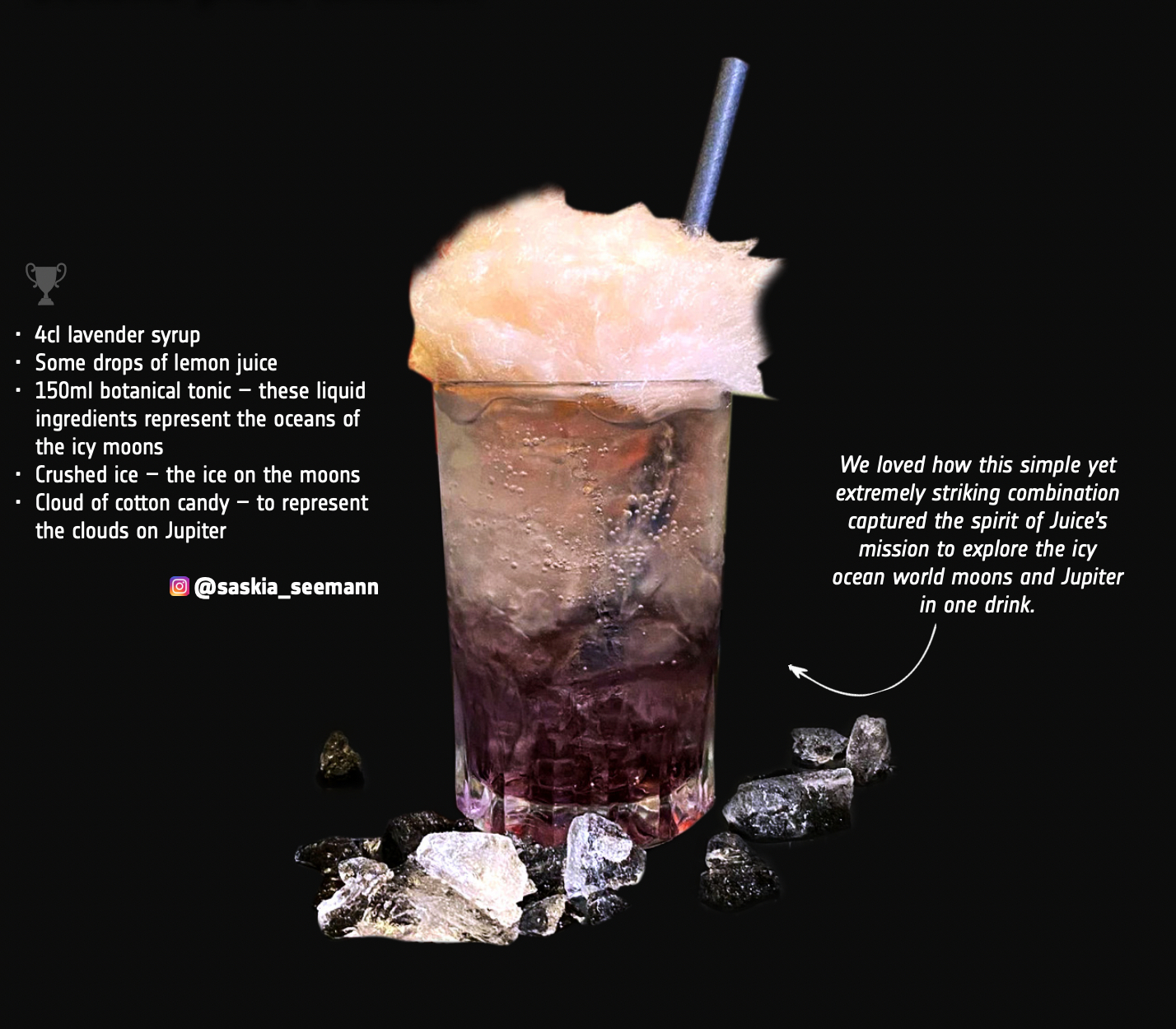 In January, to publicize the ambitious voyage, the ESA released a call for themed juice recipes based on the mission. After 70 space enthusiasts from ESA member states sent in their entries, all were compiled into the Space Juice Recipe Book. The 40-page online book features photos of creative mocktails of all types and colors, along with explanations from participants explaining how the ingredients, garnishes, and presentations of their drinks relate to the ESA mission to Jupiter.
Some drinks, such as a layered smoothie topped with waffle cut-outs resembling solar panels, reference the spacecraft itself. Others, such as a blueberry slushie that changes colors as the drinker stirs in crushed frozen lemonade, take inspiration from Jupiter or its moons. A few are nods to the space journey itself: the recipe for a French Guiana-inspired tropical cocktail calls for lining the glass's rim with menthol syrup to "brace yourself for space cold."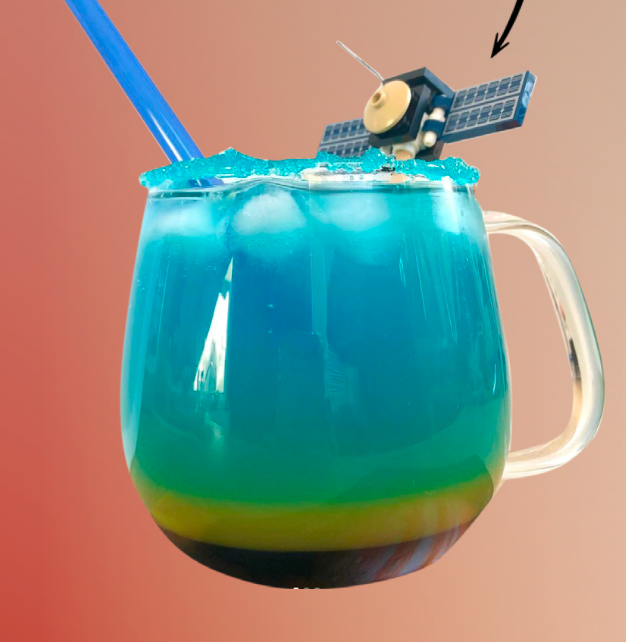 The winner, University of Bologna Biodiversity and Evolution Master's student Margherita Gagnoni, named her drink "Europa Geology." In a clear glass, the drink looks like a cross-section of Europa, with rock crystal at the bottom symbolizing its rocky core, a clear blue base representing its vast oceans, and crushed ice at the top for its icy crust. The coconut water and palm tree-like star anise garnishes are a reference to Juice's tropical launch site, while the tonic water and apple juice mixed into it represent the rocket's European origins.
Scientists suspect that hydrothermal vents on Europa may create the conditions for microscopic life to thrive. "It's really important to search for life," Gagnoni says. "I really feel the need to answer this important question." She dyed her mocktail blue with spirulina, a type of algae. "For me, it's a symbol of life in [Europa's] ocean—a hope for life," she says.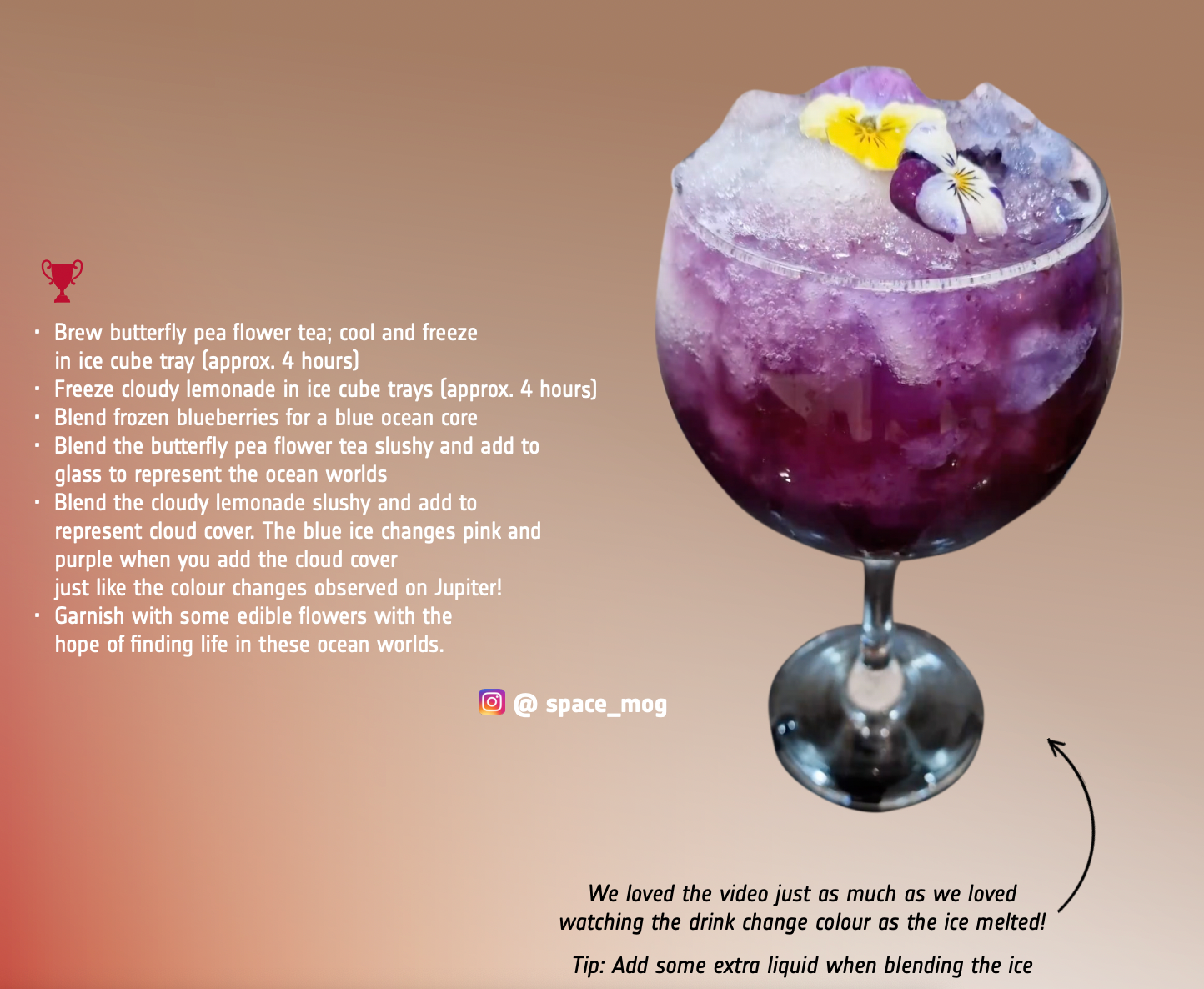 Gagnoni heard about the contest through one of ESA's social media posts. She had no prior experience making cocktails, and she did not expect to win. "I just followed my intuition," she says. A panel of ESA scientists, engineers, and science communicators chose Gagnoni's mocktail as the winner for its appearance, scientific references, its refreshing, sweet taste, and its straightforwardness.
As the winner, Gagnoni was flown out to ESA's Operations Center in Darmstadt, Germany to present her drink on April 13 as staff gathered to watch Juice's launch. Simultaneous launch parties in French Guiana and Northern Europe also enjoyed her bright blue mocktail.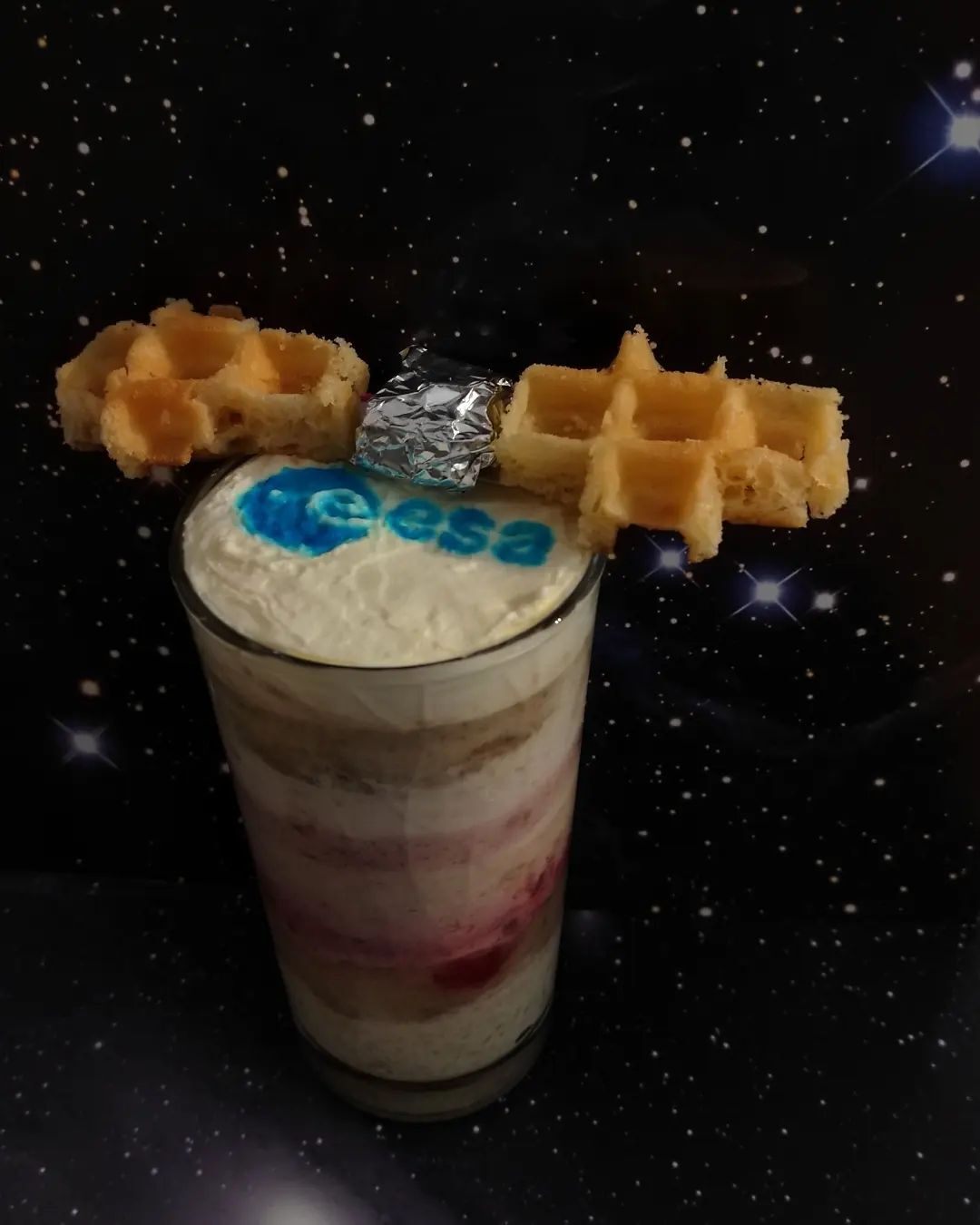 As it turned out, the launch parties were anticlimactic. Bad weather forced ESA to postpone Juice's lift-off until the next day. "It was really disappointing," says Gagnoni, but the opportunity to share her creation lifted her spirits. "People told me that [my drink] was really refreshing," she says.
For Gagnoni, the event was a thrilling entry into an industry she hopes to work in some day as an astrobiologist, a scientist who studies the possibility of life in outer space. In the meantime, this contest may have kicked off a side career as a mixologist. "Maybe I discovered a new passion," she says. "I had so much fun preparing and thinking about the recipe. Yes, I'm doing more."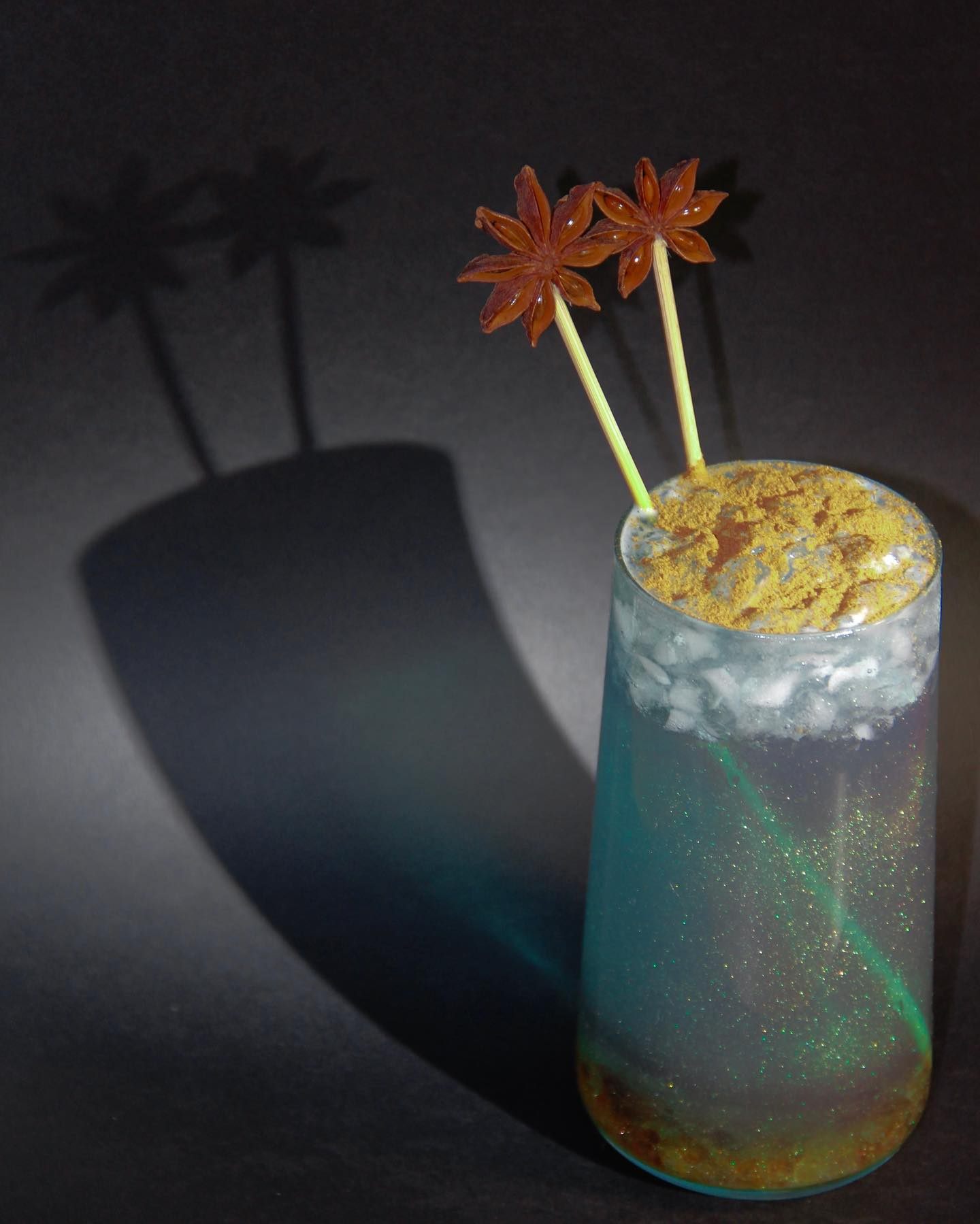 Europa's Geology
In true scientist fashion, the following recipe consists of percentages rather than ounces or cups. The following instructions make one drink, but it's easy to scale.
Ingredients
30% tonic water
30% coconut water
20% ginger ale
20% apple juice
1/3 teaspoon blue spirulina powder
One pinch edible golden sparkling powder
One tablespoon brown rock crystal sugar
Crushed ice
One pinch cinnamon
Two star anise pods
Two cocktail sticks or skewers
Instructions
Mix tonic water, coconut water, ginger ale, apple juice, blue spirulina powder, and edible golden sparkling powder in a tall glass.

Add brown rock crystal sugar and let it precipitate to the bottom of the glass.

Top with fine crushed ice and sprinkle with cinnamon powder.

Garnish with two star anise pods attached to the ends of two cocktail sticks or skewers.
Gastro Obscura covers the world's most wondrous food and drink.
Sign up for our email, delivered twice a week.