The Best Memorials to Disasters That Never Happened
What, you've never heard of the Brooklyn Bridge Elephant Stampede?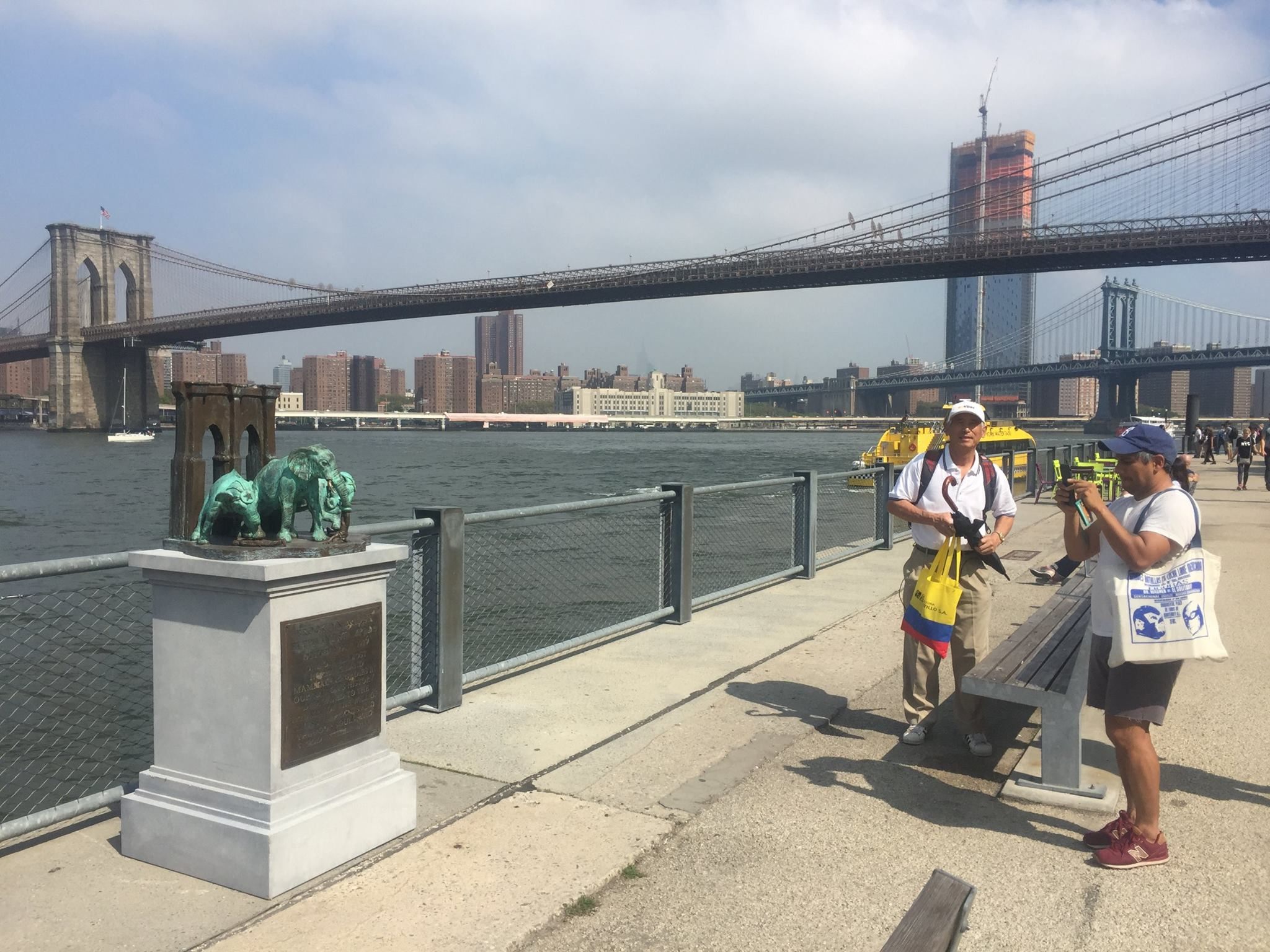 There are a lot of things to do in Brooklyn Bridge Park, an 85-acre green space that snakes along New York City's East River. You can attend a reading or a movie or a concert. You can gaze across the river at the Statue of Liberty, tag along on a historic walking tour, or take a spin in a kayak.
And on certain days, you can pay your respects at the Brooklyn Bridge Elephant Stampede memorial, a recreation in bronze of that fateful day in 1929 when P.T. Barnum's pack of circus pachyderms went rogue, trampling spectators all along the bridge.
If you're wondering why you've never heard of this tragedy before, it's because it never happened. Neither did the Staten Island Ferry Octopus Disaster of 1963, during which one of the borough's famous orange boats was dragged below the East River's surface by an enormous, tentacled beast—but there's a memorial for that, too, in Manhattan's Battery Park. Both are the work of Joseph Reginella, a native New Yorker who describes them as tributes to the city where he's spent his life.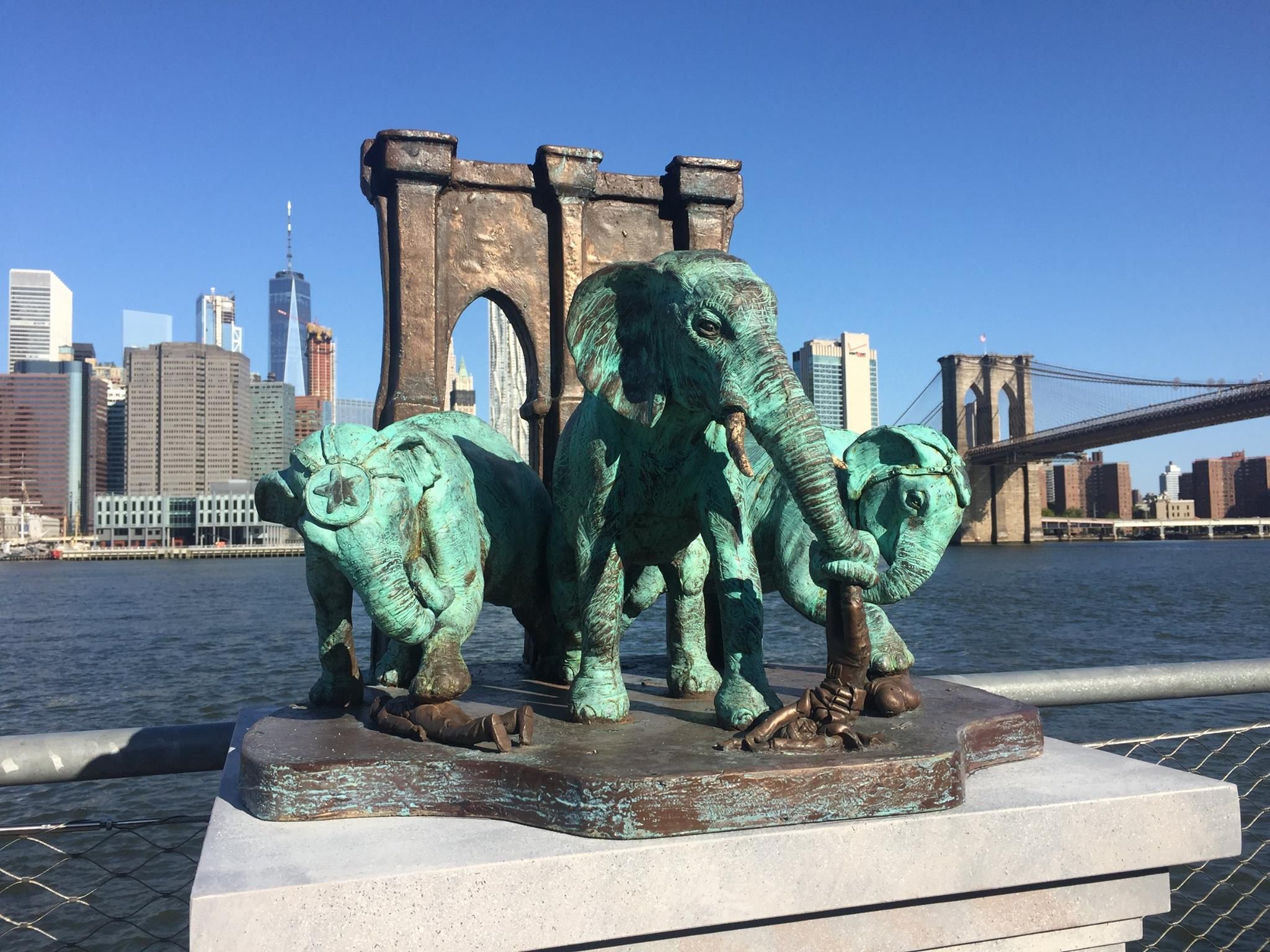 Reginella, who lives in Staten Island, is a professional sculptor. He makes sets and props for TV commericals, and displays for stores like Macy's. Left to his own devices, though, he tends to create pieces that find humor in the juxtaposition of fear and innocence: a Jaws-themed baby bed, say, or his line of macabre "Toxic Teddies."
A few years ago, he was on the Staten Island ferry with his young nephew, who put him through a classic kid interrogation. "He was asking weird questions—like, 'Is this water infested with sharks?', this and that," says Reginella. "And off the top of my head I was like, 'No, but you know, in the '60s, one of these boats was pulled down by a giant octopus.'"
Reginella's nephew was elated, and Reginella got inspired. "I was like, 'Wait a second,'" he says. "That would be pretty cool if I could pawn that off on everybody." He began concocting a full story, in which a ferry called the Cornelius G. Kolff "vanished without a trace" in a flurry of "large tentacles" on its way from Staten Island to Manhattan, with 400 people on board.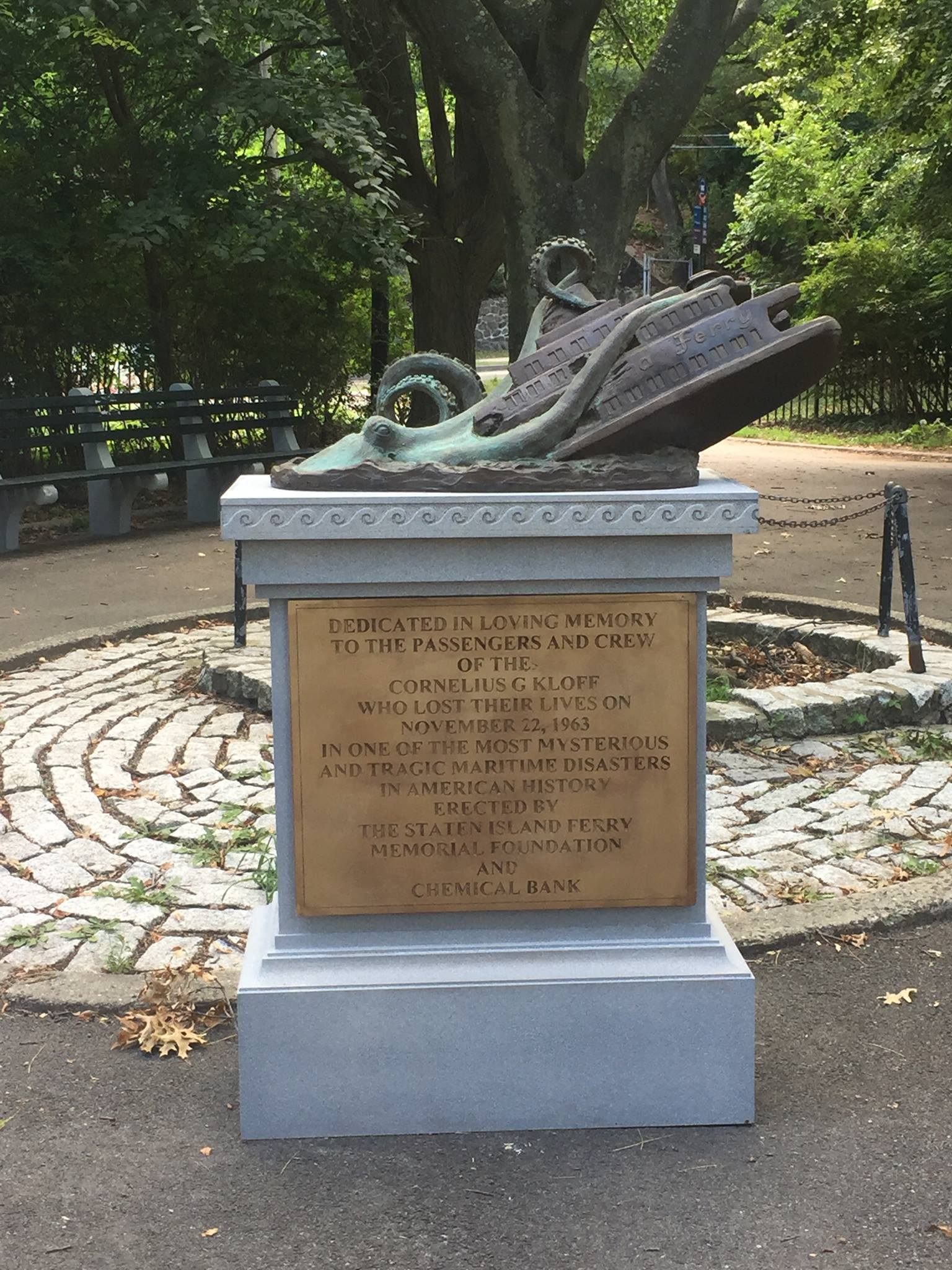 He picked a date: November 22, 1963, the day of John F. Kennedy's assassination, which would have ensured that this other tragedy got buried in the news. And he made the sculpture: a three-foot "bronze" replica of the sinking, sucker-stricken boat, placed on top of a "marble" column, and captioned by a sober plaque. (The whole thing, Reginella says, is actually made of painted styrofoam.)
The statue was intriguing on its own, but Reginella was hoping to make a bigger splash. "You need to have a larger platform, I believe, to sustain [the story]," he says. So he brought in a team of friends to help him create a multimedia experience: staged crime scene photos; photoshopped news clippings; a short documentary, full of slow pans and shellshocked witnesses.
Reginella set up the memorial in Battery Park. When people came over, he handed them brochures for the "Octopus Memorial Museum," also a hoax. The museum's "location" was actually that of a cultural center on Staten Island.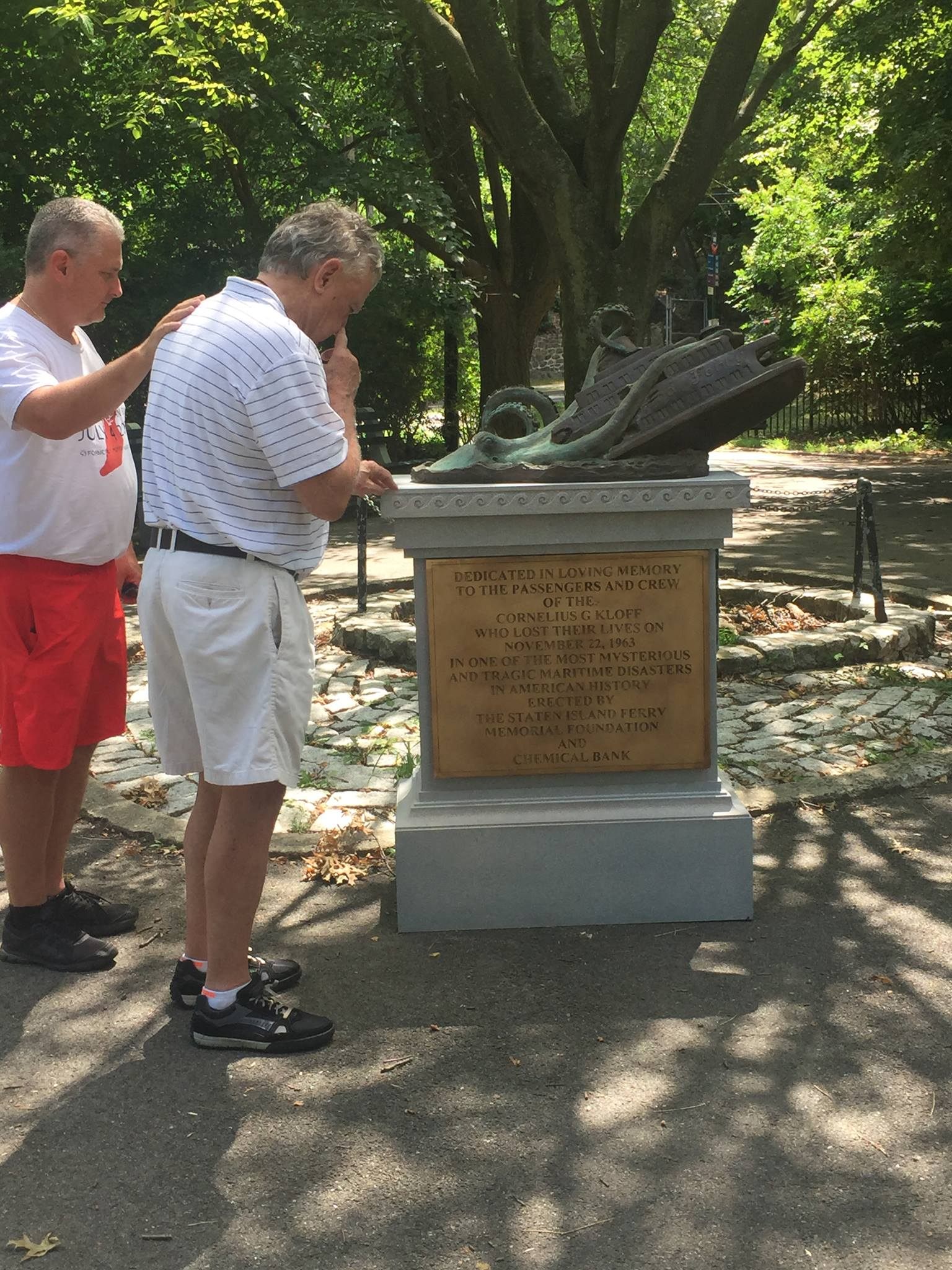 "I figured if I'm going to send people to a fake address, I don't want to totally dupe them," says Reginella. "But then I started getting nasty phone calls from the people who were running the [cultural center]. People were going out and walking the grounds, actually looking for the [museum]… That was very stunning to me."
Eventually, local news channels picked up the story, and the jig was up. Fans kept coming anyway, though: "People seemed to love it even though they knew it was fake," Reginella says.
It was all enjoyable enough that he figured he'd do it again. This year's story involves a deadly elephant stampede that just happened to occur on October 29, 1929, the same day as the stock market crash that kickstarted the Great Depression. The memorial shows three elephants mid-rampage, in front of the Brooklyn Bridge's iconic pylons.
The website has another documentary, this time voiced by Disney Channel stars, thanks to Reginella's relationship with screenwriter Ricky Roxburgh. There is also another brochure, more doctored newspaper clips, and a walking tour, narrated by New York punk legend David Johansen. "I'm lucky enough to have a whole bunch of people willing to go along with my insanity," says Reginella.
Reginella makes the sculptures to entertain himself and others. He's especially happy when they seem to tap into shared cultural fantasies or memories: the discovery that Salman Rushdie has also written about a Staten Island sea monster, in his 2015 novel Two Years, Eight Months, and Twenty-Eight Nights, thrilled him, and he combined two true past events to come up with this false elephant stampede.
But in this particular historical moment, he sees a lesson embedded in them, too. "I hate the term 'fake news,'" says Reginella. "But one thing I do hope people get out of this is to do their due diligence. To do their own research, and not to believe everything they hear."
Mostly though, he says, it's a love letter to New York City: perhaps the only place in the world where events like these—for a moment, at least—seem like they might be plausible.
You can keep tabs on the memorials' appearances on their respective Facebook pages: Staten Island Ferry Octopus Disaster Memorial Museum and Brooklyn Bridge Elephant Stampede.