The Surprising Complexity of an Unfinished American Quilt
A community of feminist crafters grapples with a patriotic quilt that a 99-year-old nurse left behind.
Shannon Downey, the creator of a website called "Badass Cross Stitch," is a crafter, activist, and serial estate sale shopper. When the Chicago artist finds unfinished embroidery works on her household hunts, she often buys and completes them, so that their makers' souls can rest in peace. Because she frequently adopts patterns that she would never choose herself—Downey gives the examples of "Bible quotes, cats, or 'Home Sweet Home'"—many eventually end up at Goodwill.
But this October, in the bedroom of a stranger's suburban home, Downey stumbled upon a project she immediately knew was different. Preserved in a plastic bin were the fabric pieces needed for a giant quilt made of hexagons, decorated with stars and the outlines of the 50 U.S. states, complete with their official birds and flowers. Its artist had finished stitching just two states—Alaska and Georgia—as well as a neat and intricate map of the country for the quilt's center. Her name, Downey learned, was Rita Smith. She was a school nurse and highly skilled crafter who had died in August, at age 99.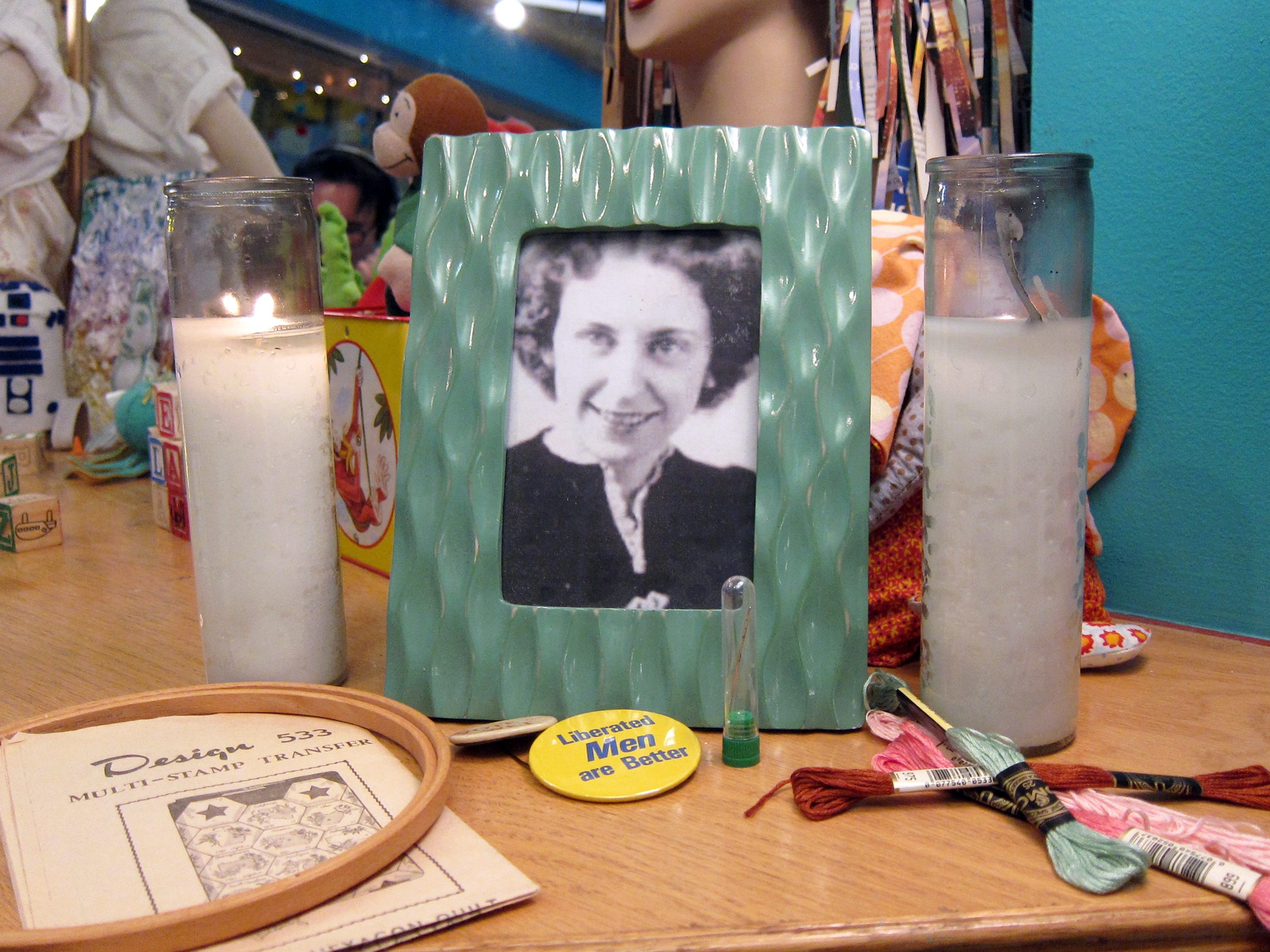 "I almost started crying, because I was like, 'This is so big, I can't do this—but I must,'" Downey says. She bought the materials for six dollars and put out a call on Instagram, where she has cultivated a large and loyal following for her unapologetically feminist 'craftivism.' (One neatly embroidered message reads, "THE PATRIARCHY ISN'T GOING TO SMASH ITSELF.") Within 24 hours, more than 1,000 people had offered their hands and needles. The volunteer pool kept growing as news outlets from The Washington Post to CNN lauded the project as a feel-good story about strangers coming together.
Downey assigned individual states and stars—already outlined by Rita on separate scraps—to the earliest responders and mailed the designs across America. (Two went to Canada.) She gave her collaborators some general guidelines, but for the most part, each had the freedom to add personal marks. Phyllis Liu, for one, filled their star with a poetic saying in elegant Nüshù, a script developed and used exclusively by women in China's Hunan province.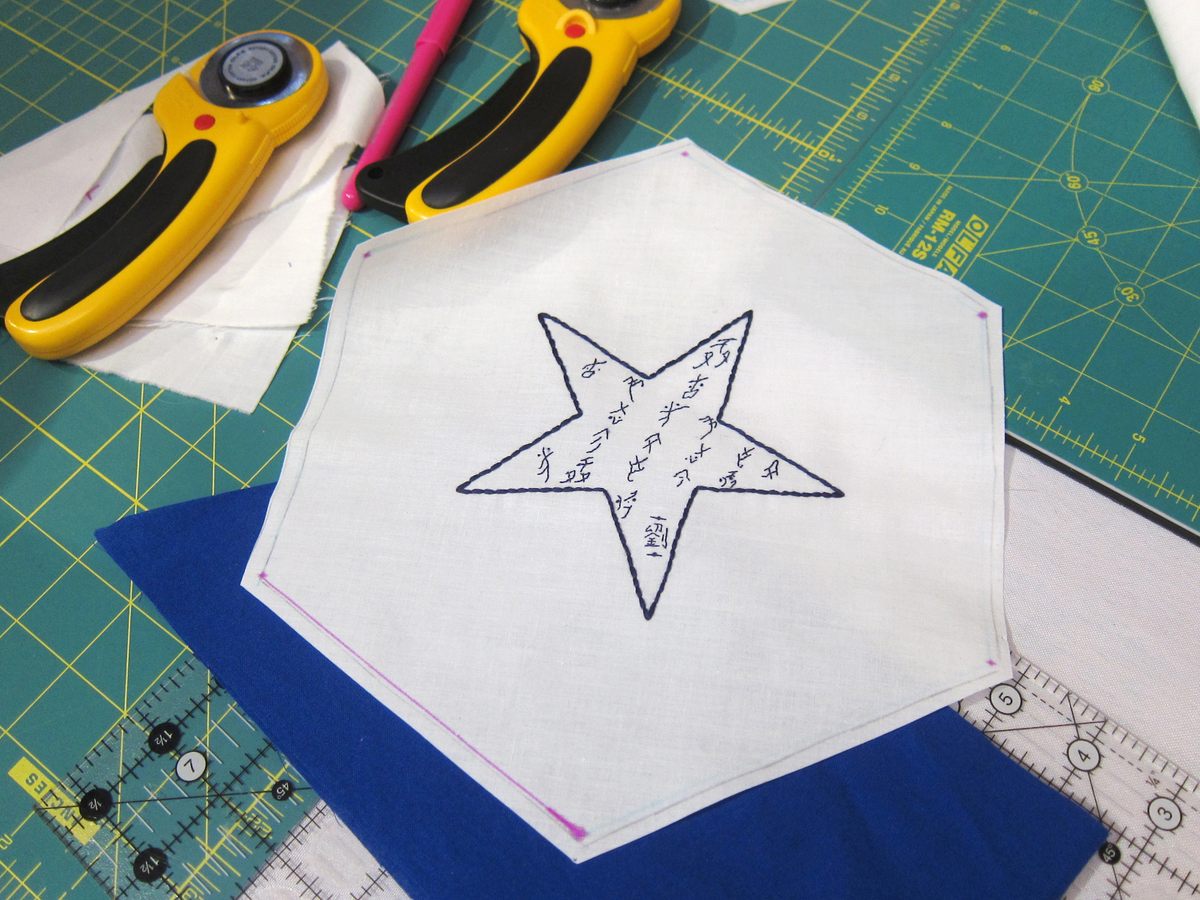 Last Saturday, with the finished hexagons back in Chicago, 35 skilled quilters gathered to piece them together. They met at Wishcraft Workshop by invitation of studio owner Candice Blansett-Cummins, and for seven hours, they sewed under the guidance of seasoned longarm quilter Sarah Evans. They used supplies donated by the Canadian fabric company Fabricana and noshed on homemade cookies frosted with the project's moniker, #RitasQuilt. While most quilters were local, a handful had traveled from other states, including a mother-and-daughter team from Minnesota. Also present: a camera crew from The Kelly Clarkson Show, which was filming the party for its holiday special.
To the volunteers, almost all of whom identify as women, #RitasQuilt is much more than a collective pledge to a late fellow crafter. "This is a wildly political and feminist act," Downey says. "It's women coming together to do something powerful and honor women who have, since the beginning of time, been stitching and sharing stories that might not have been seen. That the media, for the most part, has simplified this to That's so sweet! Internet ladies! is so fascinating."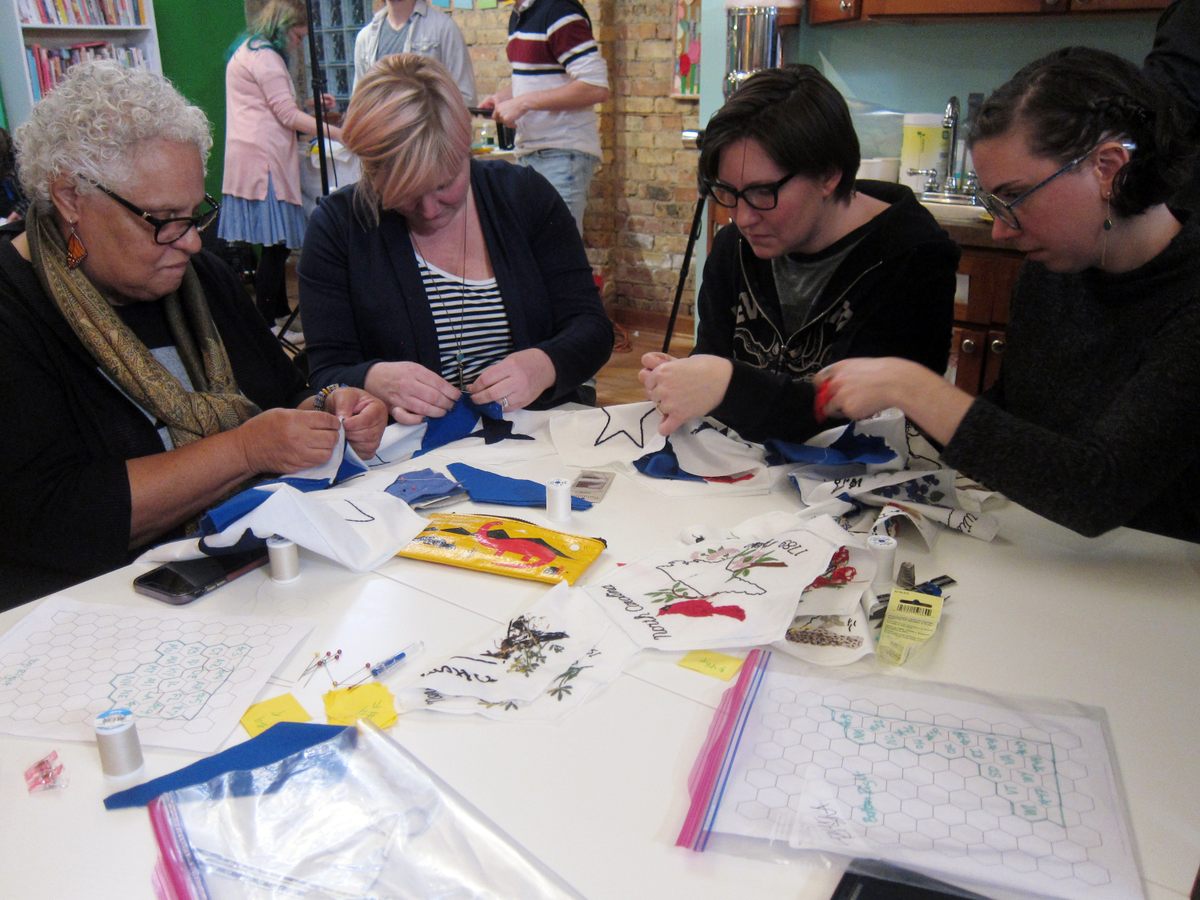 More complex discussions have emerged among the volunteers. "We've had a lot of conversations about the valuation of women's labor—that we're taking back the value of our work," says Hannah Allen, who stitched the outline of Kentucky using threads she dyed with native plants. While she intends to celebrate her home state's natural beauty, she acknowledges that it is a "problematic place full of contradictions. I think about how these are very white, colonial borders and how to honor Cherokee and other tribal borders."
The quilt's pattern, incidentally, is published by Colonial Patterns, a quilt-design company that is still operating. It was originally introduced around 1976, when nationalistic red, white, and blue quilts to commemorate the American Bicentennial were all the rage. Evans, the longarm quilter, wonders whether Rita picked up the pattern around this time, perhaps wanting to participate in the nationwide excitement.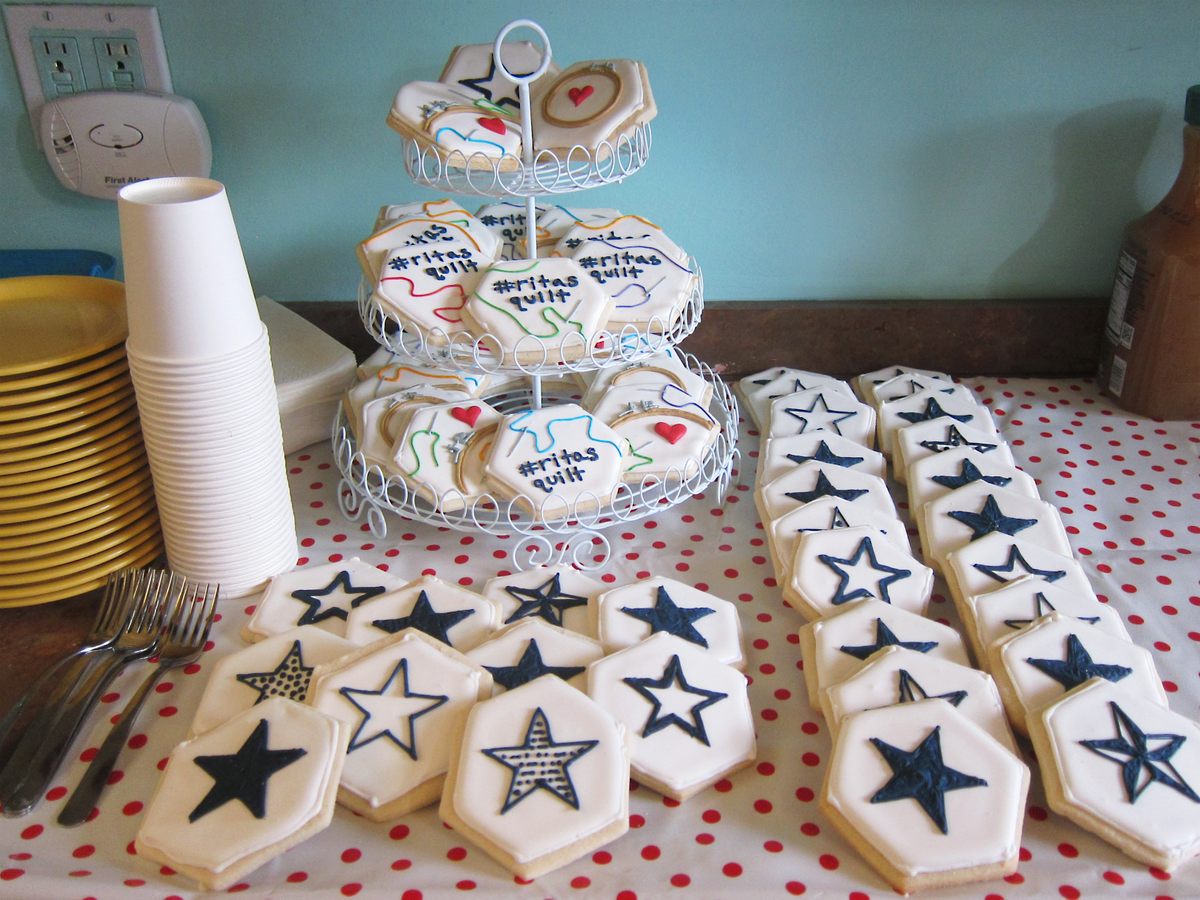 This spirit of idealized Americanness wasn't lost on Michelle Beaulieu-Morgan as she stitched the outlines of Maine. On Instagram, the embroidery artist shared concerns about how she sees #RitasQuilt contributing to the erasure of indigenous histories while it inspires nostalgia for unity in this era of extreme divisiveness. "I'm really sad and disappointed that an opportunity to talk about the way white women have contributed to the erasure of communities of color hasn't made it into the many many words written about this project," she wrote.
In an email, Beaulieu-Morgan adds: "Maps, the establishment and depiction of borders, and the incorporation of large tracts of land into new political geographies erases what was already there. When we don't talk about that, we participate in uncritical nationalism and patriotism." Beaulieu-Morgan sent back her finished hexagon with its US borders, but she is planning to crowdsource another version of the pattern that involves Native artists stitching Native borders.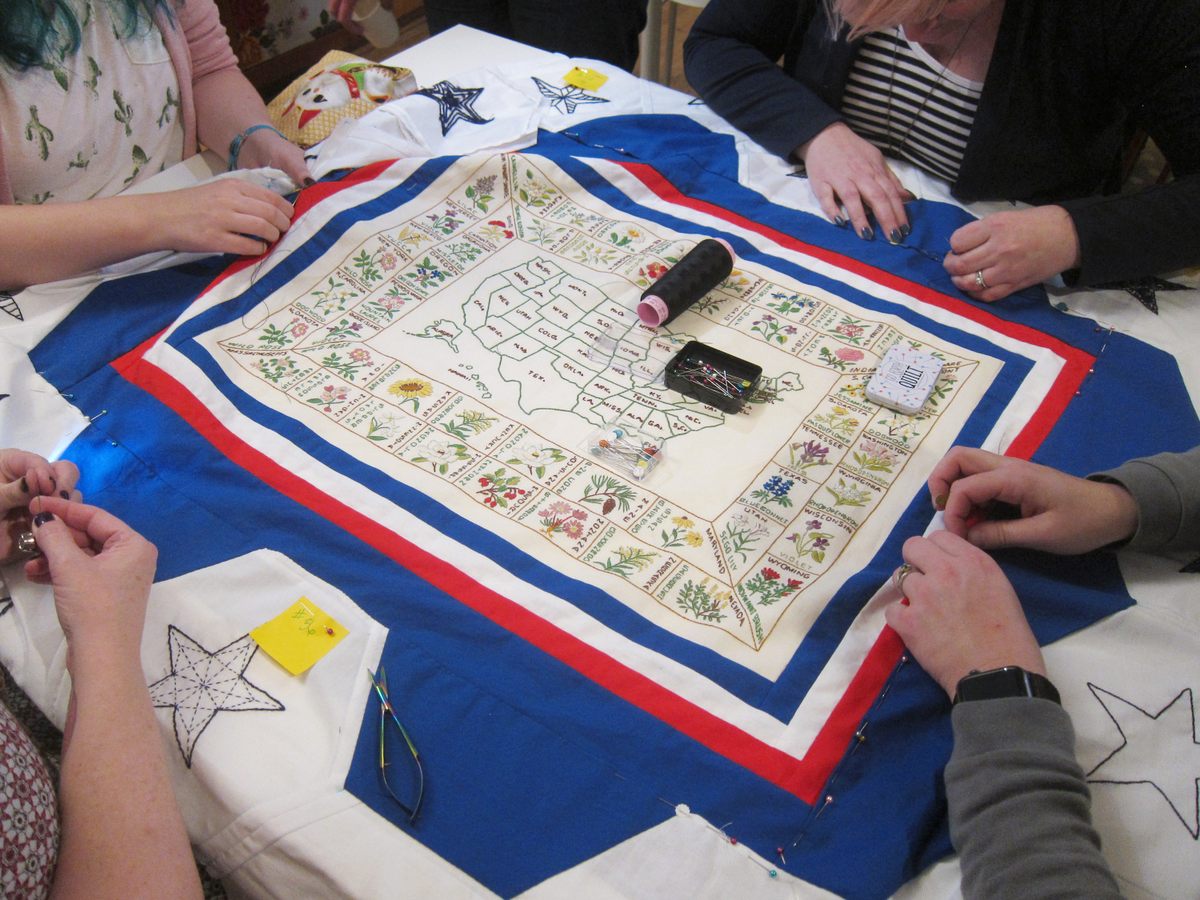 Downey is intent on upholding Rita's original vision, but she is glad that the pattern has led to conversations that complicate the 'wholesome' narrative. "A lot of people who follow me are white women," she says, acknowledging that #RitasQuilt largely attracted white stitchers and quilters. "And I feel a great responsibility to gather them and be like, 'Okay, y'all, let's talk about white supremacy, let's talk about intersectionality.' We have so much work to do."
Mary Scott-Boria, a Chicago resident who showed up to sew over the weekend, was drawn to #RitasQuilt because the collective endeavor reminds her of Gee's Bend, a renowned community of African-American women with a long tradition of quilting, often as a form of resistance and preserving family history. The women of Gee's Bend, many of whom are descendants of enslaved people, have been creating geometric designs since the mid-19th century. "Here is this woman who did this in isolation," Scott-Boria says, hexagons in hand. "It's beautiful to see another generation pick up where she left off and create community by doing something that is very indigenous to women."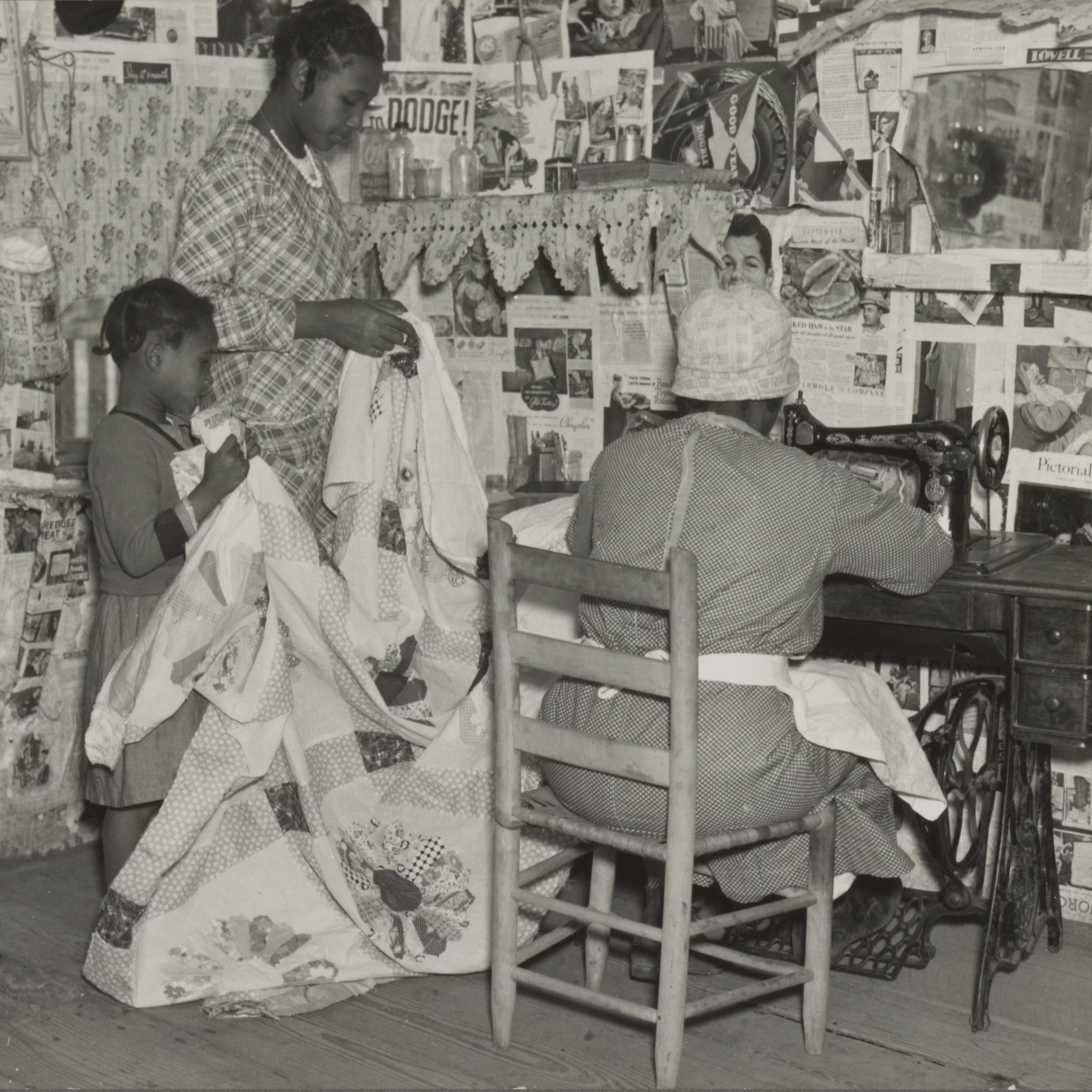 A veteran activist, Scott-Boria has participated in several political stitching projects to support imprisoned women, particularly black women, who face higher rates of incarceration than white women. She's involved in an ongoing, nationwide quilting campaign that demands the release of imprisoned survivors of gender-based violence.
Beaulieu-Morgan suggests that such social justice efforts don't necessarily gain the same viral traction as white-feminist craftivism, which has a strong presence online and in the mainstream media. "I think the embroidery community online is coming very much out of the history of Riot Grrrl, Nasty Women, the pink pussy hat takeover of the Women's March…which—regardless of who founded those movements—is primarily white," she writes. "I think Black or Latinx or Indigenous and other women/people of color are rightfully skeptical that there might be real space for them in this community."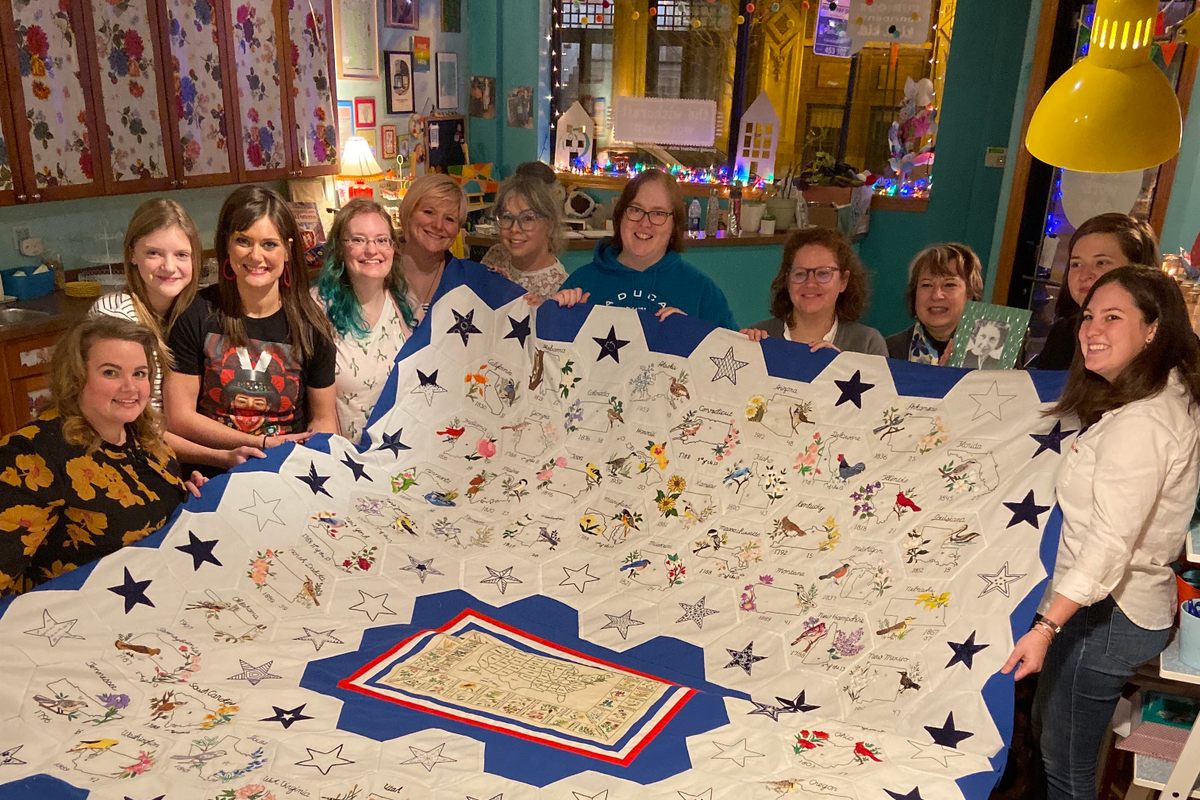 Downey echoes those sentiments. "That's the part I hope I'm working on," she says. "Using my work in a way where, if I show up to town, I'm creating space for everyone."
The final artwork will debut at Chicago's Woman Made Gallery on December 21, after the back of the quilt is finished. In the spring, it will head to Paducah, Kentucky for the legendary annual Quilt Show. Downey also hopes to load it in an RV for a year-long road trip. Her national tour, for which she is currently raising funds, will include visits to volunteer stitchers so they can display it for their communities. Along the way, she hopes to teach people how to stitch in the name of toppling patriarchy. "Rita had some damn plans for us," Downey says. "She was a kick in the ass in so many ways."