How Overlooked History Yields Unforgettable Ice Cream Flavors
Hannah Spiegelman's innovative desserts profile figures from Laika to Ida Tarbell.
When Hannah Spiegelman makes ice cream and other frozen desserts, her flavors are as elaborate and fanciful as anything you'd find in an artisanal shop. She's created treats as varied as lavender gin-infused ice cream with lemon and marshmallow-root meringues to sweet-tart raspberry mint shrub sherbet, with gingerbread cookie shards and orange butterscotch sauce swirling throughout.
However, these flavors serve a bigger purpose than simply experimenting with novelty. On her website and Instagram, both titled A Sweet History, Spiegelman uses ice cream to highlight historical events, people, and places. So far, she's profiled figures ranging from performer and French Resistance agent Josephine Baker (with roasted banana and chocolate madeleine ice cream) to Toshiko Akiyoshi, a Grammy-nominated jazz pianist from Japan who has flourished in the male-dominated jazz world (with matcha ice cream topped with caramel Manhattan sauce.)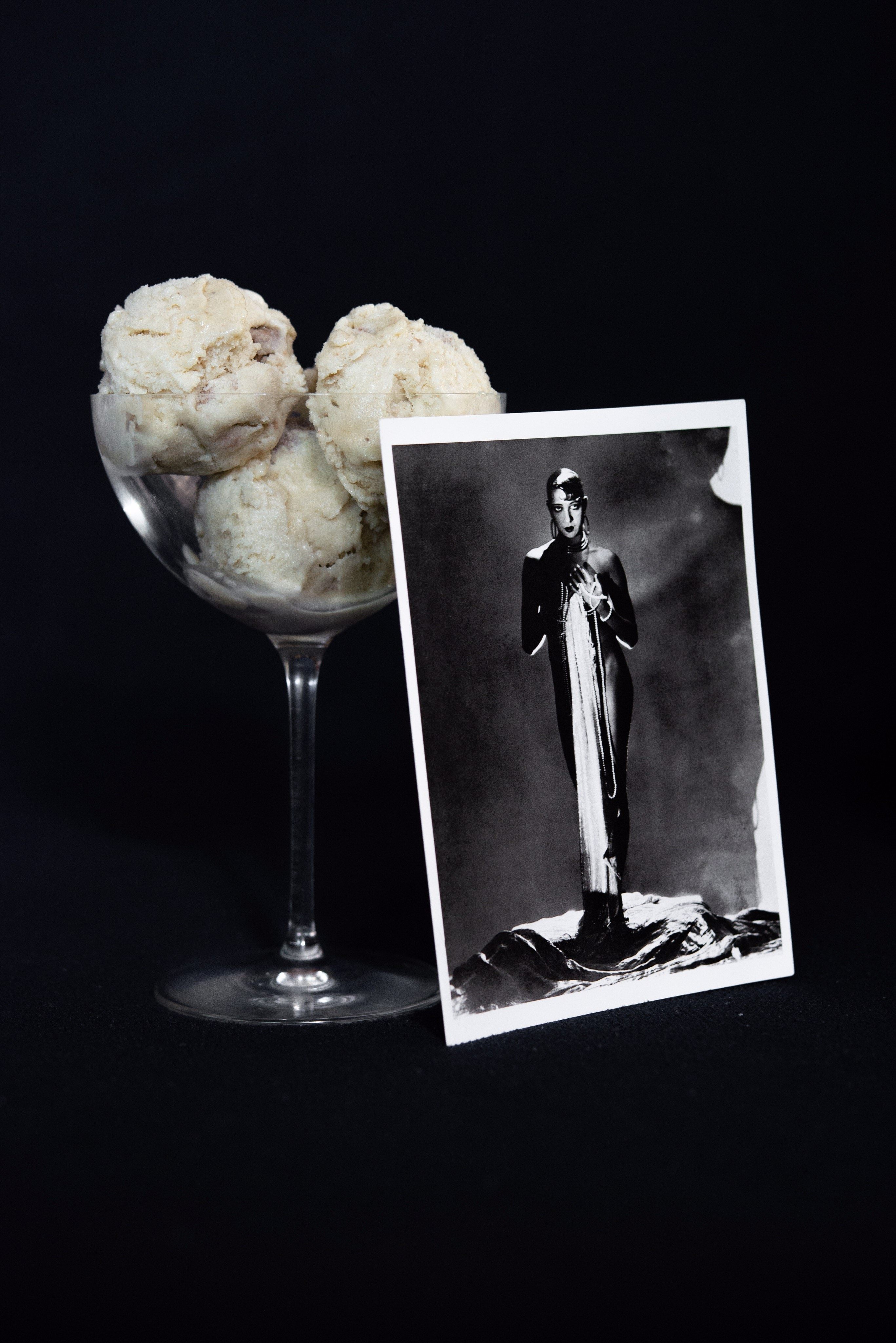 Spiegelman created A Sweet History in 2017 as a way of combining her passion for food and history. After graduating as a history major and working various food service and archival history jobs, she wanted a project that could portray history "through something other than dates and hard facts," Spiegelman says. "It was a really interesting way for me to learn, but also for other people to learn and get excited about history."
Spiegelman often chooses to delve into events or figures that she personally finds fascinating. To introduce the story of Laika, the Russian dog who was the first living creature to orbit the earth in 1957, she created a lemon thyme and vodka ice cream with freeze-dried raspberries and candied lemon peel, drawing on Laika's nickname ("Little Lemon") and using the raspberries as a homage to the early preservation methods for foods sent to space.
A blend of Zuppa Inglese and cinnamon tea-chocolate ice cream, candied olive gelato, and ladyfingers soaked in pomegranate juice represents the stories of 19th-century nurses Florence Nightingale and the lesser-known but equally important Mary Seacole, a woman of Jamaican and Scottish-British descent. For this dessert, Spiegelman drew on Nightingale's birthplace of Florence, where Zuppa Inglese was a popular dessert, and used cinnamon to represent Seacole's training in Jamaican herbal remedies.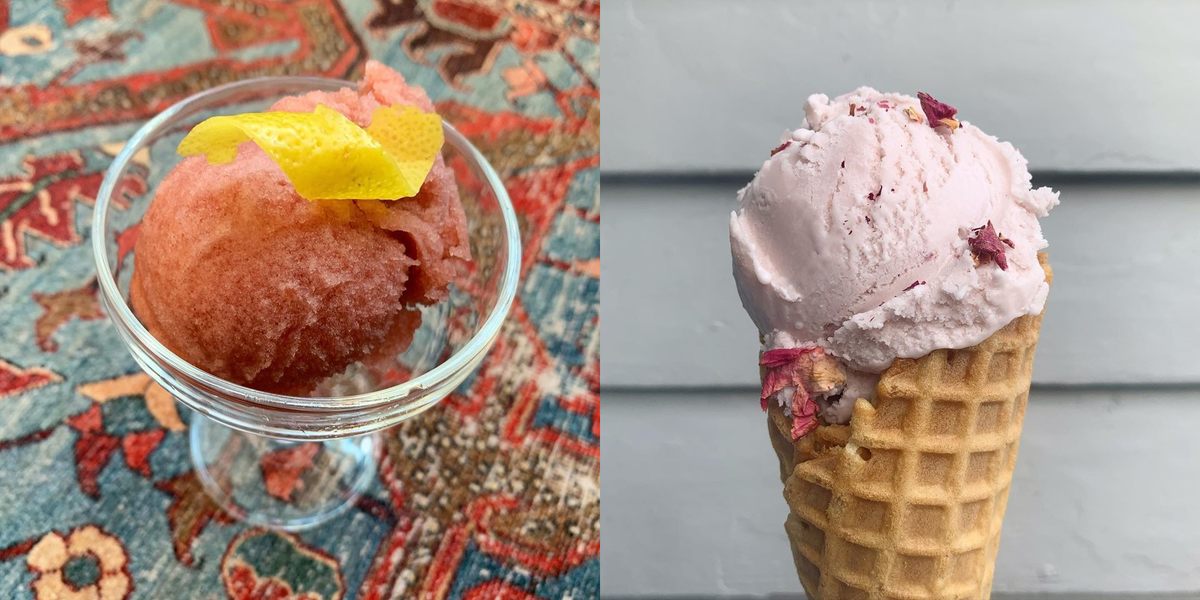 Spiegelman even takes commissions to develop ice cream flavors based on historical figures. But she's very selective. "Somebody asked me to make ice cream about [John D.] Rockefeller," she says. "I was familiar with him as a big oil tycoon in the 19th century, but after doing more research, it didn't sit right with me to be creating an ice cream; I just didn't feel like it was worth sharing his history." Instead, she created an ice cream based on Ida Tarbell, the investigative journalist whose exposé dissolved Rockefeller's monopoly. "I want to try and find a compromise, which I think in most cases, I have," Spiegelman says. "The person who commissioned it was fine with the change, and that was much more exciting for me, and I think more valuable for the person that was getting it as well."
Spiegelman challenges herself to create unique taste combinations. Even before she launched A Sweet History, she used ice cream as a vehicle to experiment with flavors. Now, she bases each ice cream on the backgrounds, works, and words of her subjects.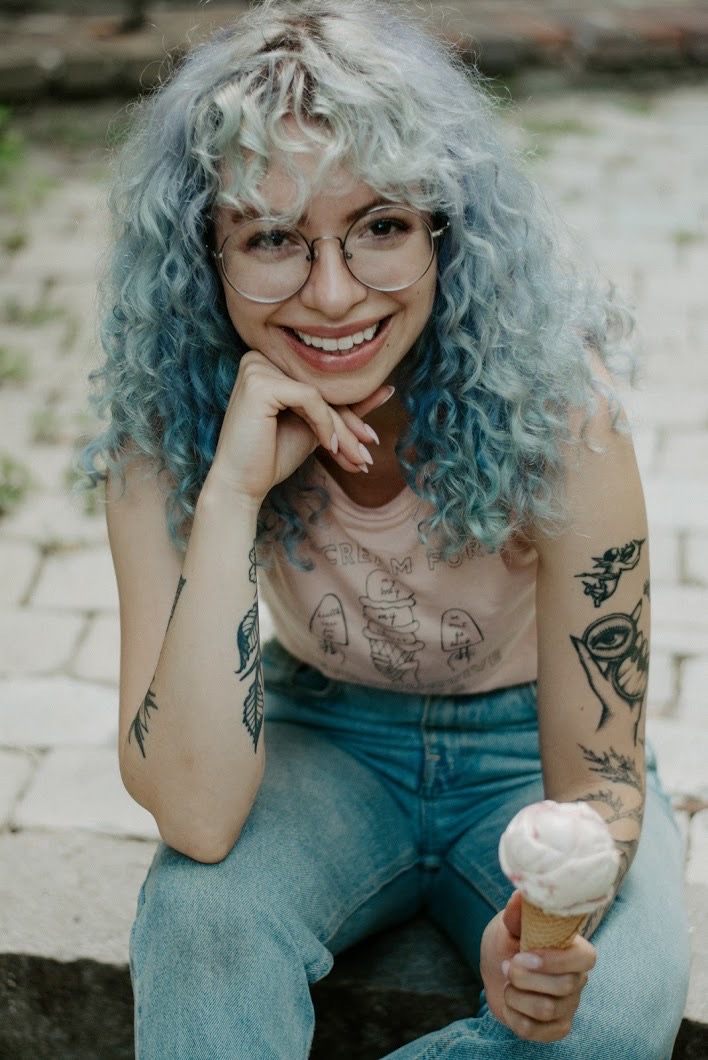 However, she uses research as a source of inspiration, and not as an inflexible rubric—which leaves her free to create unlikely but delicious combinations such as rose and orange bitters ice cream with violet rum baba and CBD-candied mushrooms, inspired by Gertrude Stein and her famous words "A rose is a rose is a rose." Sometimes, her creations are a little more straightforward, like salted nasturtium ice cream with black sesame swirl for painter Kehinde Wiley, a nod to the way he uses flora as a medium to engulf, illuminate, and enhance the beauty of Black subjects in his art. The most important consideration for an ingredient is that it "speaks to the story, somehow," Spiegelman says. "It is sort of abstract sometimes, and sometimes it's a really clear action."
But for Spiegelman, ice cream is more than just posting and sharing interesting flavors online. She sees her creations as art, and a medium with which to talk about history—in all its forms. "Ice cream has so many connotations; it's seen as a joyous treat and something frivolous, even child-like," she says. "I try to use ice cream to talk about certain topics, and to open up the conversation with something more accessible—it can be more than just a fun dessert." Her creations make their way offline too. For a pop-up at the Baltimore Museum of Industry, Spiegelman created a strawberry and Old Bay ice cream, inspired by the city's own ice cream history. The flavor was extremely popular—and one of her favorites to date.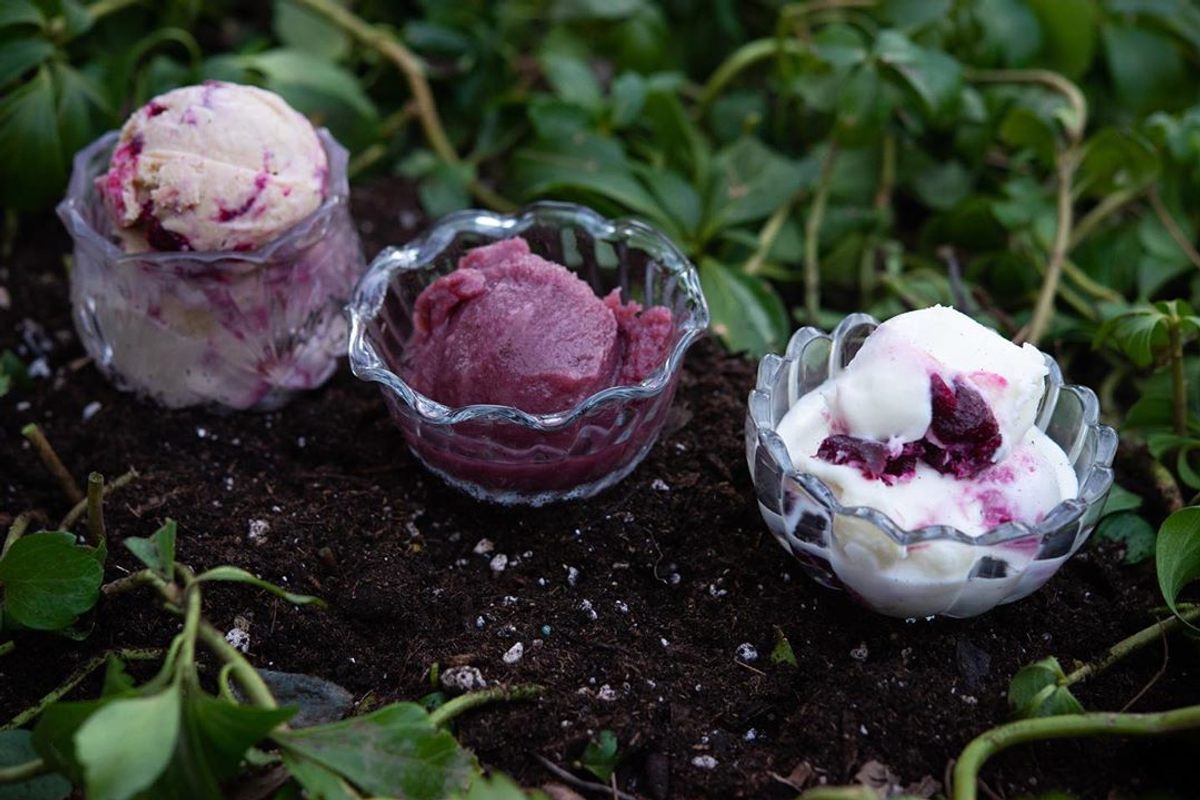 Now enrolled in as a graduate student in Boston University's Gastronomy program, Spiegelman continues to create ice cream flavors. After losing her job due to the pandemic, she launched a Patreon in March to support A Sweet History. After she graduates this fall, she hopes to launch a brick-and-mortar ice cream shop. Spiegelman envisions future customers selecting ice cream based on a menu of stories in lieu of flavors, allowing people to fully immerse themselves in the meaning behind her work. "I want to have a space where people can have discussions about what they're eating while they're eating it, and open up communication," she says. "Any part of history can be really interesting and exciting. You just have to look at it from a different angle."
Gastro Obscura covers the world's most wondrous food and drink.
Sign up for our email, delivered twice a week.