Take a Ride on 10 of the World's Most Mind-Blowing Elevators
These astounding elevators turn ascension into an uplifting experience.
Why take the stairs when the world is filled with so many amazing elevators? All over the world, there are elevators that take people to the top of mountains, museums, and more, that turn simple elevation into a ride in a work of art.
Whether it's the gothic ironwork of Brazil's Santa Justa Lift or the futuristic pods of the Mercedes-Benz Museum or the Aquadom lift that carries riders straight through a massive aquarium, some elevators are so amazing, they become destinations in and of themselves. Take a look at 10 of the world's most amazing elevators. We'll hold the door for you.
Ennetbürgen, Switzerland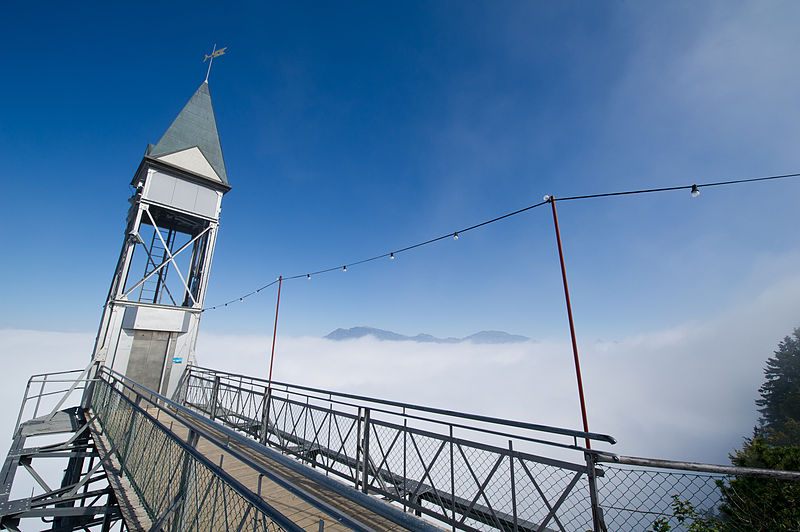 This elevator could easily cause vertigo. (Photo: Leiju/CC BY-SA 3.0)
This Swiss elevator holds the record as the highest outdoor elevator in Europe, connecting a rocky footpath to a scenic lookout point almost 4,000 feet above sea level. Originally built in 1905, the lift carries riders 500 feet straight up, to the top of the mountain. It looks fairly spindly jutting straight up out of the rock, but it's one hell of a ride.
(Photo: Gindegg/CC BY-SA 3.0)
(Photo: Roland Zumbuehl/CC BY-SA 3.0)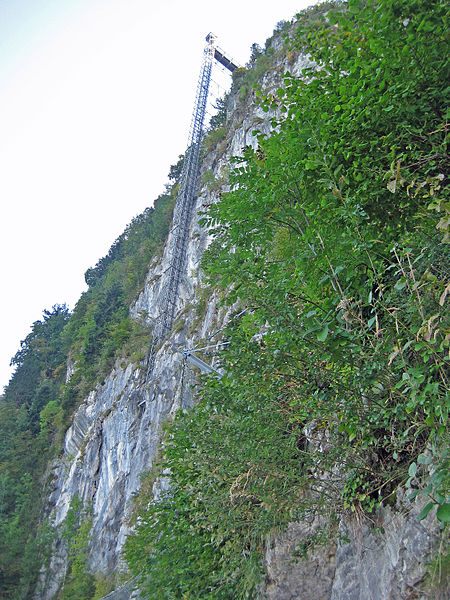 (Photo: albinfo/CC BY 3.0)
2. Mercedes-Benz Museum Elevator
Stuttgart, Germany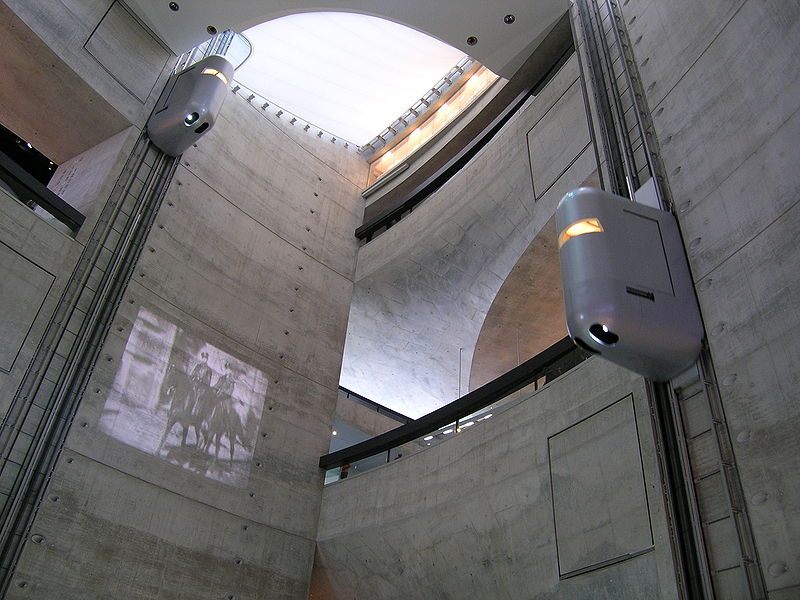 (Photo: Inge Kanakaris-Wirtl/CC BY 2.5)
Sure, the fancy cars are the main attraction at the Mercedes-Benz Museum in Stuttgart, Germany, but the ultra-futuristic elevators that travel up the concrete walls like steel beetles, are almost as much of a draw. Thin and sleek, the elevators eschew the more popular glass-walled design for a metal pod with nothing but a small viewing window to see out of. These elevators might as well be on a space station.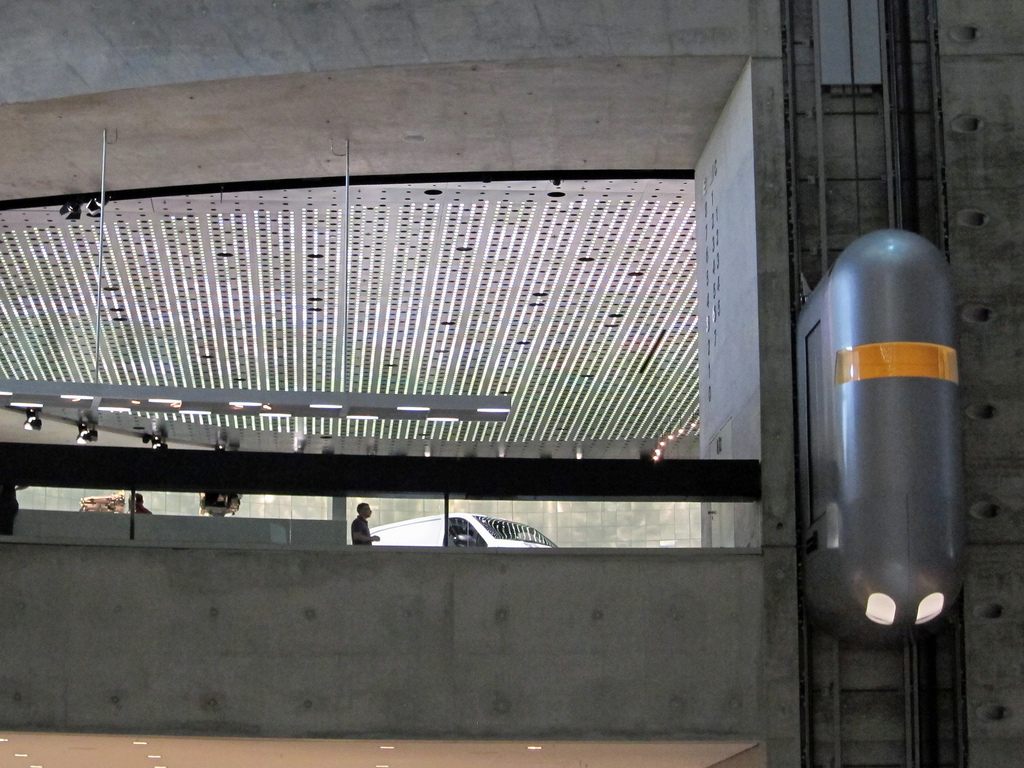 (Photo: Jim Woddward/CC BY 2.0)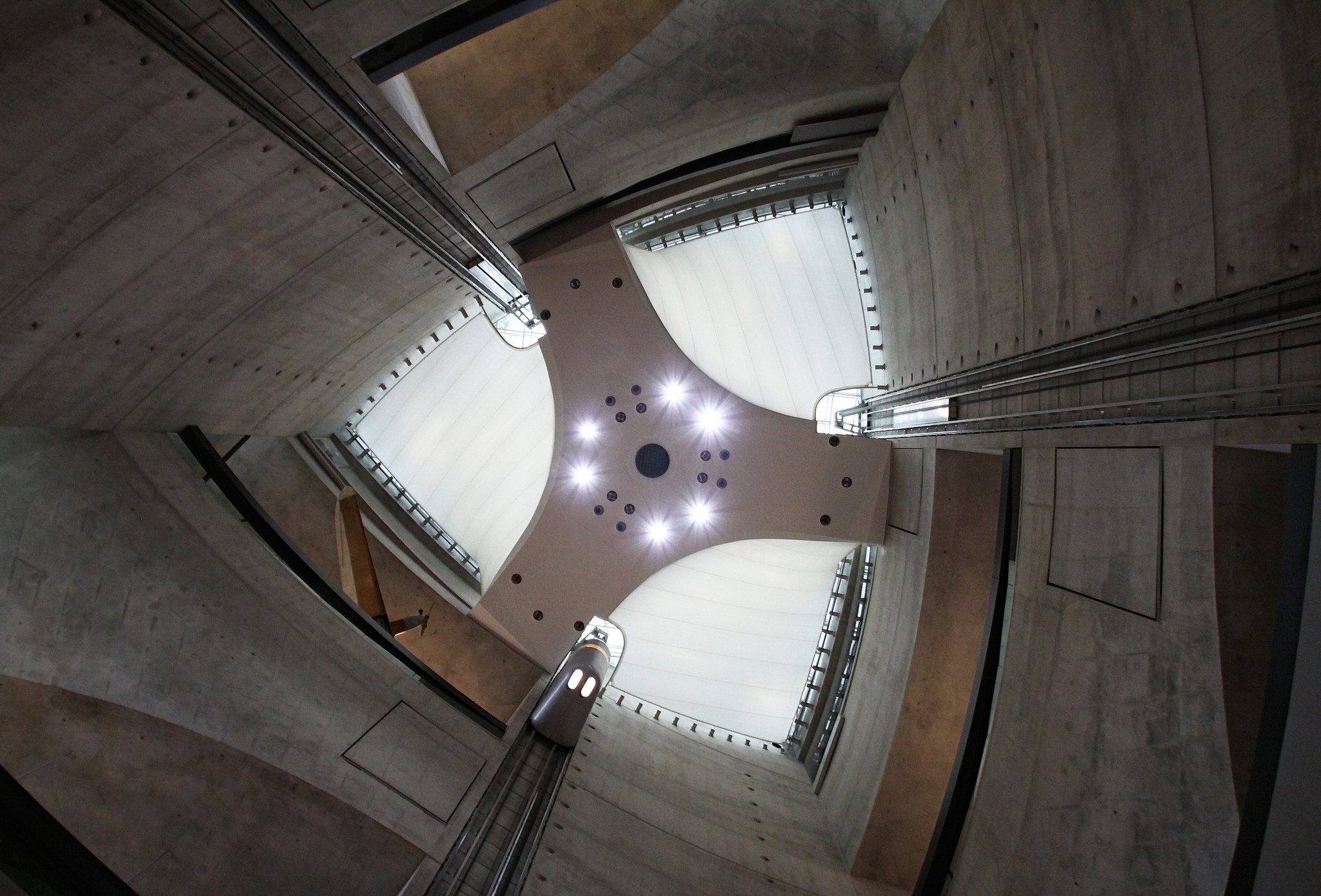 (Photo: O Palsson/CC BY 2.0)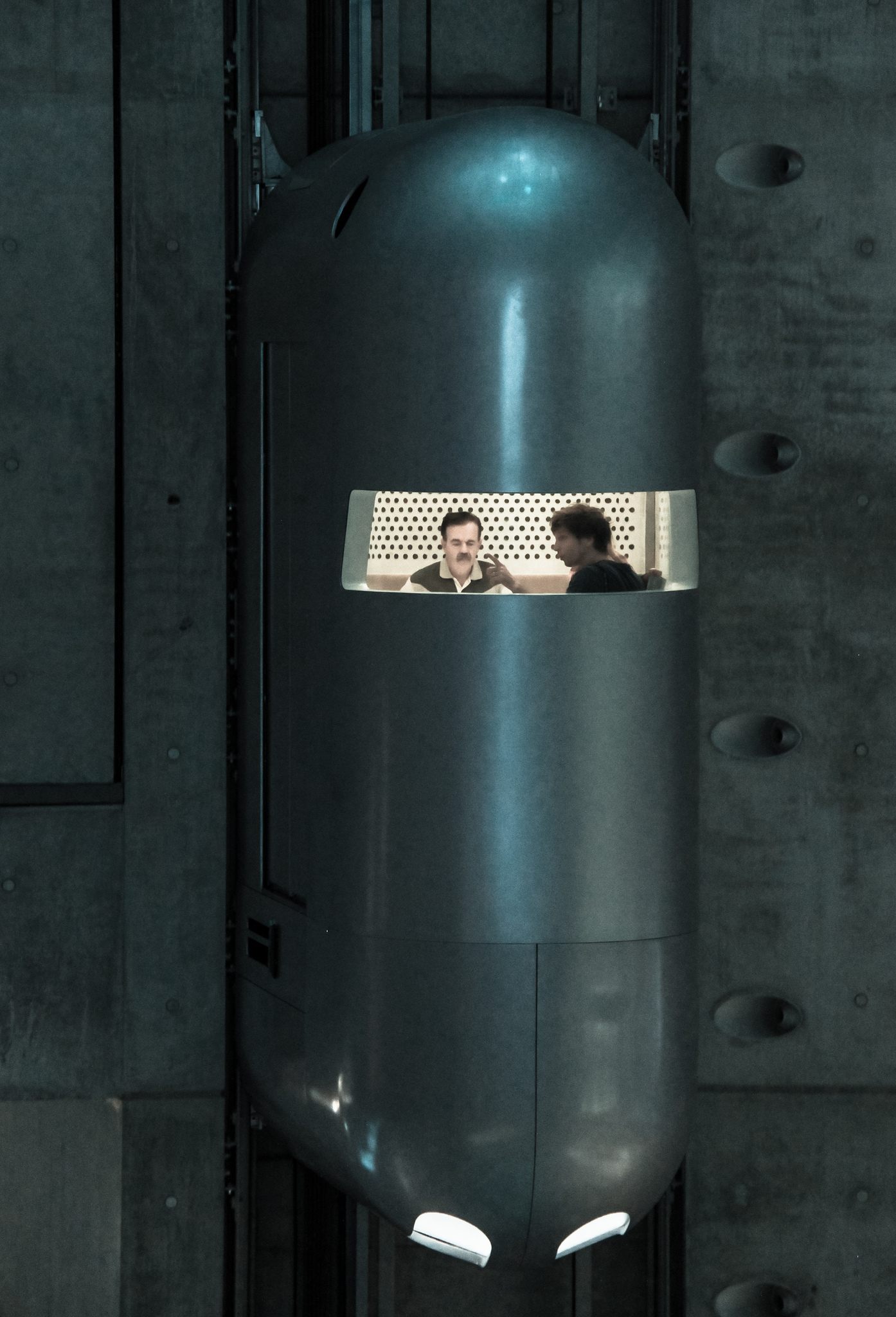 (Photo: Cristian Bortes/CC BY 2.0)
3. Lacerda Elevator
Bahia, Brazil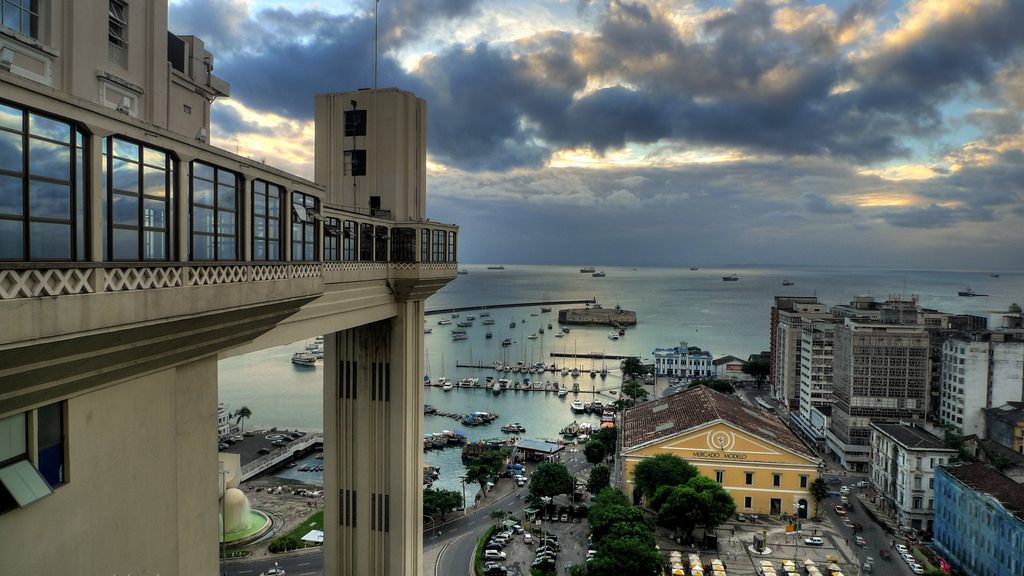 Dark skies, lovely elevator. (Photo: Mario Carvajal/CC BY 2.0)
Brazil's first elevator is still in use, connecting the upper and lower district of Salvador, Bahia. First built in 1873, the 27- foot lift is designed in a sort of Art Deco style that has made it a popular landmark in the area. As a public elevator, anyone if welcome to hop in and take a ride in one if its historic carriages, whether you are trying to get down to the port, or escape it.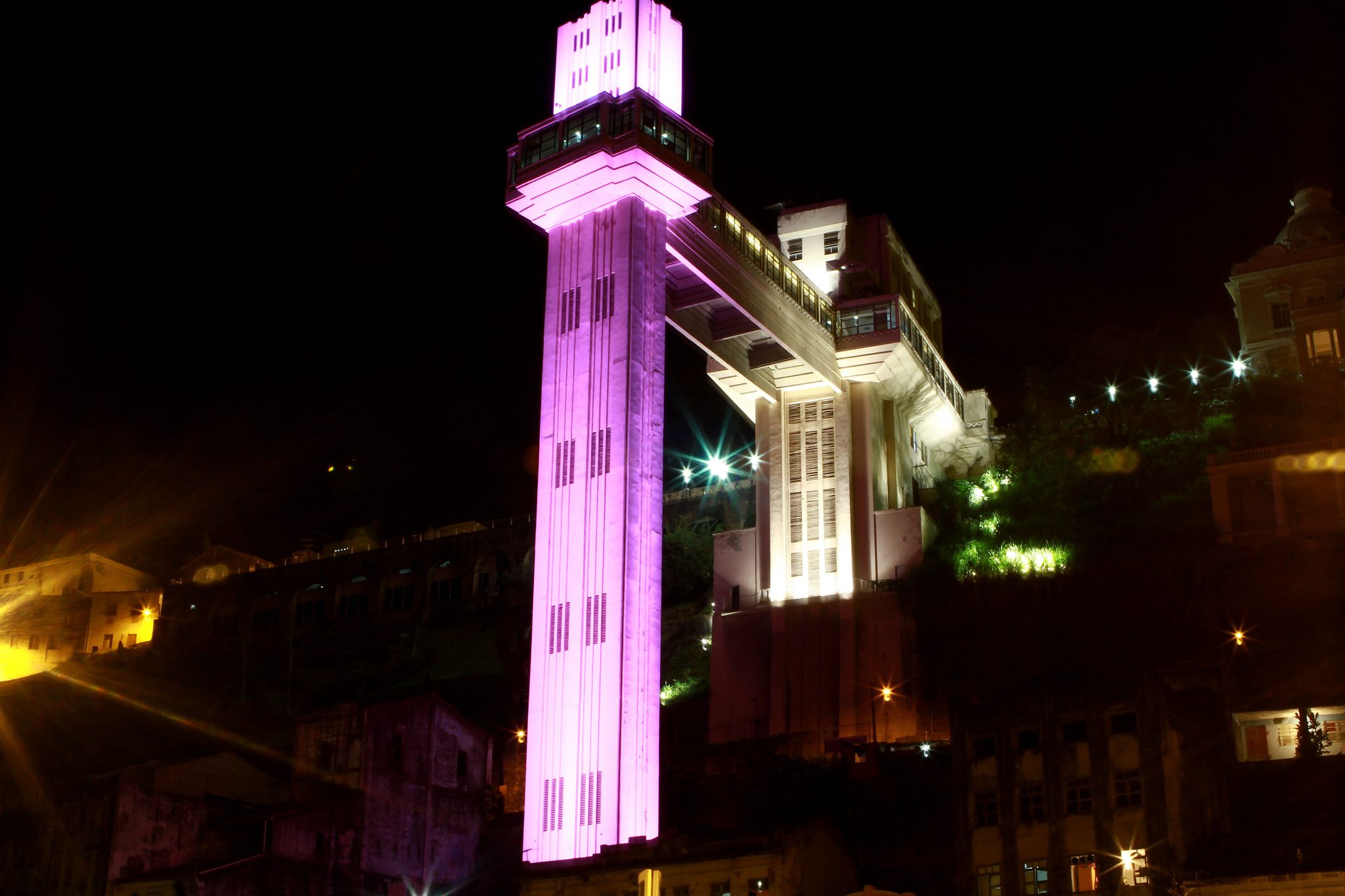 (Photo: Turismo Bahia/CC BY-SA 2.0)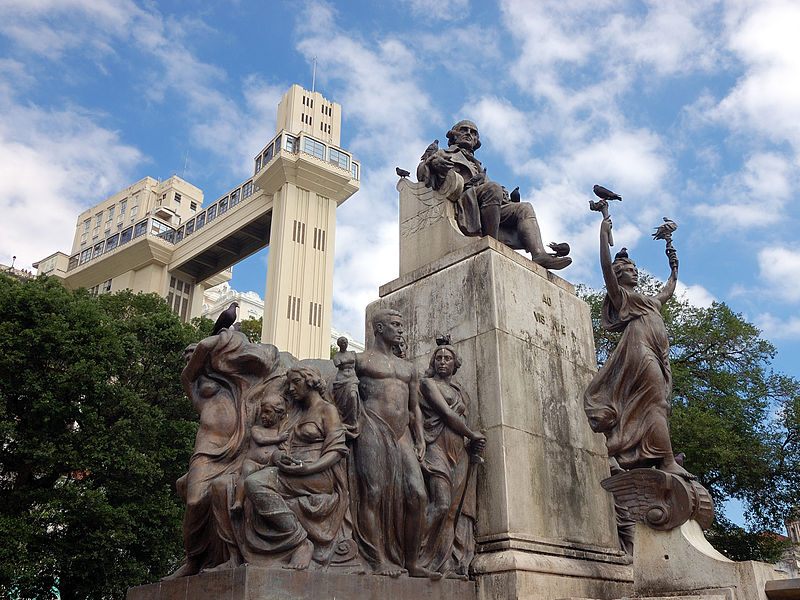 (Photo: Rosino/CC BY-SA 2.0)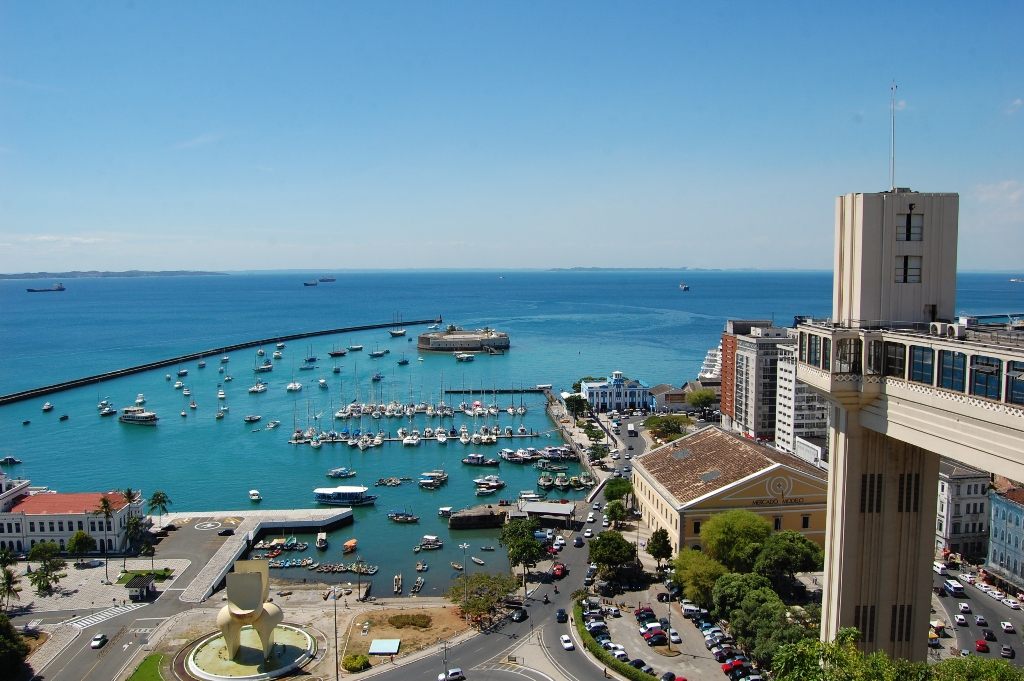 (Photo: Wagner T. Cassimiro/CC BY 2.0)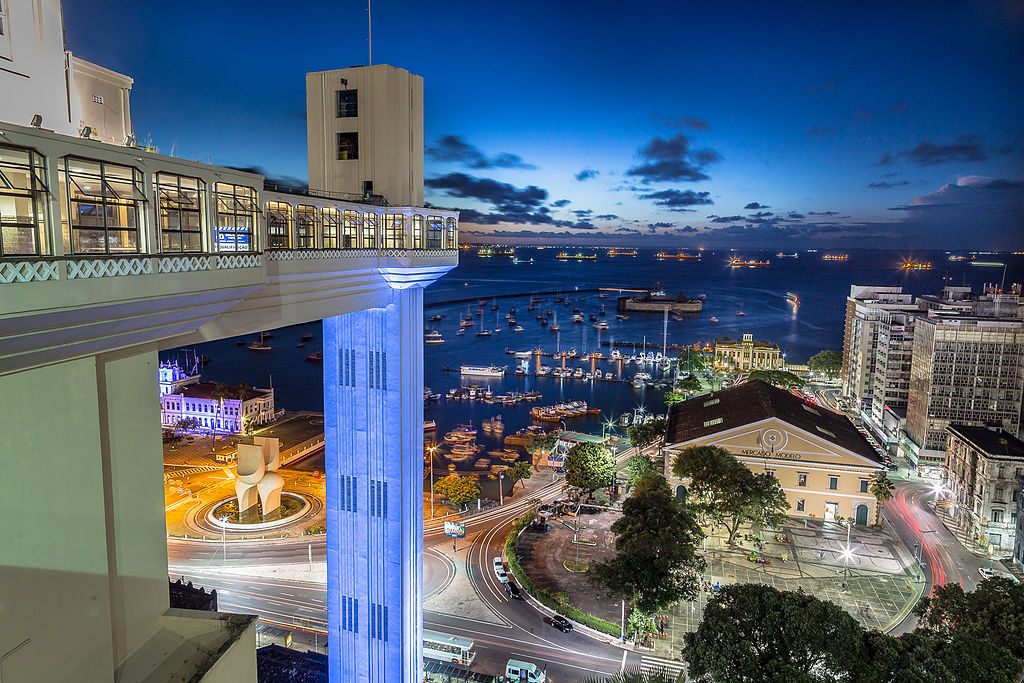 (Photo: Ciroamado/CC BY-SA 4.0)
Berlin, Germany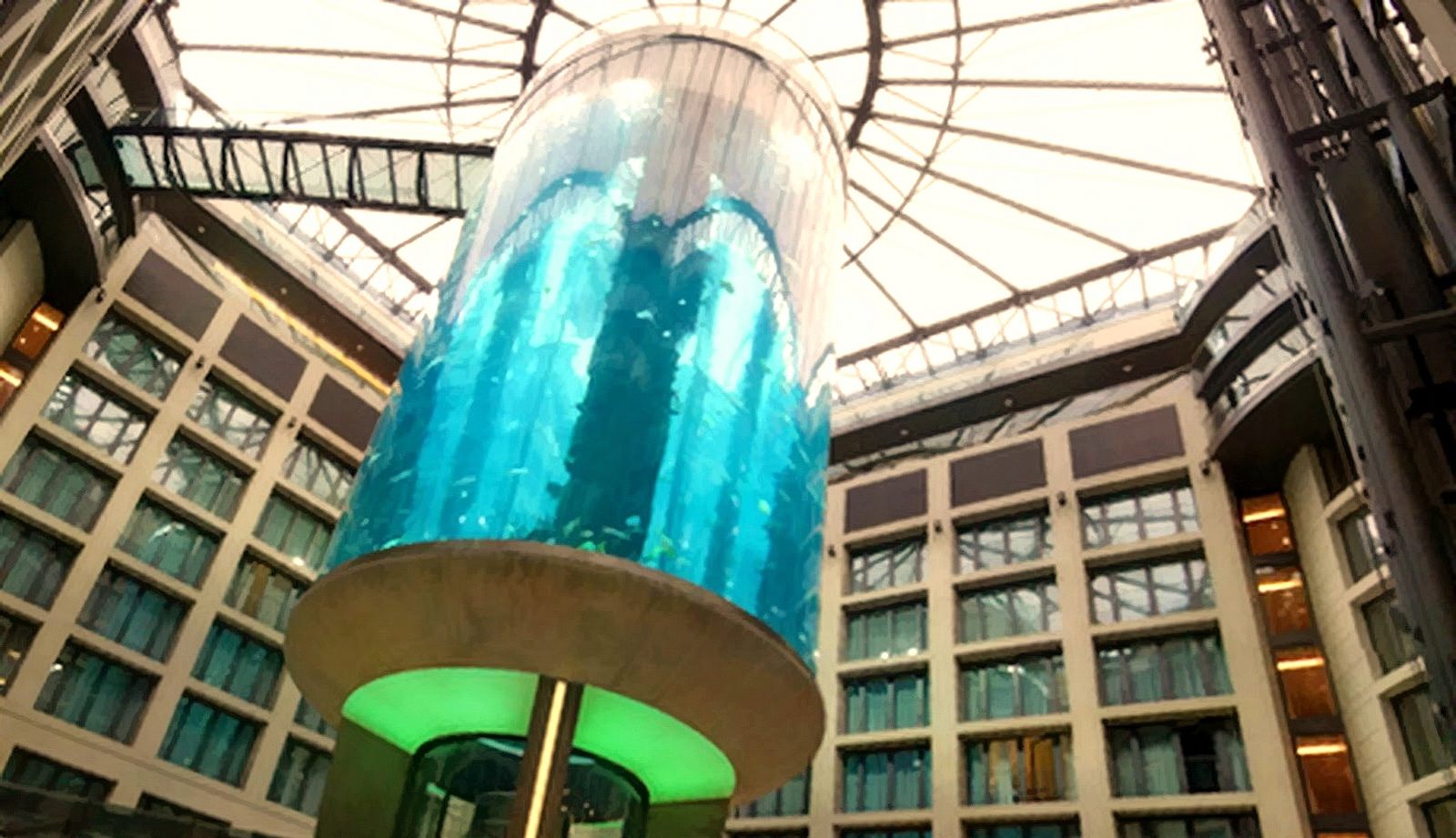 All of the elevators in Atlantis were like this one. (Photo: G! 37/CC BY-SA 2.0)
If you like the idea of snorkeling, but are terrified of the sea, the Aquadom is the elevator for you. Rising straight through the center of what is probably the world's largest cylindrical aquarium, this all glass elevator lets riders check out the 50 species of fish living in the tank while slowly rising to the top of the Radisson Blu Hotel courtyard in that it is located in. It has not yet caused the bends.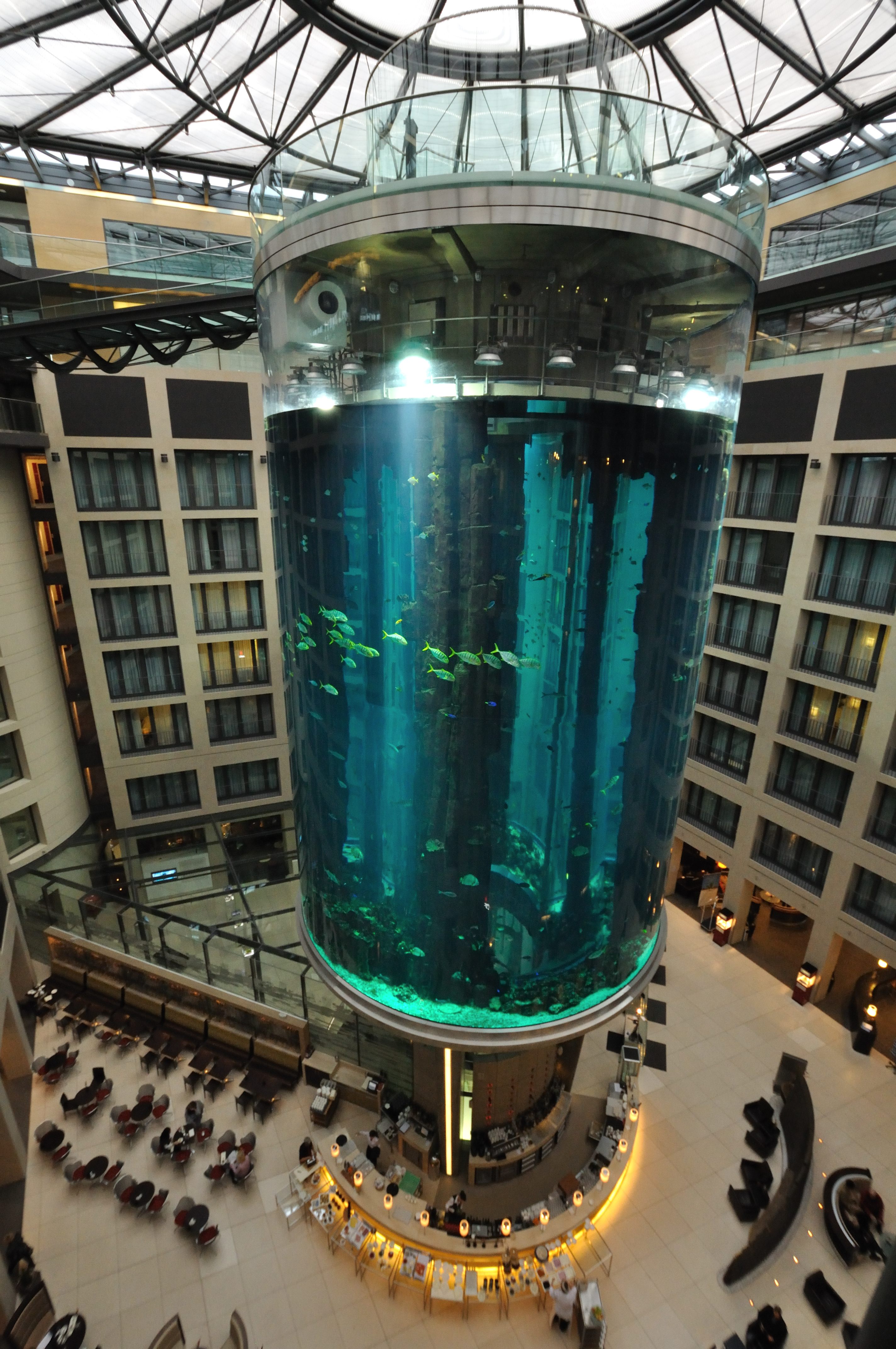 (Photo: vxla/CC BY 2.0)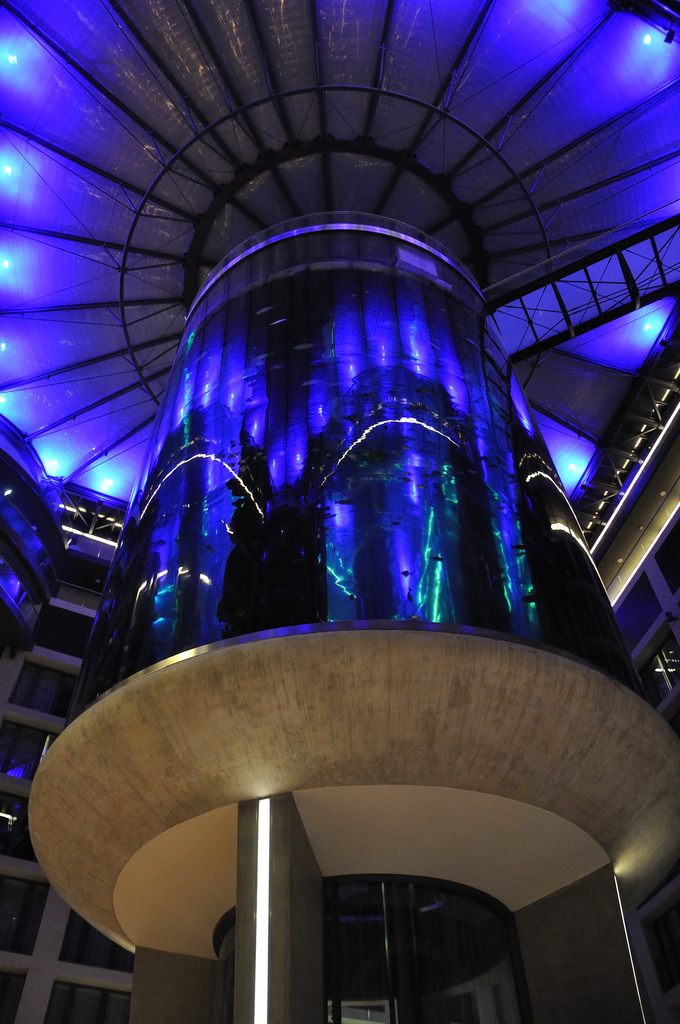 (Photo: Eric Pancer/CC BY 3.0)
(Photo: McB/Public Domain)
Oregon City, Oregon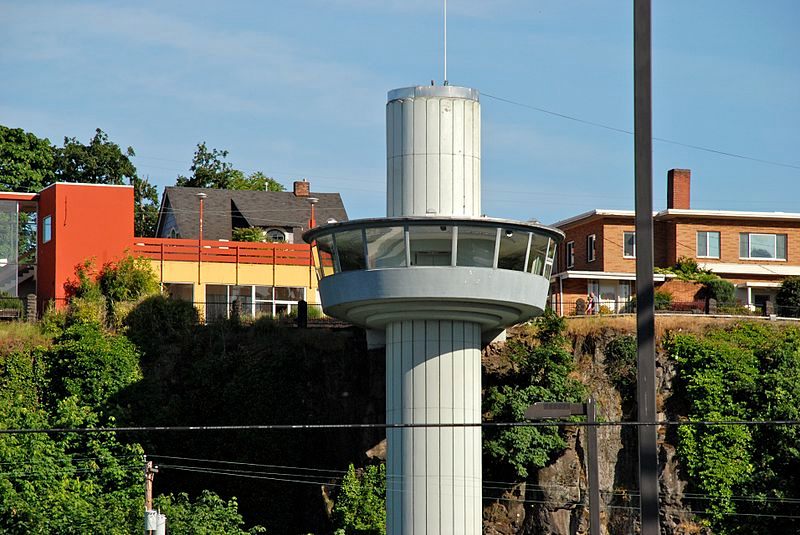 It's like the bus, but as an elevator. (Photo: Steve Morgan/CC BY-SA 3.0)
In New York, commuters take the subway to work. In Oregon City, Oregon, they take the elevator. The only outdoor municipal elevator in the United States, the Oregon City Municipal Elevator was first installed in the mid-1950s to connect two portions of the city that were separated by a dramatic cliff. It has undergone a number of renovations including adding a UFO-like observation deck, but it remains a public resource that shuttles sometimes more than 1,000 people a day, between the two sections of the city.
(Photo: Ian Sane/CC BY 2.0)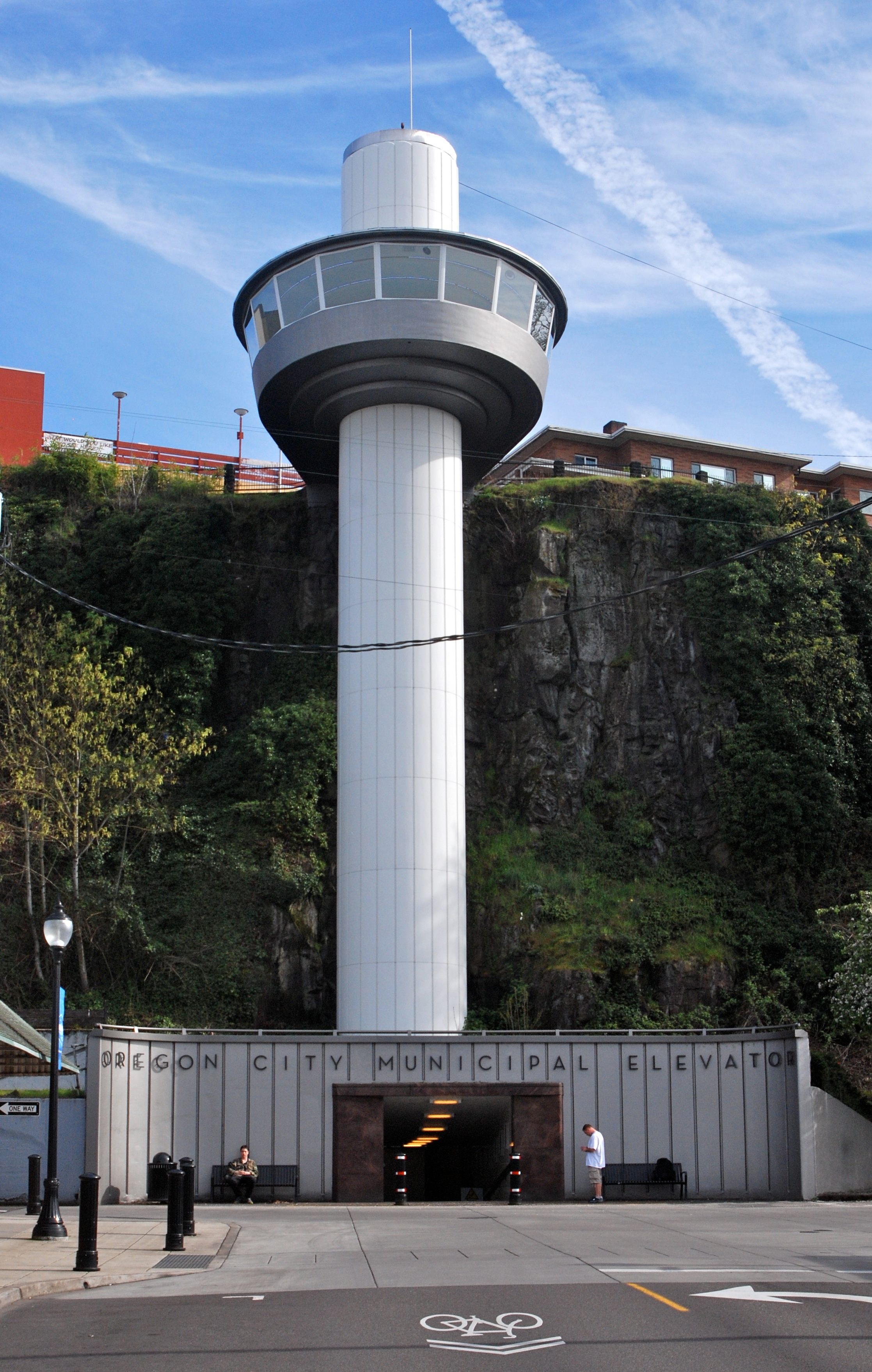 (Photo: Steve Morgan/CC BY-SA 3.0)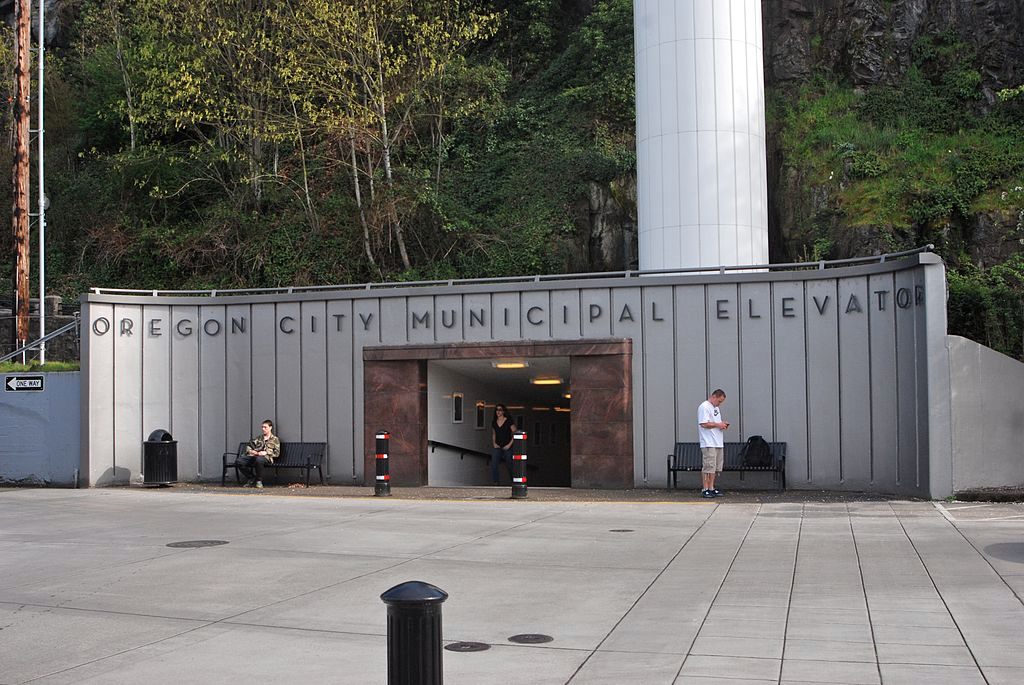 (Photo: Steve Morgan/CC BY-SA 3.0)
Stockholm, Sweden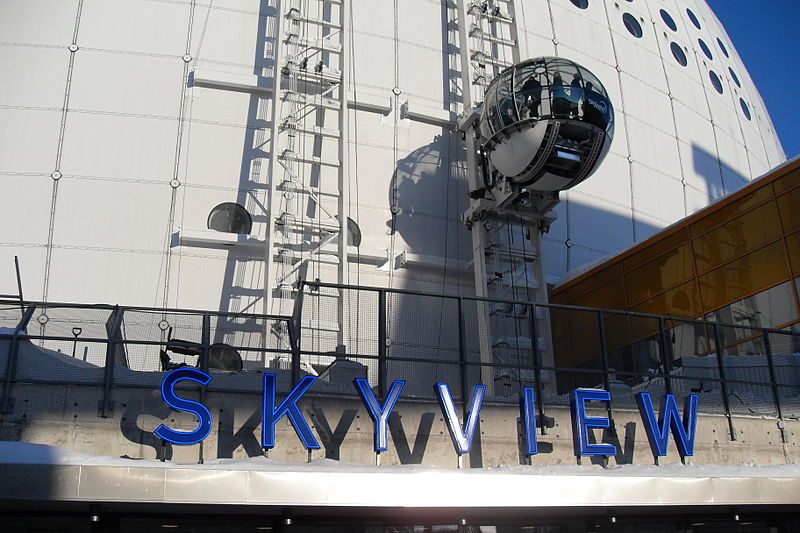 This is easily the most ballin' elevator in the world. (Photo: CHG/CC BY-SA 3.0)
If you are going to have the largest spherical building in the world, like the Eriksson Globe, you're going to have to have an equally curving elevator to get to the top. Also why not shape it like a sphere too? The ball-shaped Skyview elevator is a glass and steel sphere that allows riders to travel to the top of the Eriksson building without tilting or falling over as the base of the elevator curves as it rises, so that the floor inside if always level. As one of the only ball-shaped elevators in the world, this unique lift both unique and well-rounded. 
(Photo: kallerna/CC BY-SA 3.0)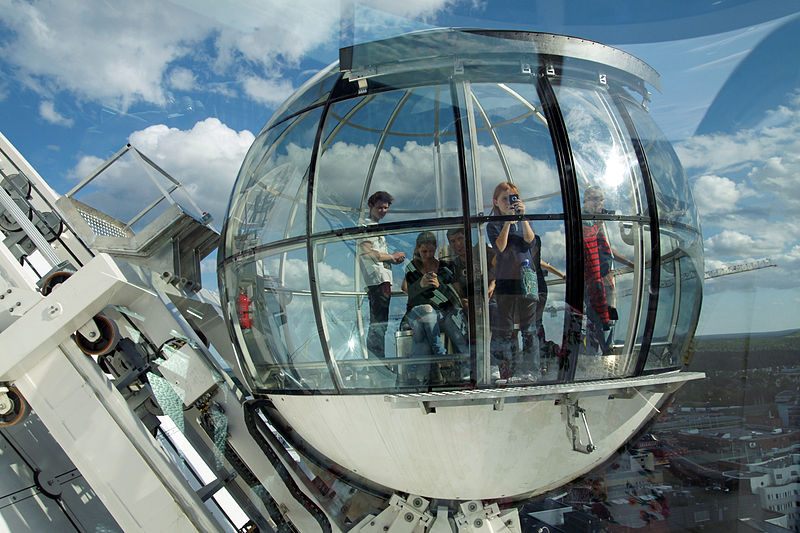 (Photo: kallerna/CC BY-SA 3.0)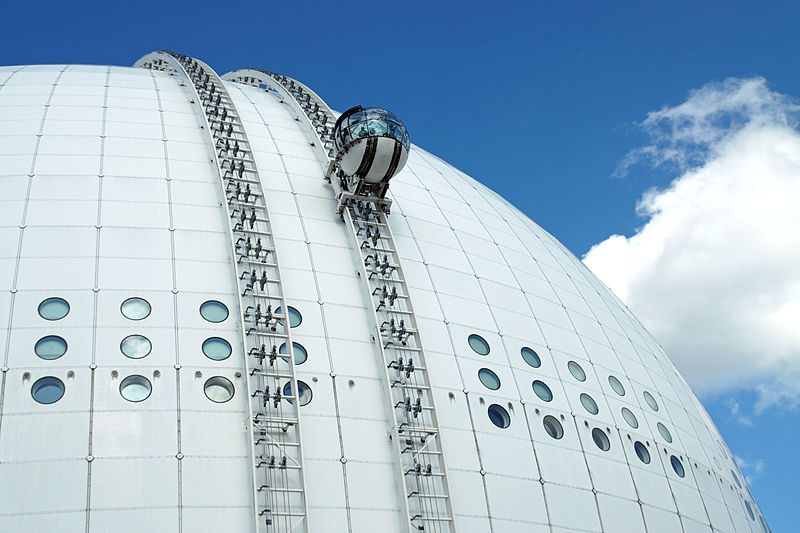 (Photo: kallerna/CC BY-SA 3.0)
7. Bailong Elevator
Zhangjiajie, China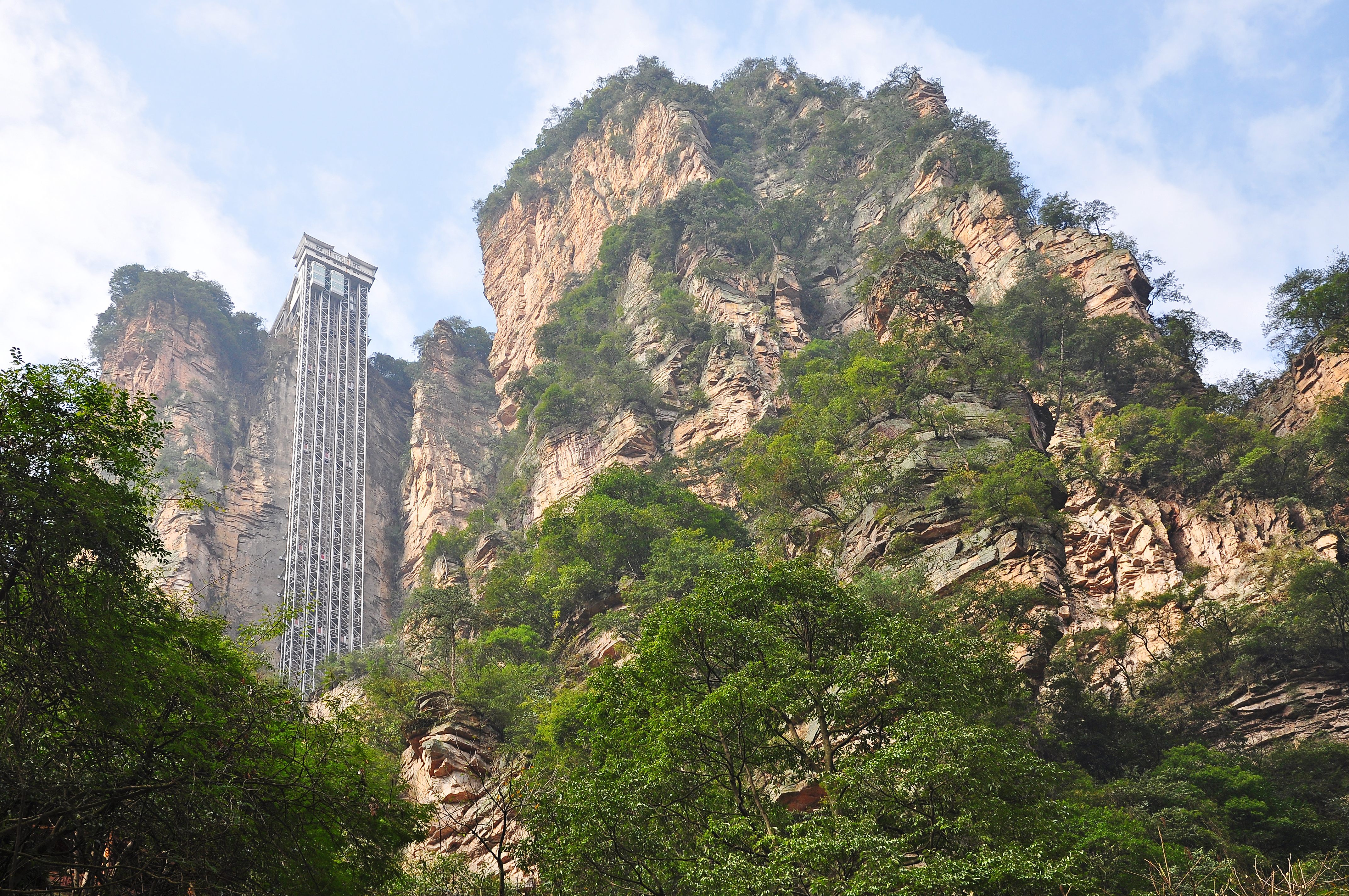 (Photo: OLOS/Shutterstock.com)
As maybe one of the most stunning elevators on the planet, China's Bailong Elevator, which roughly translates to "Hundred Dragons Elevator," may be the tallest outdoor elevator in the world at over 1,000 feet tall. It is built right into a sandstone cliffside, ferrying passengers to the top in a glass carriage that makes for a harrowing ascent.
The ride only takes about a minute to make it to the top, but if the height is too much for you, the summit can also be reached via a two-and-a-half hour walk, but where's the fun in that?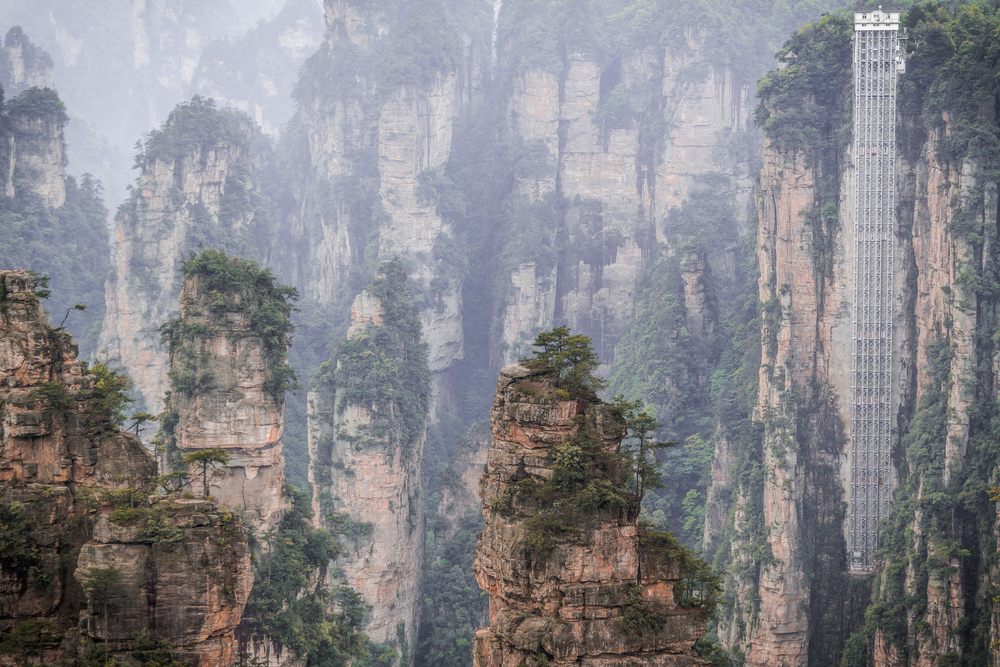 (Photo: Pavel Dvorak jr/Shutterstock.com)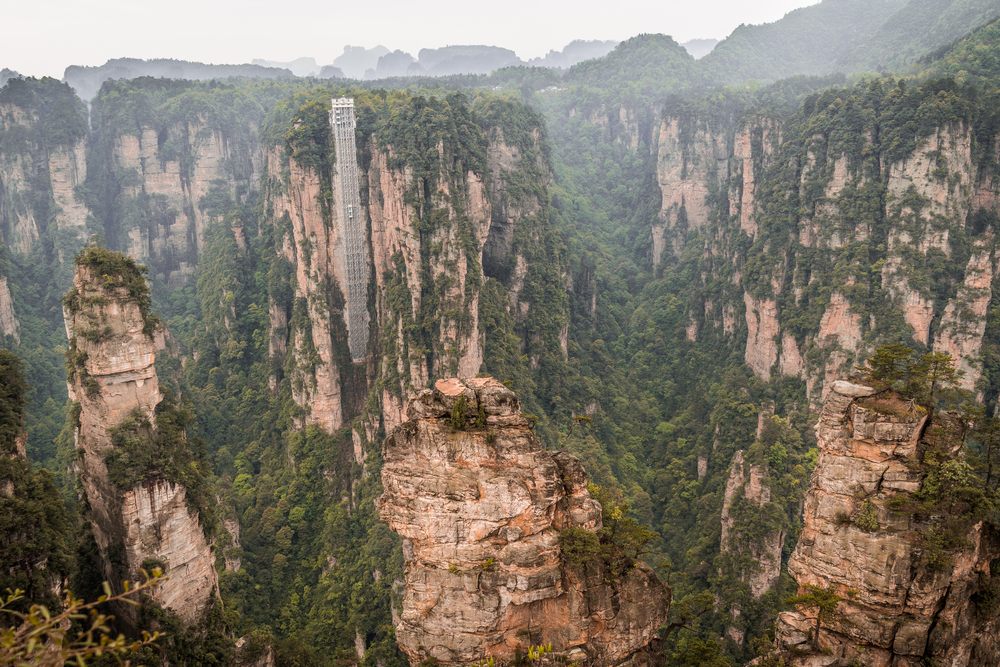 (Photo: Pavel Dvorak jr/Shutterstock.com)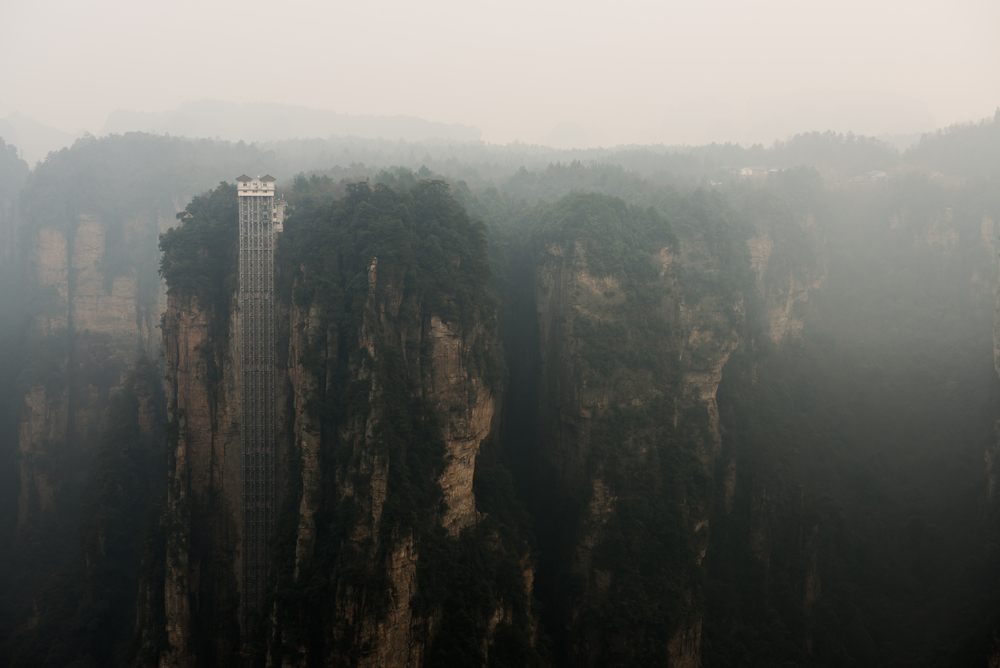 (Photo: pburavas/Shutterstock.com)
Lisboa, Portugal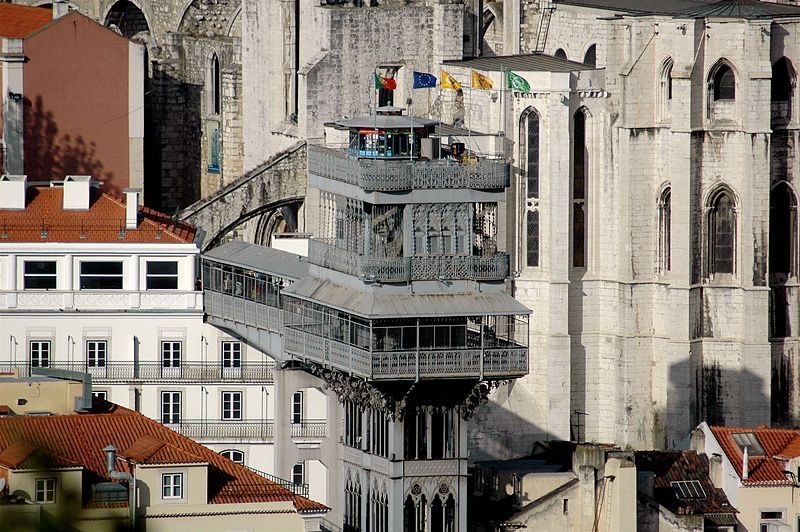 This elevator could easily be located in Gotham City. (Photo: Mdavids/CC BY-SA 3.0)
This ornate iron elevator in Lisbon, Portugal is as much an elevator as it is a gothic work of art. While the city has a number of funiculars connecting its upper and lower sections, the Santa Justa lift is the only remaining elevator in the city for that purpose. Originally inaugurated in 1905, the intricately decorated lift is all ironwork filigree and baroque flourish. It remains in use today as a stunning mix of industrial severity and cathedral-like atmosphere.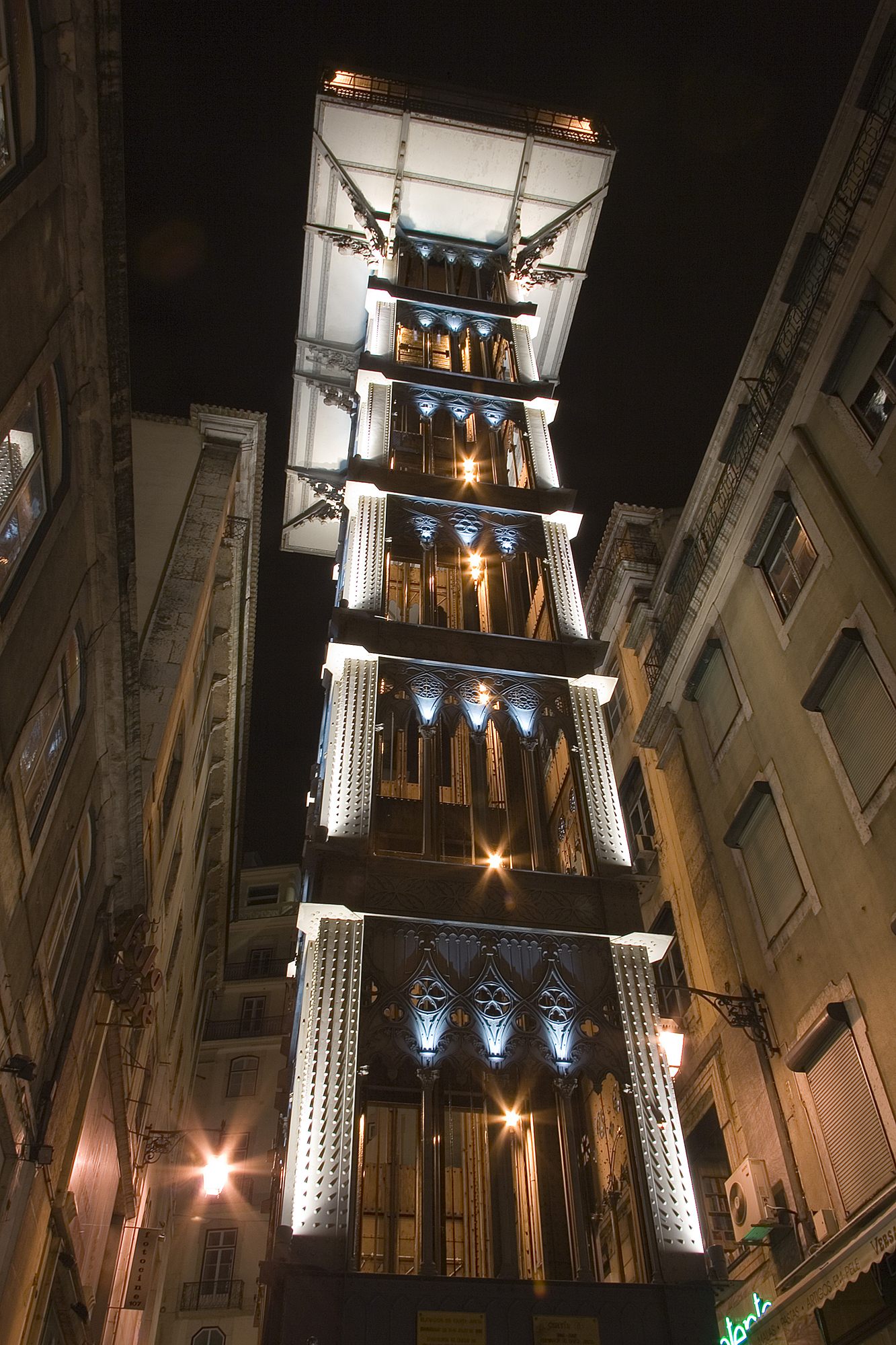 (Photo: Luca Galuzzi/CC BY-SA 2.5)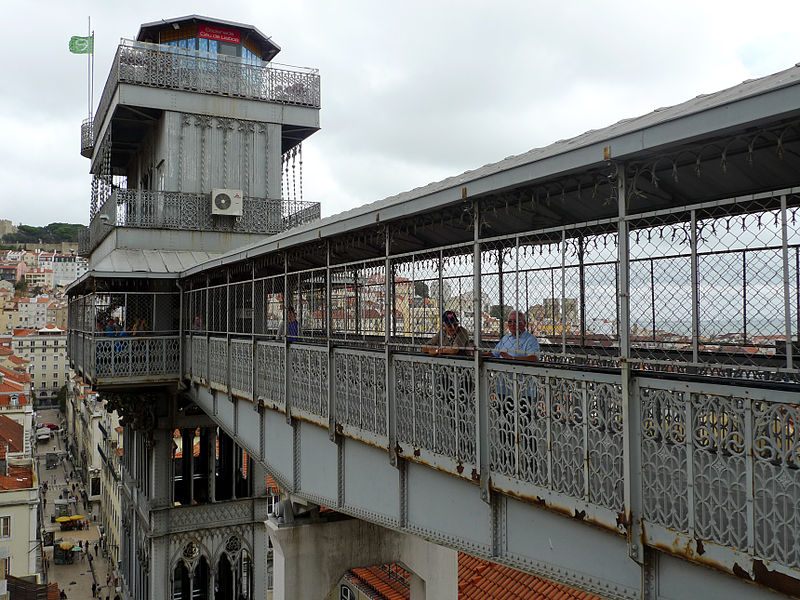 (Photo: David Sim/CC BY 2.0)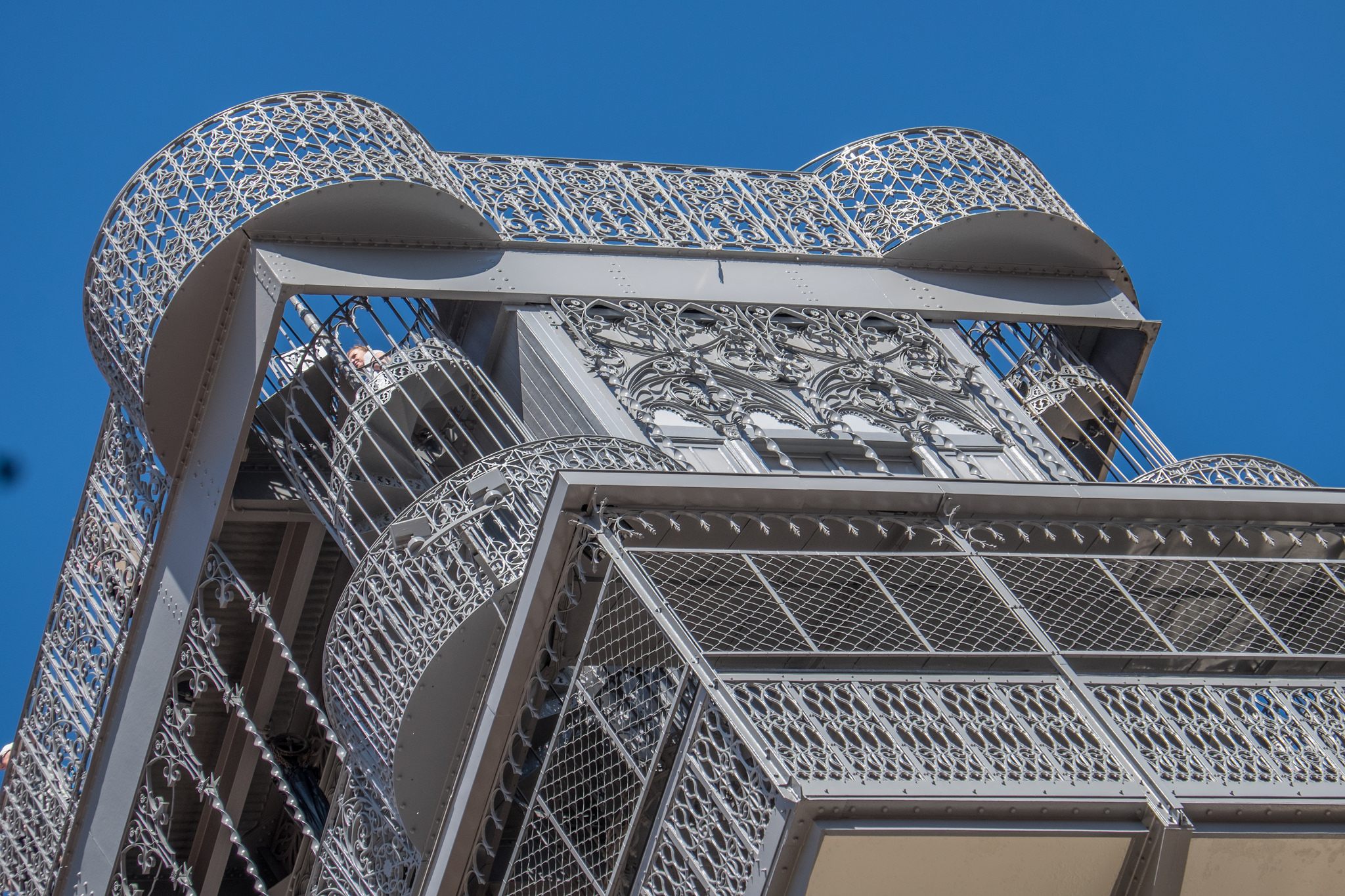 (Photo: ma_ru_yi/CC BY 2.0)
9. Louvre Elevator
Paris, France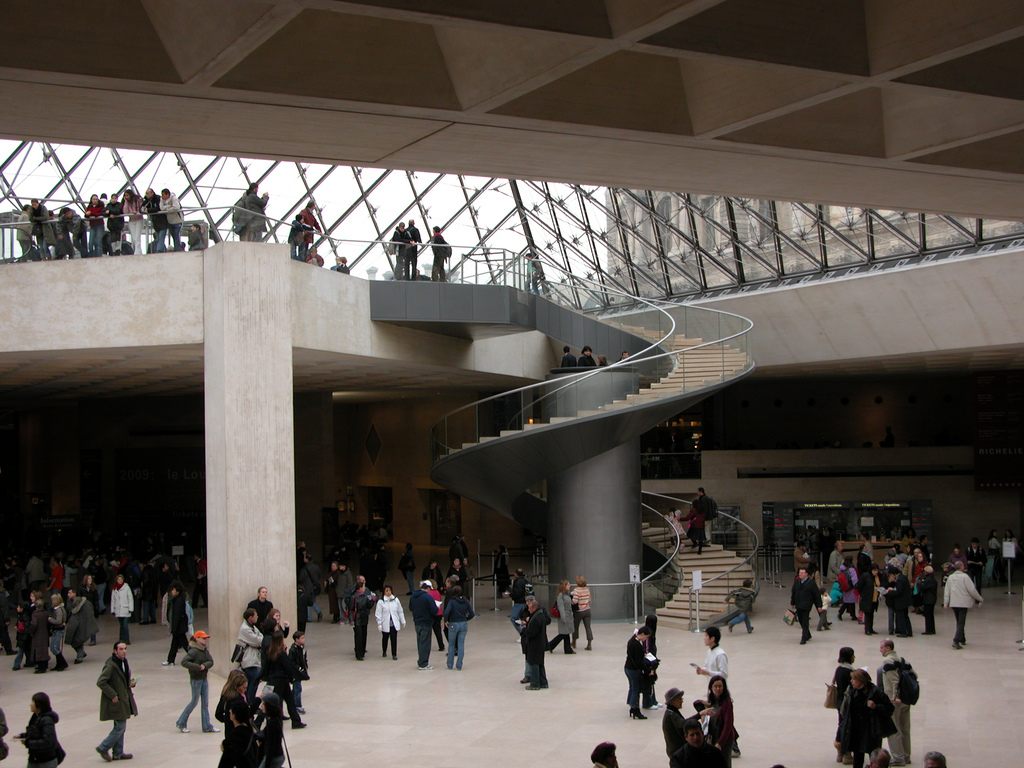 At the Louvre, even the elevator is art. (Photo: Zach Marshall/CC BY-SA 2.0)
It would be easy to miss this short elevator located in the foyer of the famed Louvre Museum since it actually sinks into the floor when bringing passengers down. Little more than a stark pillar that rises up through the middle of a spiral staircase, this elevator is also unique for its lack of a roof. Riders just step onto the top of the lowered pillar and it pushes them up a floor, where an automated walkway extends for them to disembark.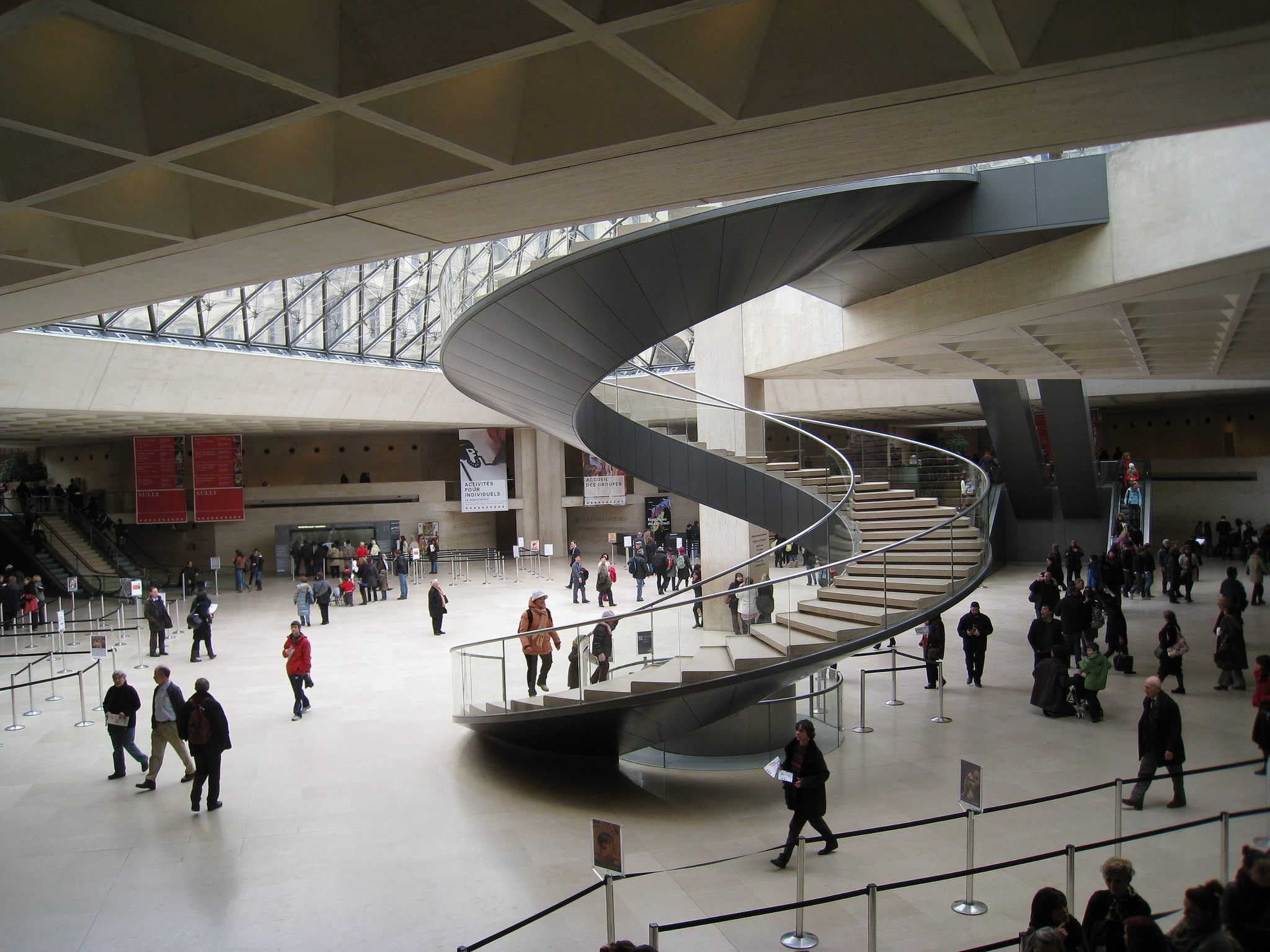 (Photo: Spencer Means/CC BY-SA 2.0)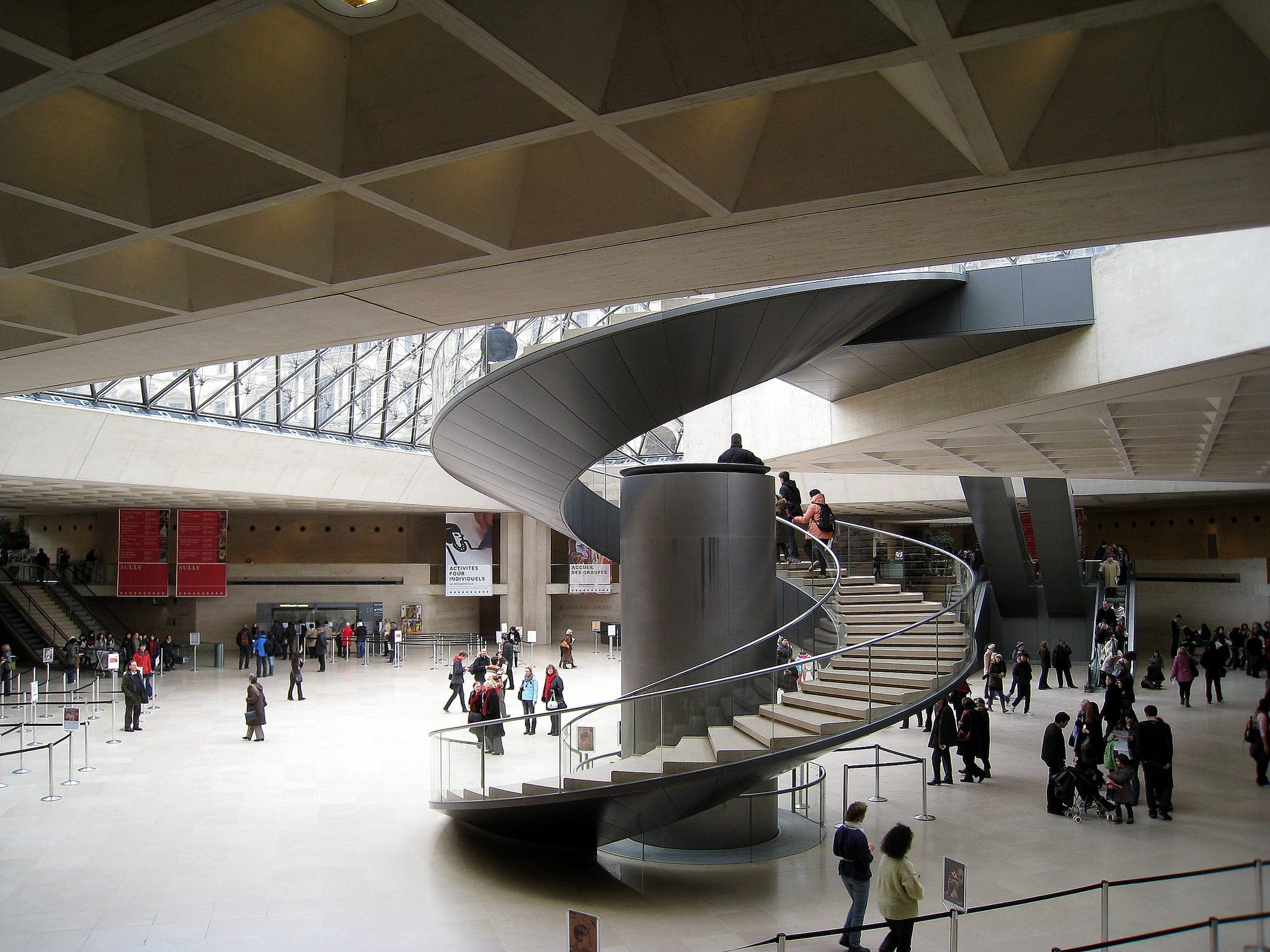 (Photo: Spencer Means/CC BY-SA 2.0)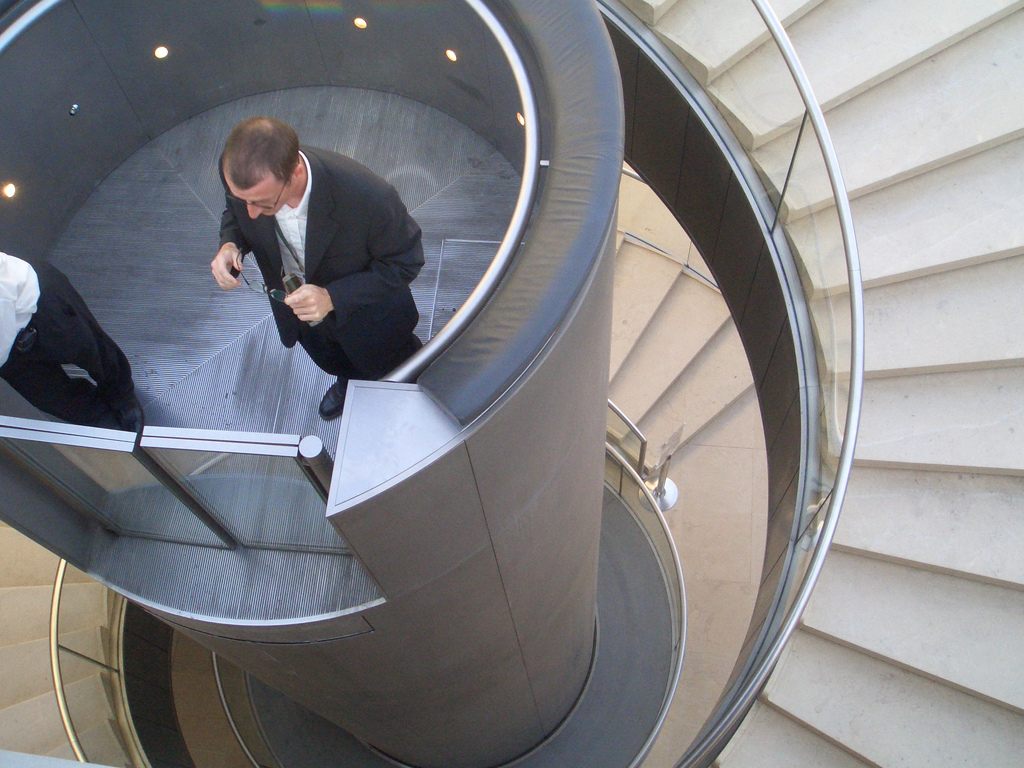 (Photo: Atsuto/CC BY 2.0)
10. Rising Tide Bar Elevator
Oasis of the Seas Cruise Ship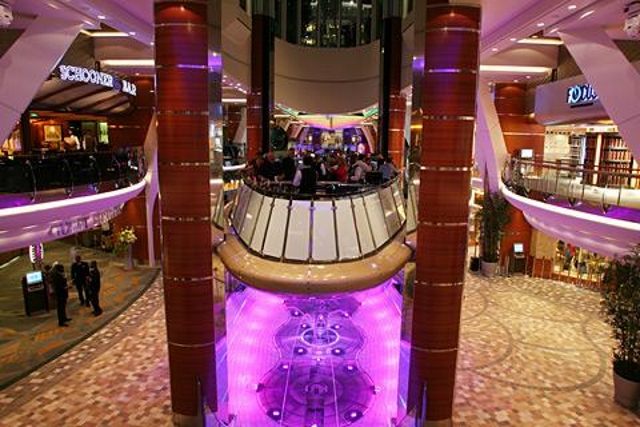 (Photo: cruisedotco/CC BY 2.0)
Found in one of the largest passenger ships on the planet, the MS Oasis of the Seas, the Rising Tide Elevator Bar is one of the only elevators that doubles as a cocktail lounge. The long, barge-like platform slowly rises between floors, taking almost ten minutes to do so, allowing people to finish their drinks. The Oasis of the Seas' sister ship, the Allure of the Seas was also outfitted with a Rising Tide elevator bar, and it may appear on more ships in the future. Soon elevators on the ocean will all be filled with drunk people.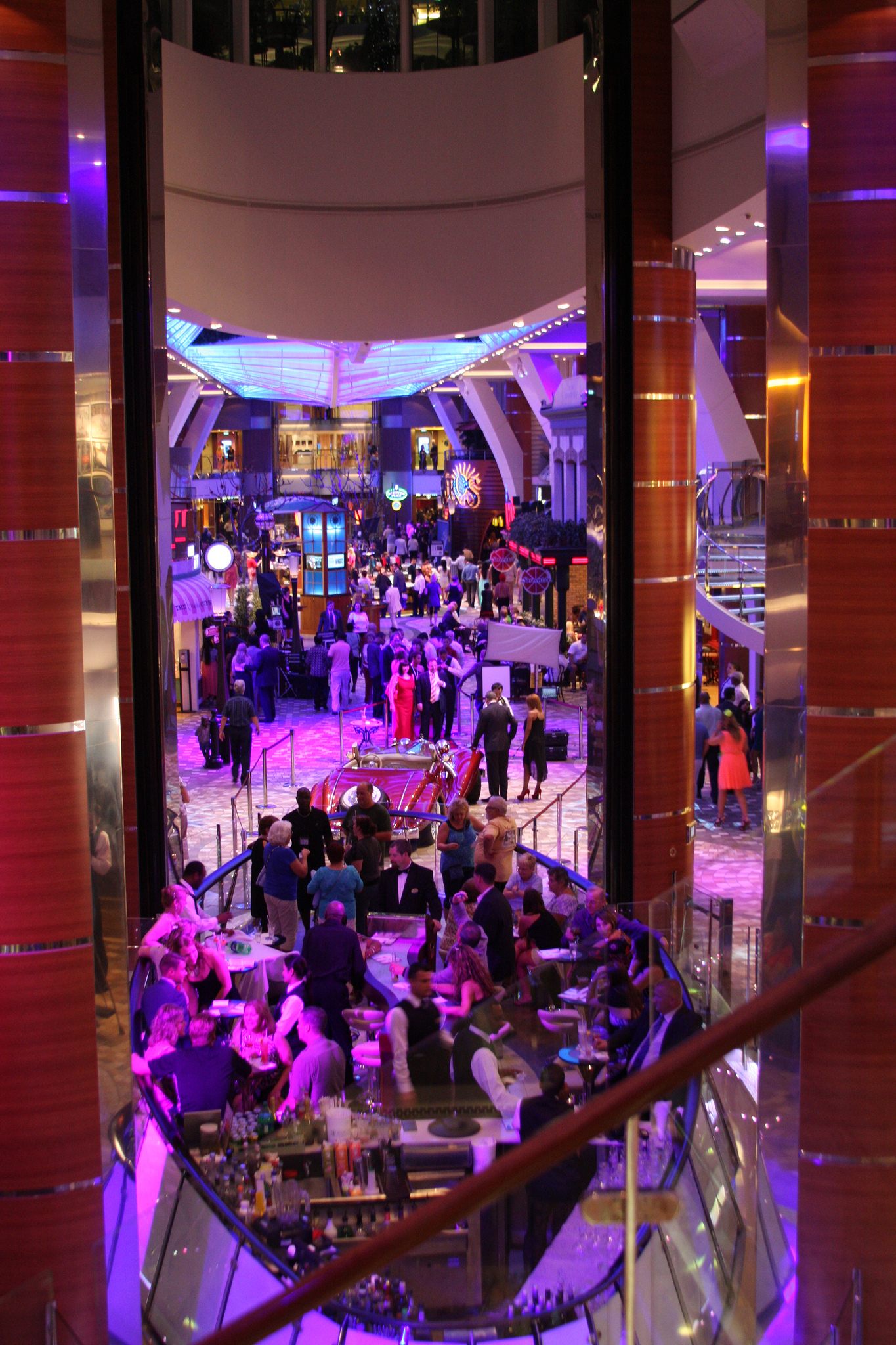 (Photo: Derek Hatfield/CC BY 2.0)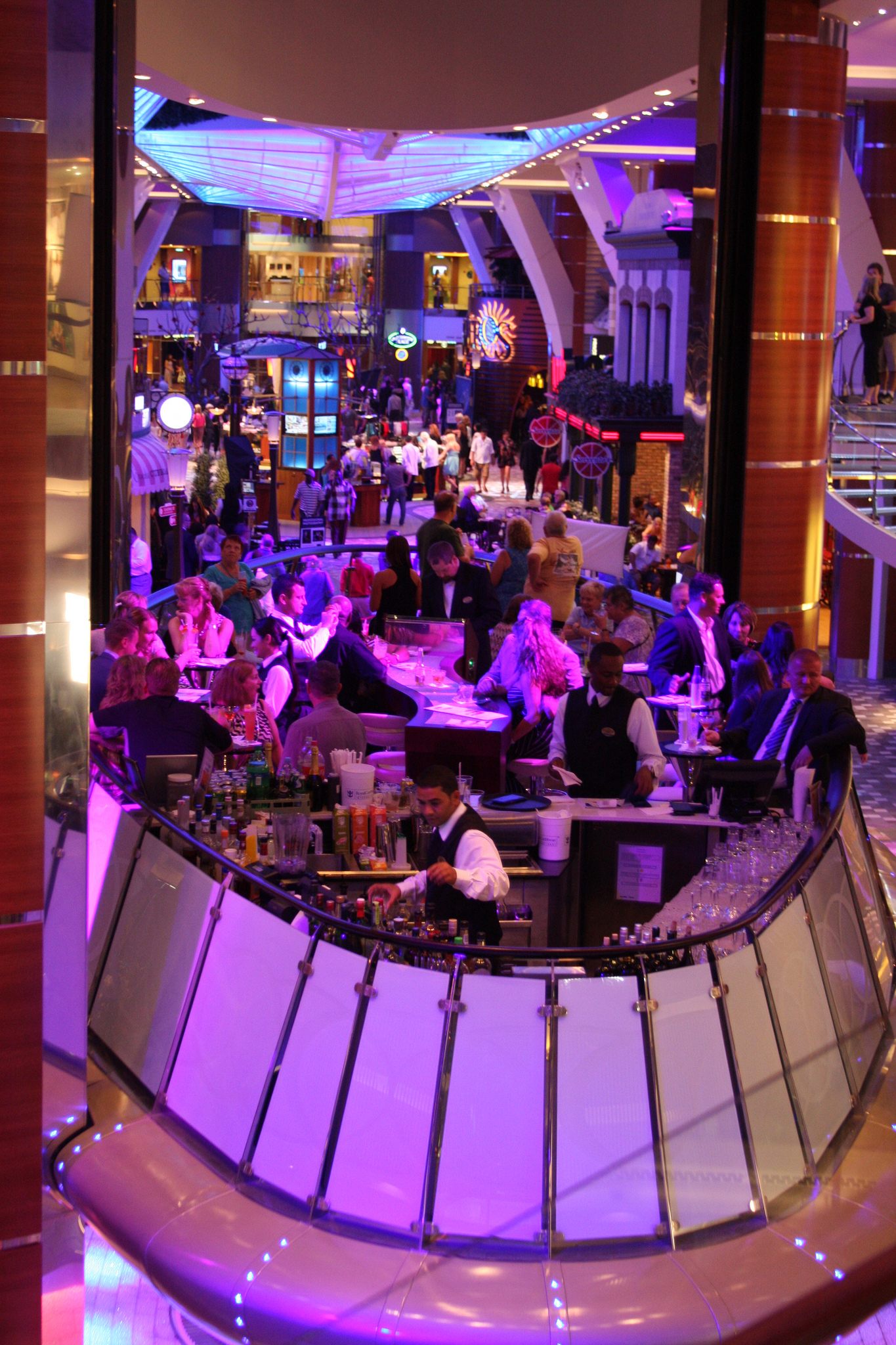 (Photo: Derek Hatfield/CC BY 2.0)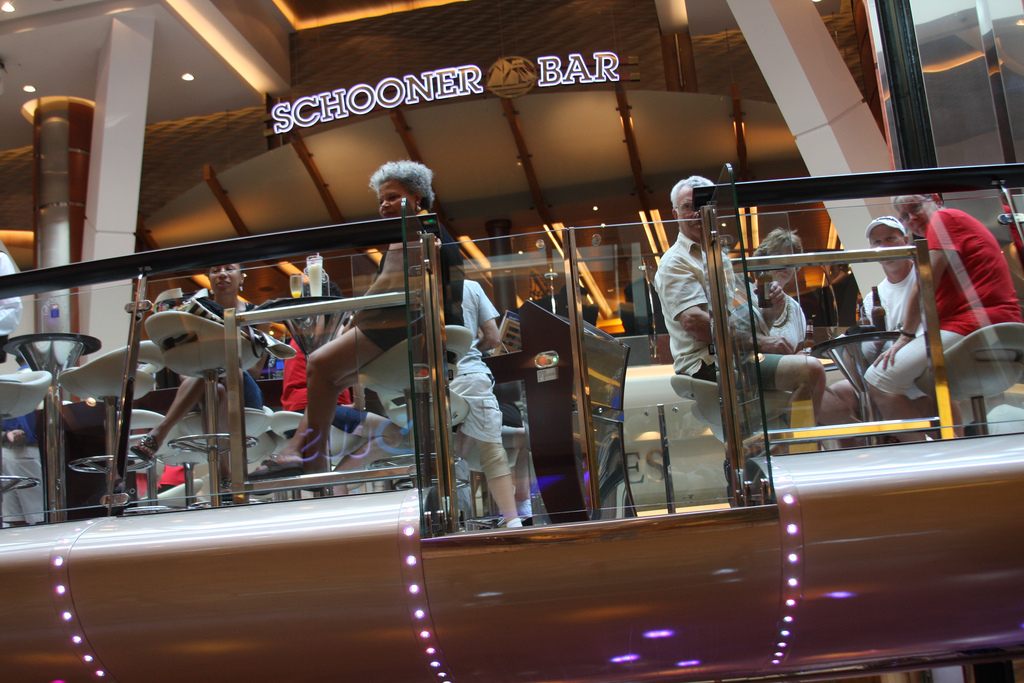 (Photo: Derek Hatfield/CC BY 2.0)