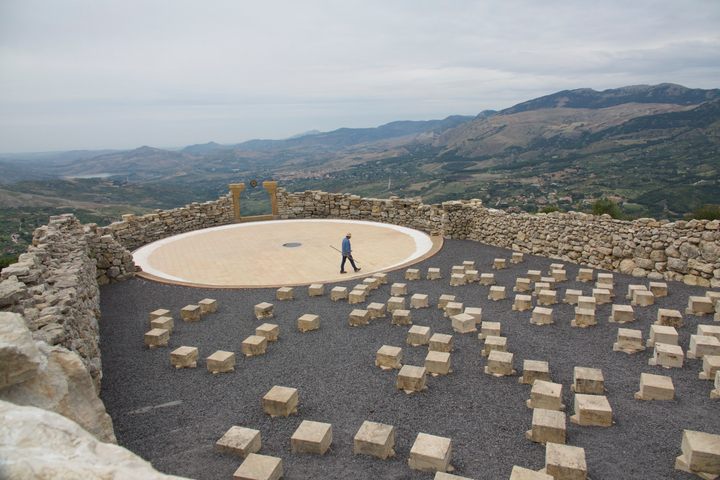 From Tending Sheep in the Sicilian Mountains to the Venice Biennale
How Lorenzo Reina's open air theater made southwest Sicily a cultural hotspot.  
When Lorenzo Reina picked up his phone on a sunny morning in December 2017, he thought it was a prank. "The voice on the other side said I had been selected for the Venice Biennale," he says. "I thought it was a joke and hung up." Two days later, he received an official email from Mario Cucinella, curator of the Italian Pavilion at the 2018 Venice Biennale of Architecture, stating that Reina's work, an open-air theater called Teatro Andromeda, had been selected from among 20,000 projects to represent works from Southern Italy. "Teatro Andromeda was selected because of its potential role in reviving the social and cultural fabric of rural territories," Cucinella explained in a statement. The 2018 Biennale, held in various locations across Venice between May and November, attracted a record number of 275,000 visitors from around the world.
Reina is an unlikely art-world success. He is by trade a shepherd, from the Sicani Mountains, a beautiful and remote patch of the Sicilian hinterlands. The only son of a family of shepherds, his destiny seemed predetermined: taking his father's role as leader of the flock. Now, at age 60, he is considered a key figure in contemporary Sicilian architecture.
Reina was born in 1960 in Santo Stefano Quisquina, a town of 5,000 located 2,300 feet above sea level. It takes a little more than an hour to drive there from Agrigento, on rural roads lined by barren fields and limestone hills that resemble a slightly greener version of the American Southwest. Reina himself, with his cowboy hat and riding boots, would fit right in there as well. He left school at the age of 13 to be trained to keep livestock, while his sisters enrolled in high school. "I feel like I had no childhood," he says.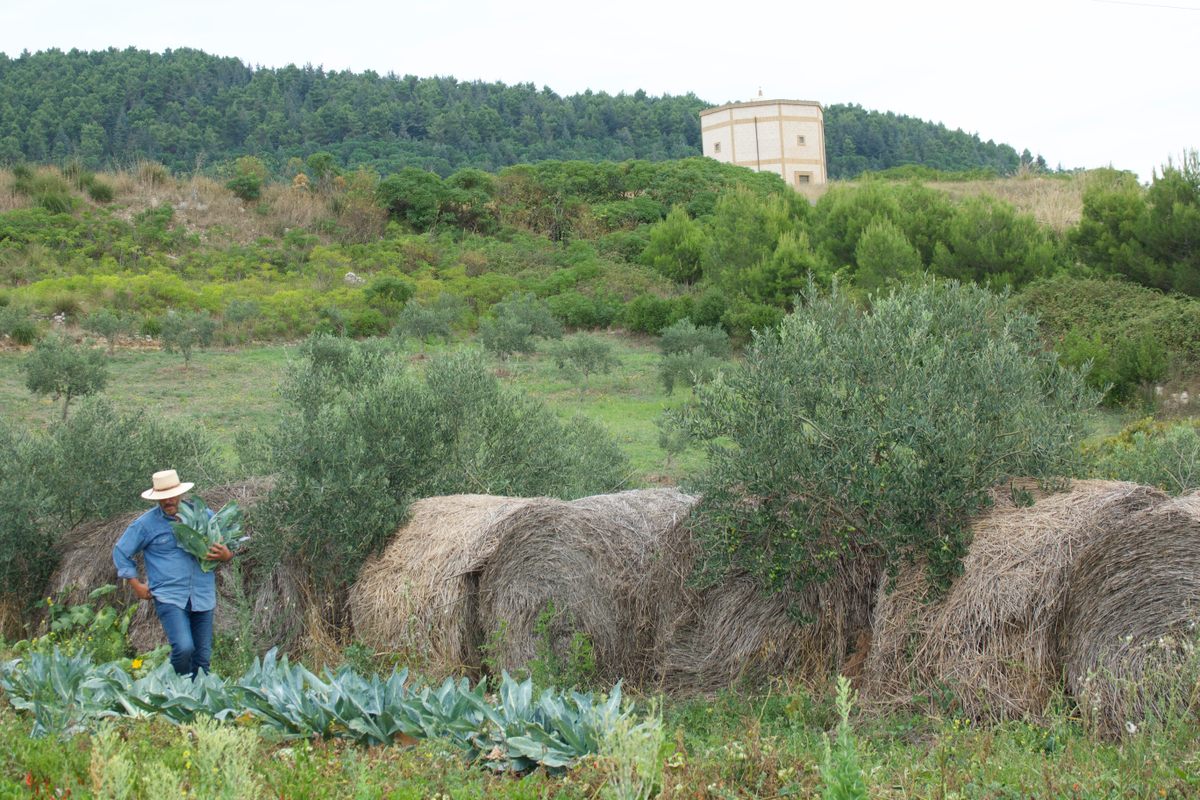 Every morning just after dawn, Reina took his father's flock out to graze until the early afternoon. Time went by slowly, punctuated only by the movement of the sun in the sky. It was during these long and solitary hours that Reina developed a passion for sculpture. At first he just made assemblages with pieces of wood and small pebbles. Then he began carving the soft alabaster rocks typical of the mountains with a knife.
His artistic endeavors may have filled him with joy, but they didn't impress his father. "He thought sculpting would just distract me from my job," Reina says. Sometimes, neighbors showed up at the Reina's place to complain that the family's sheep were wandering off because of the inattentive young shepherd. "My father and I had many fights about this," he adds. He may not have been encouraged by his family, but Reina's passion for sculpting informed some key decisions in his early life. At age 15, a local farmer put a gun in his hand—an informal invitation to join the Sicilian Mafia. The shepherd replied that he was "more interested in chisels than guns."
It wasn't until 1979, when he was in his early 20s, that he left the farmstead for compulsory military service in Naples. That was when he really began to develop his sculpting skills. After sneaking out of his military compound one night, he met Gabriele Zambardino, a talented but broke local sculptor. Zambardino took him on as an apprentice and taught him how to work with professional tools such as chisels, ribs, and scrapers. Reina eventually returned to his farmstead and put together his first exhibition. His early works, measuring up to five feet tall, were mostly anthropomorphic forms, made of stones and wood he found in the pasture.
Attendees from larger Sicilian cities were impressed with his work, and Reina soon got a steady flow of commissions, mostly for religious subjects such as crucifixes and Madonnas. After he sold $3,000 worth of work, his father's attitude shifted. "Suddenly he was more open to the idea of a sculptor son," he says. Reina could finally dedicate himself fully to sculpting, and soon completed some well-acclaimed works, including a portrait of Princess Orietta Boncompagni Ludovisi carved in volcanic rock from Mount Etna.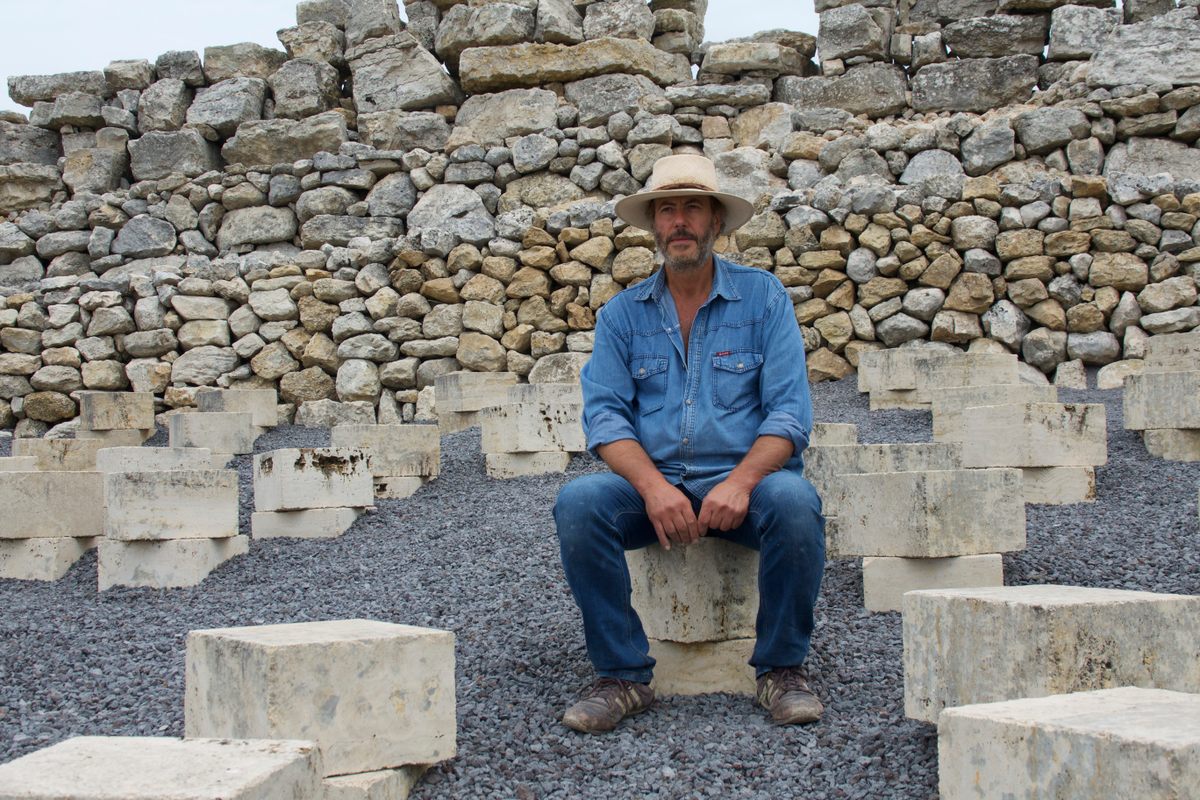 But a few days before he passed away, in 1998, Reina's father asked his son to keep a promise. "He asked me not to let all the things he had built in his life go to waste," Reina says. "That meant I had to go back to herding sheeps." In a funny twist of fate, those sheep ended up inspiring his signature work, the one selected for the Biennale.
One summer, Reina started to notice how his flock often stopped at a specific spot on top of a hill, at sunset. "They looked like they were contemplating the landscape," he says. "I had never seen them so calm."
Reina began to pay daily visits to the spot, 3,000 feet above sea level, overlooking the gentle green slopes that lead down to the Mediterranean. After a few months he laid the first stone of what would become Teatro Andromeda.
After leveling the hilltop with a digger, he picked up local limestone and brought it up the hill in a pickup. "I built it the way my father and grandfather used to build sheep shelters," he says, a technique that, save for the use of the truck, was the same one used by the Nuragic people, an ancient civilization that inhabited parts of Southern Italy and Greece from 1800 to 500 B.C.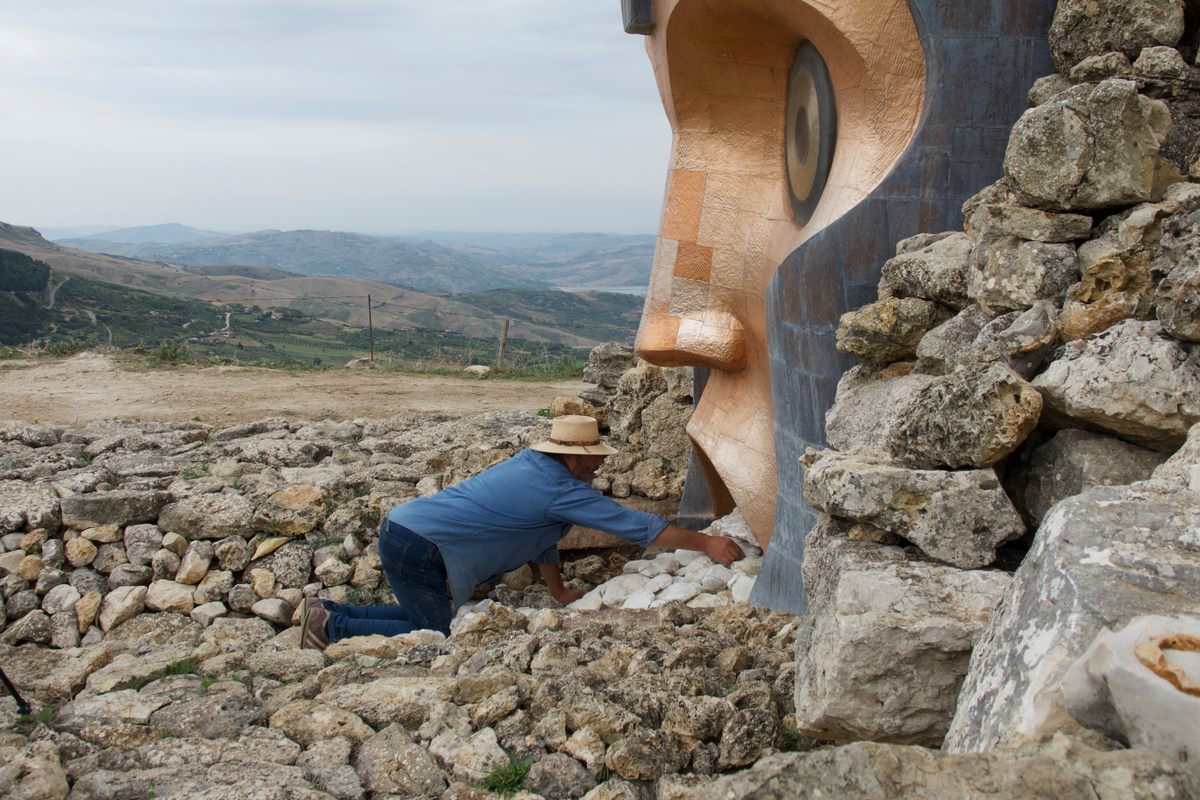 In this process, unaltered rocks are placed one on top of the other, held together only by weight, with no mortar or other binding substance. Indeed, the exterior of Reina's theater looks like a well-preserved relic from the distant past. When one steps inside, however, it begins to feel much more contemporary. The flat stage within the walls is an ellipse with a circle in the center, aligned east-west. The "seating plan" is composed of 108 blocks of marble, distributed in the area before the stage according to the positions of the 108 stars that make up the constellation of Andromeda. Astronomy is one of Reina's interests, along with mythology and ancient architecture. A few yards from the theater lie, seemingly scattered, a statue of Icarus, a depiction of an ancient Greek mask, and a sandstone-and-copper statue honoring the concept of language.
Other than reading up on it, Reina had no formal training in prehistoric construction techniques. He credits his work to intuition and constant observation. "I understand stones better than people," he says. For the outer part of the work, he picked local yellow sandstone, and for the internal area, volcanic rocks and white alabaster.
When he started to take rocks up the hill, locals questioned his sanity. "What do you need a theater for?" Despite the skepticism, Reina kept working on the project whenever he had time off from his livestock. Old photos hanging in the dining room of his house show him standing on top of the hill during early phases of his project, looking both defiant and vulnerable.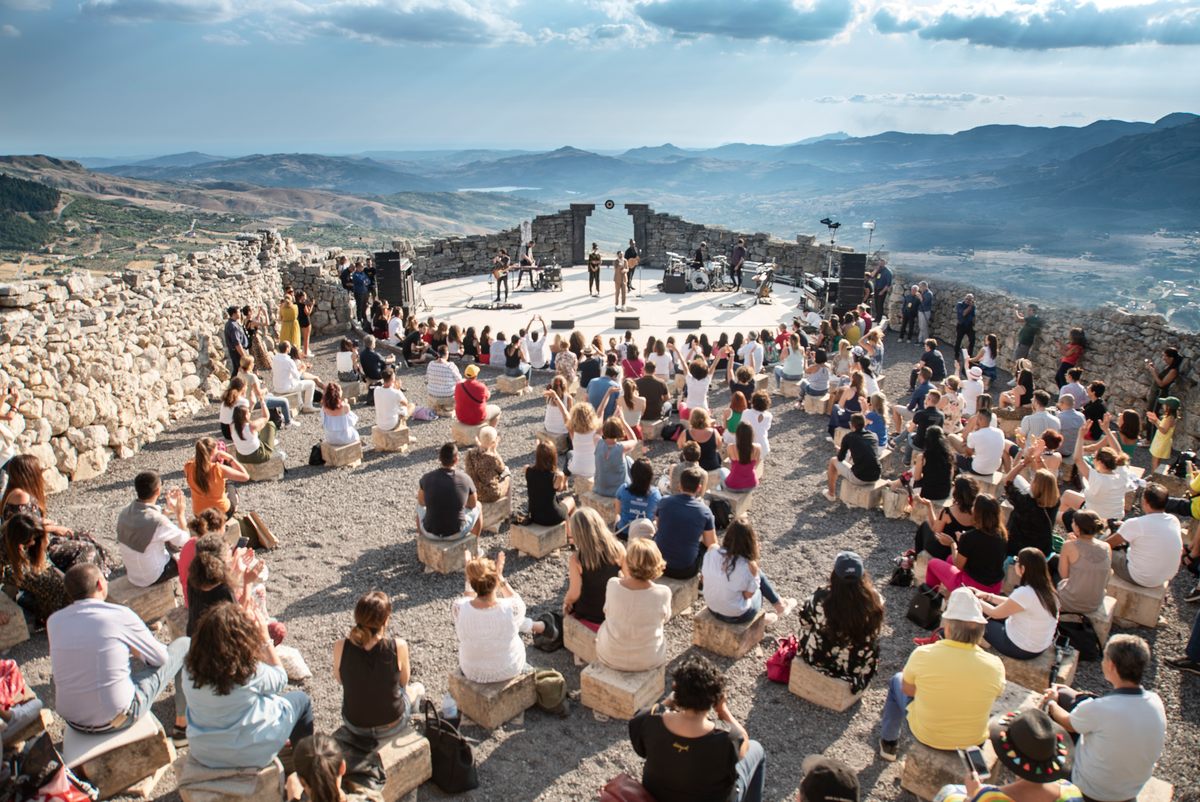 Reina worked on the theater for 14 years, until its completion in 2012. During that period, he married his wife Angela and had two sons, Libero and Christian, who took on their father's love for art. Christian is now a photographer while Libero writes music. Together with Reina, they also take care of the farm's orchard and the 70 donkeys Reina acquired a few years ago, in the hope that they would require less minding than sheep. When travelers first started to take note of Teatro Andromeda on blogs, Reina was invited to an art show but replied he could not attend because one of his jennies was in labor. "Life has priority over art," he told a local reporter in 2015.
With the completion of the theater, Reina started to promote the site for cultural events such as concerts, performances, and ceremonies to celebrate the summer solstice. In the summer months, tickets often sold out, as people from around Sicily flocked to see artists perform against the shifting sunset.
Despite these events, Reina's day-to-day life had been much unchanged. The donkeys and the garden took up most of his time, at least until the Biennale shook up his tranquil rural existence in 2018. Within a few weeks, photos of Teatro Andromeda went viral on social media, to the tune of 400,000 views on Instagram.
The impact of Reina's sudden fame rippled through the town. "Santo Stefano suddenly became one of the most visited places of southwest Sicily," says the mayor, Francesco Piccolo, noting how the town has been contacted by cultural organizations looking to host events there. "Teatro Andromeda helped reframe this territory as a place of culture," he adds. The attitude of the locals changed as well. "People used to mock this project," says Libero, Reina's son, noting how now many Quisquinesi, as residents of Santo Stefano are known, are now proud of coming from the same land that hosts the work. "Some people even add me on social media and make up the fact that we're long-time friends," Reina says.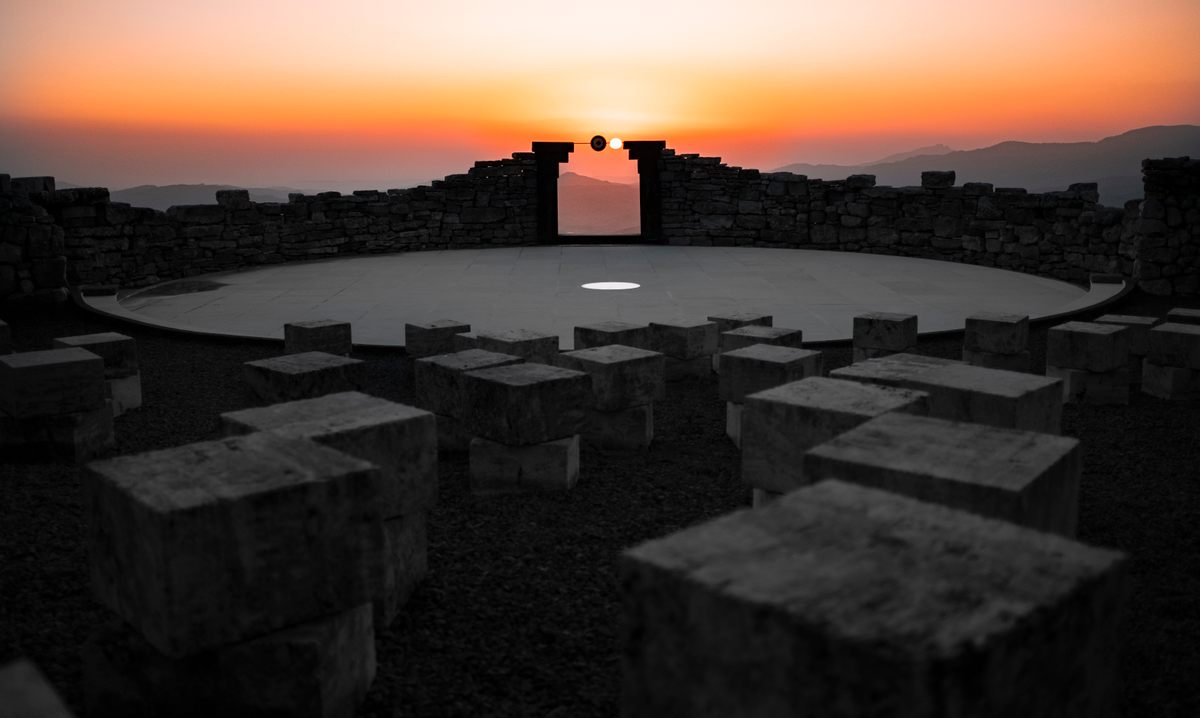 Reina is pleased with the theater's nationwide fame, but says that the greatest satisfaction has come from reading comments left by visitors. "Many people seem to get a sort of groundedness when they come here," he says. "That's worth more than any award."
After the success of the Biennale, Reina's theater even began to draw visitors between November and March, usually considered as low season for tourism in Sicily. But the visits stopped with the COVID-19 crisis, which hit Italy like a thunderstorm. "We had hundreds of visitors each day up until the lockdown," Reina says. "Now, the passing of time is once again only punctuated by the movement of the sun in the sky." He keeps busy with the never-ending list of tasks for his farm, from plowing, to spraying copper sulphate on vines, to tending the donkeys. And nearly every day he still makes small changes to the stone arrangement of Teatro Andromeda, based on sudden sparks of intuition that strike him late at night or as he walks the Sicani hills. His quarantine resolution is to translate into Italian a documentary about him that was shot in Sicilian dialect by director Davide Gambino in 2013. "I actually think it could become the start of my autobiography," he says. "I just turned 60, it's about time I start to tell my story."