The 'Atlas Obscura' Book Is Out Now!
The world's wonders, in a convenient hardcover format.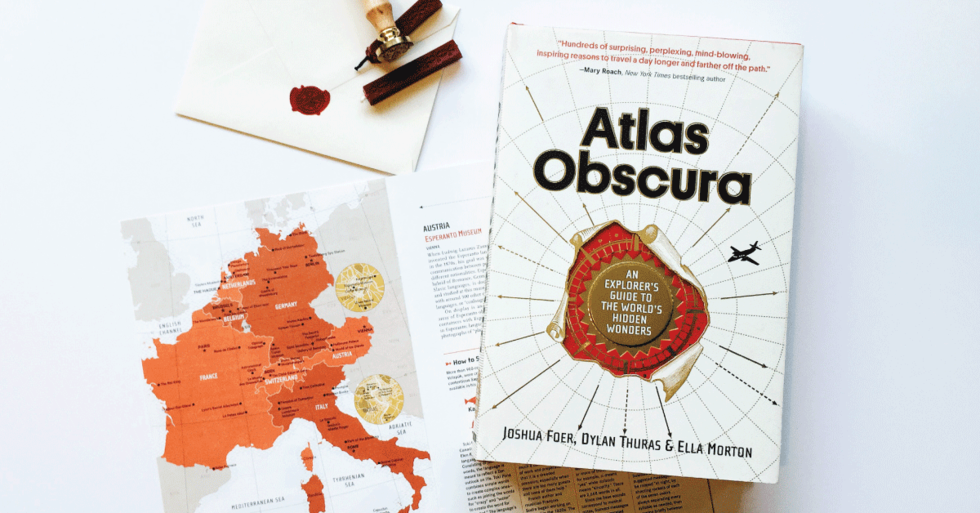 You can now hold Atlas Obscura in your hand!

Today, our first book, Atlas Obscura: An Explorer's Guide to the World's Hidden Wonders, is released into the world. Inside this 480-page tome you'll find 700 strange, wondrous, and awe-inspiring places to inspire your travels and imagination.
We spent five years planning, researching, and writing this book, and we can't wait for you to read it. It contains our most treasured wonders, from Galileo's middle finger to everyone's favorite giant flaming hole in the Turkmenistan desert. There are new maps and illustrations, gorgeous photos, and useful information on everything from preventing premature burial to not getting killed by one of Australia's many deadly animals.
Here are a few more views on the book from people who are not us:
"I thought I had seen most of the interesting bits of the world. Atlas Obscura showed me that I was wrong. It's the kind of book that makes you want to pack in your workaday life and head out to places you'd never have dreamed of going, to see things you could not even have imagined. A joy to read and to reread."
—NEIL GAIMAN, author of Sandman and American Gods

"Atlas Obscura is a joyful antidote to the creeping suspicion that travel these days is little more than a homogenized corporate shopping opportunity. Here are hundreds of surprising, perplexing, mind-blowing, inspiring reasons to travel a day longer and farther off the path. . . . Bestest travel guide ever."
—MARY ROACH, author of Stiff and Gulp

"My favorite travel guide! Never start a trip without knowing where a haunted hotel or a mouth of hell is!"
—GUILLERMO DEL TORO, filmmaker, Pan's Labyrinth
We hope you'll pick up a copy at your local bookstore, or online. We'd adore it if you came to party with us on our 12-city book tour. And most of all, we love that you're a part of Atlas Obscura. Thank you for coming on this adventure with us. Let's keep exploring.