The Bahamas, New Zealand and Other Countries Issue Warnings About Travel to U.S.
A number of nations put out notices this week about police violence and demonstrations.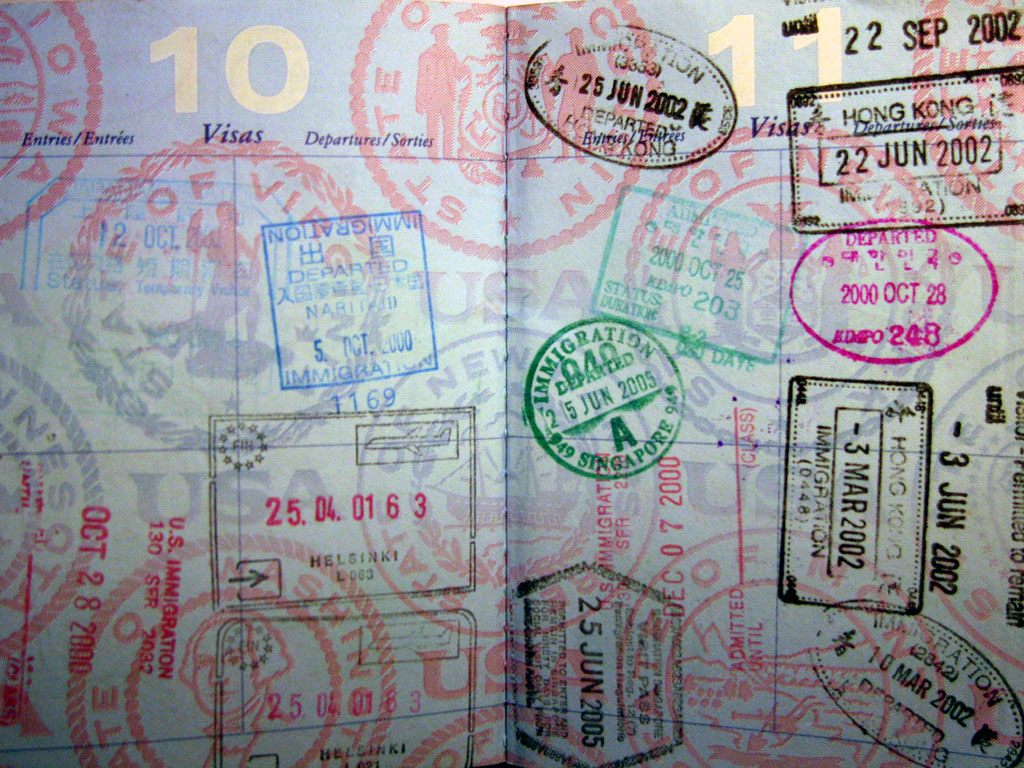 The passport stamps of an accomplished world traveler. (Photo: hjl/CC BY-2.0)
Americans have gotten used to the periodic notices from the State Department about unrest abroad, noting which places are and aren't safe for tourists. But this weekend, Bahamas Ministry of Foreign Affairs and Immigration's statement issues a warning of their own, telling Bahamians of the dangers of traveling to the United States.
"The Ministry of Foreign Affairs and Immigration has taken a note of the recent tensions in some American cities over shootings of young black males by police officers," the warning posted to the ministry's website begins. "We wish to advise all Bahamians traveling to the U.S. but especially to the affected cities to exercise appropriate caution generally. In particular young males are asked to exercise extreme caution in affected cities in their interactions with the police. Do not be confrontational and cooperate."
Given that 91 percent of Bahamians identified as black in a 2010 census and many Bahamians are expected to travel to the U.S. this weekend in celebration of the Bahamian Independence Day holiday, it's clear the government felt it was worthwhile to alert their citizens to the current tensions surrounding the treatment of black men by American police officers. Tensions were inflamed again this week following the shootings of Alton Sterling and Philando Castile by police officers, then compounded when a gunman opened fire on Dallas police officers during a peaceful protest responding to the shootings; standoffs between protesters and police in a number of American cities became increasingly fraught over the weekend.
On Saturday, the Bahrain Embassy in Washington, D.C. tweeted a warning to its citizens to exercise caution around the protests; the United Arab Emirates issued a similar warning via a special alert.
The tone of these recent warnings mimics numerous U.S. State Department warnings against travel to countries like Venezuela, Haiti, Burundi, the Democratic Republic of the Congo, and others, all of which contain some variation of the statement, "Demonstrations, gatherings, and even sporting events that are intended to be peaceful can turn violent without advance warning. U.S. citizens should routinely monitor local media sources and the Internet for reports of demonstrations and unrest, and avoid political rallies, demonstrations, and crowds of any kind."
Please be cautious of protests or crowded areas occurring around the US. Emergencies call the embassy at 202.342.1111 ext9 or 202.297.0537

— Bahrain Embassy (@BahrainEmbDC) July 9, 2016
The warning themselves, though, are not unusual. Countries such as Australia, Austria, China, Russia, Switzerland, New Zealand, and Belgium are quick to note generally that rates of firearm possession and/or violent crime are higher than their own, but among these broad cautions, a few governments have levied more specific warnings in response to current events.
New Zealand, for example, includes a note about civil unrest akin to the warnings issued by Bahrain and the U.A.E., stating, "We recommend you avoid all protests and demonstrations as on occasion civil disorder can result." Similarly, the government of Australia broadly notes that visiting Australians merely need to observe normal safety procedures, but specifically point out concerns surrounding the 2014 protests against police aggression (the page was last updated on June 27, 2016):
In August 2014, protests, outbreaks of violence and looting followed a police shooting in Ferguson, Missouri. There have been similar incidents after police shootings in Cleveland, and in Baltimore after a death in police custody. These events received significant media attention. Australians should avoid locations where protests and demonstrations are taking place, observe any restrictions on movements or curfews set by local authorities, and monitor the media for the latest developments.
Along those lines, Croatia provides a pointed view of American policing, describing it as "more assertive than police forces in European countries" and warning travelers that officers "will not hesitate to use force if they feel threatened."
The Republic of Ireland, while describing the U.S. as "generally safe," takes care to note that certain states are slightly more hardline on issues of illegal immigration, writing:
Some States (Arizona, Utah, Indiana, South Carolina, Georgia and Alabama) introduced legislation designed to identify and reduce the number of illegal immigrants in their states. These measures include authorisation for police officers to detain people they suspect of being in the US illegally. Although some of the measures are being contested in the courts, it is important that you have your documents available for scrutiny if you're asked by law enforcement officials to present them wherever you are in the United States.
The United Kingdom provides a gentle note of caution to their LGBTI citizens, noting, "The U.S. is an extremely diverse society and attitudes towards LGBT people differ hugely across the country. LGBT travellers may be affected by legislation passed recently in the states of North Carolina and Mississippi." The British government even provides a general travel guide for LGBTI citizens visiting other countries.
On a slightly more lighthearted note, China warns against line-cutting, loud talking, asking overly personal questions, and inciting road rage incidents. And Russia, along with pointing out our high murder rate compared to other developed countries, enjoys needling the U.S. over our astonishingly high incarceration rate, although it's not clear why the Russian Foreign Ministry feels that unfortunate fact is critical information for visiting tourists.