Read the Tree Leaves, With an Artist's Invented Tree Font
The plants are speaking. Time to read what they have to say.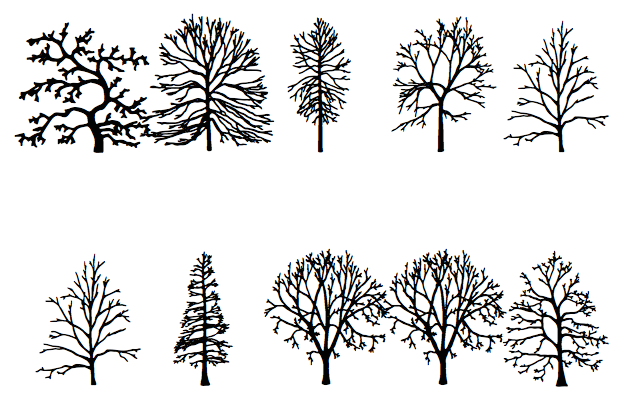 The phrase "about trees," shown in the font Tree.

The book About Trees, now being reprinted after selling out its first small run last year is, as the title says, about trees. Like other books, it's also printed on trees, in the form of paper. Unlike any other book, it's printed in Trees, an arboreal font in which each letter corresponds to a different type of towering plant. 
Creator Katie Holten, an Irish artist, describes About Trees as a "recycling" of texts that, considered together, provoke much thought about the relationship between humans and nature. The 256-page book contains tree-themed works by prominent authors and other luminaries, from Plato to Radiohead, via Jules Verne, Charles Darwin, and Zadie Smith. The text of each piece appears in English alongside a Trees translation.
A line from Zadie Smith's novel NW, translated into Tree.  (All images courtesy of Katie Holten)
In selecting the texts, Holten aimed for an eclectic yet cohesive mix incorporating fiction, philosophy, non-fiction, and academic writing. All the translations are confined to one page, meaning short works are transformed into orderly rows of trees, while longer works appear as dense forests.
For the Trees font, which was created especially for the book, Holten delved into her archive of New York City tree drawings, created 10 years earlier. "I wrote out the alphabet, A through Z, and then realized I could match a tree that had the same latter: A for apple, B for beech, C for cedar," she says. (V and X were a bit trickier, but Latin names came in handy.)
The numbers are represented as twigs, while the punctuation marks are shoots, leaves, and, in the case of the period, an acorn.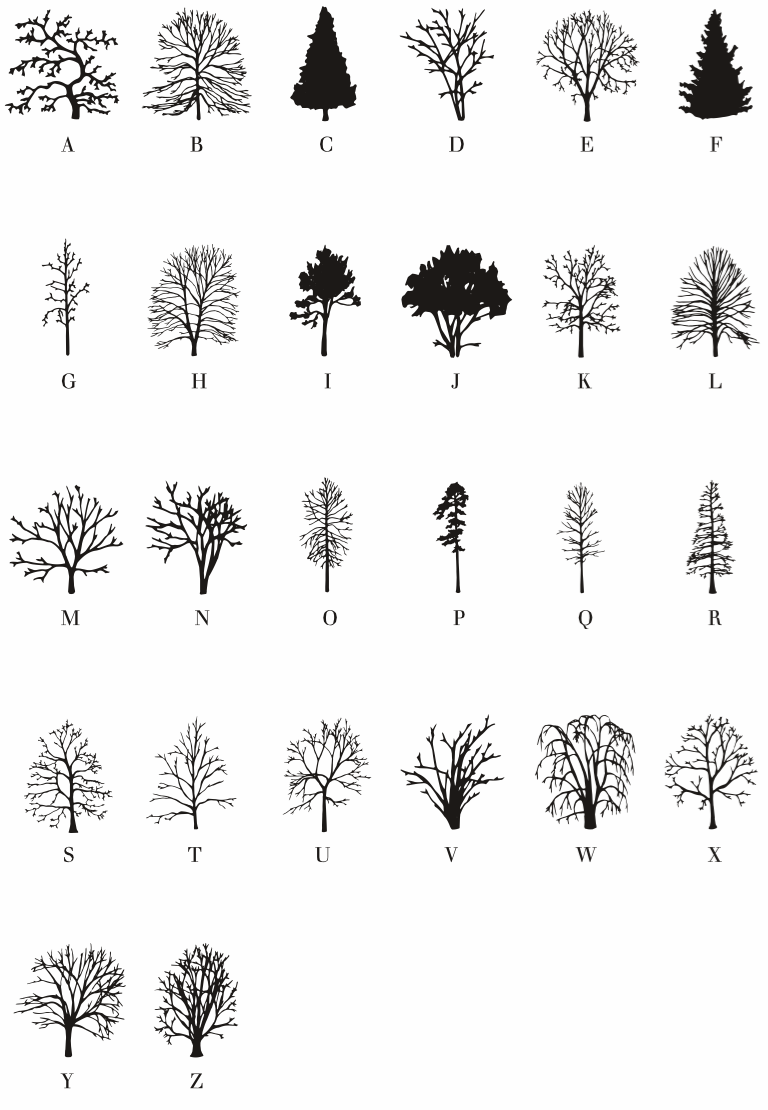 The Trees alphabet.
Having established a tree alphabet, Holten is now considering ways to write messages into the landscape. One way is to incorporate words, spelled out in trees, when planting a garden or reforesting a developed area.
She is currently in talks with Google's ecology team about a possible "typographic forest" installation at the company's California headquarters, which would involve developing a new alphabet tailored to the area's native flora. 
The Tree translation of Liberty Trees, a story by Robert Sullivan.
Holten also has her eye on the forthcoming Obama Presidential Library in Chicago, which she believes would benefit greatly from a garden filled with hidden messages written in Tree.
In the meantime, anyone is welcome to use the existing tree alphabet to plant their own message. (If you don't have space or access to the requisite saplings, you can plant a virtual garden in a Word doc—the Trees font is free to download.)
About Trees is now available for pre-order and ships in late July.