The Haunting Street Art Adorning Havana's Oldest Buildings
Artist Yulier Rodriguez is filling Cuba's capital with melancholic alien creatures.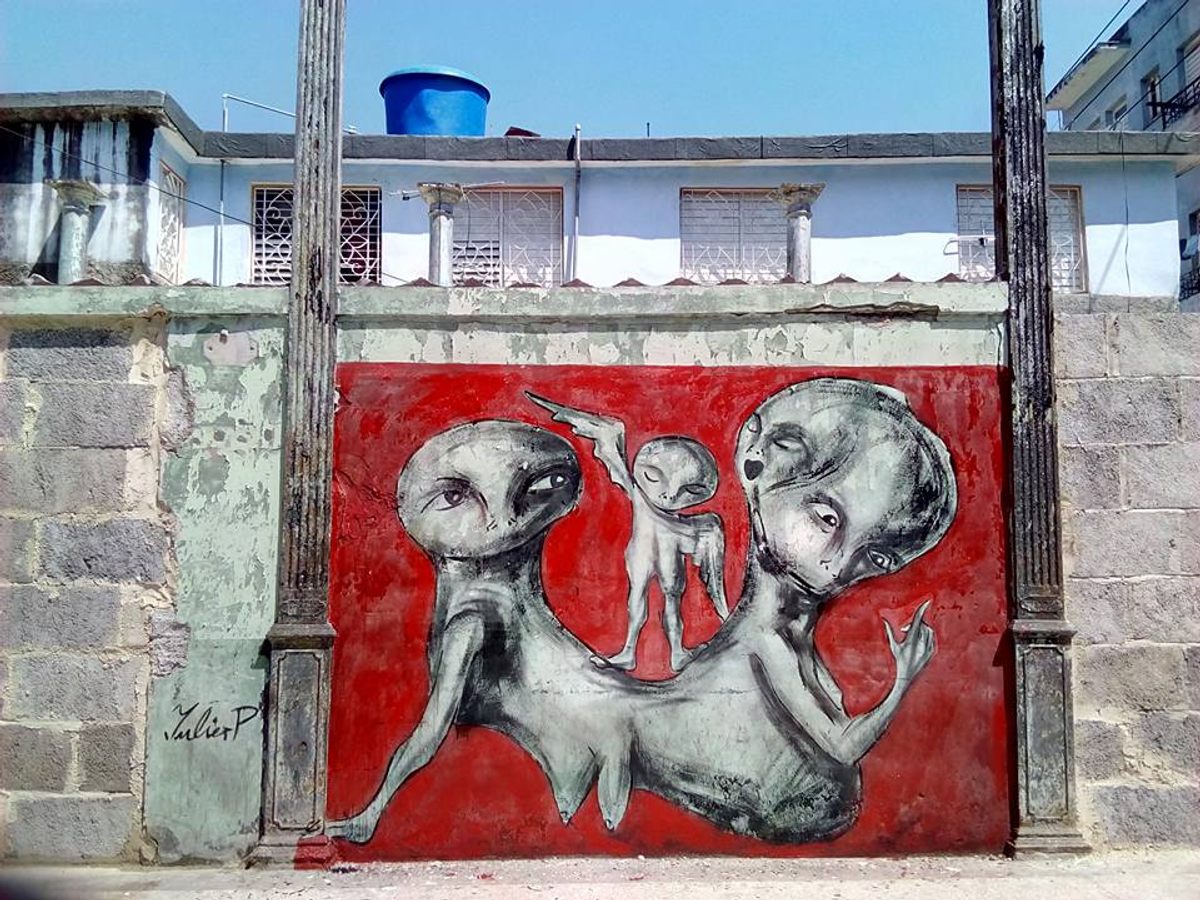 In Havana, Cuba, street art is relatively rare. The city is full of derelict, sometimes abandoned buildings that in other cities might have been used as canvases for graffiti, but tags or murals are found only infrequently in the Cuban capital. In some neighborhoods, though, haunting figures live on Havana's walls, the product of a young street art movement, led by just a handful of artists.
One of the most prolific and noted is Yulier Rodriguez, who signs his work Yulier P. His pieces feature alien-like creatures with bulbous heads, sometimes more than one, and large searching eyes. Rodriguez said they are akin to souls or fables. They suffer. They wonder. They might be in pain or in a moment of contemplation. They're rarely happy, though.
They peer out of their other-world into Havana but they rarely seem to see it, caught up instead in an internal melancholy.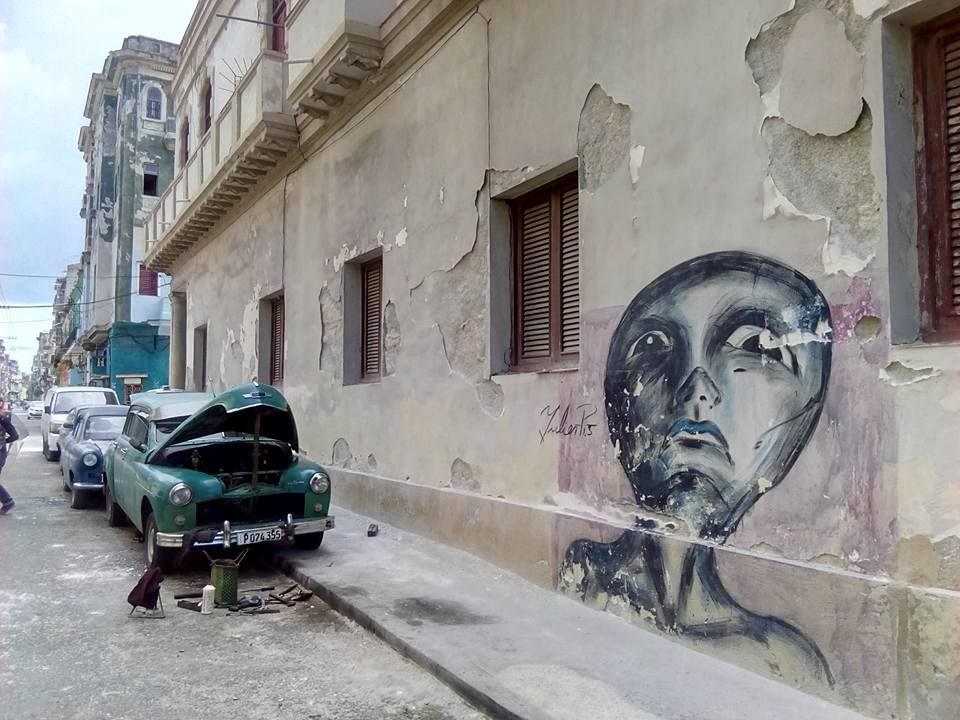 Rodriguez first started adorning Havana's streets about three years ago. He had been creating art in the studio, looking for a way to express his own experiences, when he began making these expressionist forms. He had met another artist who was working on the street, and he started experimenting.
He has spoken of the "stage fright" that he encountered in his early public work, but now, just a few years later, his art is hidden in plain sight throughout the city, both in wealthier neighborhoods and in some of the poorest.
For his pieces, Rodriguez chooses buildings and walls that have fallen into disrepair: his intent is to add color and aesthetic qualities back to the city as it crumbles. He also looks for spots that are as visible as possible, in part to promote the idea of street art in Cuba.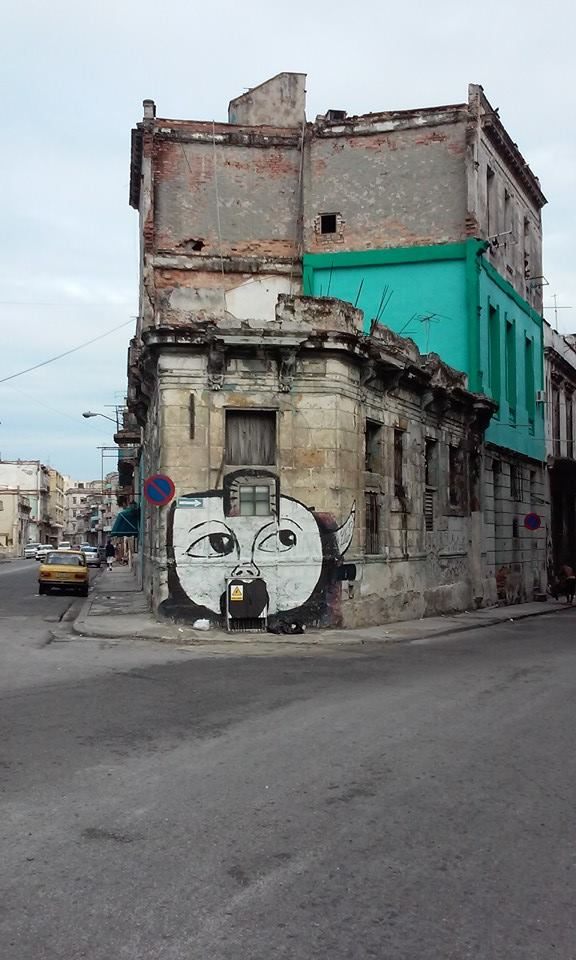 The pieces don't start with the place, but with an idea: "My ideas or scenes are already drawn or preconceived in sketches," he says. When he finds a wall with the right characteristics, he can "adapt the idea to the architectural aesthetics of the space," he says, putting the personality of the destroyed wall and the piece's design in dialogue.
From time to time, Rodriguez's work is painted over, sometimes by public authorities, sometimes by well-meaning private people, and sometimes by religious detractors who see his figures as devilish. But spend even a bit of time in Havana, and you'll be able to find them.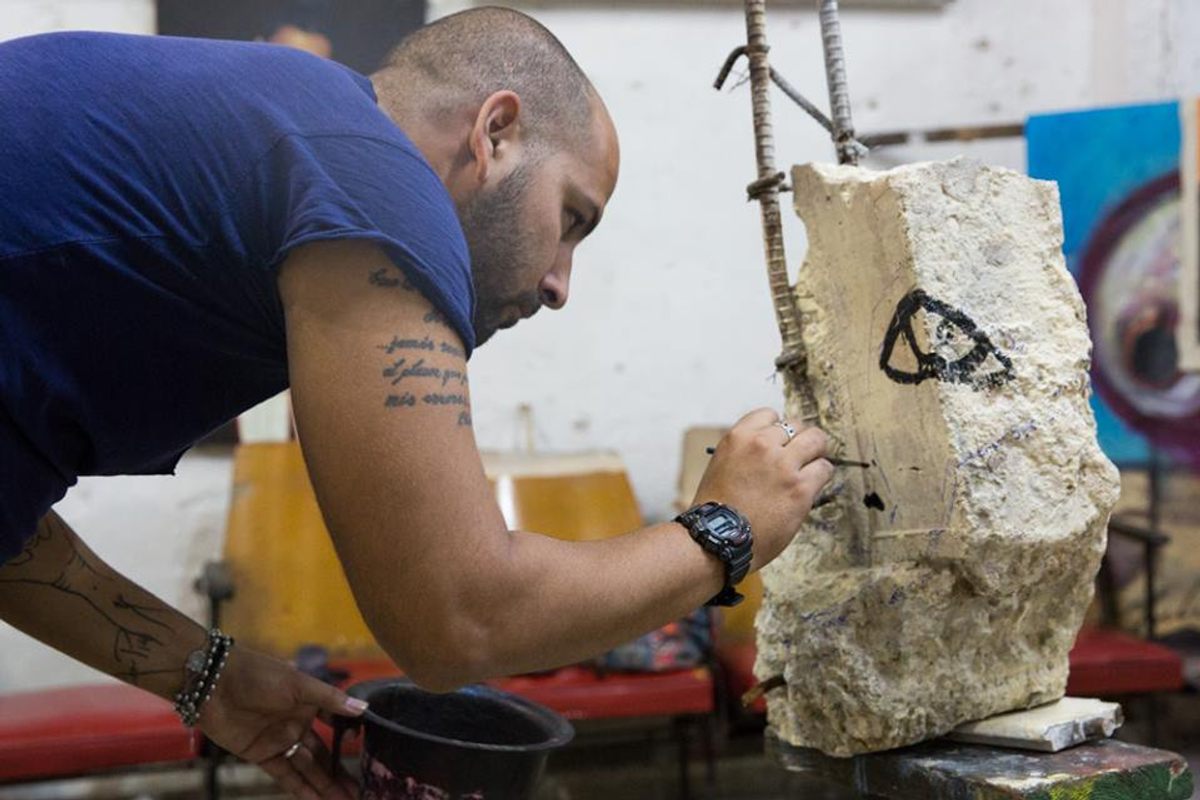 Rodriguez's art isn't political enough that he's been told to stop (although occasionally the police come by to check on what he's doing), but what he's doing is new enough in Cuba that, he says, like any activity that's not officially sanctioned by the government, it's looked on with suspicion.
Rodriguez shares a studio on the Prado, a major boulevard that connects Old and Central Havana, where he also works with other self-taught artists to bring art to the community. These days, he sees little difference between the work he does in the studio and on the street. "I think my work has the same intention," he says, no matter the venue. A viewer's interpretation may vary, though, depending on the place where they encounter his work. Either way, the intention is the same: to spark conversation.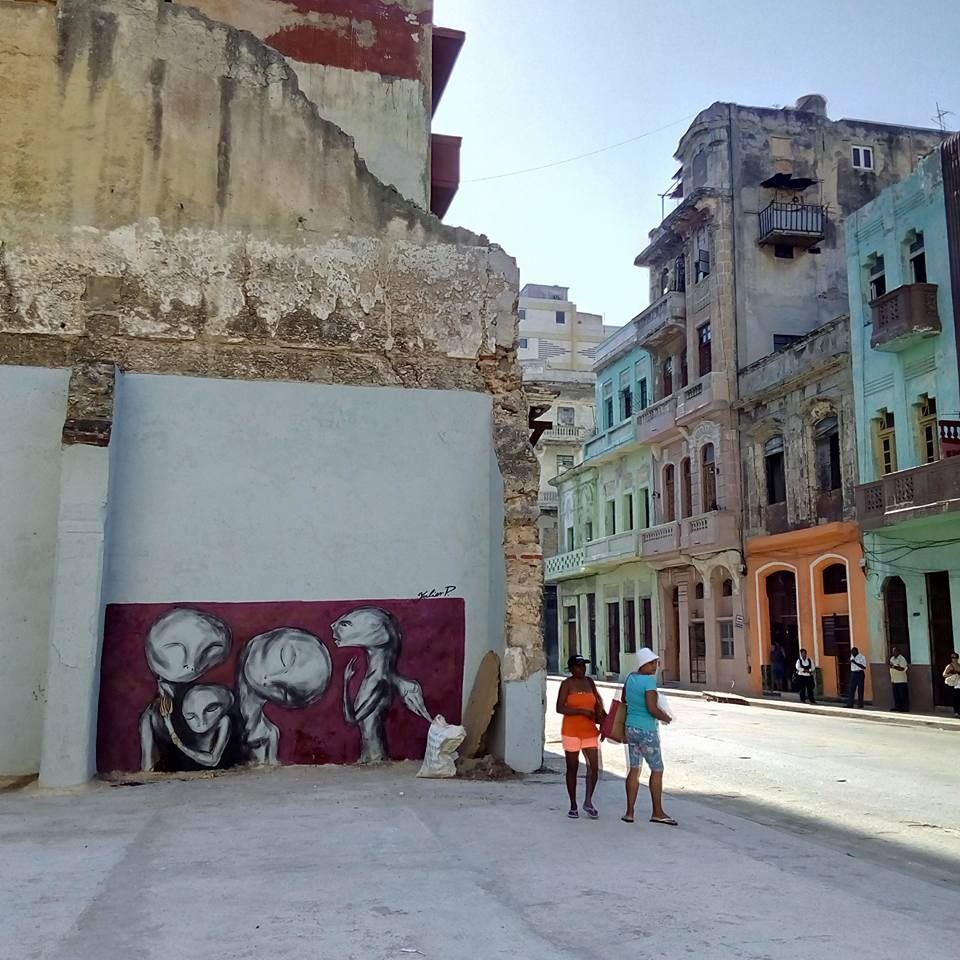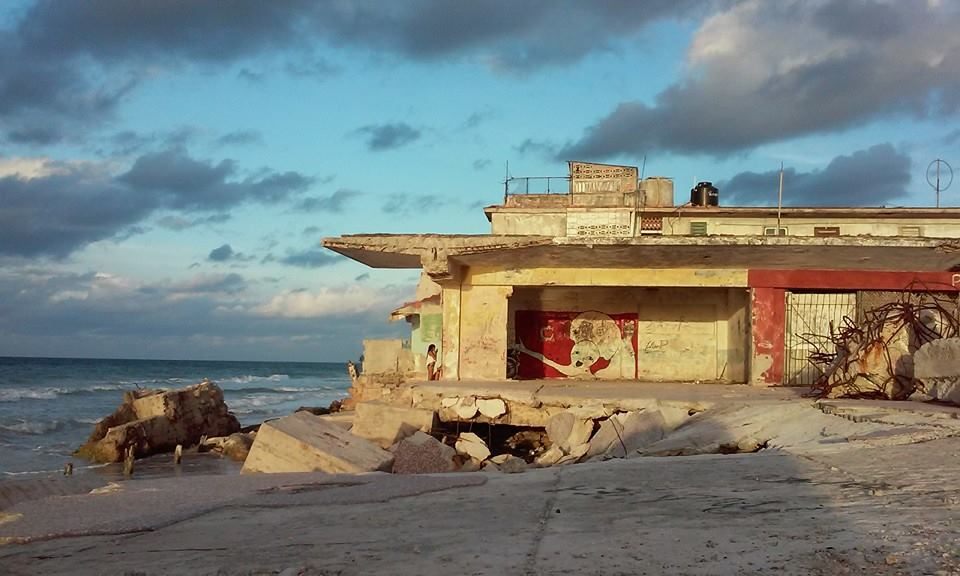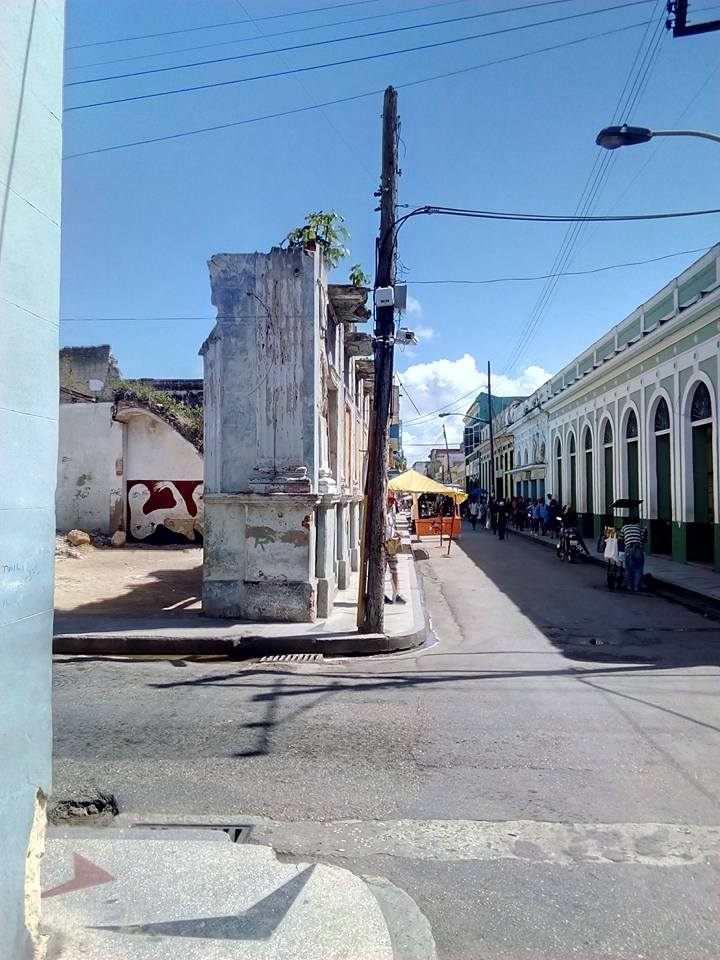 Mariana Zapata contributed reporting to this article.