The Obscure Accordionist Who Played Mood Music on Silent Film Sets
Actors needing to cry on cue turned to Danny Borzage.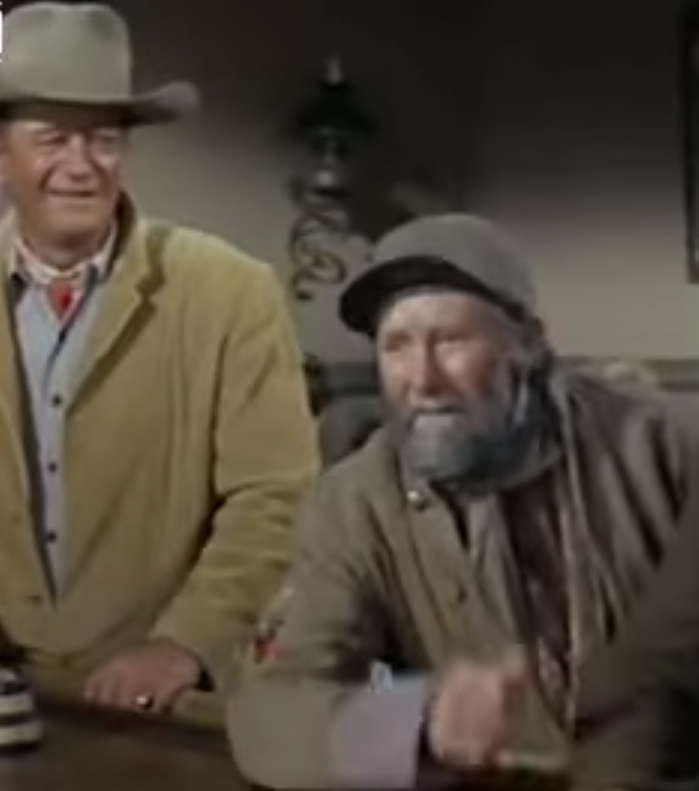 Danny Borzage (right) with John Wayne in McLintock. (Photo: classicmoviemobile/YouTube)
Danny Borzage wasn't a great actor. Visit his IMDb page and you'll see he specialized in parts with names like "Townsman," "Barfly," and "Courtroom Spectator." While he did appear in a few landmark films such as Citizen Kane, Vertigo, and To Kill a Mockingbird, he was only onscreen for a few seconds. Blink and you'll miss him.
But while Borzage never became a superstar, he holds a special place in Hollywood history. After all, the man was a master manipulator. He could help A-list stars relax on set, or he could make big-name actors cry on-camera, all with his trusty accordion.
In the era of silent films, Danny Borzage made his living as a mood musician. Before The Jazz Singer, the first feature film with synchronized dialogue sequences, revolutionized cinema, mood musicians were hired to play their instruments on film sets. As the camera rolled, these performers would create live soundtracks in order to evoke emotions from the actors. If a leading lady needed to shed a few tears, a musician like Borzage would play something sad to get the waterworks flowing.
While it sounds pretty weird, this was standard practice back in the day. According to Patrick Miller in his article "Music and the Silent Film," Hollywood director D.W. Griffith enlisted a brass band to encourage extras during the battle sequences of his 1916 three-and-a-half-hour epic, Intolerance. Fellow director King Vidor often relied on opera recordings to get his actors in the right headspace.
In his autobiography, Charlie Chaplin explained how he created a melancholy mood for The Gold Rush by playing "Auld Lang Syne." On the flip side, while shooting a slapstick short called Twenty Minutes of Love, Chaplin used a catchy dance number called "Too Much Mustard" to create an atmosphere of "nonsense."
As for Danny Borzage, he performed a wide array of hymns and early American folk songs on set, courtesy of his wheezy accordion. His music conjured up an old-timey feeling, which worked perfectly on Westerns. And Danny had quite a catalog of songs, as he'd been playing the stomach Steinway ever since childhood.
Born in 1896 in Salt Lake City, Utah, Danny grew up in a musical family. His father, Luigi, was skilled at the accordion and passed on his passion to Danny and two other sons, Bill and Henry. Together, the Borzage boys entertained audiences via radio, and Danny eventually performed at the L.A. Orpheum with his brother Lew, who was a guitarist and violinist.
In addition to their love of music, the Borzages were also big into show business. Henry worked as an electrician for 20th Century Fox, Lew was an assistant director, and Bill was a bit player. And then there was Frank, the two-time Oscar-winning director of films like 7th Heaven, Street Angel, and A Farewell to Arms. Inspired by Frank's cinematic success, Danny packed up his accordion and made his way to Tinseltown, where he auditioned for an up-and-coming director by the name of John Ford.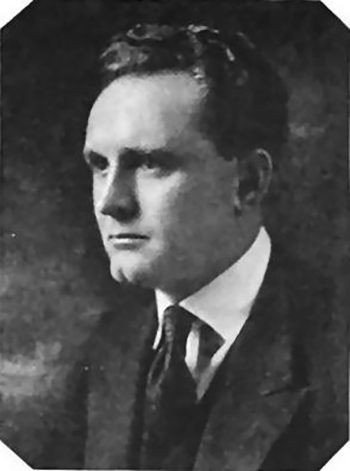 Director Frank Borzage, Danny's brother, c. 1920. (Photo: Public Domain)
A four-time Oscar winner, Ford is widely considered one of the all-time great American directors. The man behind classics like Stagecoach, The Grapes of Wrath, and The Searchers, Ford inspired filmmakers from Akira Kurosawa to Orson Welles to Steven Spielberg. But in 1924, he was still a young man making a name for himself, and he needed a mood musician for his upcoming historical drama, The Iron Horse.
When Danny showed up for the audition, he impressed Ford with a song called "My Buddy." And it probably didn't hurt that Ford knew Danny's brother, Frank. Thanks to his musical know-how and a little bit of nepotism, Danny landed the gig. It was the beginning of a beautiful work relationship that lasted over 40 years.
Even after the silent era gave way to sound, Danny remained an integral part of the Ford Stock Company (a group of actors who repeatedly appeared in the director's films). While mood musicians had mostly vanished from Hollywood sets, Ford stuck with tradition and kept Danny around. Only now, with the advent of sound and the appearance of microphones, Danny worked most of his magic behind the scenes.
During shooting, the accordionist would escort actors away from the set and play specific songs to manipulate their emotions. While filming Cheyenne Autumn, Danny helped actress Dolores del Rio cry by performing a love song from one of her old films. In The Searchers, he played the movie's theme to help Vera Miles prepare for a big romantic moment. John Wayne also remembered hearing Danny on the set of films like The Long Voyage Home and admitted that when Danny was playing the accordion, it gave the director a major advantage. As the Duke put it, "It's easy to talk an actor into a scene that way."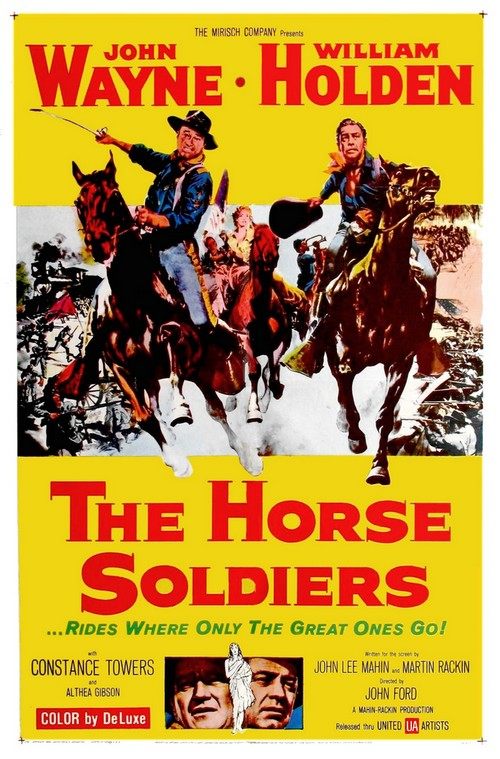 The poster for The Horse Soldiers, in which Borzage had a bit part. (Photo: Public Domain)
But not everyone appreciated these antiquated tactics. While filming John Ford's Civil War segment of How the West Was Won, future A-Team star George Peppard was completely baffled when Danny led him away from the camera. "To my astonishment," Peppard related to biographer Ronald L. Davis, "[Ford] sent me off with this accordion player, who played me sad music of the time. I was puzzled. I'd had a lot of training as an actor, and I thought I was ready to do the scene."
Evidently, John Ford disagreed.
When Danny wasn't taking aim at specific actors, you could still hear him squeezing out old tunes. In between scenes, his job was to create a relaxed atmosphere, one that left a lasting impression on the rest of the Ford Stock Company. When reminiscing about his experiences with John Ford, actor Harry Carey Jr. remembered that Danny "was not a particularly good accordion player," but whenever he launched into a song, there was "a plaintive sadness that pulled at your heart, that made you feel, 'Thank God I'm here to do a scene for that Old Man [Ford] in the chair by the camera.'"
In addition to appearing in films like The Horse Soldiers and Two Rode Together, Danny directly contributed to some of the most memorable moments in the John Ford canon. His heartbreaking accordion rendition of "Red River Valley" caps off Ma Joad's final monologue in The Grapes of Wrath. As a group of pioneers pray over a massacred family in The Searchers, Danny accompanies the mourners with "Shall We Gather at the River?" He shows up again at the end of the film, performing an energetic version of "The Yellow Rose of Texas" at an Old West wedding. And you can hear that bittersweet accordion in films like My Darling Clementine, 3 Godfathers, and The Man Who Shot Liberty Valance.
Danny also excelled at cheering up his coworkers. According to Kathryn Kalinak in How the West Was Sung, Borzage would welcome particular actors to the set each day with their own specialized theme songs. Every time Henry Fonda showed up for work, Danny would launch into "Red River Valley." John Wayne was often greeted with the theme from She Wore a Yellow Ribbon or "Marcheta," a love song featured in They Were Expendable. And whenever John Ford made his grand entrance on set, Borzage welcomed him with "Bringing in the Sheaves," the director's favorite hymn.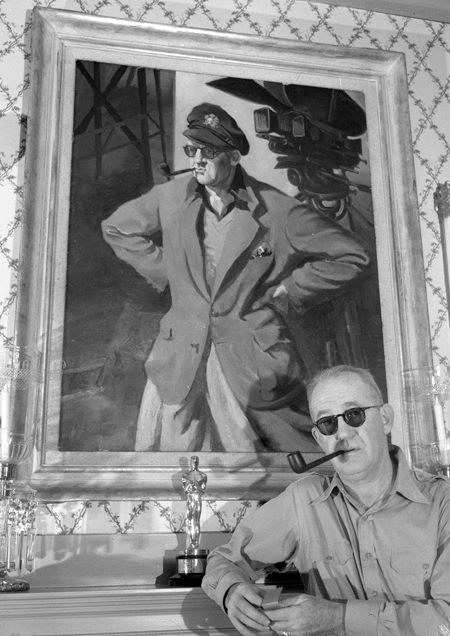 Director John Ford circa 1946. (Photo: Public Domain)
Even when they weren't making movies, Ford kept Borzage pretty busy. Every year, the director invited friends and family to a Christmas party at his private California hangout, the Field Photo Farm. As guests mingled in the clubhouse, an actor like Andy Devine or Burl Ives (both large men) would secretly dress up as Santa Claus. With a bagful of presents for the kids, this fake Kris Kringle would ride up to the party in a stagecoach, complete with a cowboy escort. And sitting atop the coach were Danny Borzage and Jimmy Stewart, both playing "Jingle Bells" on their accordions.
But Danny was there for the hard times as well, and he played a key role in one of the Stock Company's most somber moments. Before John Wayne became Ford's biggest star, the director had made over 20 movies with veteran actor Harry Carey Sr. When the elder Carey passed away, Ford pulled out all the stops to give his friend a proper send-off. According to historian Joseph McBride, Carey's funeral was jam-packed with stars, ready to pay their respects. The Duke recited Tennyson, Burl Ives sang a Western ballad, and Danny said adios by once again playing "Red River Valley."
Even when Danny wasn't working with Ford, he liked sticking close to his friends. According to film historian Scott Eyman, when John Wayne was directing The Alamo, he brought Borzage along to recreate that Ford Stock Company feeling. The accordionist even appeared on an episode of The Lucy Show where the Duke meets Lucille Ball. And after John Ford finally retired from the picture business, Danny continued working as an extra, appearing in movies and TV series like Support Your Local Sheriff, The Man from U.N.C.L.E., and The Wild Wild West.
Thanks to his Hollywood career, Danny became a celebrity in his hometown, and on several occasions, he was lovingly profiled by The Salt Lake Tribune. While he never achieved stardom like his brother Frank, Danny left an impact on everyone who heard his mournful accordion. Years after Danny passed away in 1975, actor Harry Carey Jr. honored his old friend with a few kind words. "I feel reverent when I say his name," the actor said, "because he's the most underscored, underappreciated human on the John Ford Stock Company."