The Strangely Glamorous World of a 1980s Ronald McDonald
A fast-food journey from Hamburger University to celebrity-filled Hollywood parties.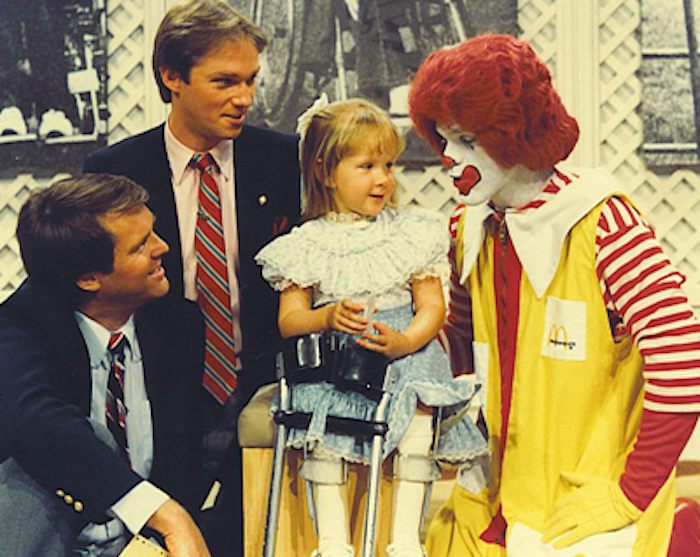 Author, performer, and educator Tim Arem has inhabited one of the most famous clown personas in the world. But he was one of many.
Working in and around L.A., Arem was not only able to perform for countless children as Ronald McDonald, but also appeared at a number of star-studded benefits and photo ops, both as Ronald and later as the short-lived, moon-headed "adult" McDonald's mascot, Mac Tonight. We were able to talk to Arem about how he became Ronald McDonald, what it took to bring the character to life, some of his wildest McDonald's spokesperson gigs, and how being Ronald became an enriching experience.
Arem started his Ronald career after answering an ad in an L.A. casting magazine. "I applied for the job through the Drama-Logue. It's an actor's paper. I just kind of did it on a fluke," says Arem. "They just said they were looking for a professional clown, and that's all they said. They didn't publish [that it was for McDonald's], for obvious reasons probably." He says that it wasn't until about 30 minutes into the interview that he even learned that the clown he was auditioning for would be Ronald McDonald. Arem was intrigued, and with his Master's Degree in Education, and a background in acting and clowning, he was able to smoothly pass through the audition process, including performing for a series of franchise owners and operators.
As Arem explains it, during his tenure, from 1981-1985, there were essentially three-levels of Ronald. "There's two Ronalds, that do the TV commercials. […] They're professional actors. There's the main guy and the back-up," he says. "Then there's the guy out of Chicago who trained all the other Ronalds. He would travel all over the world, training. He did that, plus he had his own area, Illinois." At the time, the trainer in Chicago was the only training Ronald, and then under him were all of the other Ronalds who did live events ranging from school shows, to photo ops, to in-store birthdays. "There were a handful of full-time, and everyone else was part-time," says Arem. "It all depended on how many owner-operators/McDonald's there were in a specific area. They have to put money in a kitty; that's how Ronald got paid." Arem had scored a position as a live Ronald.
Once he had the job, Arem had to go back to school, specifically, Hamburger University. Located at the McDonald's corporate headquarters in Oak Brook, Illinois, Hamburger University is a training facility where store managers go to learn the McRopes. They also offer intermittent clown training to new Ronalds. "It's real important, as with the Disney characters that are all over the world, to have training," says Arem. "The kinds of things that we did was, we went over make-up; they brought in [magician] Harry Blackstone Jr., who in his day was as popular as David Copperfield for magic. I got to work with him; They brought in storytellers, they brought in balloon people. Kind of all the things you would want in a polished clown."
Arem learned the Ronald face make-up, an essential part of the character that makes a Ronald instantly recognizable. "The nose was painted on. It wasn't a real focal part of the face, because the nose can be kind of scary," says Arem. "All the features were pretty refined. For example, in acting if you do your eyebrows to point, that's scary. If you do them kind of round, that's happy, so our eyebrows were somewhat round, our mouths weren't huge."
"The face wasn't scary, it had a lot of history to it. I would just kind of walk onstage and the kids would freak out, in a good way. It was that powerful."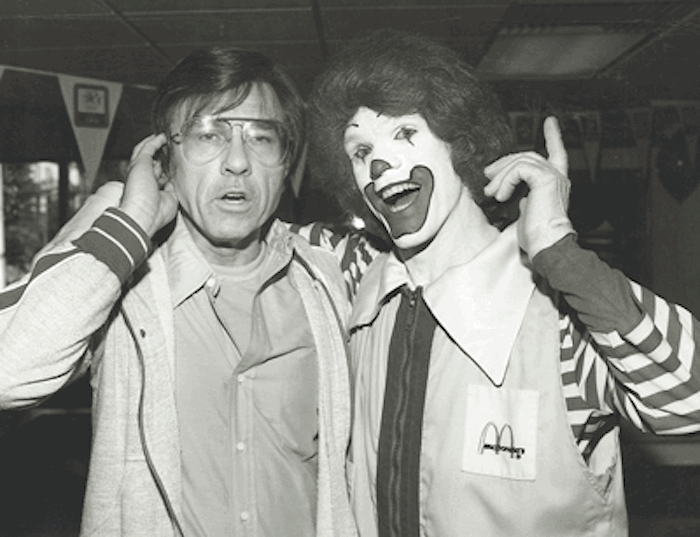 ---
During training, Arem says that they were also instructed in the psychology of working with kids. "You don't want to scare the crap out of them," he says. "Getting down low, getting to their level and talking to them. You look at them and if they're kind of scared, and you can tell right away, just like if you were a regular adult with a young child, you don't get closer, you back off. Those sorts of things I learned through that."
As to what the character himself should be like, Arem indicated that they were given a surprising level of autonomy, so long as they maintained Ronald's core childishness. "For example there were Ronalds that were really good storytellers, and in my case it was magic and education, and juggling, and I could ride a unicycle, and those type of things," he says."[W]e didn't talk about product, we didn't talk about the brand, it was, 'Hey, Ronald's a kid, and he's gonna hang out with the other kids.' Ronald's just like a big kid."
With Arem's prior experience as an actor and clown, he advanced through training in just a few weeks, and went to work appearing as Ronald McDonald all over L.A. His area was one of the largest McDonald's regions in the country, so Arem travelled up and down California, five to seven days a week, bringing Ronald to the people. During the week days, he would travel to various schools doing educational presentations that he himself would create, on topics ranging from earthquake safety to the Olympics. According to Arem, the only direct marketing came from the image of Ronald.
"In the school shows, because McDonald's is commercial, Ronald doesn't say anything about hamburgers to kids, but the brand and the marketing is so strong, that when you see the kids, you know where they're going to go out to dinner sometime that week."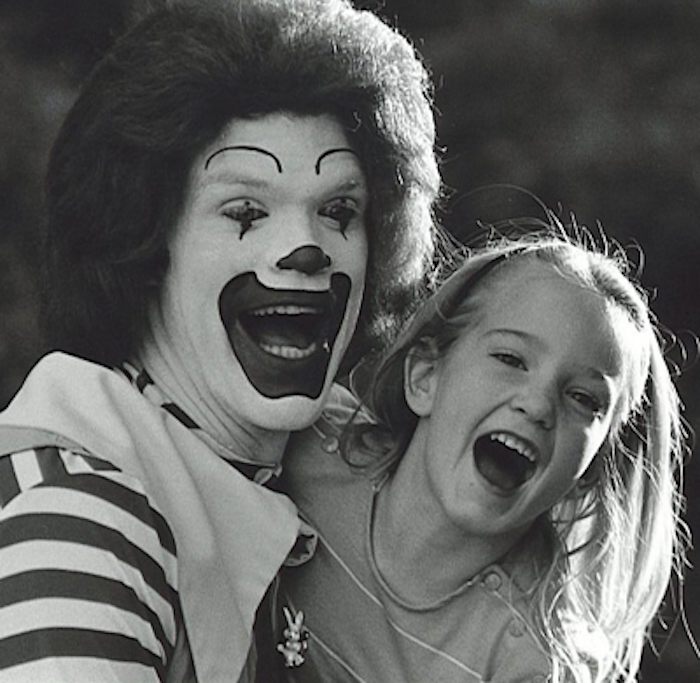 On the weekends Arem would hop in a special truck with a stage built on the back, and drive around doing performances in parking lots for crowds averaging a thousand people. Then there were the special and private events where he got to experience some unforgettable moments as Ronald. "I got to throw out a pitch at Dodger Stadium for 50,000 people, because it was McDonald's night," he says. "I got to be the first, outside of the Disney characters, to perform at Disneyland, because it was McDonald's Night at Disneyland. I've been on airplanes, blimps, helicopters. I've got to ride horses with people like Richard Chamberlain." Some of his favorite memories of performing as Ronald include the charitable performances he got to do at places like Ronald McDonald Houses, which provide lodging for families of people in the hospital, and Camp Ronald McDonald for Good Times, which caters to children with cancer.
And because it was L.A, he even got to do some strange adult parties. Describing one benefit he was invited to as Ronald, Arem says, "They had a ton of celebrities, and they had seals swimming in the pool. It was just one of those Hollywood 'La-La' things."
---
After four years as McDonald's' official clown, Arem stepped away from the character to pursue other character opportunities, but his time with McDonald's wasn't up yet. In 1985, McDonald's created a character aimed at the adult market, named Mac Tonight. The character was a 1950s- inspired piano crooner, with a crescent moon for a head. The character originated in a series of popular television commercials, and eventually Arem was tapped to appear as Mac in a series of live performances.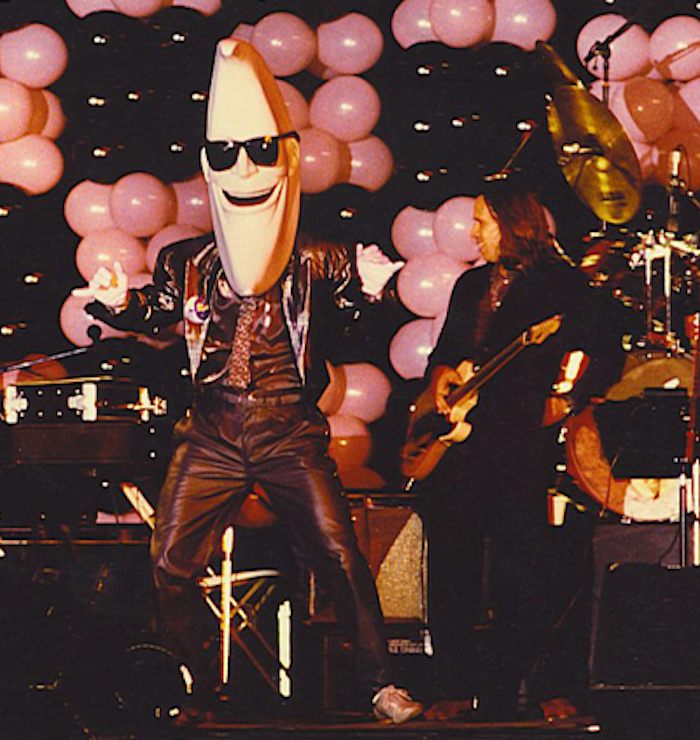 Giving him a giant moon-head and costume, Arem as Mac would hop in a vintage car and show up to different events, often hosted by radio personalities. During his brief, month-long tenure as the moon man, Arem got to meet some of his personal heroes after being invited to host a benefit event by rock star Dave Mason. "Roy Orbison was there, Stevie Nicks, both of them performed. Van Halen was there. Plus there were entertainers in the audience. And they asked me to MC it!"
After his stint as Mac Tonight, Arem left McDonald's behind, but continues to perform as a fitness educator. 
When asked how he reconciles the more mercenary aspects of acting as the McDonald's spokes-character with his edutaining goals, Arem feels that Ronald is uniquely suited act as a clown first, and a corporate symbol second. "There's a difference between a mascot and a spokesperson. A mascot does not speak, a spokesperson does," he says. "As the spokesperson of Ronald, when I go into schools, all the school shows I wrote were educational. I knew in my heart, 'Yeah, I'm there to sell hamburgers, and if it weren't for McDonald's who paid my mortgage, I would not be doing that.' It allowed me, with my teaching background, to be in the moment, and teaching fun stuff with circus arts. I was really fine with all of that."