The Year Hundreds of Bombs Went Off in New York City
Why bombing New York City wasn't always so rare.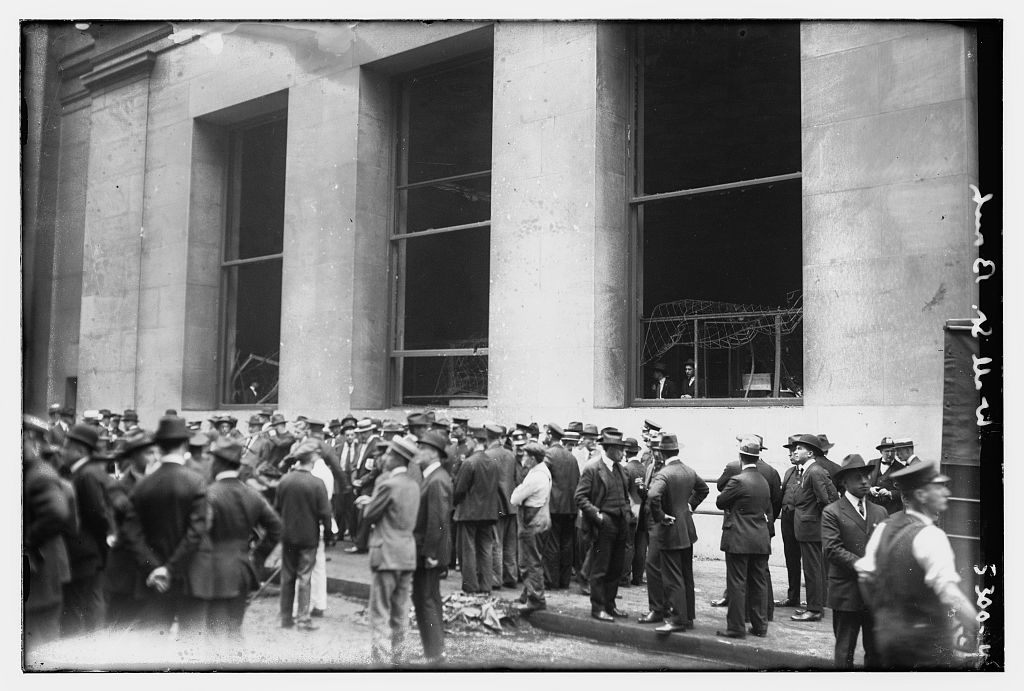 The aftermath of the Wall Street bombing. (Photo: Library of Congress/LC-DIG-ggbain-31303)
On Saturday, a bomb exploded in the Chelsea neighborhood of Manhattan, injuring dozens and, for a moment, upsetting the peace of an otherwise pleasant New York City night. 
The bombing seemed familiar: yet another attempt since 9/11 to sow fear and chaos in the city, apparently perpetrated by an amateur with ties to Islamic terrorism. But in the broader scope of time the Chelsea bombing might just be a blip. 
That's because New York City has been bombed hundreds, if not thousands of times since the beginning of its existence—one 18-month stretch between 1969 and 1970 saw 370 bombings alone—and those carried out by Islamic terrorists number in the single digits. The rest came from people—most of them white—with other motivations, whether it was anarchists bombing Wall Street in an attack on J.P. Morgan, or bombs made by the Weather Underground, or George Metesky, who was known as the Mad Bomber and eluded authorities for years.
There were also Puerto Rican nationalists, who bombed the city 49 times in the 1970s; the bombing of the Communist Daily Worker in 1940, as tensions rose amid World War II; and, of course, mobsters, like some fur merchants who bombed their competitors in the 1930s. 
"These things invariably … come back to New York," then Mayor Michael Bloomberg said after the attempted car bombing of Times Square in 2010. 
Bombing New York City, in other words, is not terribly original, nor, has it been, in its long history, particularly effective.
The deadliest case, in fact, is one of the oldest: the Wall Street bombing, which killed 38—in addition to a horse—96 years ago. That attack featured a horse-drawn carriage laden with 500 pounds of small weights and an untold amount of dynamite, which exploded just after noon on September 16, 1920, in front of the offices of J.P. Morgan and Co. No one was ever arrested, though authorities suspected Italian anarchists were behind the attack, which, in any event, was quickly forgotten. 
That was perhaps because, by 1920, bombs were already a regular feature of life in New York City. One that blew up in Spanish Harlem in 1914 was said to be intended for John D. Rockefeller. Five years after that, someone placed a bomb in the home of a judge.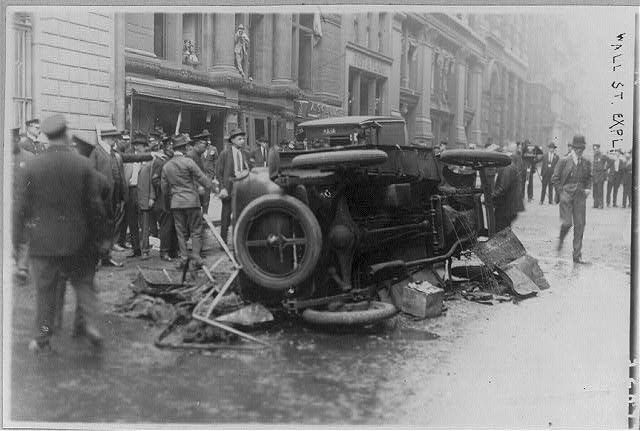 The aftermath of an anarchist bombing in this undated photo. (Photo: Library of Congress/LC-USZ62-67516)
A year later, Wall Street exploded, continuing a drum beat of violence that, by the late 1930s, had New Yorkers receiving hundreds of bomb threats a week, in addition to the bombs themselves. Many, like the one at the Communist Daily News, were thought to be politically motivated. Others, like a bomb found at the British Pavilion at the 1940 World's Fair, were surrounded by considerably more intrigue. Was it placed there by the British themselves, perhaps as a way to push the U.S. into war? No one knows, though two members of the N.Y.P.D.'s bomb squad died trying to defuse it, saving an untold number of lives. 
Just a few months later, in November 1940, the city had its first encounter with a bomber who would haunt them for years: George Metesky, a disgruntled former ConEd employee who left a pipe bomb at a company building, along with a note: "CON EDISON CROOKS – THIS IS FOR YOU." 
A similar bomb appeared several months later, before Metesky decided to pause because of World War II. 
"I WILL MAKE NO MORE BOMB UNITS FOR THE DURATION OF THE WAR," Metesky wrote police. "MY PATRIOTIC FEELINGS HAVE MADE ME DECIDE THIS."
True to his word, Metesky didn't resume bombing until 1951, when he captivated the media with a string of bombings over several years, many at city landmarks like Grand Central Terminal, the New York Public Library, and Radio City Music Hall, some 33 in total which never killed anyone but, for a time, set the city on edge.
But it was Metesky's chatty relationship with the New York Journal-American that eventually did him in. He was arrested in 1957, declared legally insane, and then spent nearly 16 years in an upstate mental institution.
Twelve years after Metesky's arrest, Sam Melville, an antiwar radical inspired in part by Metesky, took to bombing the city, though this time for ostensibly political reasons. Eight bombings shook Manhattan in 1969 at seemingly random places, each carrying its own political message for the newspapers. Melville was later arrested after trying to place some dynamite on an Army truck. He was sentenced to prison three months after three members of the Weather Underground died after a bomb they were working on exploded in Greenwich Village.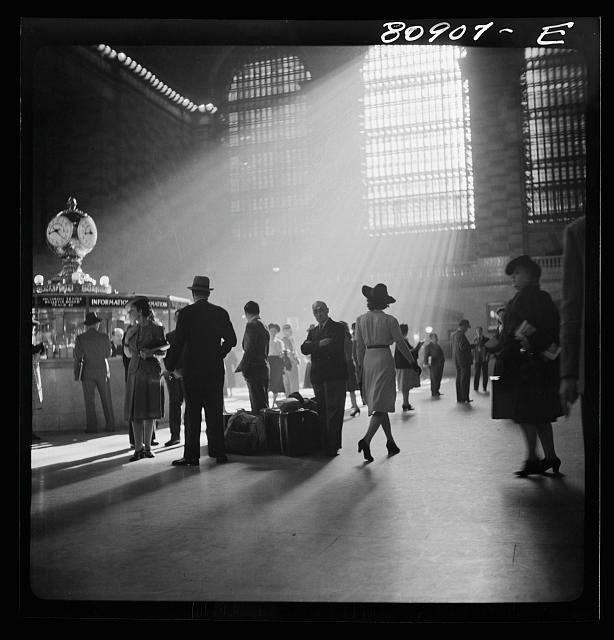 Grand Central Terminal has been the target of many bombs. (Photo: Library of Congress/LC-DIG-fsa-8c33198)
"Bombs are back," Police Commissioner Howard R. Leary told a Senate committee, foreshadowing Bloomberg's comments 40 years later, according to the New York Times. "Bombing has reached gigantic proportions."
Later in the 1970s and 1980s, bombing New York City became a bit more systematic, the main actors being the Puerto Rican nationalist group FALN, the Jewish Defense League, and Croatian terrorists, with FALN's bombs by far the deadliest. They are suspected in or tied to at least 49 different bombings in New York alone, including a 1975 explosive at the historic Fraunces Tavern, which killed four; the December, 1975 bombing of LaGuardia Airport, which killed 11; and a deadly 1981 bomb at J.F.K. airport, which had followed two 1980 explosions in Penn Stations. 
The JDL, meanwhile, is suspected in or tied to a 1971 bomb outside Aeroflot's N.Y.C. offices, a fatal explosion inside the offices of local impresario, a pipe bomb outside the Polish Consulate in 1976, and five other pipe bombs near the United Nations building. That same year, a police officer died at Grand Central Station trying to defuse a bomb left by Croatian terrorists; four years later, more Croatian terrorists bombed the Statue of Liberty.
And then, around 1983, the bombings in New York slowed to a trickle. There was the 1993 World Trade Center bombing, which killed six; the 2008 Times Square bombing, which killed no one, and Saturday's attack—three in about about 20 years' time, down from an age not too long ago, when you could reasonably expect three just this week. 
Melville died in the Attica Prison riots in 1971, having been one of its chief planners, but his then-girlfriend and co-conspirator, the Swarthmore educated Jane Alpert, is still alive. These days she is spending her time on Twitter, with a bio as benign as your mom's: "Strategies & Writing for Nonprofits. MPA from NYU. Reads ancient Greek. Former 1960s radical. Lives in SoHo and Adirondacks. Swims, does Bikram yoga."