This James Bond Map Will Teach You How to Become a Spy
Where 007 drank, killed and shagged, mapped.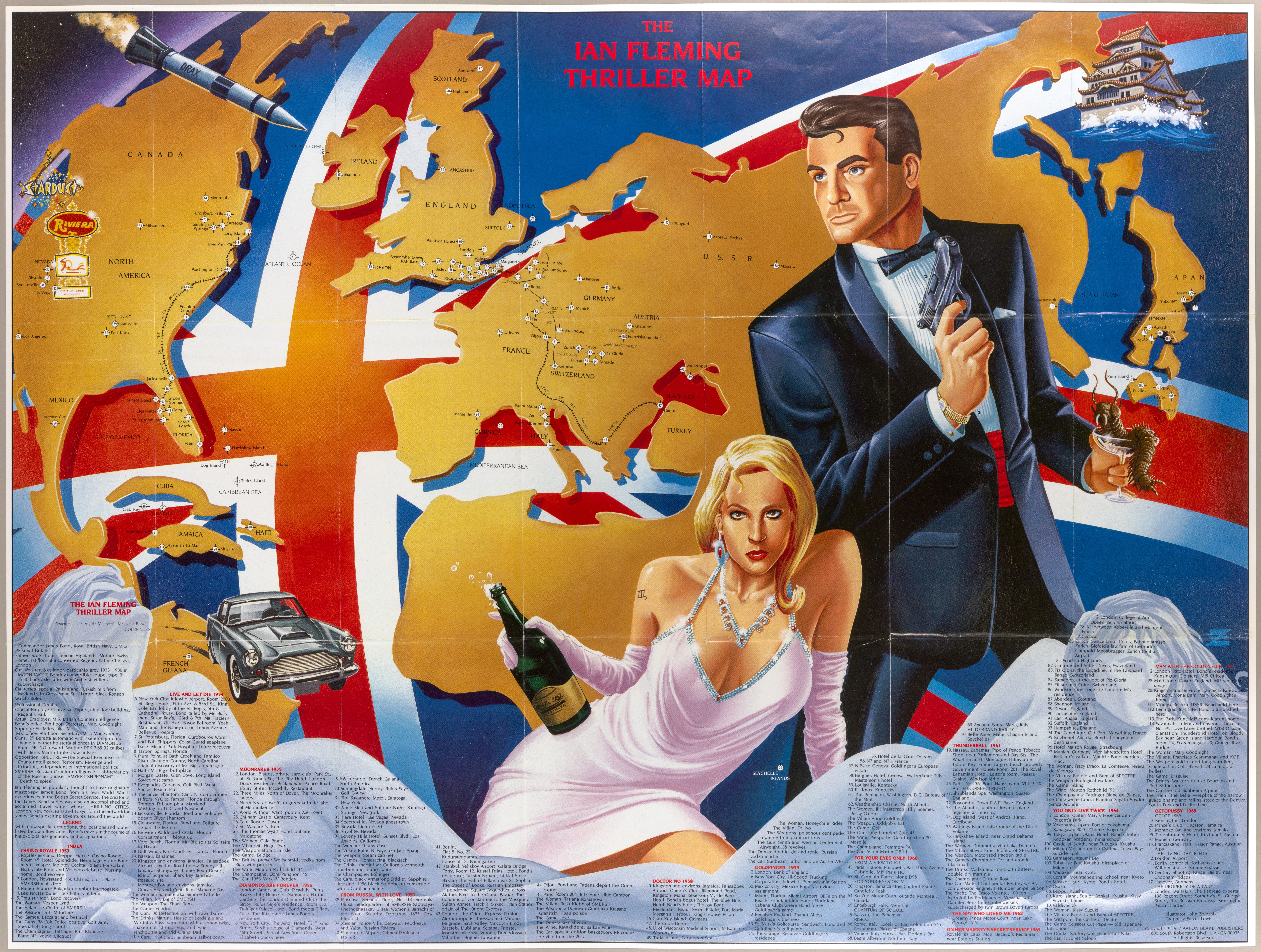 Ian Fleming Thriller Map. (Photo: PJ Mode's collection of persuasive maps/Cornell Digital Library)
James Bond is the world's most famous fictional spy. A super sleuth, cold-blooded marksman and serial wooer of women. Stoic and morally questionable. A gentleman of a waning empire and for some fans, just an all-round lad.
Before Daniel Craig had ever jumped across the roof of a moving train, landed, and then adjusted his cufflink, author and one-time intelligence officer Ian Fleming created the original James Bond. Starting in 1953, Fleming invented the British Secret Service agent adored around the world, penning 14 Bond spy thrillers before his death in 1964.
The author created the fictional character, to some extent, in his own image. Fleming was active during WWII and had some experience with the British Secret Service. He also had an affinity for the finer things in life. Bond enjoyed everything the world could offer a pleasure-seeking man of wealth and prestige: Fast cars, fine clothes, the best food, drinks, and girlfriends.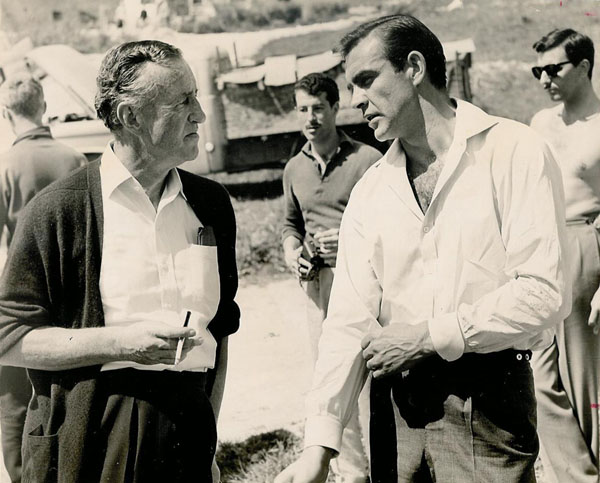 Sir Ian Fleming and Sean Connery. (Photo: Scio Central School Website Photo Gallery/CC BY-ND 2.0)
While the Bond of the films may have eclipsed the literary 007, this map will be a treat for true Bond aficionados. The Ian Fleming Thriller Map shows the real locations for all Bond's escapades during the novels. Boy did he get around. The spy's missions took him across four continents and dozens of countries; to Japan, Seychelles, Mexico and French Guyana. Each spot, marked by cross-hairs, explains what went down for Bond, his rivals and lovers.
An illustration of a "generic" Bond is emblazoned in the center of the map. (He bears a striking resemblance to Sean Connery.) Bond poses with a handgun and a cocktail glass with a large bug inside it. A blond "Bond woman" sits below him, clutching a champagne bottle.
The map introduces Bond in text overlaid across a pair of lounging beauties, noting his origins, favorite car, choice of tobacco and brand of watch: Rolex. We learn what his opponents are too: Extortion, terrorism, the Special Executive for Counter-Intelligence, and Russian Counter-Intelligence.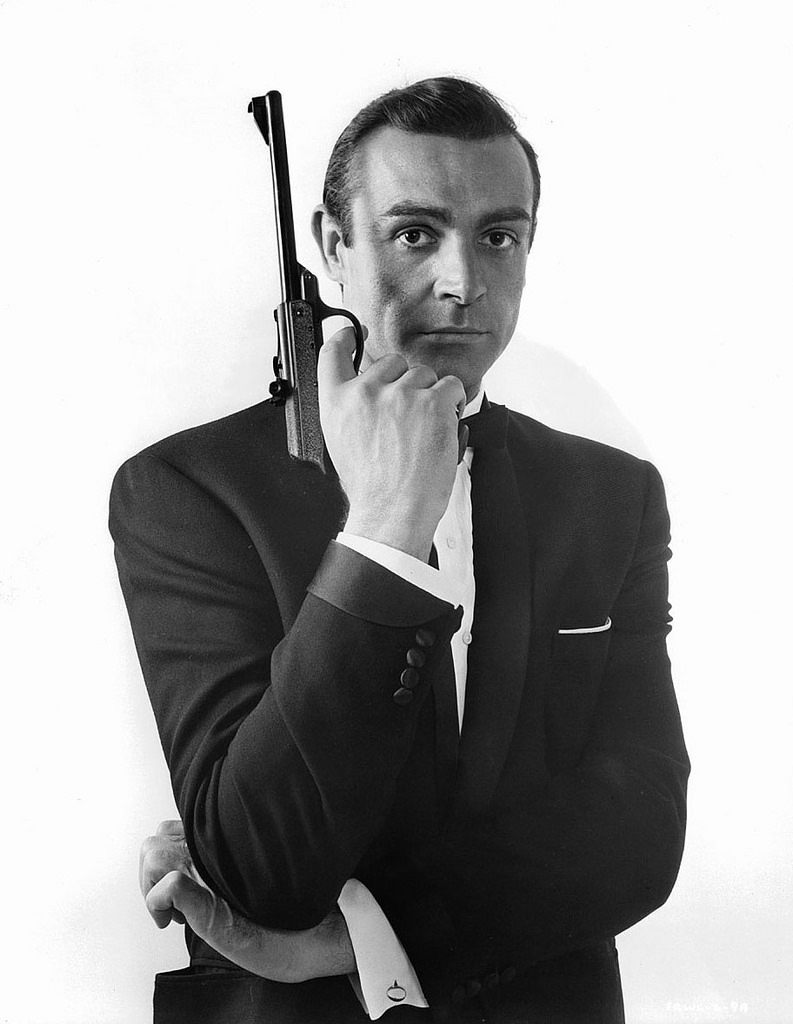 Sean Connery as James Bond. (Photo: The Coincidental Dandy/Public domain)
The legend for the map is divided into different books, and lists his exploits during the most significant scenes in each adventure. The women he slept with. The villains he encountered. The games he played. The guns he used. His drinks of choice (occasionally there is a special section for the types of Champagne and liquor he consumed.) And finally, the cars. It's essentially a list of ingredients for Fleming's recipe on how to plot a spy thriller.
For example, in Diamonds Are Forever, the showdown takes place at the Beverly Hills Hotel. Bond meets Tiffany Case, encounters the villain Rufus B. Spaye, his weapon is a steam cabinet, he plays blackjack and bets on the horses, drinks bourbon, Bollinger Champagne and a martini, and drives a 1956 black Studebaker convertible.
When Fleming created James Bond, Britain was in a state of imperial decline. Bond's ability to get the bad guy showed how Britain and its secret service agents were still on top, vanquishing enemies while oozing swagger and class. Bond embodied an idealized man of the British Empire at a time when the country felt insecure about its place in the world.
John Zelnick, an illustrator, created the map, which was published in 1987. This was the same year the Bond film The Living Daylights was released. The map forms part of PJ Mode's collection of persuasive maps at the Cornell Digital Library.
Map Monday highlights interesting and unusual cartographic pursuits from around the world and through time. Read more Map Monday posts.