How Writers Map Their Imaginary Worlds
A new book collects fantastic literary geographies.
One of life's great treats, for a lover of books (especially fantasy books), is to open a cover to find a map secreted inside and filled with the details of a land about to be discovered. A writer's map hints at a fully imagined world, and at the beginning of a book, it's a promise. In the middle of a book, it's a touchstone and a guide. And at the end, it's a reminder of all the places the story has taken you.
A new book, The Writer's Map, contains dozens of the magical maps writers have drawn or that have been made by others to illustrate the places they've created. "All maps are products of human imagination," writes Huw Lewis-Jones, the book's editor. "For some writers making a map is absolutely central to the craft of shaping and telling their tale."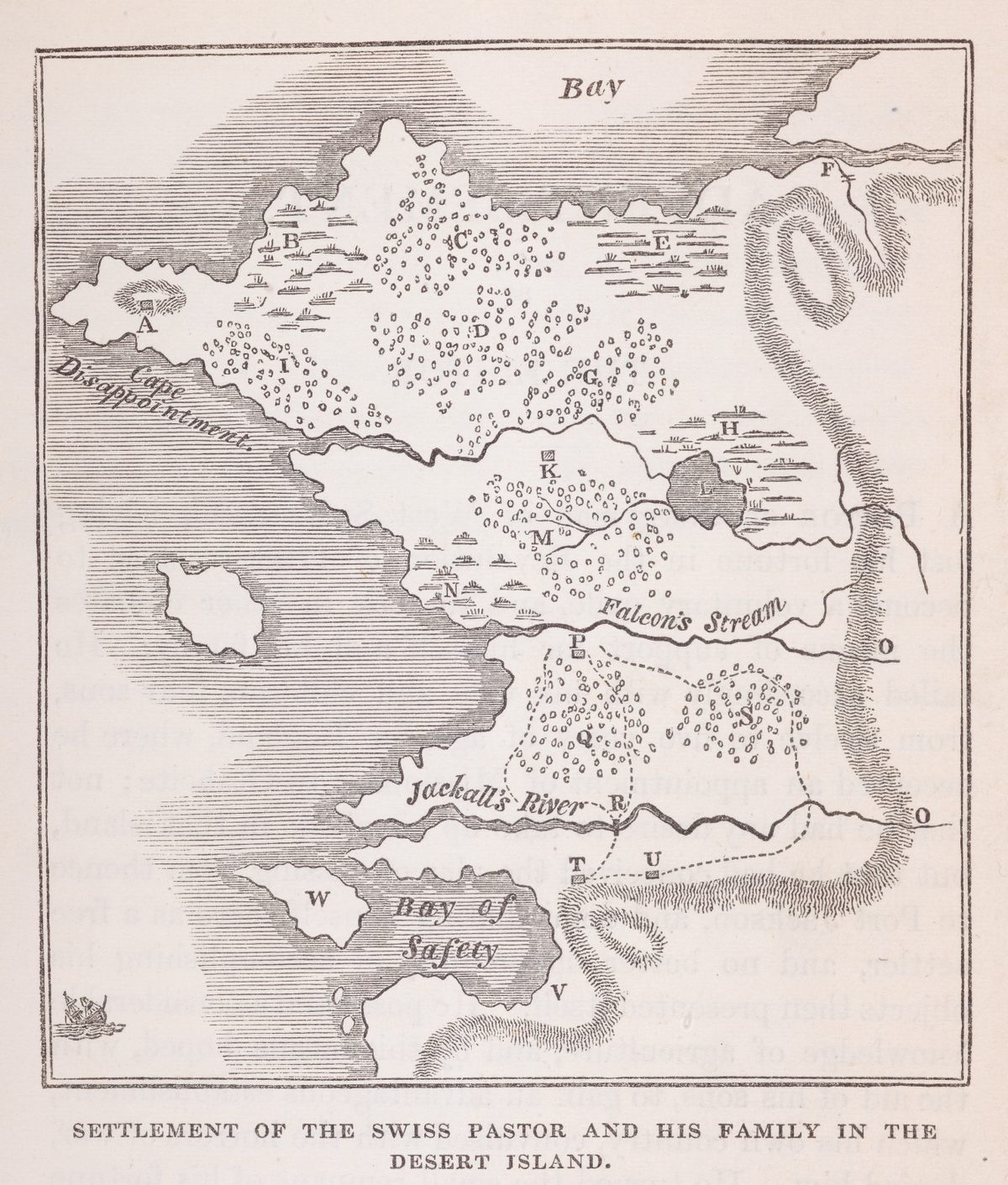 The book includes the map from Thomas More's Utopia, which when published in 1516 contained the first fantasy map in a work of fiction, as far as anyone can tell. The book also has the maps that were the objects of obsession of many a fantasy-filled childhood: Middle Earth, the mysterious Narnia, the Hundred Acre Wood, the roads Milo explores in The Phantom Tollbooth.
But there are more private treasures here, too: J.R.R. Tolkien's own sketch of Mordor, on graph paper; C.S. Lewis's sketches; unpublished maps from the notebooks of David Mitchell, who uses them to help imagine the worlds of his books, such as The Thousand Autumns of Jacob de Zoet; Jack Kerouac's own route in On the Road (a fantasy of a different kind, no less obsessed over).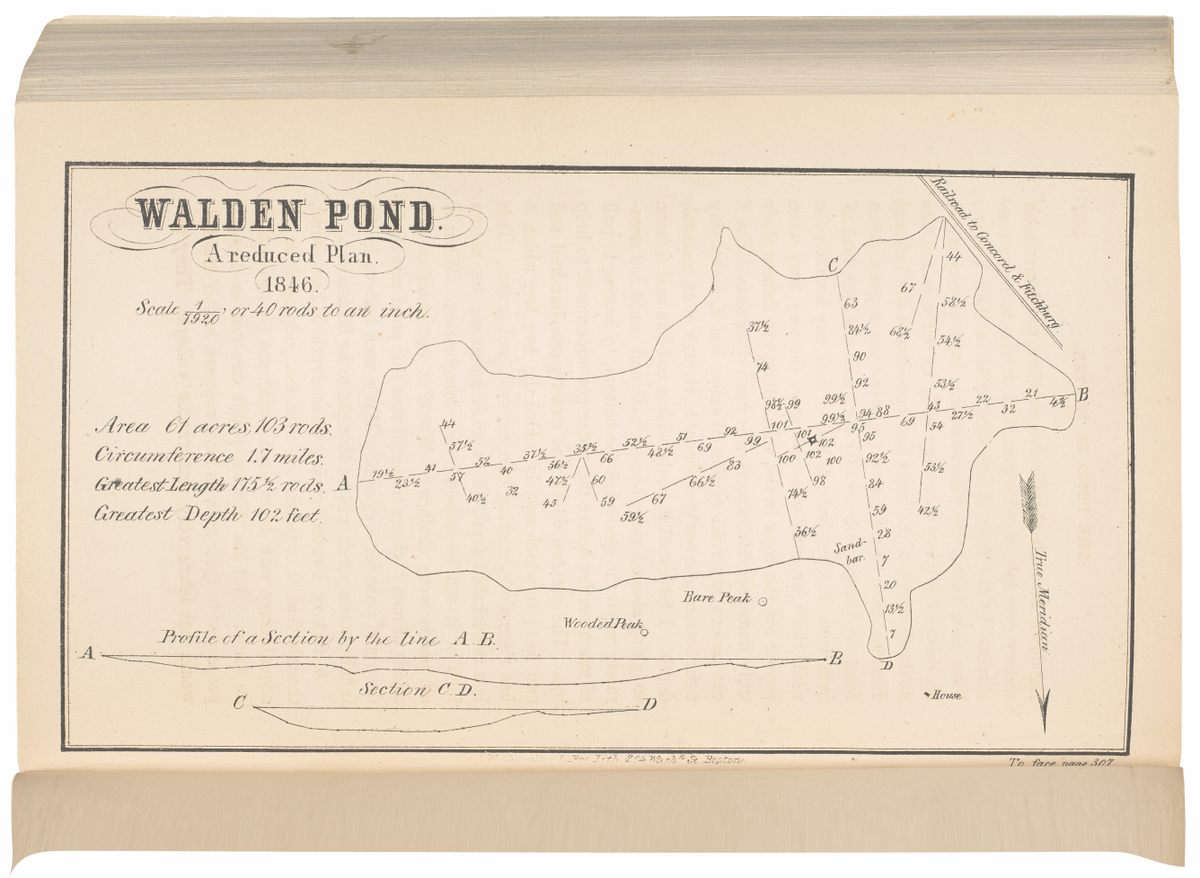 Among these maps, the one for Treasure Island is a landmark, "one of the most iconic literary maps of all," Lewis-Jones writes. It comes up more than once in the book's essays, which are written by authors and mapmakers. Robert Louis Stevenson first sketched the map in 1881 as a distraction for his stepson, and a red X marks the spot where the treasure was buried.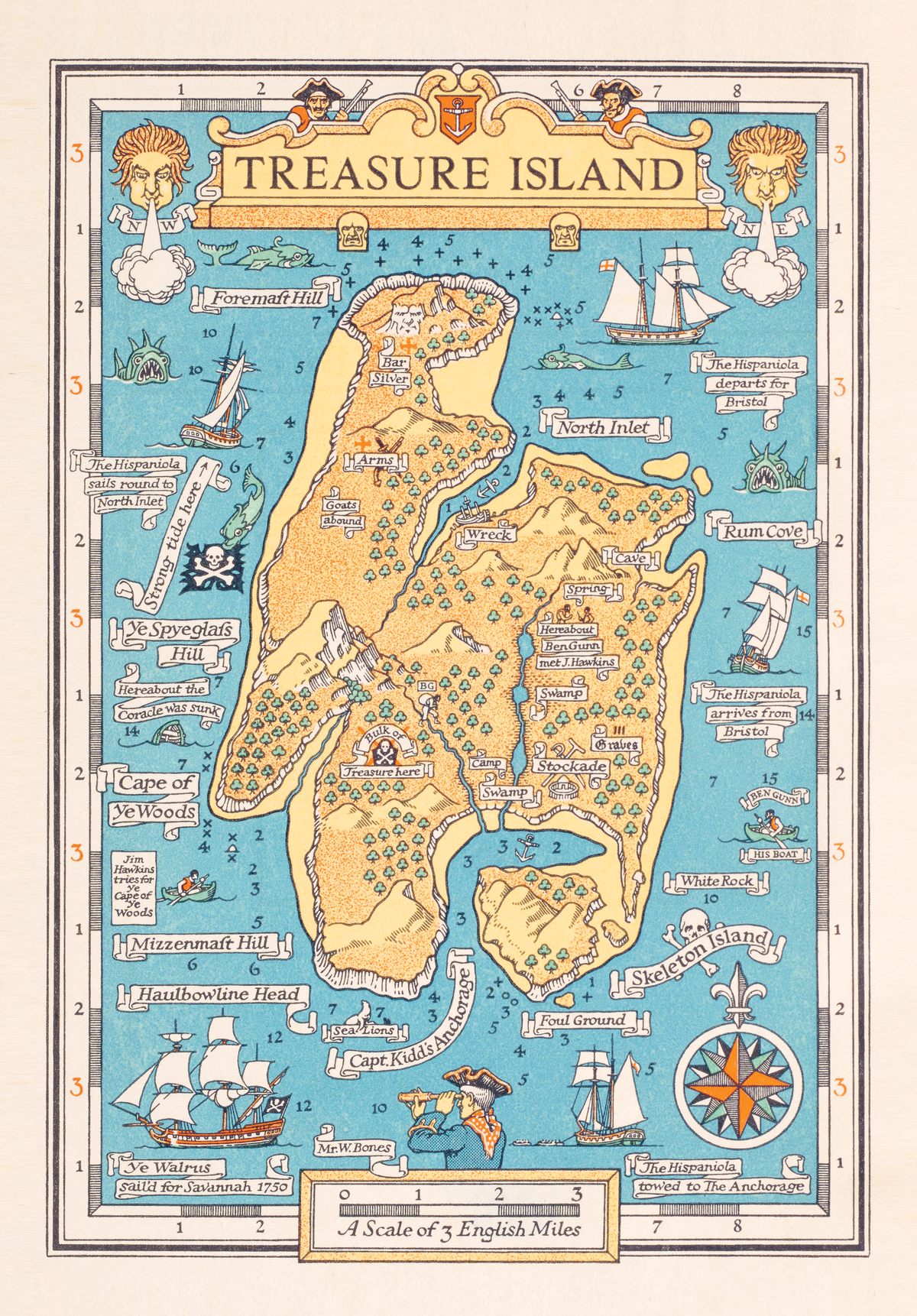 That map ignited a cartographic instinct in generations of writers. This is a common experience for map-loving writers—one book's map begets another. In one essay, Cressida Cowell, the author of How to Train Your Dragon, writes of being inspired by maps drawn by the Brontës as children, "in tiny, beautiful books that were in themselves a fascination, for the writing was as small as if created by mice."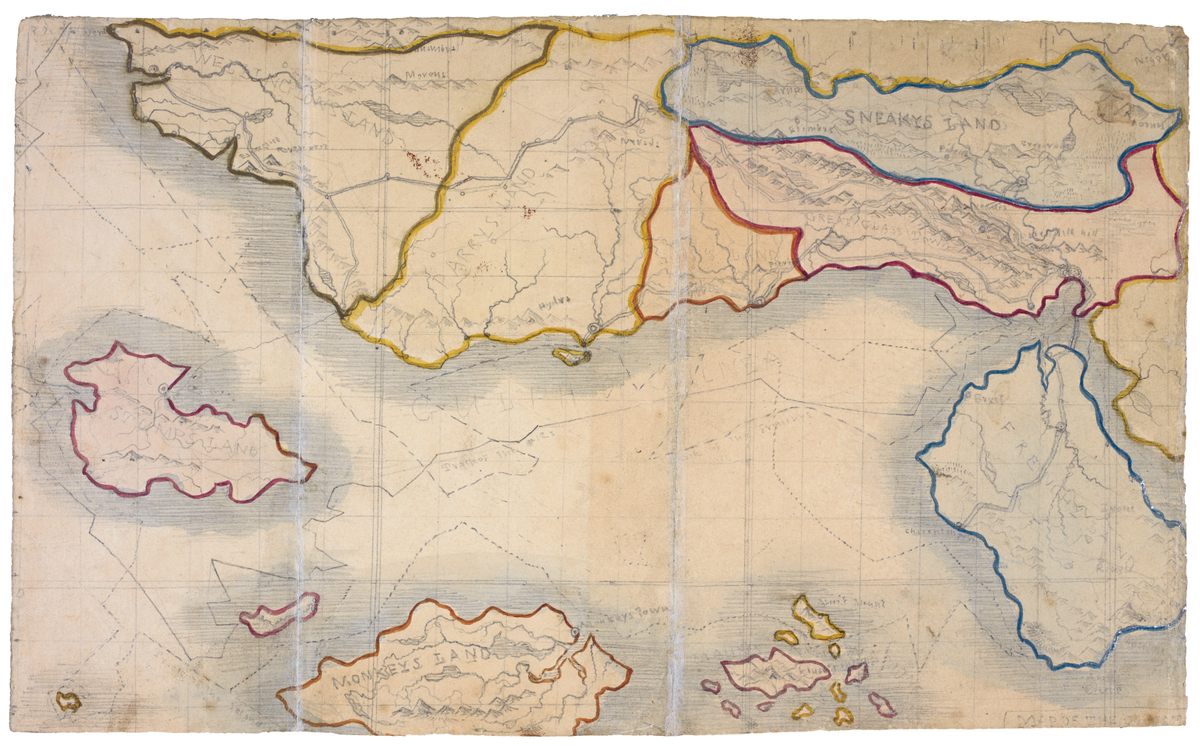 For many writers, mapmaking is a practical endeavor that pulls them into their own work. "I always draw my way into stories," writes Abi Elphinstone, the author of the Dreamsnatcher books. "I begin every story I write by drawing a map because it is only when my characters start moving from place to place that a plot unfolds." Mitchell doesn't print maps in his books, but he needs them to get through the writing. "If I'm describing a character's ascent of a mountain, I need to know what he or she will find on the way up," he writes. But also: Making maps is fun.
Philip Pullman (author of the His Dark Materials books): "Writing is a matter of sullen toil. Drawing is pure joy. Drawing a map to go with a story is messing around, with the added fun of coloring in."
Mitchell: "As long as I was busy dreaming of topography, I didn't have to get my hands dirty with the mechanics of plot and character."
Elphinstone: "It is one of the most liberating and exciting parts of storytelling."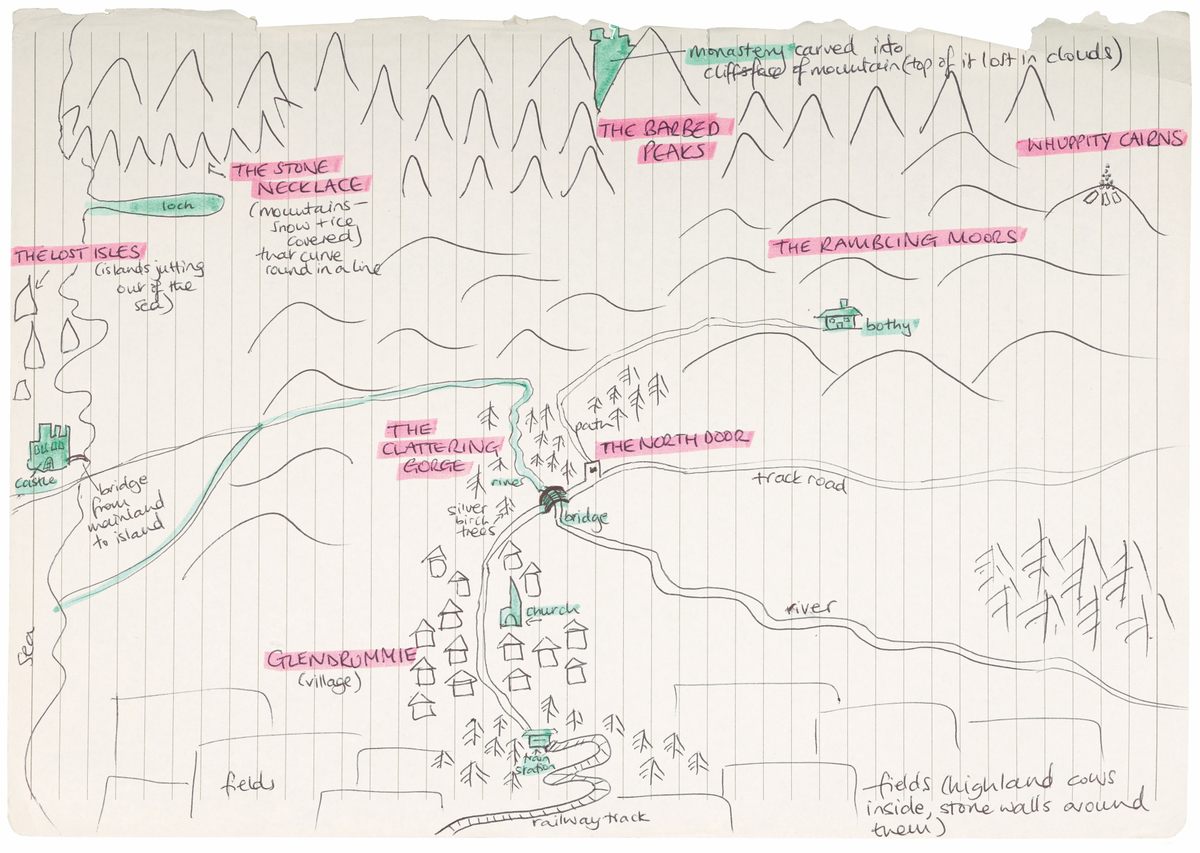 Mapping does have difficulties. Frances Hardinge, a British children's book writer, explains the problem of having described in her writing an island with an outline that "resembled a bird-headed biped with long fingers." Her first attempts at mapping the place just looked wrong. "For the record, drawing something that looks like both bird-human hybrid and a plausible landmass is a lot harder than you might think," she writes.
Sometimes, Hardinge writes, the worlds she dreams up are "unmappable." But even such stories create maps in readers' heads. "Imaginary places can offer us new kinds of discovery," writes Lewis-Jones. A map helps shape a reader's or a writer's idea of a fictional place, but ultimately its boundaries are limited only by their joint imaginations.