The Week In… World Records!
All the record-breaking stories you may have missed over the past seven days.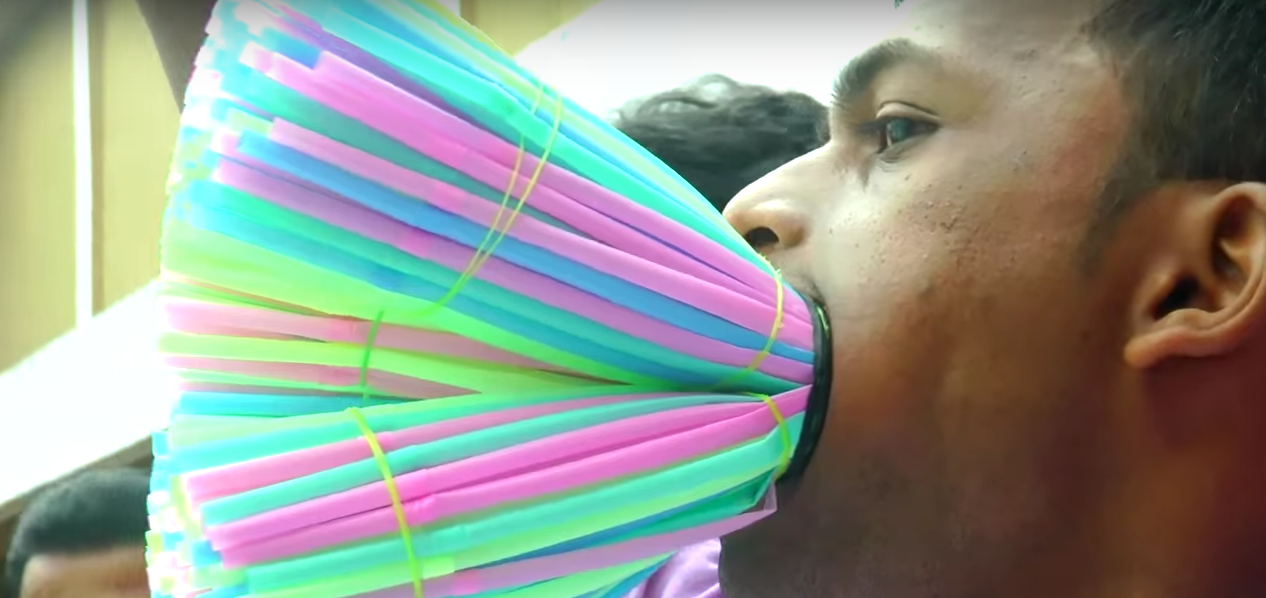 It's a wide and wonderful world out there, and frankly we can't always keep up with it all. Atlas Obscura's 'The Week In…' is here to help! Each Friday, we track down the interesting things you didn't even know you missed. This week, it's all about world-record breakers.
It's been hard to avoid news of the record-breaking sale of Leonardo da Vinci's painting, Salvator Mundi. The painting became the single most expensive piece of artwork ever sold at auction, after fetching a price of $450.3 million. While that is an impressive (and ongoing) story, it was hardly the only world record to be broken this week. From people putting straws in their mouth to army men jammed on a little motorcycle, here are all the best stories of records set over the past week.
I Vant to Break Your Record
On November 18, one of only two known posters for 1931's Dracula, featuring Bela Lugosi in the starring role, sold for $525,800, making it the single most expensive movie poster ever sold at auction. Sold by Heritage Auctions, which also held the previous record set by a poster for Casablanca, the classic vampire poster was recently discovered in the collection of a film historian. Bela Lugosi might be dead, but his iconic vampire clearly still has some bite. [Fine Books Magazine]
To Me, My Sprawling Collection of X-Men Memorabilia!
With a massive collection of watches, action figures, pizza boxes, and more, X-Men mega-fan Eric Jaskolka was awarded the Guinness World Record for largest collection of X-Men memorabilia. At 15,400 pieces of mutant merchandise, his titanic collection covers a lot of ground from the comics and movie history of the franchise, but the stand-out character is clearly Wolverine. In fact, in the official video of his collection, Jaskolka dons an ill-fitting Wolverine costume, proving once and for all that it's a good thing the comic book outfit never made it to the big screen. [Comic Book Resources]
Meet Saul the Giant Sticker Ball
There are world records for just about anything, and that includes giant balls of stickers. Located in Longmont, Colorado, a new video of "Saul" was released last week, but still warrants inclusion here. Weighing in at over 231 pounds and made from over 200,000 stickers and growing, the creators said that they built Saul to celebrate National Sticker Day. Saul also "ran for president" in 2016. It's unclear if Saul's political ambitions have stuck around. [Mashable]
Lasers, Lasers Everywhere, and Not a Drop of Pink Floyd
During the Live Design International convention in Las Vegas, Nevada, this past weekend, ER Productions—a U.K. laser lighting company—busted out 314 individual lasers to break the world record for largest laser light show. The 30-minute show culminated in a blinding seven-minute finale set to an EDM-heavy metal medley. The blazing display was an impressive demonstration of laser lit insanity, but seriously. Where was the Pink Floyd? [AV Magazine]
The Straws That Broke the Record's Back
An Indian man by the name of Manoj Kumar Maharana is shown in the above Guinness World Records video breaking the world record for number of straws fit into a person's mouth: he managed to get 459 drinking utensils crammed into his maw. This breaks the previous record, set in 2009, of 400 straws. Maharana held the straws in his mouth for ten seconds in order to break the record, but unless there are suddenly a number of people fighting to break the straw-in-mouth record, he should be able to hold on to this one for a while. [India Times]
Not-So-Easy Riders
Members of the Indian Army Service Corps recently broke another world record that most people didn't know needed breaking. They huddled up and fit 58 people on a single moving motorcycle. The team, known as the "Tornadoes," actually claim to hold 19 world records, and were eager to add this one to the list. They managed the feat by surrounding the bike on outriggers, hugging each other close, with the driver peeking out from the center of the mob. If only wars could be fought with silly stunts… [ANI News]