The Adventures of Tony Pizzo, Who Rode Around the U.S. Handcuffed to His Bicycle
It all began with a wager made by Fatty Arbuckle.
On October 30, 1919, Tony Pizzo arrived in New York City chained to his bicycle. He had pedaled 3,000 miles in five-and-a-half months, attached to his bike by a three-and-a-half-foot chain and handcuffs welded shut around his wrists. These restraints had been sealed in Los Angeles the previous spring by Fatty Arbuckle, who had wagered that no man could ride a single-speed bicycle across the country, and offered to pay $3,500 (around $50,000 in 2017) to anyone who could—as long as they arrived in New York City before November 1.
At Hotel McAlpin in Manhattan (known as the Herald Towers apartments today) among onlookers, press and local politicians, New York Mayor John Hylan cut Pizzo free of his shackles. Pizzo told the New York Times, as he eyed his bike with disgust, that he wouldn't make a trip like that again for a million dollars.
Six months later, Tony Pizzo left New York City, chained to his bicycle, bound for Los Angeles.
The New York Tribune called it "a foolish but daring endurance stunt."
According to Annette Pizzo, Tony's granddaughter, Tony was friends with Fatty Arbuckle, and the bike ride idea arose from a bet between Arbuckle and the governor of California. "The Navy would only let him do this ride if it could be combined as a recruitment stunt as well," says Annette. "That was approved by the Assistant Secretary of the Navy, FDR." During the ride, Tony's uniform "had to be kept neat and clean at all times." Governors along his ride route would verify the state of his uniform by writing confirmation letters.*
For the second ride, Tony was to travel from New York City to Los Angeles, then turn around and ride back to New York City to claim the $5,000 purse a Chicago-area bicycle club had put up. He rode with advertised support from Fisk tires, Morrow brakes, and supposedly Crown Bicycles, though in photos taken during his ride he is clearly on an Iver Johnson. A staged photograph in the magazine Our Navy shows Pizzo aboard a clean Crown bicycle with bright whitewall tires and bedecked with the appropriate advertising. But a bike without scratches and dents and worn off paint is not found among the more candid shots of Pizzo visiting cities.
It is not until his third expedition that the Crown bicycle appears. His goal on this trip was to visit each capital of the 48 states in the union, and on October 5, 1921, Colorado Governor O.H. Shoup sealed Pizzo's handcuffs before he rode south to New Mexico, headed to Austin, Texas.
On 18 May 1919, Pizzo and Devine were handcuffed, chained, and welded to their bicycles, to be released upon their arrival in New York City.
Film star Roscoe "Fatty" Arbuckle kicked the whole thing off with a wager. Public Domain
Modern bikes are light, even cheap ones, and made with aluminum or lightweight steel or carbon fiber. They have many gears. Pizzo road an Iver Johnson that likely weighed around 40 pounds unladen, and with only one gear. Multi speed, derailleur bikes existed, but were largely unpopular and wouldn't gain favor until the late 1930s. Pizzo carried a trunk with his gear. He wore a navy sailor's uniform. He pedaled some 75,000 miles in all, on soft-soled leather shoes. The bike's saddle was hard leather around a wiry frame, suspended by steel coils.
He had slick tires, smaller in diameter than is common today, and little more than about an inch wide. He rode this over unpaved roads, not usually maintained, and full of hazards like loose sand, mud, ruts, and rocks. Highway systems in those days were not much more than interconnected trails for adventuring motorists, marked only by colored bands on telephone poles. Pizzo crashed many times when his front wheel stopped suddenly in mud or sand. He fractured—at least once—his wrists, arms, collarbone, and shoulder blades.
Leaving Venice, California, en route to Riverside for the first time, Tony Pizzo and CJ Devine proceeded east through the Mojave desert towards Williams and Flagstaff, Arizona wherein they were shot at by border patrol agents, detained, and released once credentials had been handed over and verified.
On the road outside Flagstaff, Devine fell and broke a collarbone, returning to Flagstaff for treatment with Pizzo. They pedaled to the Grand Canyon where Devine nearly fell off a cliff when his bicycle went tumbling over the edge and pulled him down face-first to the dirt. He was saved when Pizzo grabbed hold of Devine's legs to stop him sliding over the edge. Devine was able to reel his bike in and stand up when it was back on level ground.
Pizzo and Devine had to do their mundane, daily routines while chained to their bicycles. Eating, sleeping, brushing their teeth, bathing, was all further complicated in that it had to be completed within two feet of a bicycle to which they were chained. Bicycles to which they would mount each morning and pedal 110 miles on average.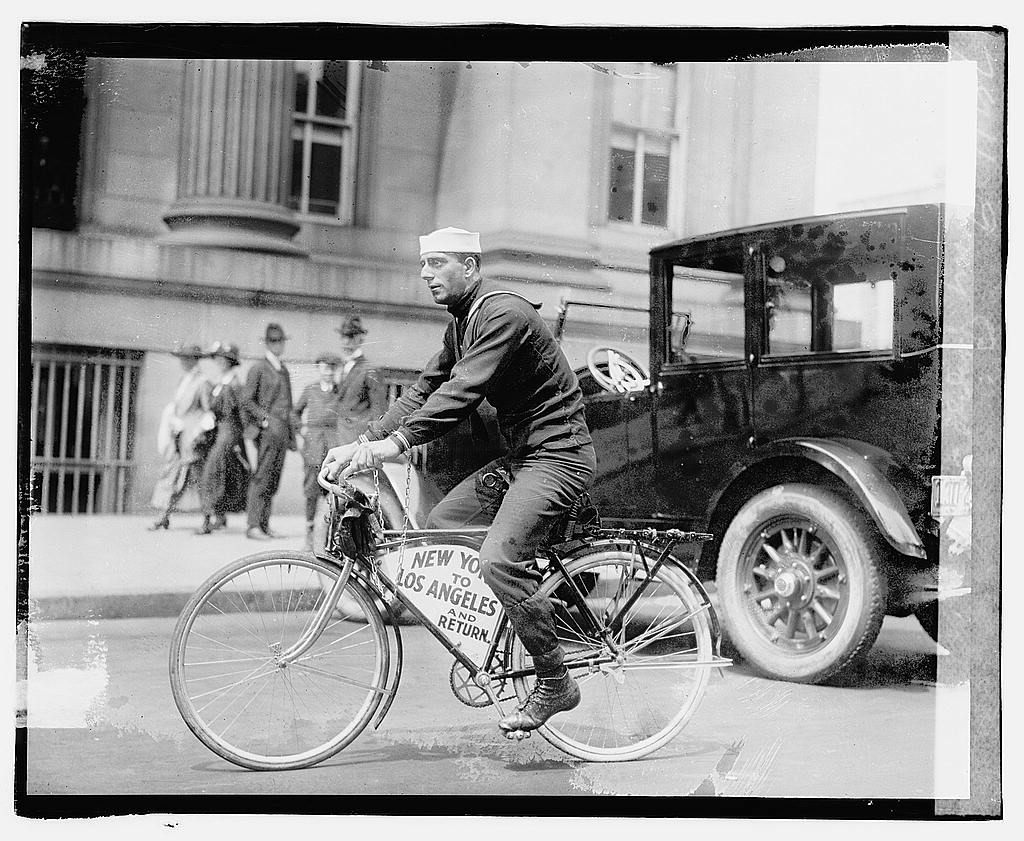 Before his second adventure, Pizzo was going to be discharged from the Navy, having been diagnosed with tuberculosis, more commonly known as consumption in the 1920s. It's a condition associated with rapid weight loss, which is also a common symptom of riding a bike 100 miles per day for 170 consecutive days. His massive rides turned into a marketing campaign for the navy, which, looking to boost recruitment, kept him on as a recruiter and booked him for a number of speaking events around the country. As one might suspect, Pizzo was misdiagnosed. He didn't have tuberculosis. But his stunts had turned out to be fairly lucrative, and he kept at it. Governors and mayors and naval administrators had Pizzo ferry letters and accolades around the country.
Accurate enlistment data from this time is hard to come by, and official numbers from the Defense Manpower Data Center only go back as far as 1954. However, the U.S. Navy was a bit thin after WWI, having been used lightly, to say the least, and ships would not be built in earnest until the mid '30s. They needed whatever clever recruitment tactics they could find. Whether marketing Pizzo's navy-bred toughness and endurance had a marked difference on recruiting is hard to judge.
Riding across the country in the early 20th century was not as rare as one might think. There are a few dozen rides documented or mentioned throughout the 1920s and 30s. Though no one who decided to take on the challenge, whether solo or in tandem, was a prisoner to their bike. Many cyclists had to abandon their rides because of mechanical problems, injuries, or bad weather. Pizzo was not immune to these sorts of setbacks, and in fact Devine had to withdraw from the first trip while recovering in a Kansas City hospital from a crash that broke his arm and shoulder. He would not return as a rider, but instead became Pizzo's tour manager and publicist, booking appearances with mayors and governors, and presentations to the public either for Navy recruitment or entertainment. Pizzo's adventures turned quite lucrative as well, with prize money and postcard sales providing a salary for Pizzo and his wife to start a family.
As for the arduous task of riding hundreds of miles a day while chained to his bike, "It ain't so bad as it sounds," said Pizzo. "When I ride into town everybody turns out to look me over. At first they take me for a prisoner. I am, in a way. But my bicycle is my only jailer. We get to be chums because where it goes I go."
*Update: Thanks to Annette Pizzo for providing additional details on how Tony's rides came about.