Found: A Fantastically Two-Toned Lobster Off the Coast of Maine
A little speckled, a little orange, a little mysterious.
Consider this particular lobster. Captain Daryl Dunham recently hauled it up in Stonington, Maine, aboard his vessel, Force of Habit. It's a muddy, speckled brown on one side, almost like a wet pebble, and creamsicle-orange on the other. And they meet in what appears to be an unnaturally straight line right down the middle. It looks like a professional painter ran tape down across the crustacean's body.
Lobsters can be a variety of colors, from brown to blue to yellow, depending on the proteins that bind to astaxanthin, a carotenoid pigment, says Richard Wahle, director of the Lobster Institute at the University of Maine. "A variety a proteins bind with astaxanthin and mask it to varying degrees," he says, resulting in that wide spectrum of possibilities. (When a lobster of any shade is steamed or plunged into scalding water, it will turn red, he adds.)
A two-toned exoskeleton like this one is not new to science. Back in 1959, researchers at the Smithsonian Institution and University of New Hampshire trawled through past papers and discussed specimens that were, among other mashed-up palettes, "half normal color and half light sky blue" and "half greenish black and half light orange." And these colorways can be a clue that something else is going on, too. "Split-color lobsters are often also split sexes," Wahle says.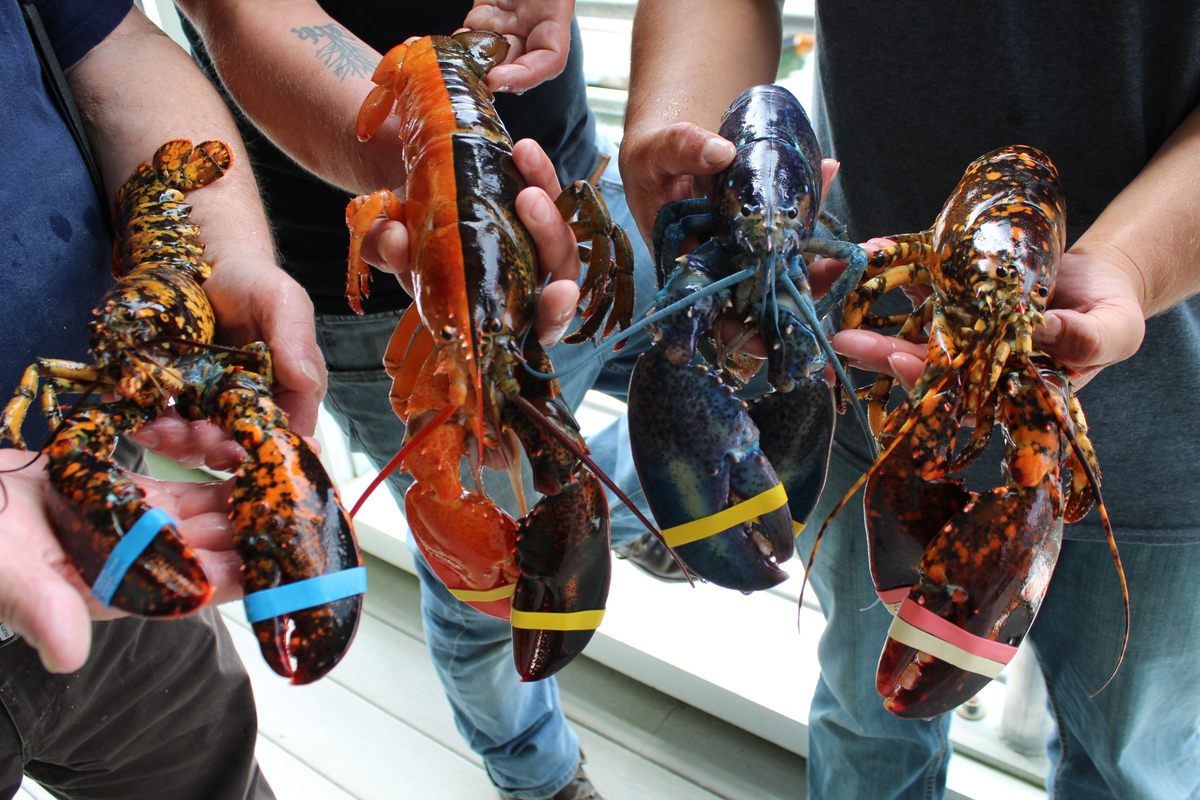 Gynadromorphy, as it's known, occurs early in the crustacean's embryonic development. "When the embryo consists of just a few cells, about the time bilateral symmetry is determined, sex chromosomes may not divide properly, leading to an imbalance of chromosomes that leads further cell divisions down divergent paths of sex determination on the two sides of the body," Wahle says. A lobster with visible external sex differences will likely have internal ones, too, such as ovaries on one side of its body and testes on the other.
On its own, though, the color differential isn't enough to confirm that this lobster is a gynadromorph, says Michael Tlusty, a marine sustainability researcher at the University of Massachusetts Boston. "Gynandromorphs can be a single color, and a split lobster can be a single-sex animal," he says. He has only seen a few of each, and both are fairly rare: They're estimated to occur at a rate of just a few in several million creatures.
Gynandromorphy has been documented in other crustaceans, including fairy shrimp, and bilateral color variation has appeared on crayfish and other crustaceans. To confirm gynandromorphy in this case, Tlusty says, a researcher would need to study the animal's underside.
If you're curious to see more, you can check out a range of lobster colors (including a two-tone) at the New England Aquarium in Boston. Or you could stop by the Discovery Wharf at the Maine Center for Coastal Fisheries sometime soon to see this one. There, it will dine on fresh squid in a touch tank with three others before it is released off the dock nearby.