The Underground Farm Delivering Rare Herbs to New York's Top Chefs
Bespoke greens and flowers are grown-to-order in Manhattan.
The sprouts and flowers are as recherché as they are delicious: nepitella, wood sorrel, papalo, micro cressida, afilia pea shoots. While diners may see garnish as little more than a sprig of green to fork aside, chefs see garnish in multiple dimensions—hue, flavor, texture, scent—and have exacting requirements in each. Meeting those requirements, which for millennia depended on the turn of the season or the whimsy of the weather, is now achieved in a Manhattan basement.
Farm.one is a blossoming underground vertical farm in the heart of Tribeca. Inside, farmers grow rare, bespoke, and chef-tailored micro-greens, herbs, and edible flowers for some of the most celebrated kitchens in New York. Several days a week, my job is to slalom through the city's sidewalk traffic, turtle-backed with bags of the day's harvest, and hand-deliver the morning's pickings. (Consider this an official disclosure.) Besides herbally gratifying chefs cloistered in the steam and aluminum of famous kitchens—and occasionally being gifted with the most delicious nibbles of my life—I've gotten a peek into what may well be the future of urban farming.
There are three clear perks of growing urban greens indoors: One, you can't get much fresher than farm-to-fork in a few hours. Two, transportation emissions are no dirtier than the courier's exhalations (Farm.one, at least, only delivers by bike, foot, or train). And three, by eluding meteorological vicissitude, growing to order is like strutting up and hand-sticking a dart right in the bullseye.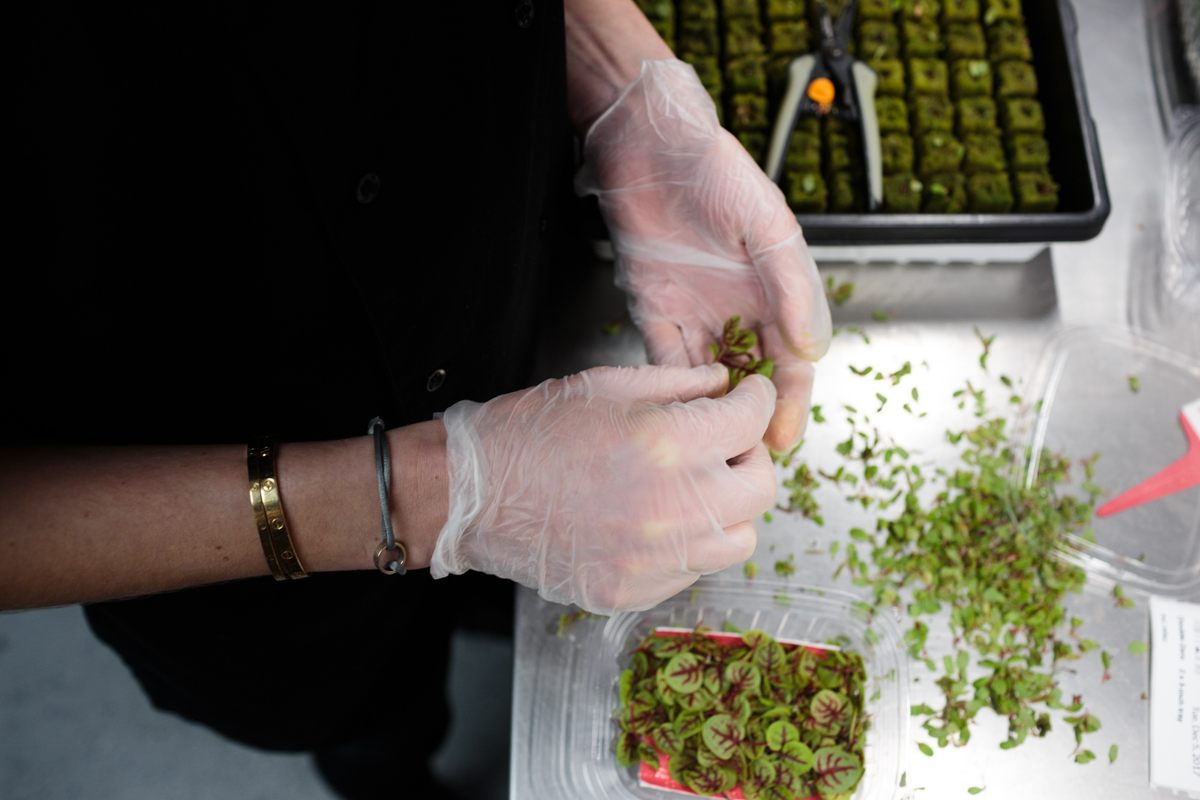 ---
Justin Chen, a sous chef at Jungsik, the two-Michelin star, Korean fusion joint, leans in to study the tangerine gem marigold stem pinched between his fingers. I ask what he looks for in Farm.one's micro greens and flowers, which he occasionally sends back when they're not "up to spec." "Consistency," he replies. In high-end dining, Chen adds, "There's no room for error." That's why keeping tight control on the grow conditions at the farm is so critical.
The tangerine gem marigold, a speck of a blossom no bigger than an iPhone home button, is for a petit four—that post-dessert, single-bite confectionary that seems to magically ablate from plate to memory in a single delicious swallow. Jungsik's petit four looks fit for a centerpiece on a dollhouse dining table. The potted-plant-shaped bon-bon is made up of a dark chocolate shell lined with meyer-lemon caramel and ginger-and-white-chocolate ganache, and a tiny tangerine gem marigold flower sprouts out of the chocolate sable "soil." If the flower were any bigger (the taste is subtle—like a sweetened tea with lemon) it would overpower the orchestral intricacy of the meyer lemon, caramel, and ginger chocolate. "The size," Chen reiterates, "is what lets a chef correctly balance flavors [and] find visual symmetry in a dish."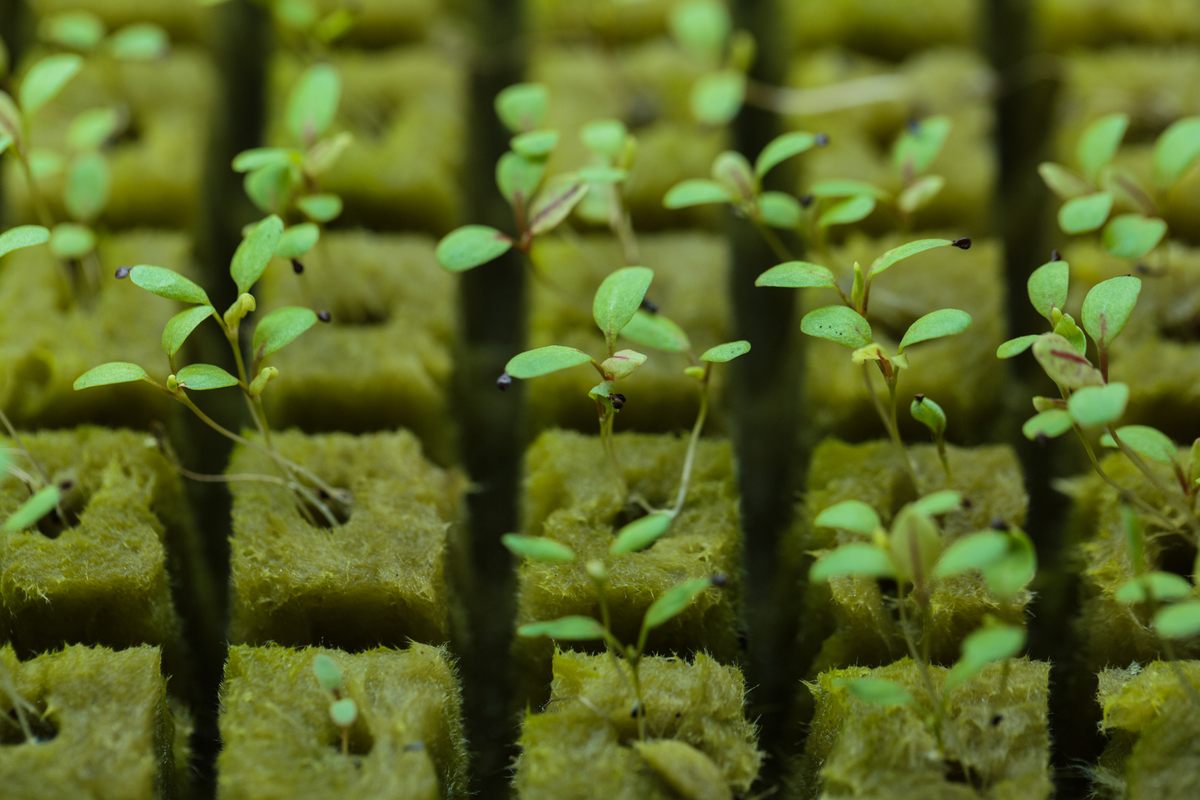 One of the experts in charge of giving chefs the esculent tools to achieve such symmetry is farm manager Tom Rubino. Rubino walks the basement farms seven days a week, tweaking controls and sampling from the approximately 100 varieties of plants. His favorite is oxalis, a whale tail-shaped leaf that comes in beet purple or Irish green and has a puckering, citric flavor—something you seem to taste in your forehead as much as your mouth. "It tastes like grape skin," Rubino says. "When I was a kid, I used to eat grape skins."
The farm has between two and six levels of grow beds, and totals only about 1,500 square feet in three separate facilities. The plants either drop their roots directly in water, or into a grow medium—a coconut-husk concoction that gives the roots something to grip. Eliminating soil is just one of the ways to maximize and tightly control grow conditions. The farmers also tweak the pH of the water, adjust airflow and humidity, lock in the temperature, and toy with both the wattage and spectrum of the LED lights. They're basically trying to outdo nature, not letting the plants "succumb to overcast skies," Rubino tells me.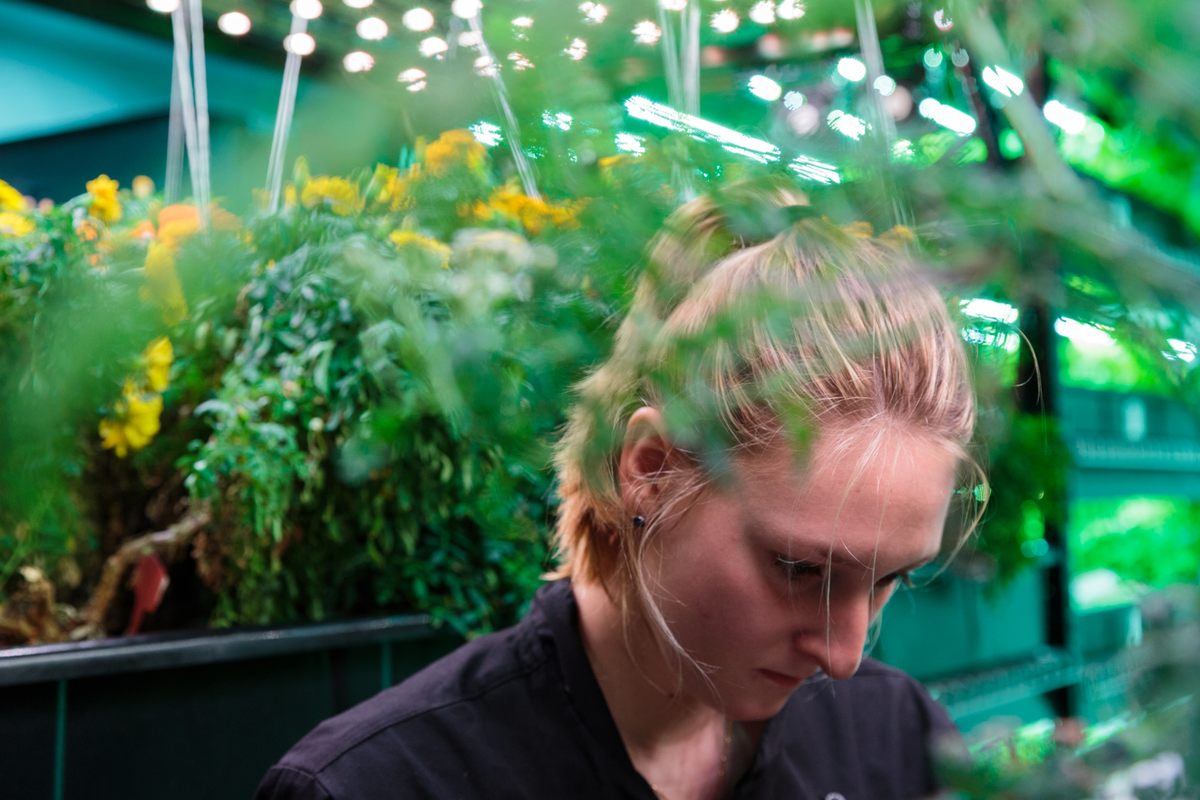 ---
Like letting a dog off a leash in an open field, when you give a chef options, they tend to run with them. One chef wants only orange—not yellow or red—tangerine gems. Another wants clearly defined veins in the red-veined sorrel. Other demands include micro-cumin, Neon Rose Magic, Yarrow crowns, and nasturtiums with only purple rims.
On a December day, I watch Victor Amarilla admire those purple rims. But when he pops the little, lily-pad-looking leaf into his mouth, he frowns. "The flavor's almost there," he says. As the head chef at Le Turtle, the popular Chrystie Street French restaurant, he receives a twice-weekly delivery from Farm.one. To ensure the nasturtium pop enough, Rubino had to find the right seed for Le Turtle's needs, and is now growing an exclusive small forest of nasturtium in one corner of the farm. The perfect nasturtium has a slight crunch, a slow, mouth-full wave of heat, and finishes with a flicker of pepper. When Amarilla gets a flavor he likes, he's apt to pump the air with his fists.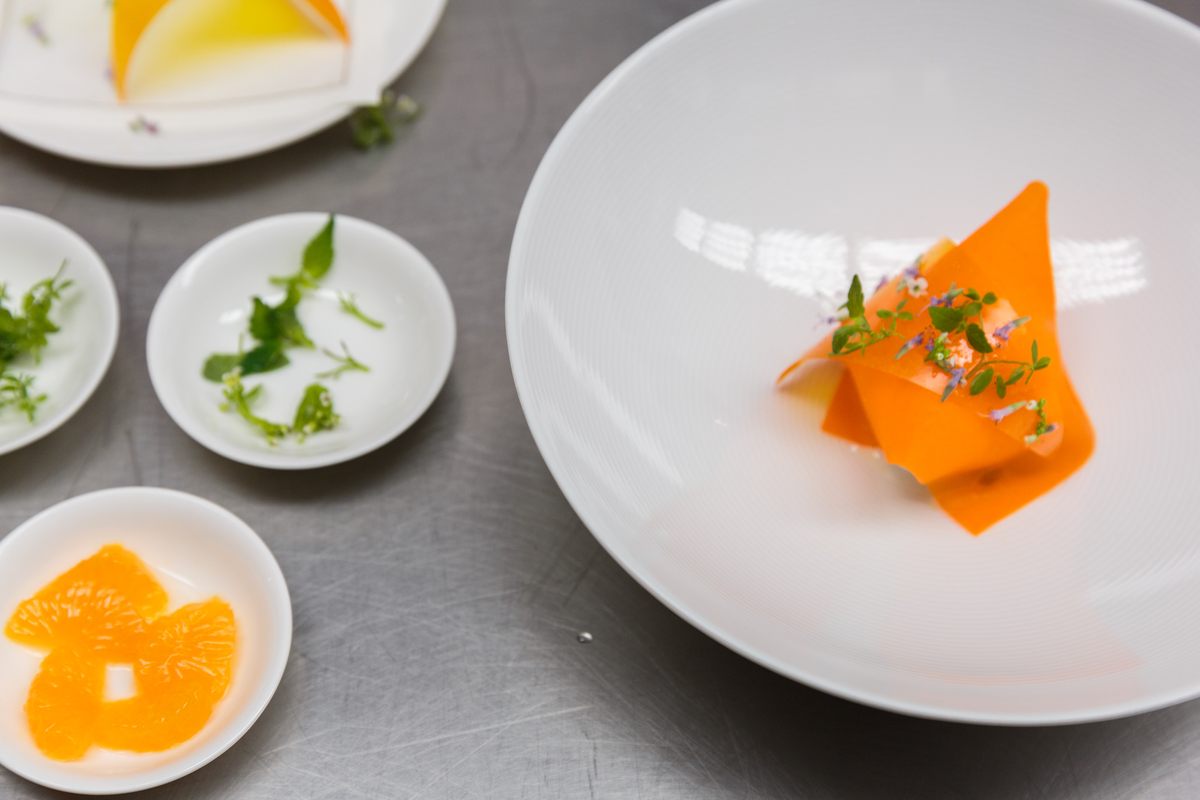 Amarilla is not the only chef using farm.one to color his plates with edible whorls and frizz. One frozen day in late January, I watch chef Chris Owen, of the plant-based pizza restaurant Double Zero (part of the Matthew Kenney restaurant group), nibble on purslane, which he describes as a "juicy, cucumbery" wonder. He imagines aloud how it would taste on his chocolate cake. Little jade-looking purslane leaves inside sweet confections are the kinds of surprises that Owen likes to throw at Double Zero's diners.
"Farm.one grabs things at the early stages of their lives, when they're more interesting," Owen tells me. He's looking for red and pink flowers for his Valentine's Day special—maybe some dianthus for his apple cider cheesecake. He also wants some acidic flavors, maybe some sorrel blossoms. As we chat, he sneaks me a bite from a tray of shiitake faux-bacon, which just came out of the wood-burning oven, and browses through a stack of farm.one samples encased in plastic clamshells.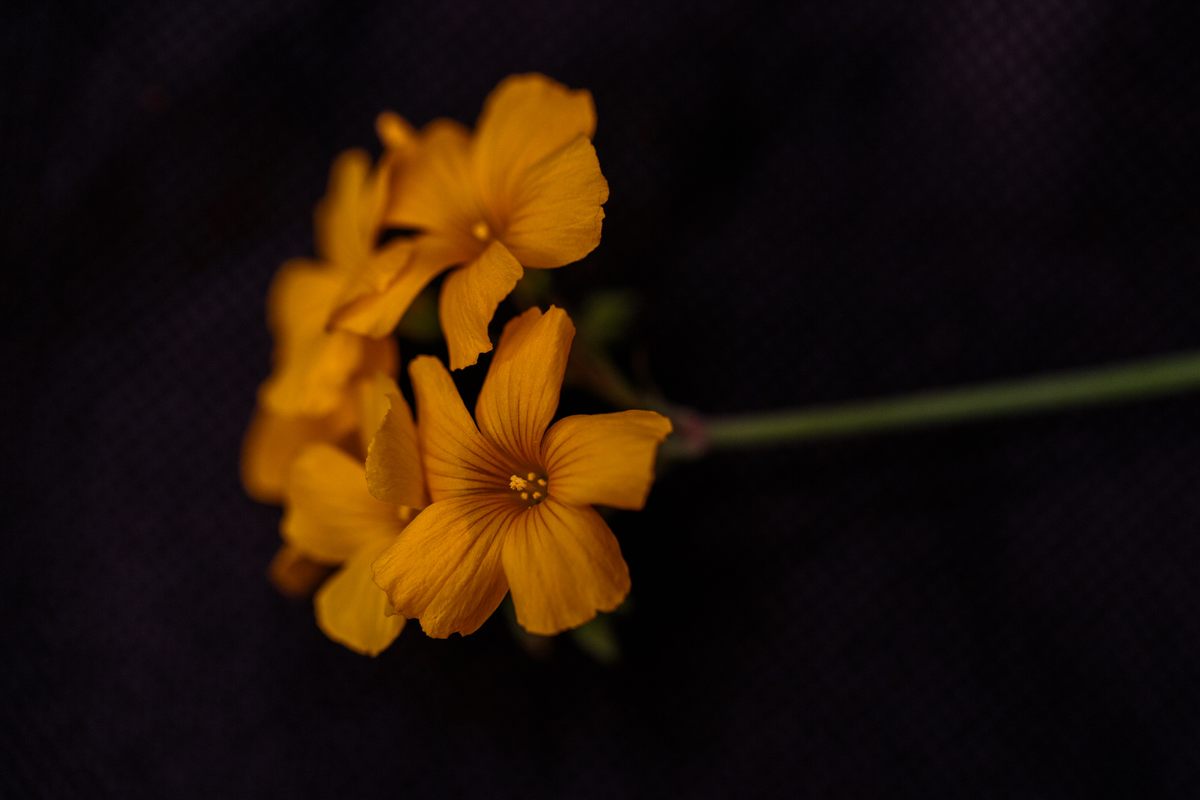 Double Zero's aim is "to make vegan foods more accessible," for which high-quality simplicity is critical, Owen explains. "Over-processing is a problem with veganism." But be it vegan, classic French, fusion Korean, or omakase, pretty much whatever rare and delicious doodad or efflorescence you imagine can be grown in farm.one's underground vertical fields.
"The first impression, and maybe 50 percent of the total experience in a restaurant is based on visuals," Owen argues. Twice a week I deliver him a few dozen purple-and-yellow viola blossoms so he can make that first impression a kaleidoscopic one.
Gastro Obscura covers the world's most wondrous food and drink.
Sign up for our email, delivered twice a week.