These 7 Local Food Boxes Offer a Taste of Travel
Get New Orleans pralines, Jersey Shore sea salt, and other iconic treats delivered to your door.
Although states across the U.S. are opening back up at varying speeds, COVID-19 is still keeping most of us close to home. Thankfully, we can experience many of North America's regional and sometimes quirky delights without having to hop in a plane.
"Whoopie pies are undoubtedly our top seller," says Daniel Finnemore of his mail-order business Box of Maine. "You'll find them everywhere in Maine: at grocery stores, gas stations, fairs … there's even an annual Whoopie Pie Festival." Customers can fill their gift boxes with classic Maine items, including jars of Marshmallow Fluff, chocolate-covered cranberry treats known as Moose Poops, and the state soda, which once outsold Coca-Cola and was likened to "root beer on steroids."
Maine is not the only state (or city) whose culinary and cultural idiosyncrasies you can enjoy from home. From New Jersey to Alaska, Philadelphia to Albuquerque, local foods that capture their city or state's identity are on offer, and you can have them delivered straight to your door while supporting local businesses.
In March, Midgi Moore's Juneau Food Tours was gearing up for what she hoped would be a record season. "Then like everything else, we just shut down," Moore says of the impact of COVID-19. But after a bit of crying and gnashing her teeth, she says, she "got back into the game" with Taste Alaska!, a seasonal subscription (or one-time purchase) box that ships four times annually. Moore's first shipment focused on the state's southeast—a region especially known for its Inside Passage waterways—and is filled with locally sourced goods ranging from hot sauce made from kelp to images of Alaskan landscapes by Juneau photographer Mark Kelley. While autumn's box is still in the works, Moore says it will showcase the state's interior with foods like caribou jerky and reindeer sausage, as well as an art piece, preferably by an indigenous Alaska Native artist.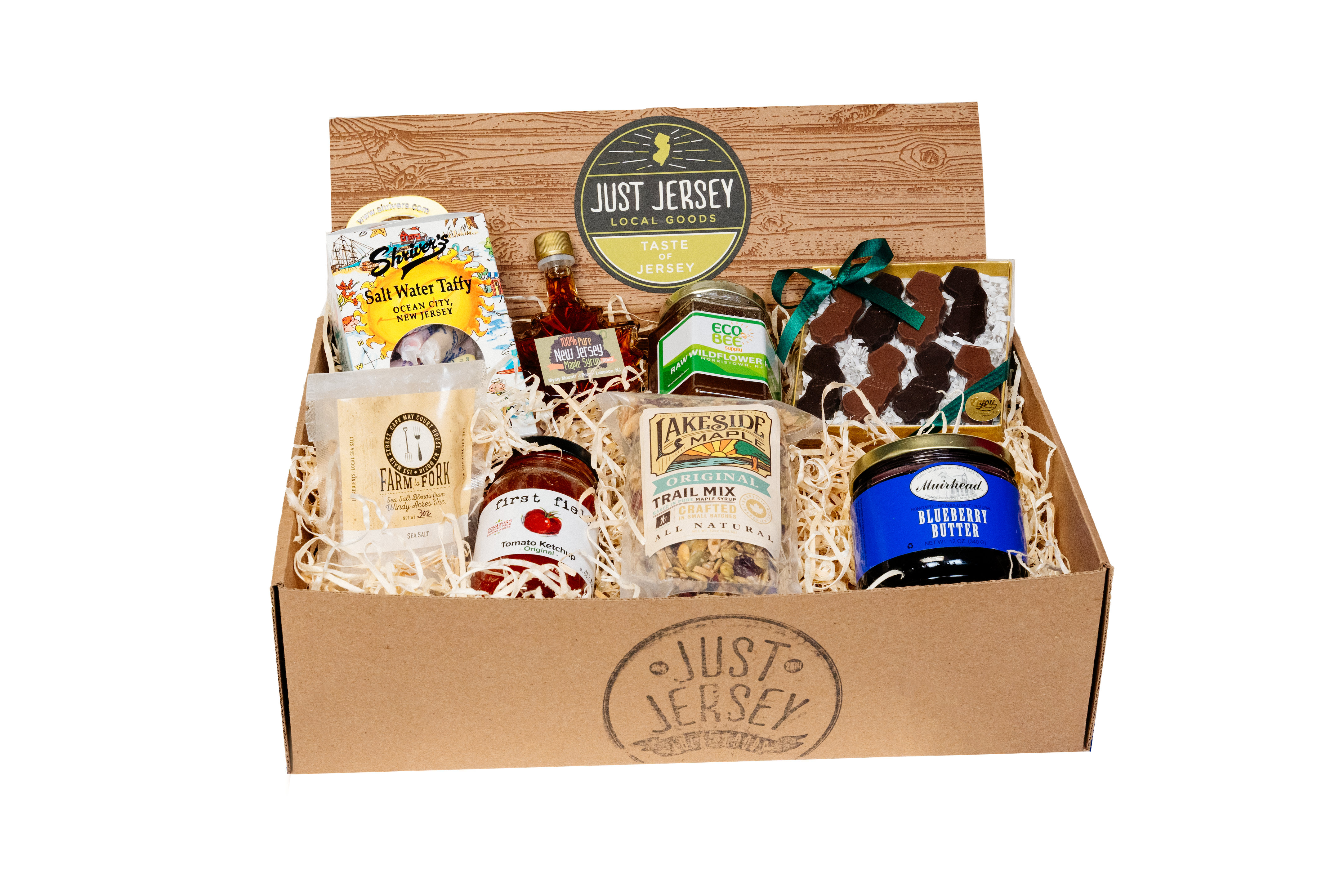 Despite New Jersey's reputation as a "keg with taps at both ends," as Ben Franklin allegedly once referred to the state, since it connects New York City and Philadelphia, this box lives up to New Jersey's moniker as the Garden State. The bountiful offerings include blueberry butter (central Jersey's vast Pine Barrens are home to the world's first cultivated blueberries) and ketchup made from juicy and tender Jersey tomatoes, which local residents swear by. There's also raw wildflower honey, hand-harvested Jersey Shore sea salt, and salt water taffy—a candy invented on New Jersey's Atlantic City Boardwalk in the late 1800s.
Until recently, ABQ in a Box was a largely seasonal business focused on the Christmas holiday. "But we've definitely seen a spike in pre-scheduled orders these past few months," says company co-owner Jesse Herron, "with customers working to help area businesses stay afloat." Their New Mexico-centric goods include piñon coffee (a nutty-tasting statewide staple), coasters that look like tortillas, and New Mexico's official state cookie, the cinnamon-sprinkled biscochito. According to Herron, the addition of a green-chile air freshener means that "once you open the box, your whole place immediately smells like New Mexico."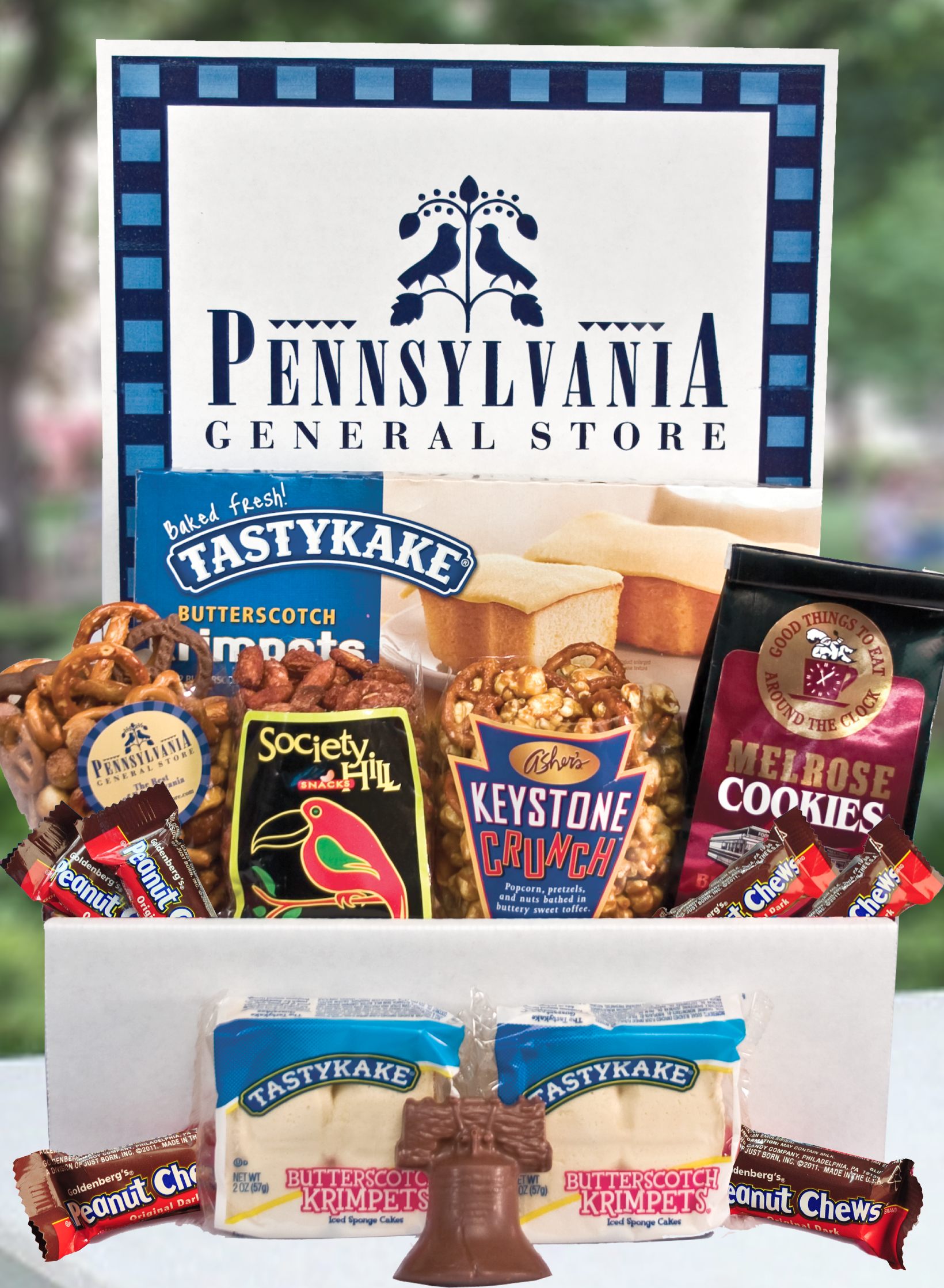 The City of Brotherly Love is synonymous with cheesesteak, but Philadelphia has other treats on offer. Tastykakes, a staple in regional Philly households for more than a century, are pre-packaged, dessert-style snack foods whose styles include cake-like Juniors and peanut butter Kandy Kakes. But the folks at Pennsylvania General Store know it's butterscotch-topped sponge cake "Krimpets" that the homesick really want. You'll find these in their Philadelphia Care Package, along with goodies like Keystone Crunch (a local mix of toffee-coated peanuts, popcorn, and pretzels) and butter cookies from the city's own Melrose Diner & Bakery, a 24-hour South Philly haunt.
Horse racing and bourbon are two of Kentucky's biggest draws, and A Taste of Kentucky has both on offer in the form of more than two-dozen gift baskets highlighting the Bluegrass State. Choosing the Filled Mint Julep Cup gets you a recipe and mix for the famed bourbon-based cocktail, as well as a copy of lyrics to the anti-slavery ballad My Old Kentucky Home. The larger Horse Head Gift Basket contains a Kern's Derby Tart (the mini version of Kern's iconic Derby Pie), a can of Louisville's own Butchertown Soda, and even an old horseshoe from Churchill Downs, where the Kentucky Derby is held each May.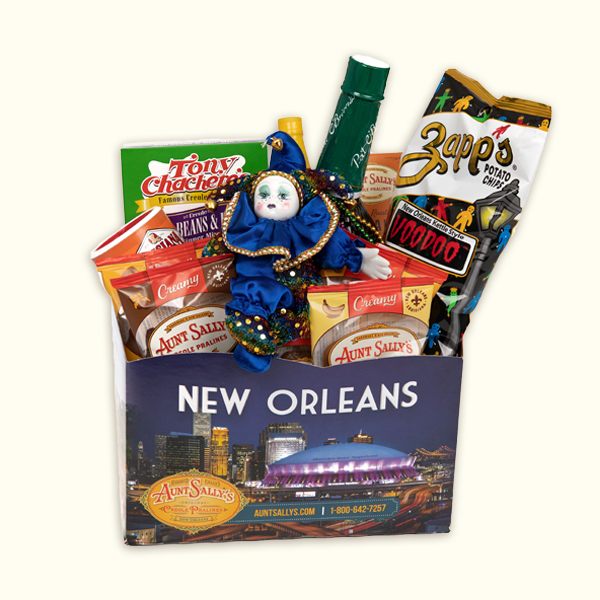 French Creole descendants Pierre Bagur and Diane Jacquet founded Aunt Sally's in the French Quarter of New Orleans 85 years ago, and today the iconic praline company is a Big Easy institution. Its current purveyors put together a box that encompasses much more than their own creamy pralines. Get ready to start cooking with a canister of Louisiana Brand cajun seasoning and a bottle of their hot sauce and whip up a fruity rum libation using Hurricane cocktail mix from Pat O'Briens, where the beverage was born. New Orleans in a Box also includes a lagniappe (or "bonus gift"), a small jester doll emblematic of masked Mardi Gras celebrations.
Maine is known for its lobster harvest and 3,478 miles of coastline—a mileage equivalent to a cross-country road trip. It's also home to a bevy of regionally renowned foods such as Needham's chocolate-coated potato and coconut candies, red-snapper hot dogs (red-dyed hot dogs sold in natural casings that "snap" when you bite them), and Moxie, a sweet soda made with bitter-tasting gentian root. According to Finnemore, "you either love it or you hate it."
Gastro Obscura covers the world's most wondrous food and drink.
Sign up for our email, delivered twice a week.