Why Are Almond Growers Uprooting Their Orchards?
The double whammy of drought and water regulations has led some farmers to sacrifice thirsty crops—with visually striking consequences.
Row after row of plants lay flat, their brown branches and bone-dry roots splayed out on ochre grass. Aerial images of the scene are a little disorienting: There are so many toppled shapes that it's hard to make sense of the scale. At first glance, a viewer might assume they're surveying uprooted weeds or unwanted shrubs—small, brambly ankle-scratchers baking in the afternoon sun and not particularly mourned.
But the plants weren't weeds: They were once almond trees, each roughly as tall as a two-story home, economically precious, and very much alive.
Until they were yanked out in May, these particular almond trees lived in Snelling, California, which sits in Merced County, east of San Jose. There, local growers are nuts for almonds; farmers grew more than 223 million pounds in 2019-2020. But the area is in the grip of a major dry spell: This May was the driest in 127 years, according to the National Integrated Drought Information System maintained by the National Oceanic and Atmospheric Administration, and 100 percent of the county is currently classified as experiencing "extreme drought." Now, between the parched period and looming new regulations around groundwater usage, some farmers are opting to send their trees to the big orchard in the sky.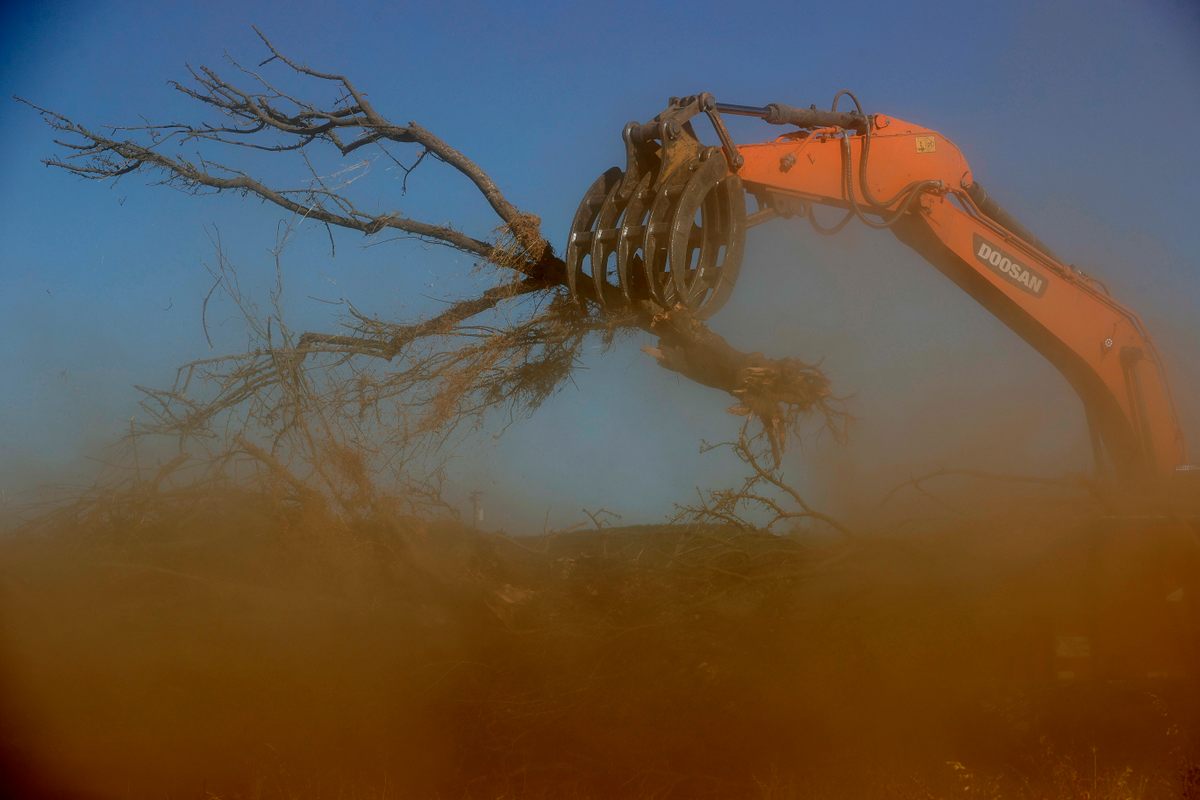 Almond trees rip easily from the ground—excavators equipped with a grapple, which looks like a clawed hand, can grip and pluck a water-starved almond tree in seconds. Plunked on their sides or dragged across a dry orchard, the plants look less like trees than like enormous, scraggly tumbleweeds.
With the right equipment, a crew can chew up roughly 10 to 15 acres a day, Zach Fowler of Fowler Brothers Farming, a California-based orchard development and removal company, explained last year to Ryan Valk, an ag-loving YouTuber who posts videos under the name California Farmer. That translates to well over a thousand trees. Eventually, trees from a dismantled orchard may be shoved into heaps and then fed trunk-first into grinders, which spit out their fragments into massive mounds of wood chips.
Mature almond trees are typically spent by their mid-twenties, and ripped out after 20 or 25 years, but some farmers are removing them early. A Central Valley grower recently told Bloomberg that she will remove trees this fall, before they're past their prime, and swap in younger ones that don't need as much water.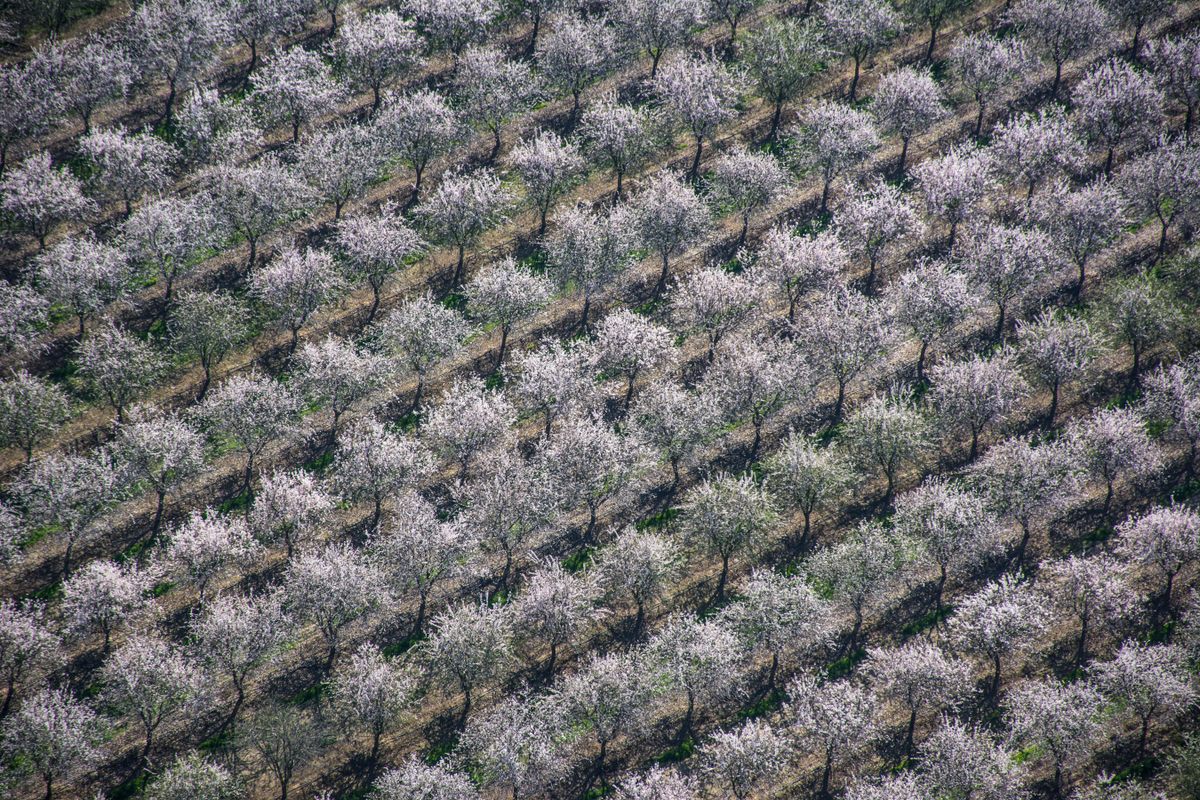 It's not the first time the state's almond growers have sacrificed some of their infamously thirsty crop in the face of drought. In 2014, for instance, Barry Baker of the Baker Farming Company in the Central Valley said goodbye to 1,000 acres of still-viable almond trees, around 20 percent of his total. "I just knew it would be tough to find water for these trees this year," he told the Associated Press. "And I'm glad I pulled them out now," Baker added, "because it's just impossible to find water."
Almonds are notorious guzzlers. They're thirstier than many other tree crops. In Solano and Yolo counties, more than 120 miles northwest of Snelling, orchards typically sip around nine inches of water a month in the summer, according to a report by Wilbur Reil, a longtime advisor in the region on orchard and vine crops. Plants can injure themselves by trying to slurp during a drought. Attempting to suck water from dry soil can lead to dangerous embolisms, bubbles of air trapped in a plant's xylem, the tissue that functions like straws to help them glug. When xylem is plugged up by air pockets, fluid can't pass. Stoppered plants may die.
Leaving drought-stricken trees in the ground can also be a gamble: "I don't think we have a lot of information about how little we can water a tree in a given year and expect it to produce in a following year," says Phoebe Gordon, an orchard crops farm advisor at the UC Cooperative Extension whose areas of expertise include almonds in the counties of Madera and Merced.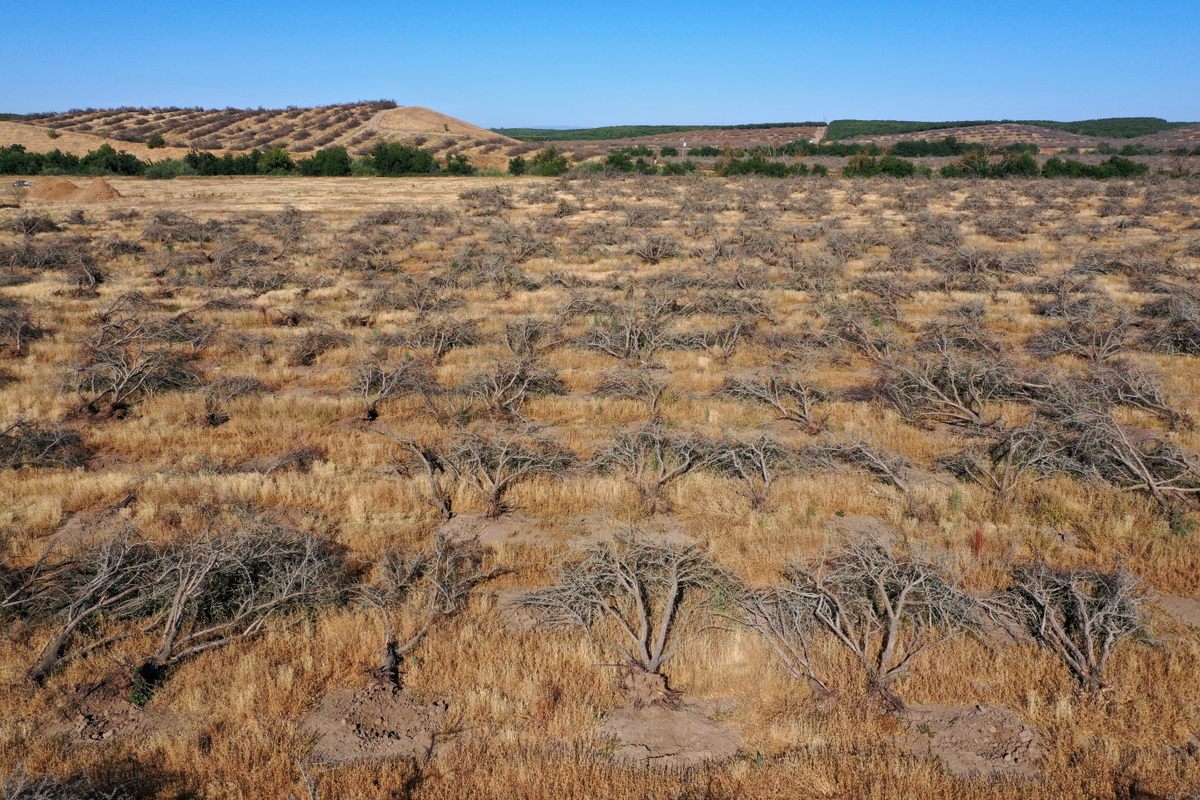 Even so, Gordon hasn't experienced growers reaching out because they're considering ripping out orchards with more years left in them. She recalls only one person specifically asking about an alternative to almonds, and that was because the price of the nut has slipped, she says, dinging their value to farmers. "If folks do ask me about alternative crops, it's usually in the context of soil and water quality," Gordon says. She adds that an experienced grower would "absolutely" look into a crop's water needs, and encourages growers to carefully consider how they'll handle new statewide regulations governing groundwater usage that come into full effect in 2040. But it's not so simple to swap almonds for, say, more drought-tolerant pistachios, Gordon says. Establishing a new orchard often means years of fallow finances before the trees yield crops, and growers also may require new and expensive equipment.
Trying to imagine the future of California's agriculture landscape is "very much like looking into a crystal ball," Gordon says. In the meantime, more orchards could be uprooted in their prime, leaving behind visually striking carnage.