Is There Anybody Out There… Keeping Track of the Weird Stuff We Send Into Space?
This catalog attempts to figure out what we're telling the rest of the universe about ourselves.
There are two main ways to send information out into space—as a transmission or by blasting up a physical object. Through both methods, humans have sent off all sorts of intriguing data about life on Earth. In 1995, for instance, the National Science Development Agency of Japan transmitted, among other images, one of an alien and an earthling holding hands, in the direction of the Libra constellation. We've sent a copy of War of the Worlds to Mars, and models of Lego figures (of the Greek gods Juno and Jupiter, as well as Galileo Galilei) to orbit the planet Jupiter. The sculptor Forrest Myers reported that he sent, without permission, a tiny ceramic tile with miniature artworks by Robert Rauschenberg, Claes Oldenburg, Andy Warhol, and three other artists to the Moon with Apollo 12.
But for a long time no one had put together a full picture of what humans have sent off-Earth with the intent of communicating something about life on this planet. So Paul Quast, director of the Beyond the Earth Foundation, set out to catalog every cultural artifact and intentional message humans have launched or beamed into space. Published in the International Journal of Astrobiology, his accounting is (as far as he knows) the first attempt at simply documenting what we're sending out there—a first step toward piecing together a complete sense of what we're signaling about our world.
"At the very least, we should know what we've sent out," says Quast.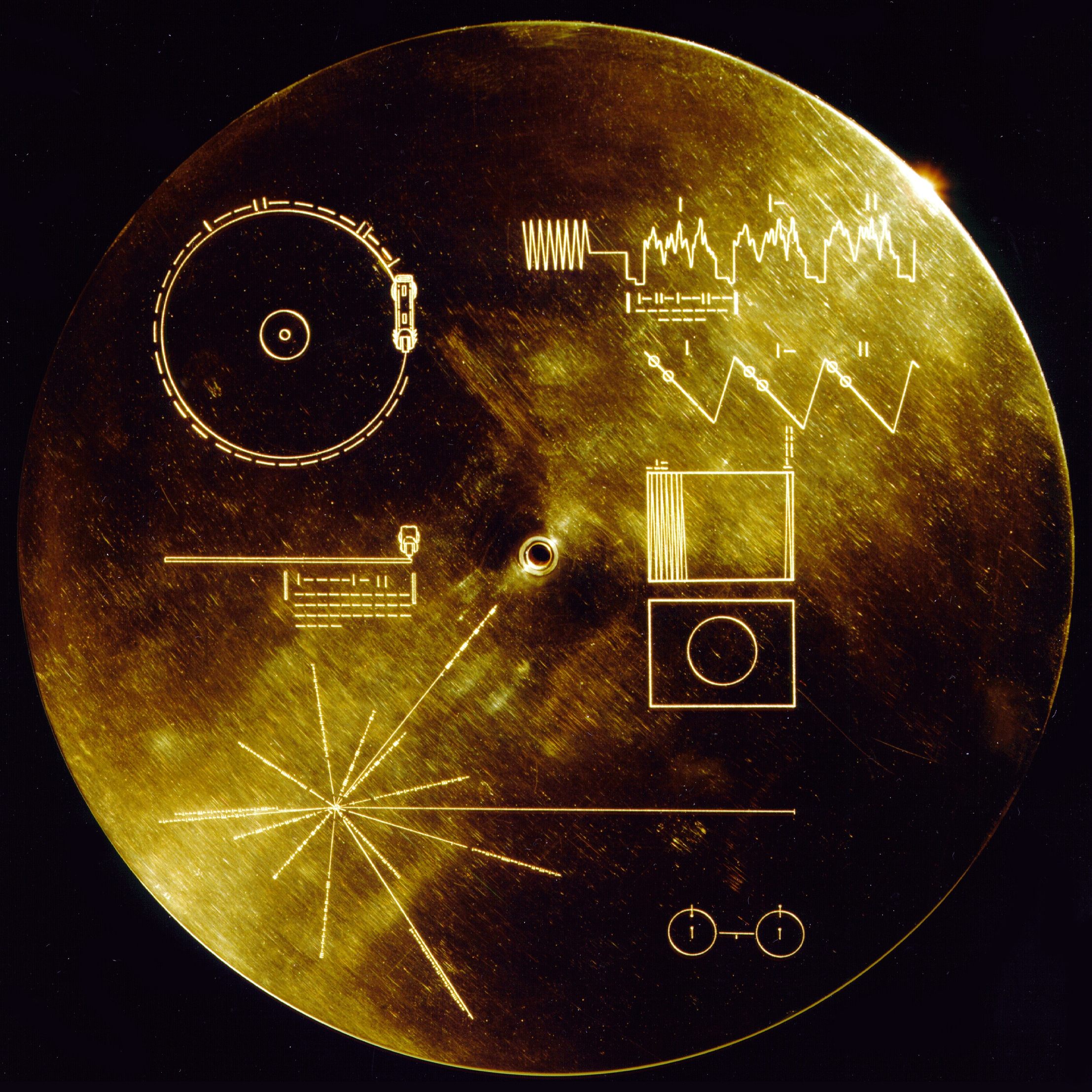 Quast, an artist and SETI researcher, has a background in heritage and the preservation of cultural information, and he thinks of this collection of information as a "fluctuating, artificial field of intelligent design that emanates outwards from our planet," or "the celestial legacy of our civilization beyond Earth's borders." And when you look at the totality of it, it makes us seem pretty weird.
The most famous of all endeavors to explain humanity to an extraterrestrial intelligence are the Golden Records, gold-plated copper disks filled with images and sounds of Earth and currently heading out of the solar system on Voyager 1 and 2. But a small selection of the other objects and transmissions we've sent to space includes:
A 15-minute concert performed on a theremin
A version of "Across the Universe," plus a message from Paul McCartney—"Send my love to the aliens"
An invitation, in Klingon, to attend a performance (on Earth) of a Klingon opera
A video compilation of Romanian gymnasts from 2006
An advertisement for Doritos
DNA from Stephen Colbert, encoded on a microchip
A picture of rice dumplings and tea
A copy of Rukhnama, a book written by a former president of Turkmenistan
Diamonds
Quast's aim was simply to inventory everything we'd sent out, excluding scientific instruments, which are well accounted for. (He also excluded the noise of broadcasts meant only for other Earthlings, some of which unintentionally escapes the planet.) His list covers "eternal libraries" that store information about our planet off-world, art, official acts of cultural outreach, attempts to communicate with extraterrestrial intelligences, and symbolic gestures. Everything that makes the list must have been accessible in space for a "moderate to extended period of time."
At their most serious, these messages, particularly the signal transmissions, can be strong enough to cross the space between stars and contain carefully selected content. They can include everything from numbers, chemicals, DNA formulas, and a diagram of our solar system, to text messages and images of celebrities.
One physical category in the catalog covers time capsules and archives meant to last into the distant future. One capsule sent to deep space includes the Universal Declaration of Human Rights in 1,500 languages. The Mars Phoenix Lander carried H.G. Wells's War of the Worlds and Ray Bradbury's The Martian Chronicles on a silica glass DVD. The Golden Records are part of that cultural signal as well. These all appear to be serious efforts to communicate humankind's values and beliefs.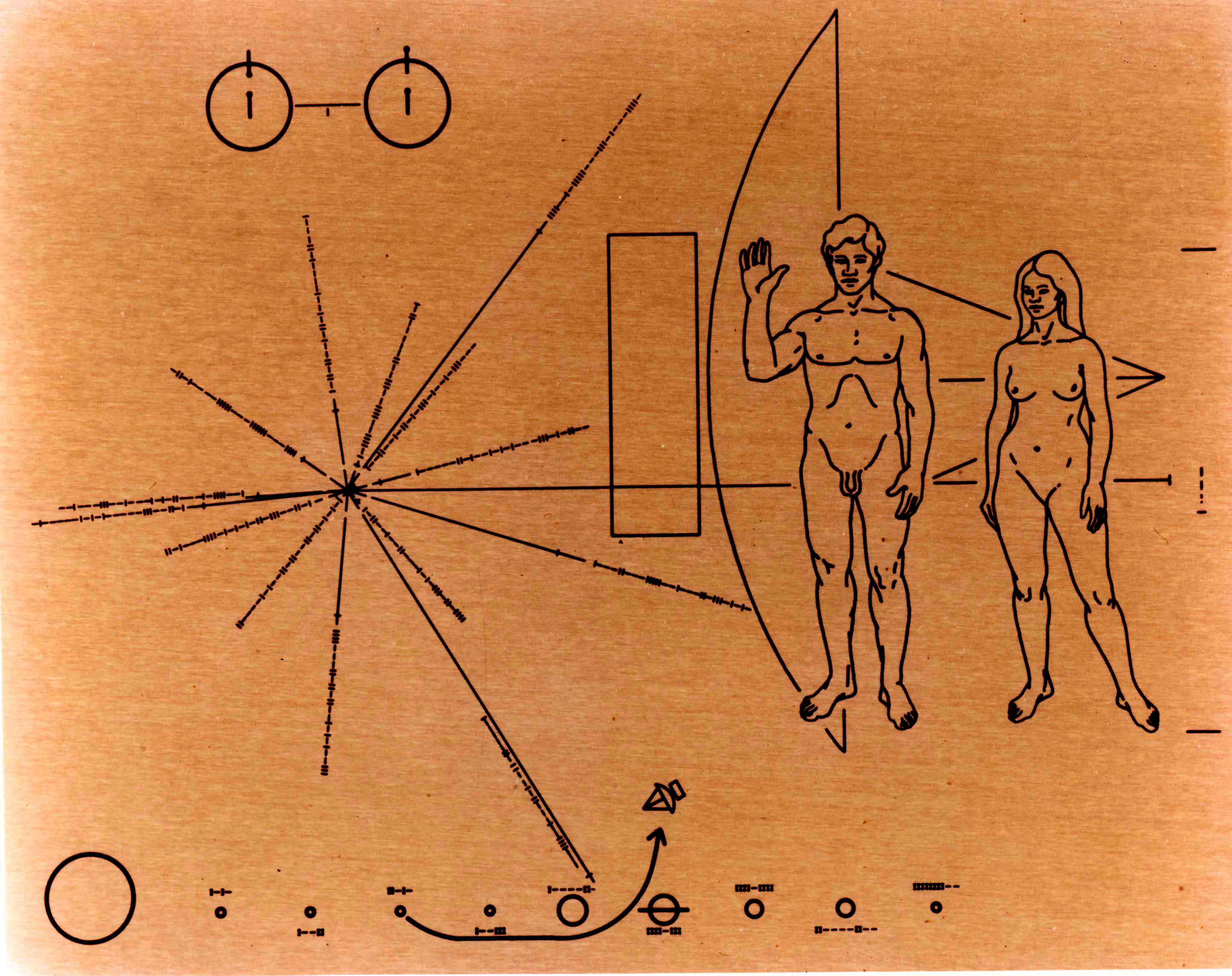 But Quast's catalog also documents the messages we've sent just for fun. The words MIR, LENIN, and USSR, in Morse code. Thousands of Twitter messages. Poetry. A six-minute excerpt of a speech by Stephen Hawking. A slightly different category includes transmissions we send in service of commerce or art. One French broadcast, called Cosmic Connexion, included nude animated figures, as well as cartoons of aliens. Another transmission was just the logo of Zhitomir, a city of about 270,000 people in Ukraine. From the 1970s onward, there have been intermittent invitations to "send your name to space," which millions of people have participated in. Those names now grace silicon chips, more of those glass DVDs, CD-ROM discs, and aluminum sheets, all currently speeding through space.
There are also short-range commercial transmissions that only go about one to three light-years from Earth. They have little chance of being deciphered, even if they're intercepted. These included a film documenting 35 years in the life of a man named Sam Klemke, tweets, text messages, an internet talk show about space exploration, the 2008 edition of the movie The Day the Earth Stood Still, a photo of an Audi engine, 138,000 message from Craigslist forums, as well as a message from Craig Newmark himself, and encoded whale songs.
Sending these messages out into the universe does come with risk. There's an active debate over the wisdom of trying to signal our existence to an extraterrestrial society. Making contact with an alien civilization could throw our own into chaos, or the aliens could try to kill us. But whatever another form of life might think of us after seeing part or the whole of what we've thrown into space, this collection also holds up a mirror to our own collective identity and self-image.
"It's reflective of how we judge ourselves and our perceived position throughout the universe," says Quast. "It's quite inward reflecting." For instance, he notes that much of what we've sent into space is about people. But if we're trying to tell aliens about Earth, perhaps we should try to tell them about our whole planet.
The other potential audience for the items in this collection is future humans. The items we've sent into space will last for generations to come. If an extraterrestrial intelligence ever does reply to one of our transmissions or intercept one of our artifacts, it could be thousands of years in the future. It would be nice if the future humans who receive the response know what we'd said to begin with. But even today, that's not entirely clear.
"There are a lot of messages that exist as rumors," says Quast. "I keep finding new signals, as well, which is quite unnerving to say the least."