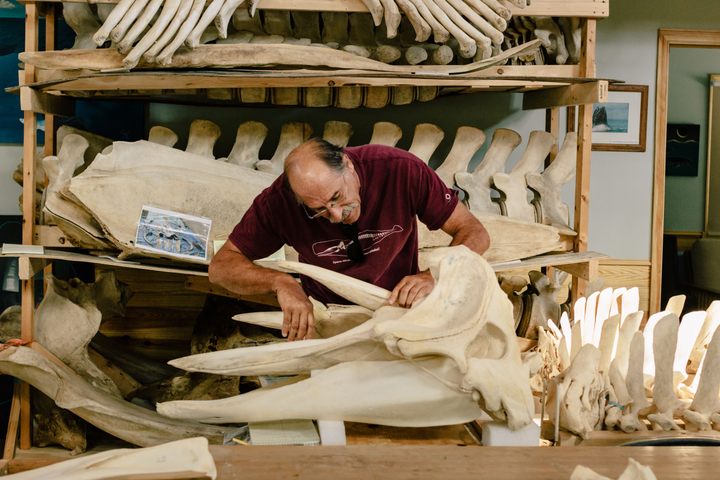 How Whopping Whale Skeletons Come to Life at 'Bonehenge'
"Every one of these animals has a story."
In the winter of 2004, a massive sperm whale washed up on Cape Lookout, a stretch of North Carolina coastline best known for its diamond-patterned lighthouse. Gallons of oil flowed out of the body and soaked into the sand. Once, the oil would have been prized as a valuable machine lubricant and lantern fuel, but Keith Rittmaster, a surfer boy turned curator of natural science, saw an even more valuable scientific resource in the 33.5-foot whale. He wanted to strip down the bones and "rearticulate" them for display in the North Carolina Maritime Museum in Beaufort, where he has worked since 1992.
The preservation effort would take almost a decade. With help from an online naming contest, Rittmaster named the whale Echo, and in bursts of labor followed by long, patient pauses, he and a team of volunteers collected the body, documented its physiology, and buried it. Eventually, they exhumed the whale's bones. Only after a three-step cleaning process could Rittmaster begin restructuring the skeleton. For shelter from the elements, Rittmaster worked in a pole barn dubbed "Bonehenge."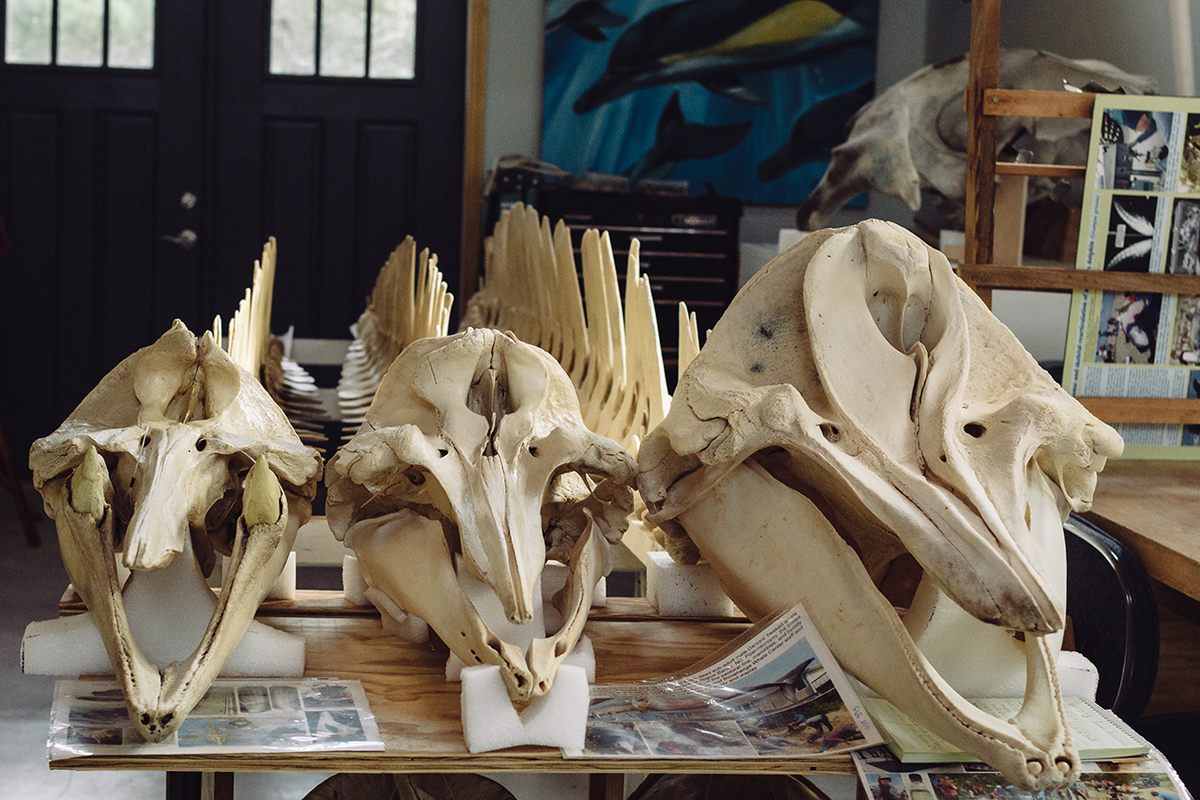 Finally, in 2012, Echo—who was looking like a whale again—moved to his new home in the maritime museum. He now looks down on visitors while they circle an exhibit about the connections between whales and humans in North Carolina. 150 years ago, the state was a center for whaling, and some residents hunted almost anything with a flipper. Now that the age of whaling is over, the mammals can gather off the coast without fear. Scientists have documented 34 species of cetaceans—whales, dolphins, and porpoises—swimming off the coast of North Carolina, more than in any other state.
For Rittmaster, the story didn't end with putting Echo on display. He found himself gathered around a kitchen table with a group of volunteers, brainstorming a new facility where they could do similar work in a better way. They wanted to make a space equally suited for studying cetaceans and public outreach, where they could carefully preserve specimens like Echo, and also tell their stories.
---
About six years after that initial meeting, the new iteration of Bonehenge is almost complete. In an open two-story building flooded with natural light, humpback whale bones stack up to the rafters, while other specimens rest on a pulley system or seem to swim from wires across the ceiling. "Every one of these animals has a story—not just an animal, but a human story," says Rittmaster, gesturing with a tan and weathered hand at different collections of bones. "Who reported the stranding? Who responded to it? Who prepared the bones? Why was it on the beach? What can we learn from it? What is the relation to conservation?"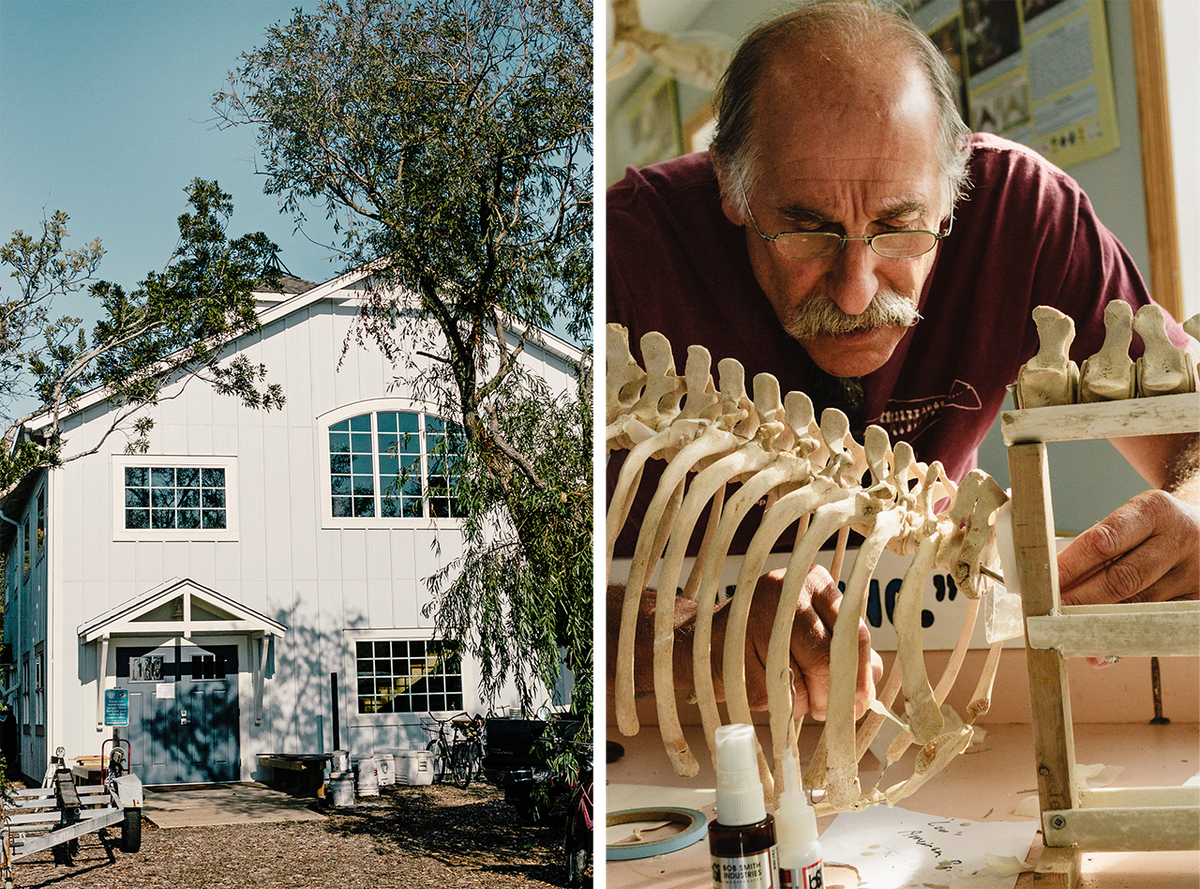 Not all of the questions raised by specimens are life-or-death, or carry sweeping implications for humanity. For instance: Beaked whales have only two tusk-like teeth, and the teeth of females never erupt. How do they eat? (The theory, not entirely proven, is that they slurp up their prey, which is mostly squid; the Bonehenge team has made t-shirts that read "Beaked Whales Suck"). Still, for scientists like Rittmaster, questions are always worth asking.
Just outside, a lumpy compost pile represents the first phase in the preservation of a new species of Bryde's whale, for a Smithsonian collection. Its very discovery is a reminder of how much is left to learn about the ocean, and about cetaceans in particular: A species of 40-foot marine mammal has been swimming around, unbeknownst to us. Rittmaster is also working on rearticulating the skeletons of a pair of pygmy sperm whales, a calf and its mother. They washed ashore together, the calf with a plastic bag in its stomach. Why did the mother come ashore with the calf? Is it a mourning or maternal practice? Learning from skeletal remains takes time, and anatomical accuracy takes steady hands working at a slow pace. At Bonehenge, they have both.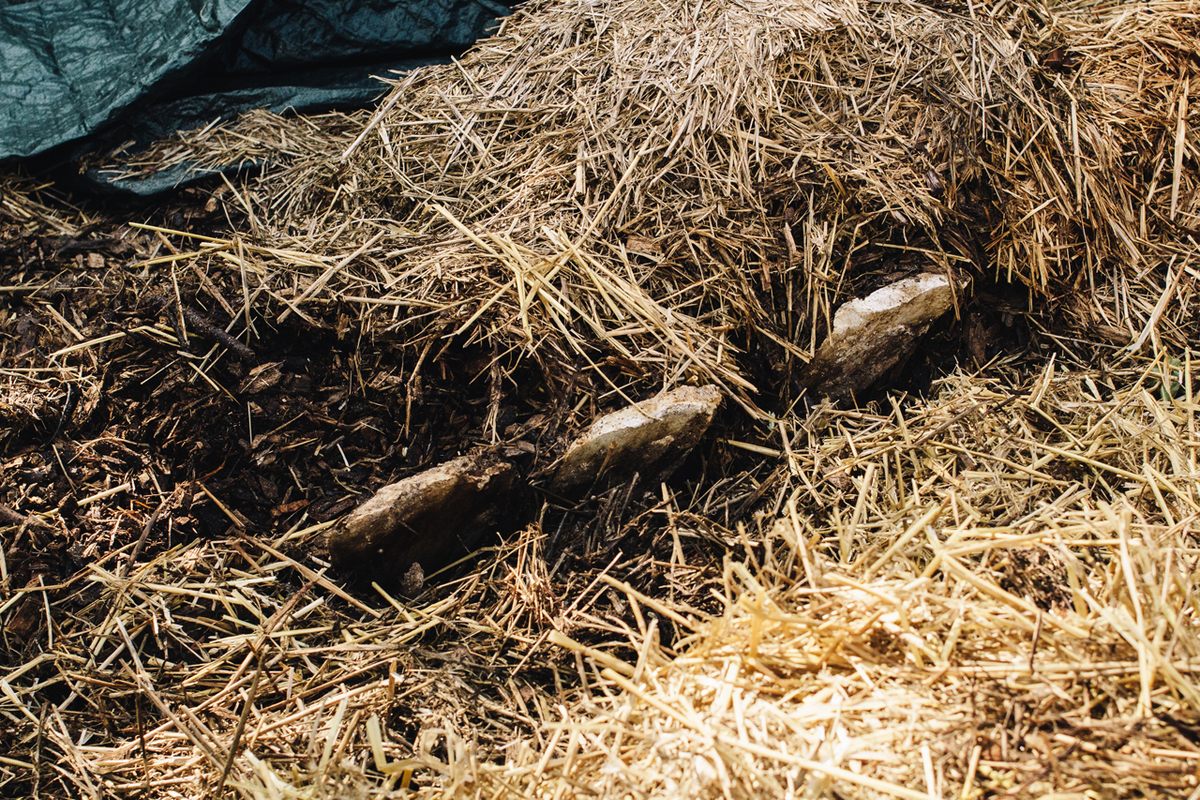 The art and science of whale articulation dates to the 1800s. Back in the days of widespread whaling, whale carcasses were displayed publicly and even taken on tour, and they would decompose over the course of many months. In the late-19th century, whale skeletons became staples of natural history museums, but the handful of specialists who assembled them had a wide range of methods, and they didn't always record the intricacies of their craft. In recent years, the field has experienced a kind of renaissance, through the work of specialists like Rittmaster and Lee Post, an Alaska-based articulator who calls himself The Boneman.
On a sunny day in October, Rittmaster sures up the position of the pygmy sperm whale calf with a mixture of resin and house-drilled bone dust, dabbed on with a dental pick. "Watched resin never dries," he says, and looks around for another task. It's one of many lessons he's learned from mentors and decades of trial-and-error. Some others: Always make x-rays of pectoral fins, and never ever position a specimen straight-on, without a sense of movement.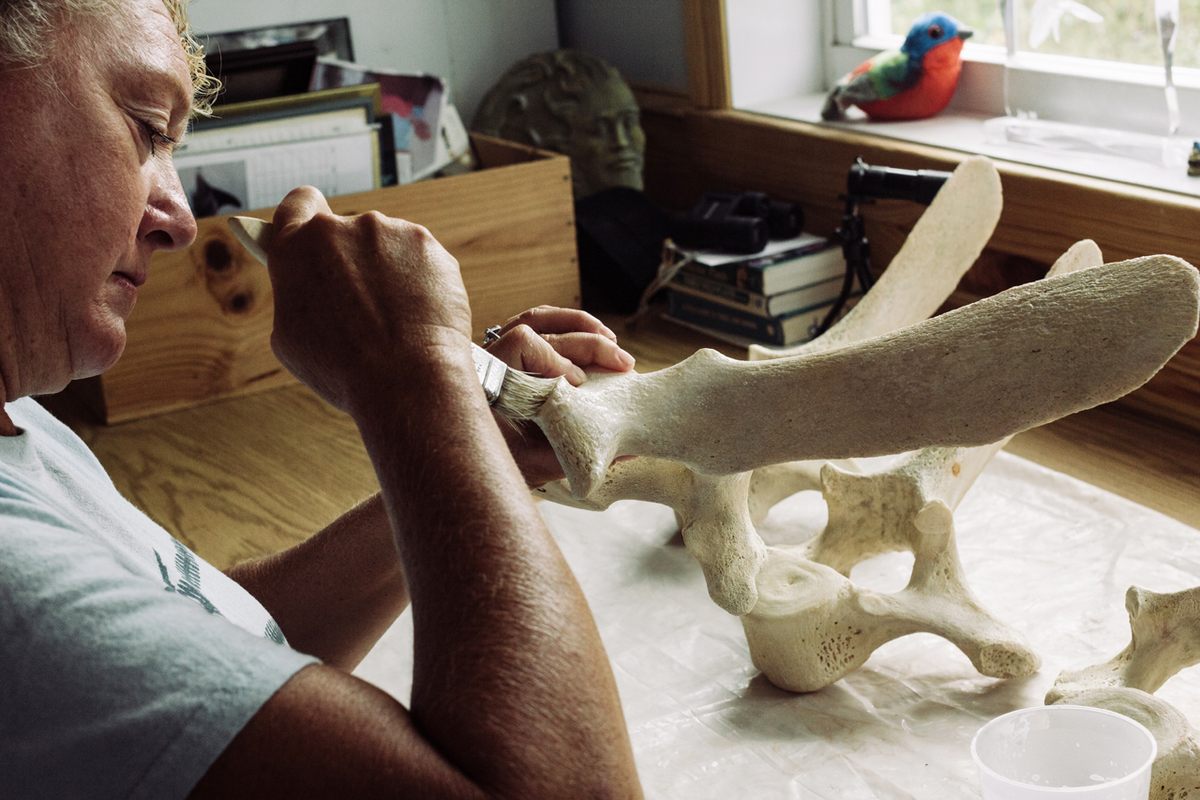 Each specimen is unique and to a certain extent an experiment, but Rittmaster and his collaborators have developed best practices over the years. Across the room from him, volunteer Carrie Spencer frets over a tricky rib repair, while her counterpart Barbie LeBrun brushes bones with diluted Jade 403, a bookbinding glue that librarians swear by. Both actions help stabilize the bones, making them less vulnerable to the wear-and-tear of handling. Once LeBrun applies a second coat, she hangs the vertebrae on a line to dry.
Work varies by day, sometimes by hour. One afternoon, an onlooker might see Nan Bowles expertly sketching the outline of a pectoral fin onto plexiglass. The next morning, they might see team member Josh Summers working at one of his signature ribcages. One moment, everyone might be busy analyzing photos of dolphin dorsal fins from a recent data-gathering expedition into the Newport River, but the next Rittmaster may be rushing out to examine a stranding. Although the last push of work readying a specimen for exhibit involves paid labor, the vast majority of time and effort is volunteered.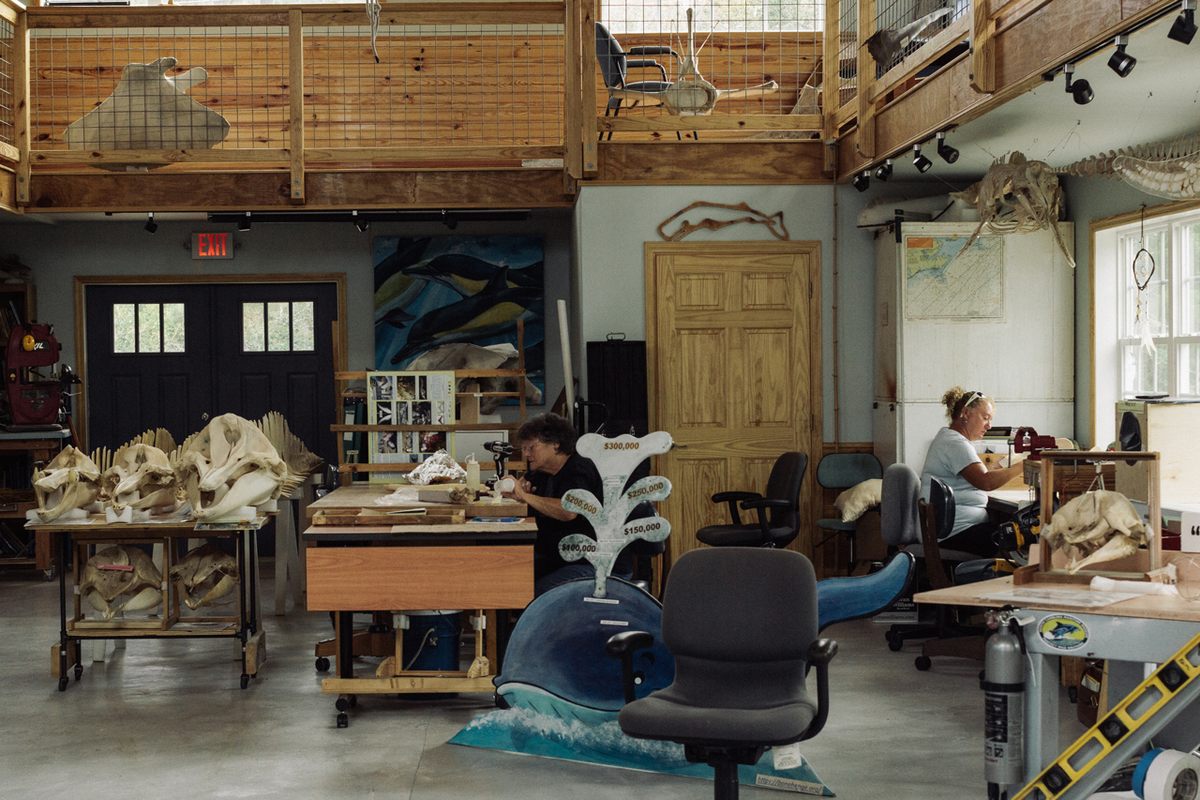 For years, volunteers have found Rittmaster by word-of-mouth, either from friends or at his lectures. Drawn in by the opportunity to work up-close with these magnificent animals, and hopefully make a difference in conservation, they tend to stay for the long haul. Volunteers were responsible for grassroots fundraising campaigns, even in the early days, as well as in-kind donations that bypassed the red tape of grant proposals and government funding. The workshop-meets-exhibit that is Bonehenge is made and maintained by individuals, and their personal touches linger over the new building: a porch named for the volunteer contractor, decor featuring Beatles quotes, even specimens named for inside jokes or preferred liquors. Far from a sterile laboratory, Bonehenge was built with hospitality in mind.
Although the facility is brimming with skeletons and bustling with activity, it will not open to the public until 2020. When guests arrive, their first stop will be a soaring archway made from a right whale's mandible, or lower jaw. A balcony wraps around the second story, giving visitors a seagull's view of the work floor. As they circle, guests can ask questions, touch scratchy baleen that was peeled out of a minke whale's jaws last Christmas, and examine exhibits that explain the preservation process. At times, guests will be able to walk out onto the work floor, where most learning is by experience. They may hold a whale vertebrae to discover that it is shockingly light and porous, run their finger over the growth layers in a sperm whale's curved tooth, or pick a favorite whale oil by scent, all while hearing the stories attached to each animal.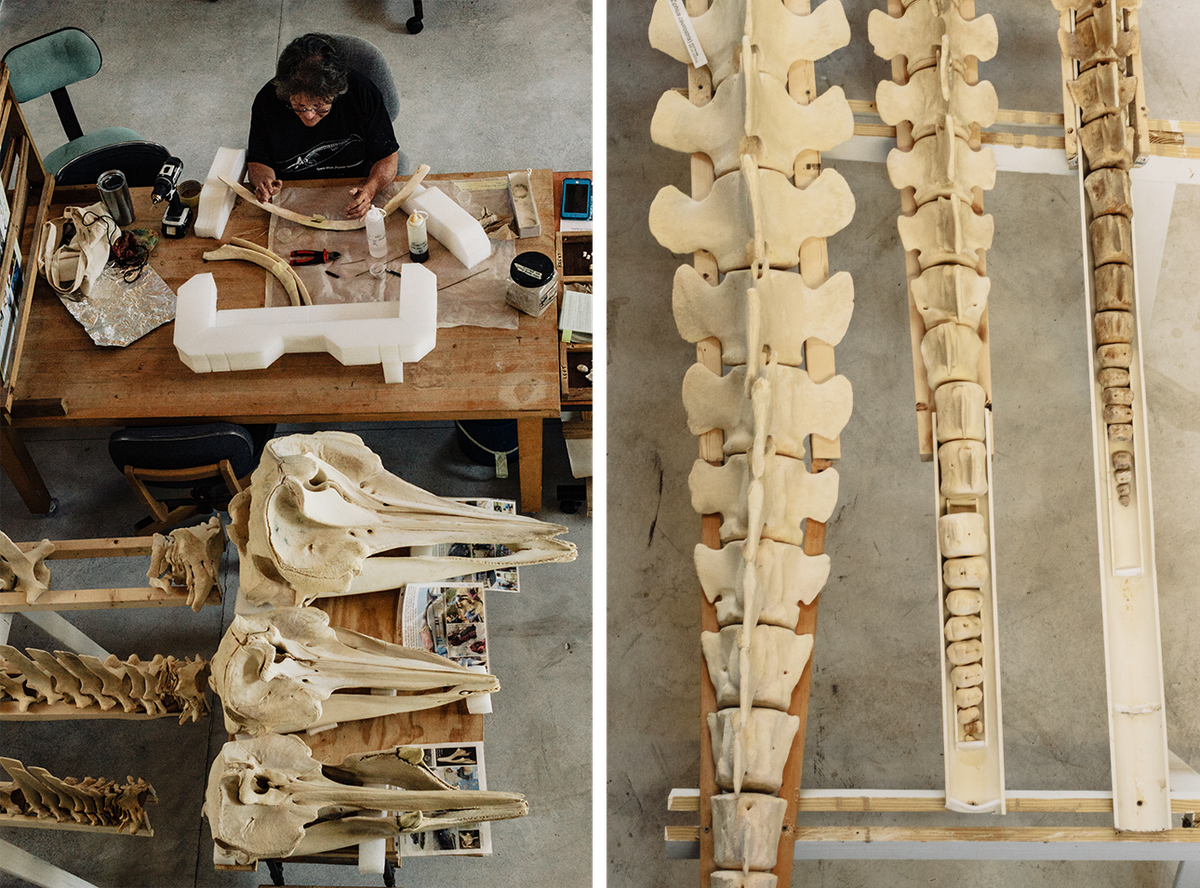 If all goes according to plan, Bonehenge will be a place where conservation and ecology are tangible concepts, where the public can learn about the unknown in a place that feels like home. There is a lot out there, and a lot to lose, he says. But there are also plenty of people in Beaufort who are ready to come together to preserve what remains. "We realize that we need each other," Rittmaster says, "and the wildlife needs us. So we collaborate often and well, and that's probably been the biggest joy in all of this."
You can join the conversation about this and other stories in the Atlas Obscura Community Forums.