The Stories and Saviors Behind Heirloom Seeds
Plant a Gastro Obscura garden this spring.
THIS ARTICLE IS ADAPTED FROM THE MARCH 4, 2023, EDITION OF GASTRO OBSCURA'S FAVORITE THINGS NEWSLETTER. YOU CAN SIGN UP HERE.
Gastro Obscura readers, has it seemed like a long, cold winter to you? I'm more than ready to say goodbye to icy mornings and early sunsets.
The best way to endure bad weather and bad times, I've found, is to get ready for sunnier days ahead. That's not a perky aphorism. I've been using these interminable winter nights to page through seed catalogs and horticulture books, deciding what seeds to buy for my spring and summer garden.
Plenty of fruits and vegetables are worth planting for their flavor and looks alone, but sometimes, seeds come with stranger-than-fiction stories about their origins and creators. I admit that these stories are often what makes me buy a packet of seeds, more so than their yield or whether they'll thrive in my shady yard.
But there's a certain romance to growing seeds with a history, especially if they're heirloom varieties that people have fought to preserve.

Here are five fruits and vegetables we think would suit a Gastro Obscura garden.
Crane Melons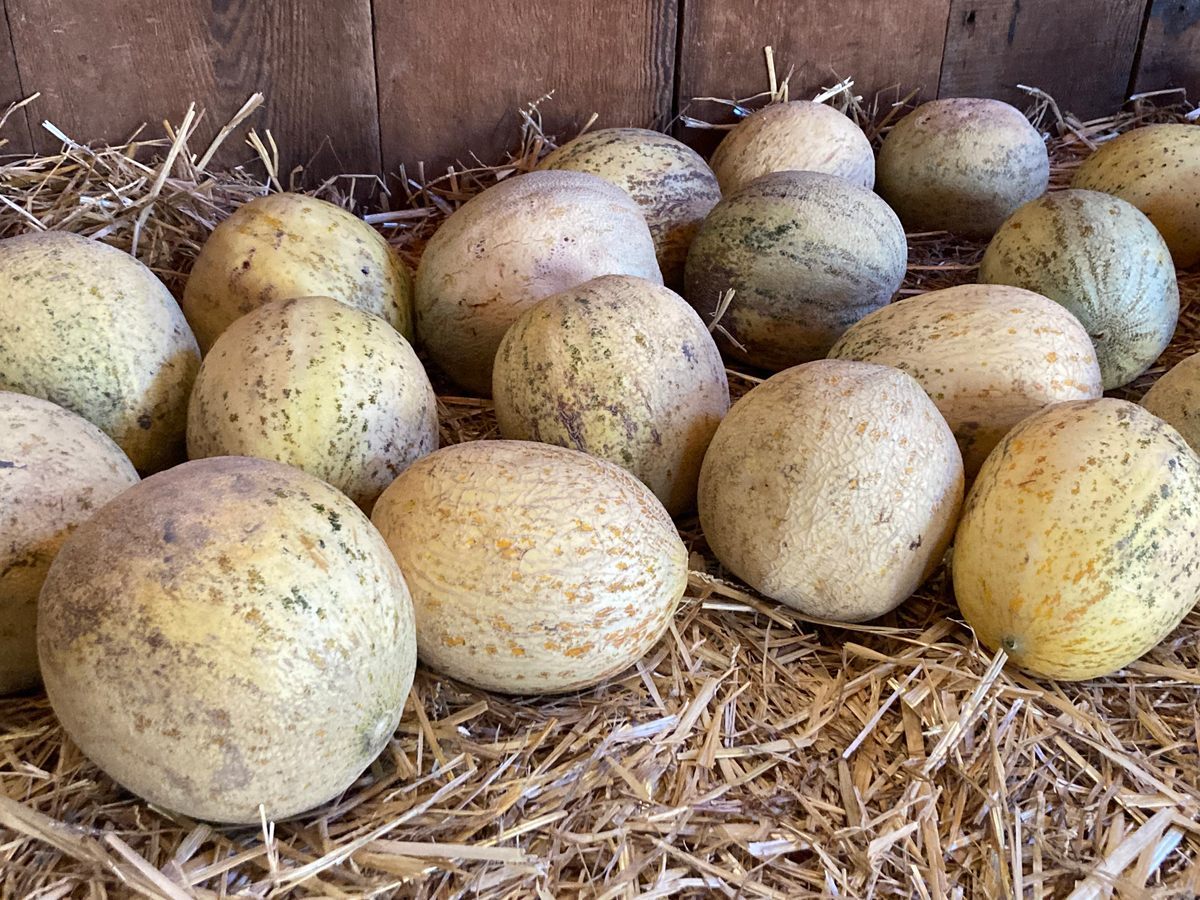 Want to try a Crane melon? You'll either have to make a journey to Santa Rosa, California, or grow one yourself. The Crane family has been selling these super-local melons out of their rustic redwood barn for a hundred years.
The Crane melon is a juicy, honey-flavored melon with a golden interior—which is appropriate, considering that the Cranes first came out West from Missouri in search of gold. The family settled in Sonoma as farmers, and by 1920 Oliver Crane had developed a very special melon by breeding varieties from Japan and Persia with local ambrosia and white melons.
This type of melon has never made it far past Sonoma. For one, they crack easily when ripe. Plus, the Crane family maintains that the Sonoma terroir is essential to grow a true Crane melon. But if a trip to Santa Rosa isn't in your future, try out your own terroir to grow one of these pieces of California gold.
Where to Buy It: Snake River Seed Cooperative
Yedikule Lettuce
For the last 1,500 years, gardens have flourished behind the Byzantine walls of Istanbul. The long history of the gardens led to the existence of one unique vegetable: Yedikule lettuce.
Yedikule lettuce is a romaine, but the similarity to your Caesar salad greens stops there. This vibrant vegetable is a "greasy" lettuce, meaning the leaves contain a significant amount of oil. The oil is a famous feature of the lettuce, so the only dressing it needs is lemon juice and perhaps a little salt.
Many people fear for the future of the gardens and, by extension, the lettuce. For the last decade, the city's redevelopment plans have threatened these plots, which still provide food and livelihoods for locals.
Where to Buy It: Baker Creek Heirloom Seed Co
Lemon Cucumbers
A scam for the ages made these cucumbers famous. In the early 1900s, a huckster drummed up interest in these tiny golden cucurbits by spinning a tall tale about their origins. He claimed to have taken an orange blossom from his daughter's wedding bouquet and used the pollen to fertilize a cucumber plant, resulting in this citrus-shaped and sunny fruit.
A fed-up horticulturist in 1910 rejected this story as false. Before you scoff at anyone who believed it, though, the early 20th century was a time of botanical wonders, with plant breeders such as Luther Burbank accomplishing incredible feats in horticulture daily.
The lemon cucumber, though, is more than an interestingly-colored cuke. While it doesn't taste lemony, this charming fruit has been cultivated for centuries, leading some horticulturists to hypothesize that it is the oldest cucumber cultivar still being grown today.
Where to Buy It: Botanical Interests
Glass Gem Corn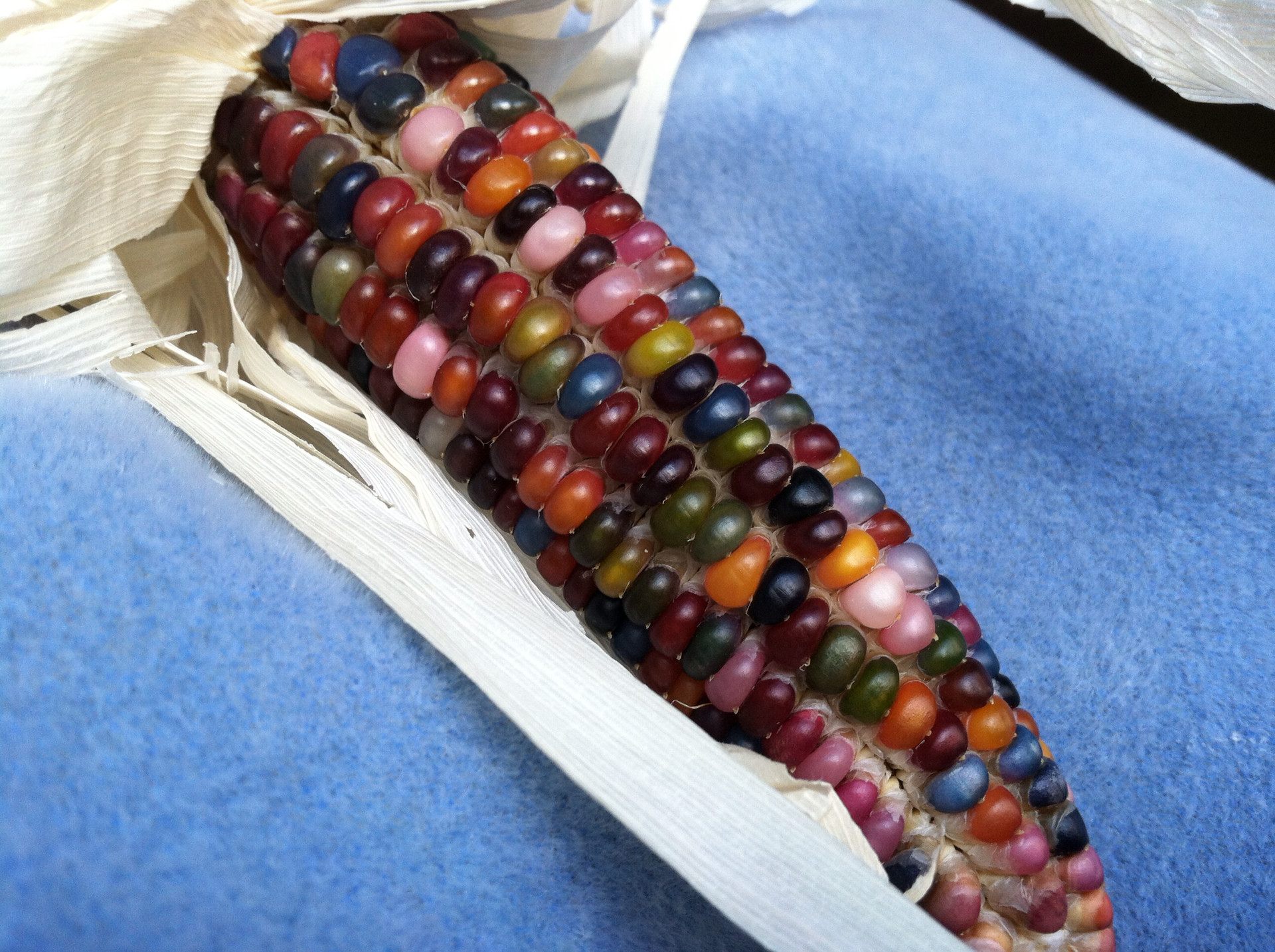 Glass Gem corn looks like a tchotchke you buy at the store, rather than something you can eat. The name is apt: This corn features gloriously colorful kernels in many different iridescent hues.
Corn often comes in many different colors, though we're used to yellow and sometimes white. But this particular corn was the brainchild of Carl Barnes, an Oklahoma farmer with Cherokee heritage.
According to Native Seeds Search, Barnes was dedicated to breeding fantastical-looking corn and used varieties with translucent kernels to breed Glass Gem. Its otherworldly appearance made it an internet sensation a decade ago, and it's now widely sold by different retailers.
Before you bite into a colorful cob, take note: Glass Gem is a flint corn, used for making flour or popcorn. But many people grow this corn for its glorious beauty.
Where to Buy It: Native Seeds Search
Paul Robeson Tomato
"Many Russian tomatoes have evocative names. There's the Mother Russia and the Black Sea Man. But perhaps the most unusual of all is the Paul Robeson tomato. Named after the African American singer, actor, and activist, his namesake tomato has become a cult favorite in American gardens."
So writes Debra Freedman in her article "Why Soviet Russia Named a Tomato After an American Celebrity." Paul Robeson's larger-than-life voice and screen presence made him famous, and his dedication to civil rights and interest in communism made him controversial—in the United States. On his visits to the Soviet Union, in contrast, he was always greeted with adulation.
Tomatoes have long been a valued part of the Russian kitchen garden and, in one case, the local appreciation of Robeson resulted in a tomato named for him. Marina Danilenko, the owner of Russia's first private seed company, sent Paul Robeson seeds to the U.S. in the 1990s. Freedman describes the fruit as "sweet, smoky, complex, and tangy."
Where to Buy It: Southern Exposure Seed Exchange
Gastro Obscura covers the world's most wondrous food and drink.
Sign up for our email, delivered twice a week.