Scandinavian-Americans Are Breaking Up With Lutefisk
But a new demographic is keeping America's largest lutefisk company afloat.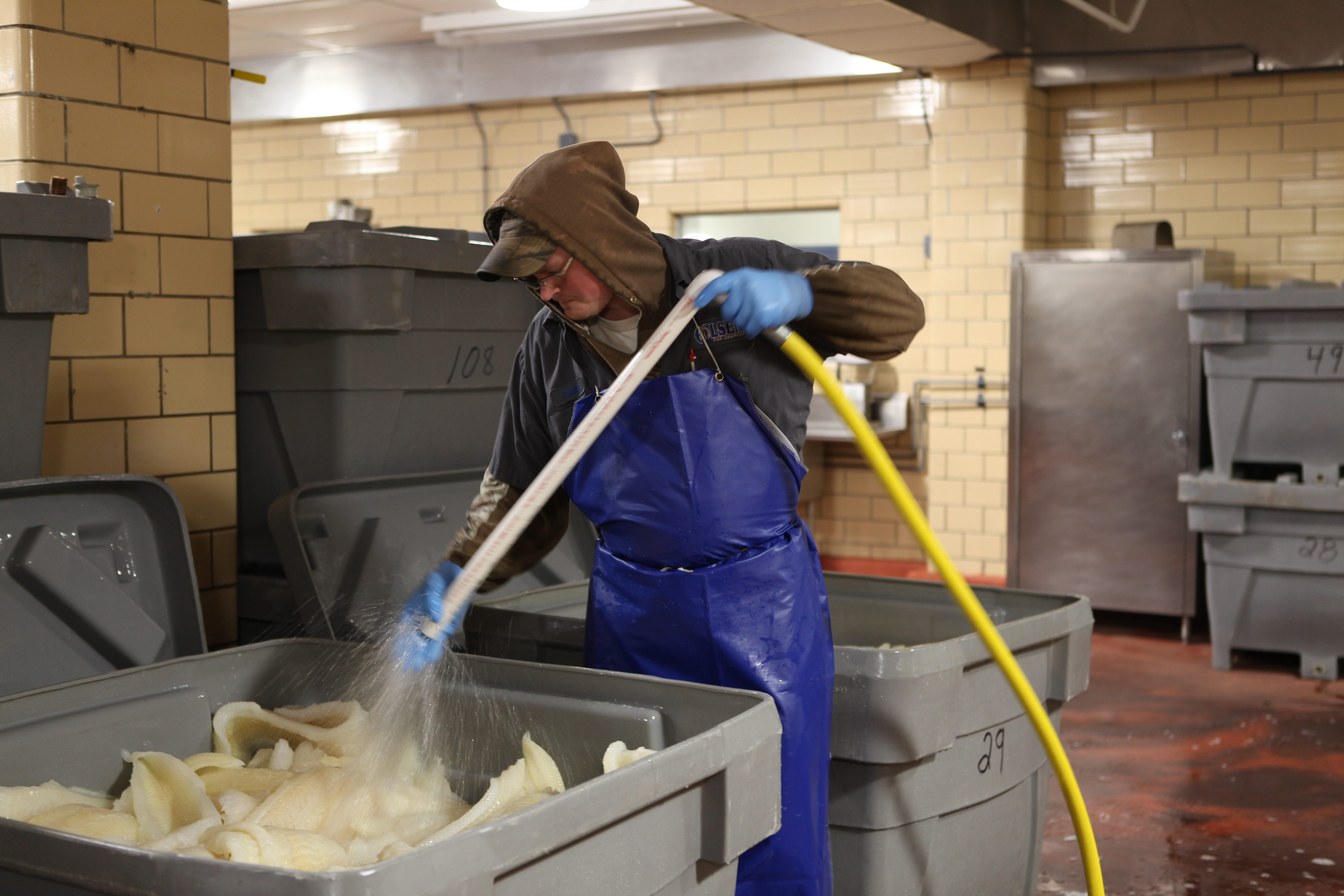 Visit Olsen Fish Company in North Minneapolis, and Don Sobasky from marketing will offer you a heavy flannel shirt before you've even taken off your coat. Not because the heater's broken, but because of the smell, he'll explain, while gazing around the 119-year-old seafood processor's headquarters.
The fish factory itself is inside a separate building on the other side of a parking lot. But the pungent scent of its cod and herring products has seeped over into the main office's furniture and walls. If guests aren't careful, their clothes catch the wharfside aroma. Ask Sobasky if his clothes reek after a long day on the job, and he'll reply, "Well, they smell like money to me."
Founded in 1910, Olsen Fish Company is the type of niche business that could only exist in the Upper Midwest, where millions of Swedes, Finns, and Norwegians forged new lives in the late 19th and early 20th centuries. For decades, the company has served as a cultural heritage lifeline, selling Scandinavian foods such as pickled herring, lingonberries, salt cod, and lefse, a thin potato bread. But Olsen's most famous—or perhaps infamous—offering has always been lutefisk.
First described by Swedish scholar and archbishop Olaus Magnus in 1555, people have eaten lutefisk in Norway, Sweden, and parts of Finland for centuries, although its popularity has waxed and waned. Lutefisk, when translated from its original Norwegian, is self-explanatory: Lut means lye, and fisk is fish. To make it, dried cod is soaked in caustic lye solution for days, transforming it into quivering fillets.
Nobody quite knows who invented it; tales range from someone accidentally dropping a fish into a bowl of lye to "the Swedes trying to poison the Norwegians," jokes Travis Dahl, a meat salesman at Ingebretsen's Nordic Marketplace in Minneapolis. Once rinsed, the mild-flavored meat is either baked or boiled, then smothered with everything from melted butter to sautéed onions and bacon bits. The smell can linger long after people clean their plates—an odor that's the butt of many a Minnesotan grandpa joke.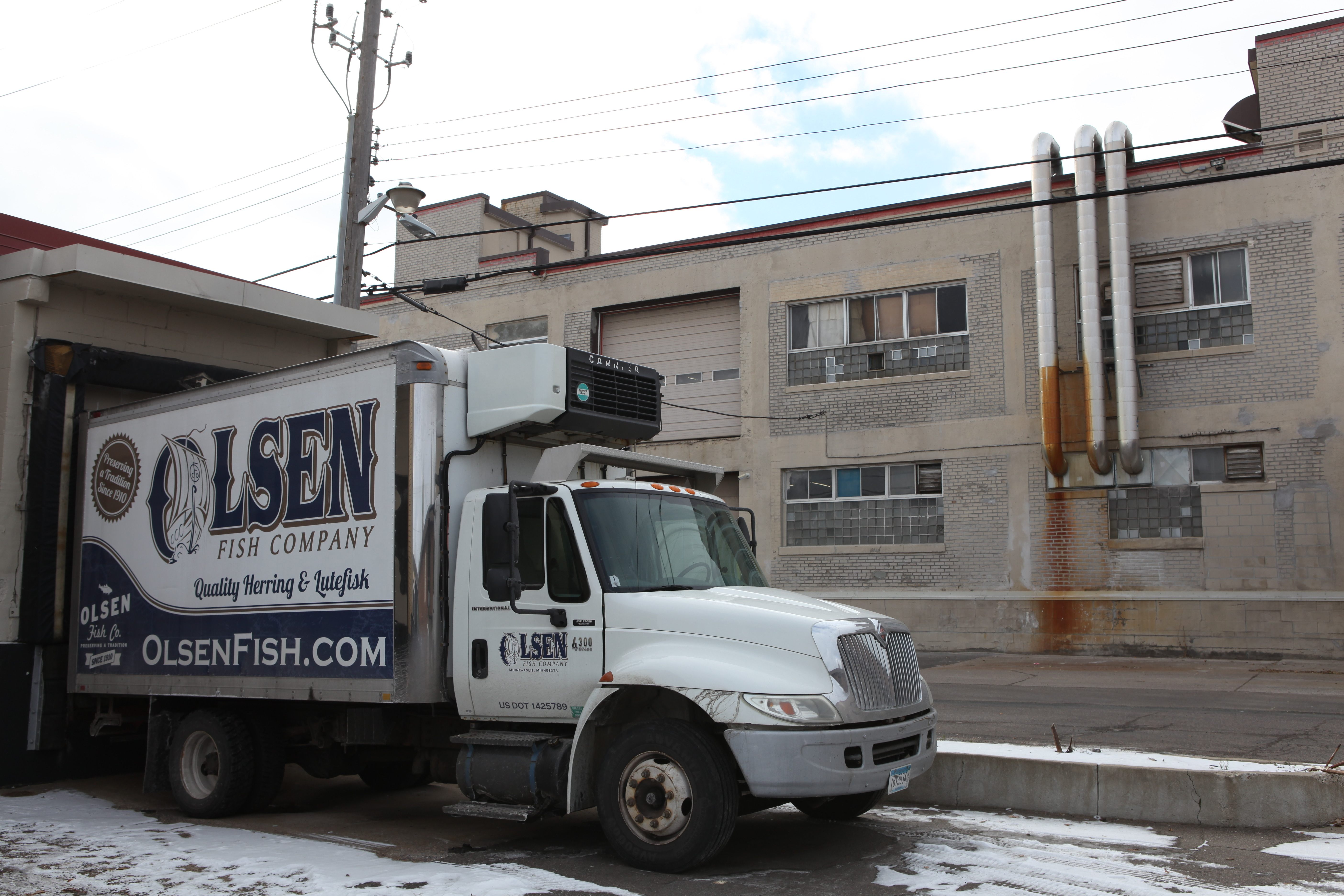 While fragrant, lutefisk was practical. Early Scandinavians needed protein during their long, cold winters, and lye baths softened dried cod to a chewable consistency. When their descendants—including Olaf Olsen and John Norberg, the Norwegian founders of Olsen Fish Company—came to America, they brought lutefisk with them.
Some Midwestern lutefisk fans chow down on the food year-round. But more commonly, it's eaten during the midwinter, particularly at Nordic fraternal lodges and Lutheran church suppers. Much of it is sourced from the Olsen Fish Company, which is North America's largest lutefisk factory. Yet Olsen is one of just a handful of companies still making it: a sign of the delicacy's decline in popularity.
Olsen president Chris Dorff says the factory produces approximately 400,000 pounds of lutefisk per year. This might sound like a lot, but it's not for Olsen. "In the late '90s, we were probably [selling] half a million pounds," Dorff says. 30 years ago, Sobasky adds, that number was closer to 800,000.
Olsen's lutefisk sales are currently slipping at an annual rate of roughly six percent per year. On the whole, Scandinavian-Americans are gradually eating less lutefisk. Lutefisk's wane can be chalked up to the old guard dying out as younger generations eschew it for tastier alternatives. Other factors include marriage to spouses not reared on lutefisk, and a decline in church attendance (meaning fewer Lutheran lutefisk suppers).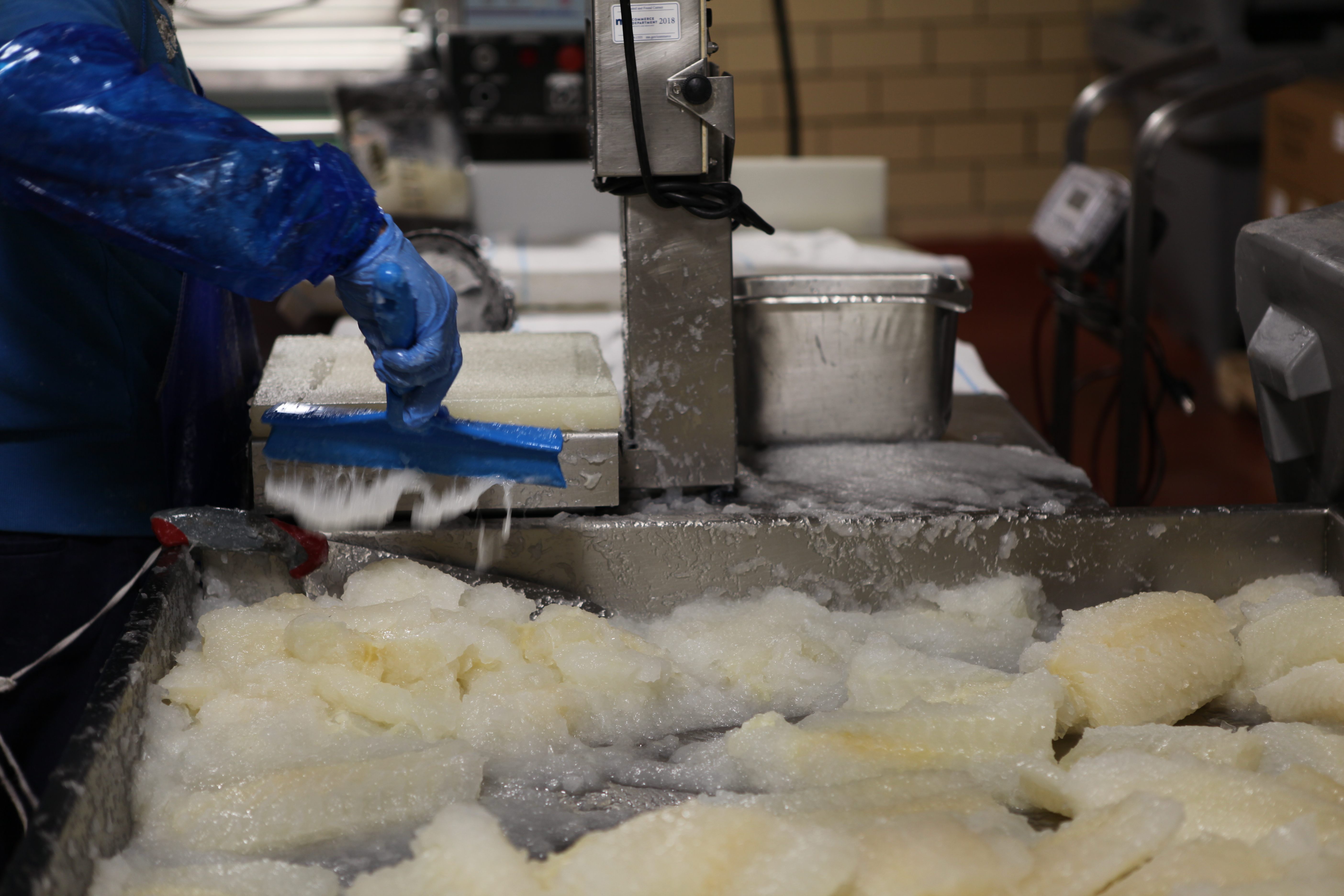 Though the future of its signature staple is unclear, Olsen Fish Company's bottom line is still strong. As of November 2018, the 18-person business was raking in millions of dollars annually, with lutefisk comprising only 10 to 15 percent of the pie. Most of these sales are herring, which Dorff says appeals to a wide range of buyers. But he chalks up Olsen's current success to Nigerian-Americans and other West African newcomers. These customers are swiftly supplanting Scandinavians as Olsen's core customer base, guaranteeing as much as 25 percent of their income. Yet Olsen's Nigerian clientele aren't buying lutefisk or herring. Instead, they prefer the dried fish used to make lutefisk.
The reason for why goes back centuries. On northern Norway's Lofoten Islands, fisheries have long dried fresh cod on wooden racks in the Arctic wind. This desiccation process takes several months, and results in preserved cod, or stockfish. Stockfish can be bathed in lye, becoming lutefisk, but Norwegians also export it sans chemical soak.
Stockfish was nutritious and hardy. It would "remain viable for years and when soaked in water would be reconstituted basically to its original state when caught," explains Terje Leiren, professor emeritus of Scandinavian Studies at the University of Washington. This made it ideal for long sea voyages, thus indelibly tying it to the transatlantic slave trade—and to Norway, which was once part of a dual monarchy with Denmark. During voyages to the Danish West Indies, today's United States Virgin Islands, stockfish-laden ships would stop in Nigeria.
Many centuries would pass, though, before stockfish became a West African mainstay. The turning point was the Nigerian Civil War, a bloody conflict in the late 1960s that triggered a humanitarian crisis. Norway shipped "many tons" of stockfish to the eastern secessionist state of Biafra to ease malnutrition, says Moses Ochonu, a professor of African history at Vanderbilt University.
Famine or no famine, stockfish fit into the preexisting culinary tradition. "This kind of intense, slightly fermented flavor was already part of traditional Nigerian cuisine," Ochonu says. While fermented beans and nuts are used in dishes across the country to supply the desired taste, stockfish's unique, pungent flavor can't be provided by locally caught fish. Even better, it's a protein source that keeps without refrigeration. (That said, Ochonu specifies, stockfish is still more common in eastern Nigerian food than in western and northern Nigeria.)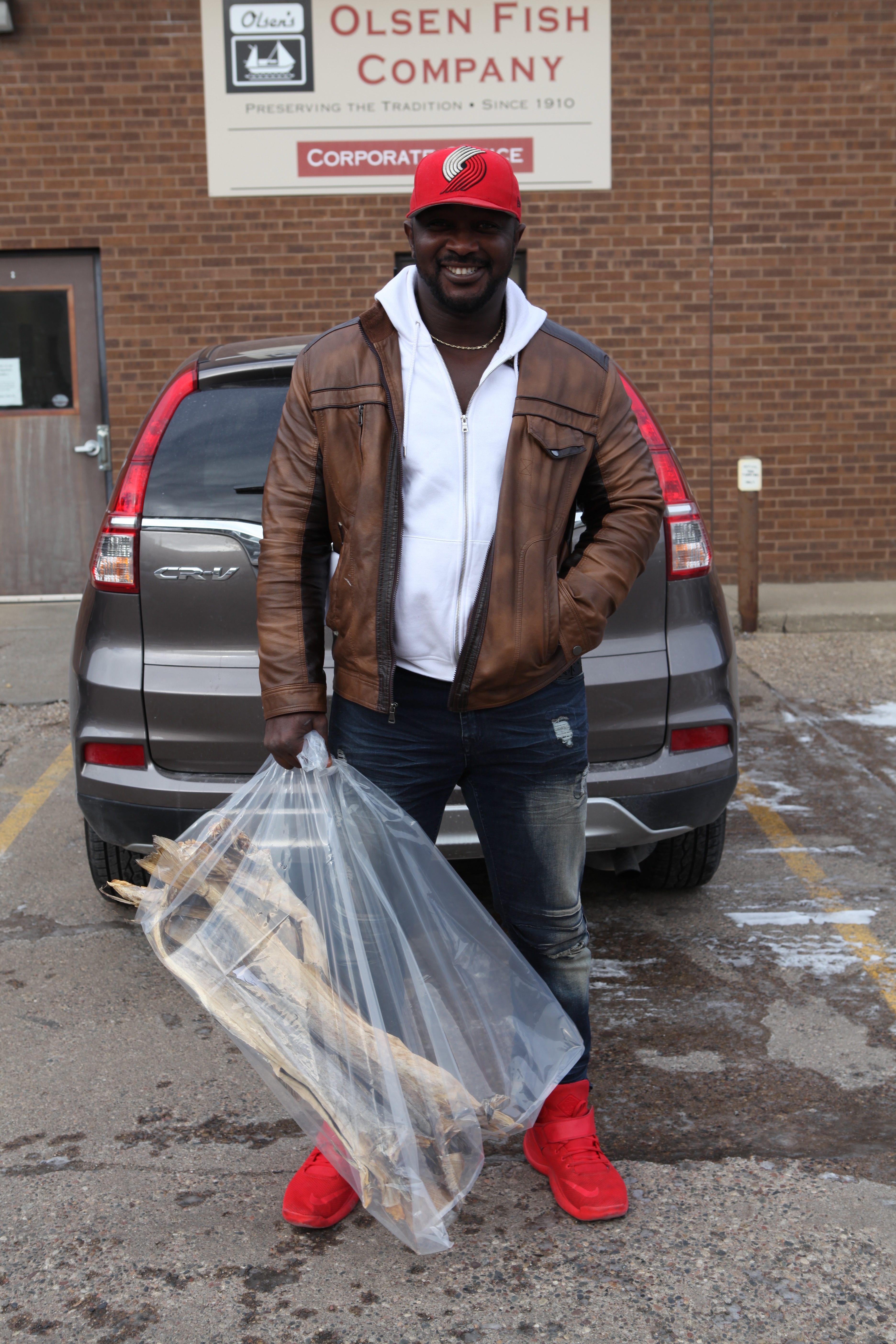 Today, stockfish is an essential ingredient in Nigerian cuisine, although for some it conjures painful wartime memories. Still imported from northern Norway, it's cut into chunks, softened in boiling water, and used as a base for Nigerian soups and sauces such as efo riro, spinach soup, edikang ikong, a vegetable soup, and egusi, a soup made with melon seeds.
The Norwegian fish has caught on in other West African countries, too—and when chefs from the region move to the United States, they naturally want to recreate their favorite stockfish dishes. Some buy their fish from African grocery stores. Others rely on purveyors such as Olsen, which first began carrying stockfish nearly 20 years ago after a Nigerian local expressed interest. The gamble ended up paying off in the long run. "Stockfish sales are going up quicker than the lutefisk sales are going down," Dorff says. "It's becoming a big part of what we do."
Twin Cities resident Precious Ojika, who left Nigeria in 1989, had been ordering stockfish from Houston, Texas. Then, she discovered a purveyor in her own backyard. Hip to their shifting base, Olsen Fish Company had secured a booth at the Minnesota IgboFest, an annual Nigerian cultural event. Ojika spotted them there, and realized she "only had to drive 10 miles and pick it up. It was a dream come true." Even though demand for Olsen's premier product is on the wane, the company's spirit is still alive and well. As always, it continues to serve immigrants homesick for familiar foods.
But while the future looks bright for the Olsen Fish Company, what's the forecast looking like for lutefisk? It might not be selling much, yet its timeless quirk factor may ensure it sticks around among Scandinavian-Americans. "Lutefisk is the weird uncle in the room," says Gary Legwold, author of The Last Word on Lutefisk: True Tales of Cod and Tradition. Scandinavians are stereotyped as stoic, he says "but just drop the word lutefisk—all you have to do is say the word—and suddenly the room perks up." Though the jokes may start flying, Legwold concludes they will always lead to reactions of "Oh, I gotta try that."
Gastro Obscura covers the world's most wondrous food and drink.
Sign up for our email, delivered twice a week.