Glass Dresses, The Fairytale Fashion Trend That Never Quite Took Off
The World's Fair showstopper highlighted the appetite for mingling science and apparel.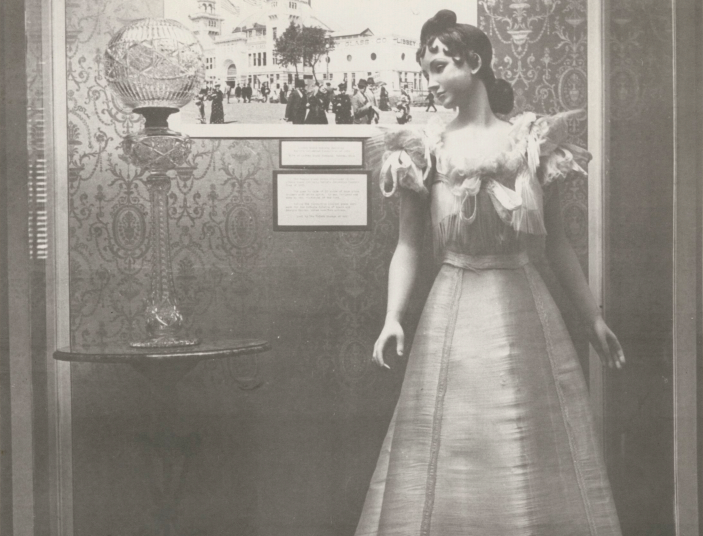 The Libbey Glass Company was facing stiff competition. It was the summer of 1893, and as many as 27 million people were shuffling through the World's Columbian Exposition in Chicago. They pressed in to gawk at the grand plaster buildings rising above Lake Michigan—meant to evoke ancient Greece and Rome—or marvel at new-fangled neon lights. The grounds were crammed with the old and the new, from recreations of ancient Egyptian temples to an early prototype for a fax machine. (Those crowds were also among the first to encounter a moving sidewalk, pancake mix, and elongated souvenir pennies.) In all that hubbub, it paid for exhibitors to have a gimmick.
The Libbey Company's so-called crystal palace on the Midway Plaisance was not short of gimmicks. The Toledo, Ohio, glass company had built a soaring pavilion, with a 100-foot glass dome that also served as a chimney for the glass furnace inside, where guests could watch the molten material be worked into gleaming vases and lampshades. Trouble was, no one seemed especially interested.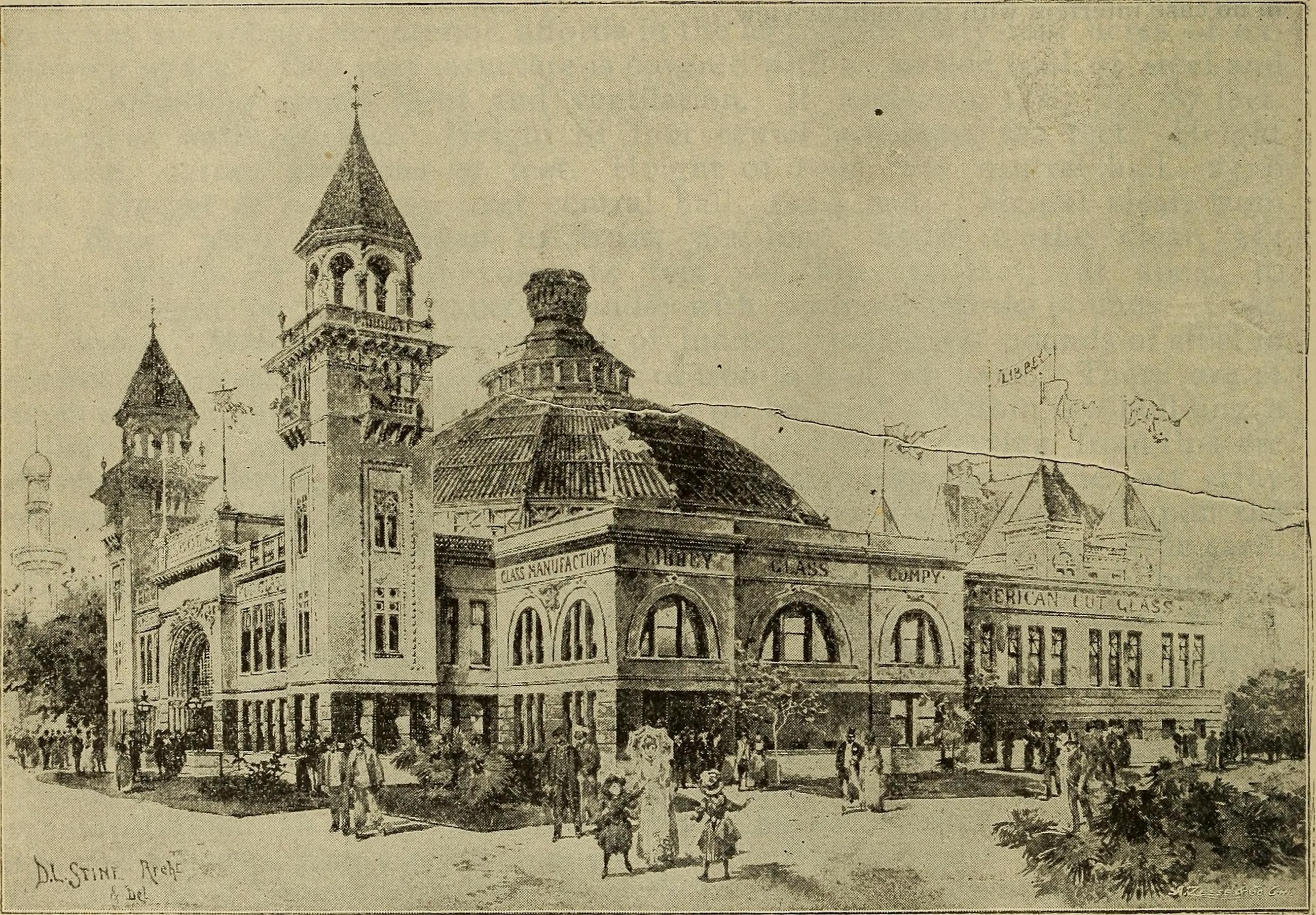 To drum up enthusiasm, the organizers changed from free admission to a 10-cent price tag, which they soon pushed up to 25 cents. Something worth paying for was something worth waiting for, they reasoned. And soon enough lines were snaking out of the building. Attendees were able to put their admission fees toward Libbey-branded souvenirs, especially novelties such as neckties and dolls that incorporated spun glass. Visitors also queued up to be awed by the centerpiece: an evening gown made from threads of glittering glass, custom-made for American stage actress Georgia Cayvan.
For Libbey, the exhibition was a chance to show off their inventiveness, "not only what they usually did, but amazing, unheard-of things they could do with glass," says Rebecca Hopman, outreach librarian at the Rakow Research Library of the Corning Museum of Glass.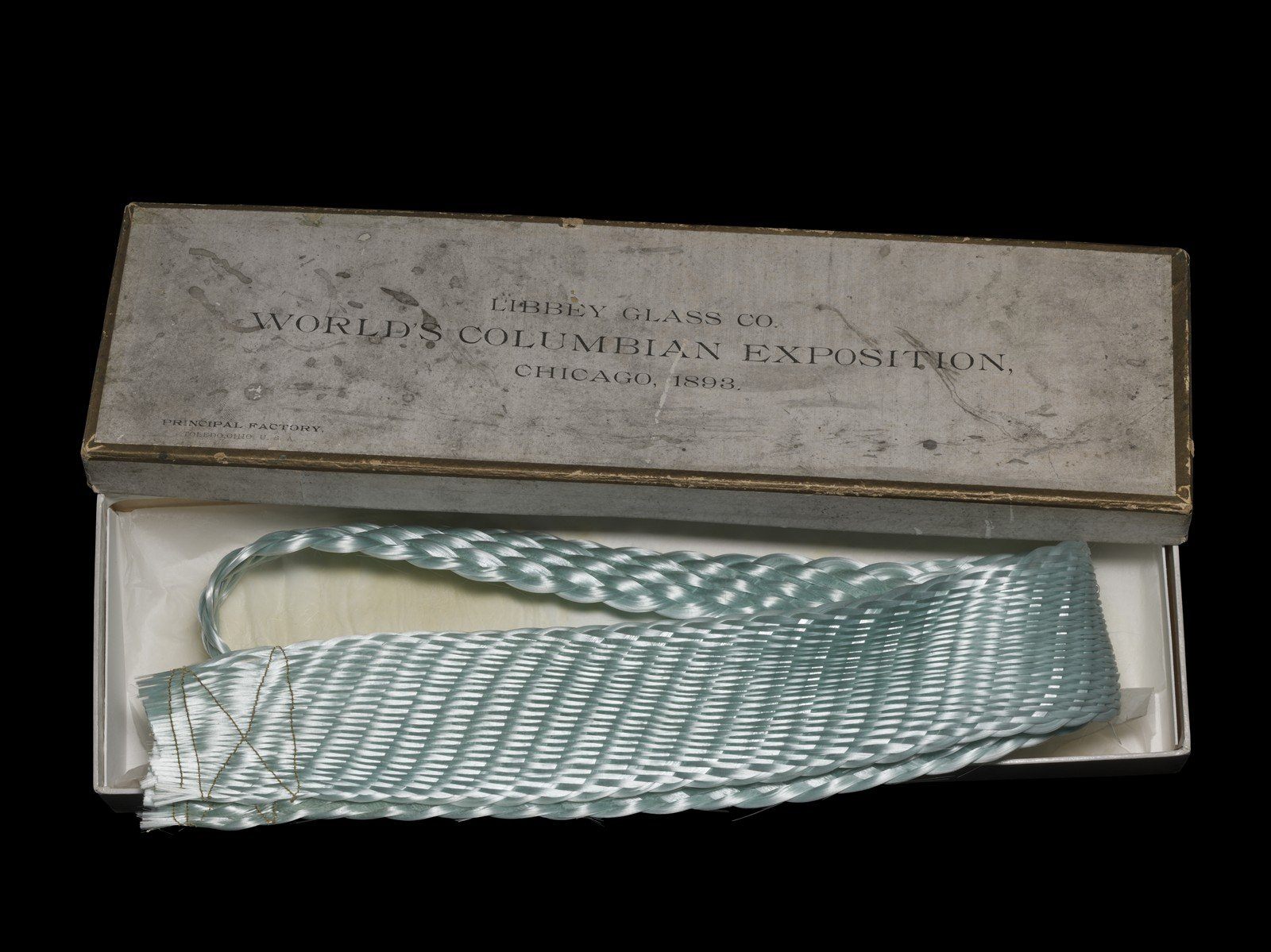 When Eulalia, the Infanta of Spain, laid eyes on the gown, she knew she had to have one. In her memoirs, Eulalia bemoaned being a royal—one chapter was titled "The Irksome Duties of a Princess"—but she had regal taste in clothing. So she commissioned one from Libbey.
To "spin" these glass fibers, a glassworker used tweezers to pluck filament after filament from a rod dipped into a flame. These threads were often wound onto a wheel and then woven on hand looms, dressed with some organic fiber to cushion the fragile glass. According to Charlotte Holzer, a textile conservator who studies glass clothing, the ties and belts were fashioned by gathering bunches of fibers into braids. Dresses like Eulalia's weren't boxy sheaths made from pieces of glass, but rather consisted of very thin strands mingled with other fabrics, such as silk. The garment would have been shiny and fragile, but not so brittle that it would shatter at the slightest touch.
An advertisement on view in Curious and Curiouser: Surprising Finds From the Rakow Library, an exhibition at the Corning Museum, details the particulars of her outfit. A team of workers spent more than 67 hours spinning and weaving to create a gown that weighed nearly 14 pounds—not counting the dangling trimmings—and carried a $2,500 price tag. Eulalia was so enamored with the result, the story goes, that she granted Libbey the right to print the Spanish coat of arms on their advertisements, quite a seal of approval.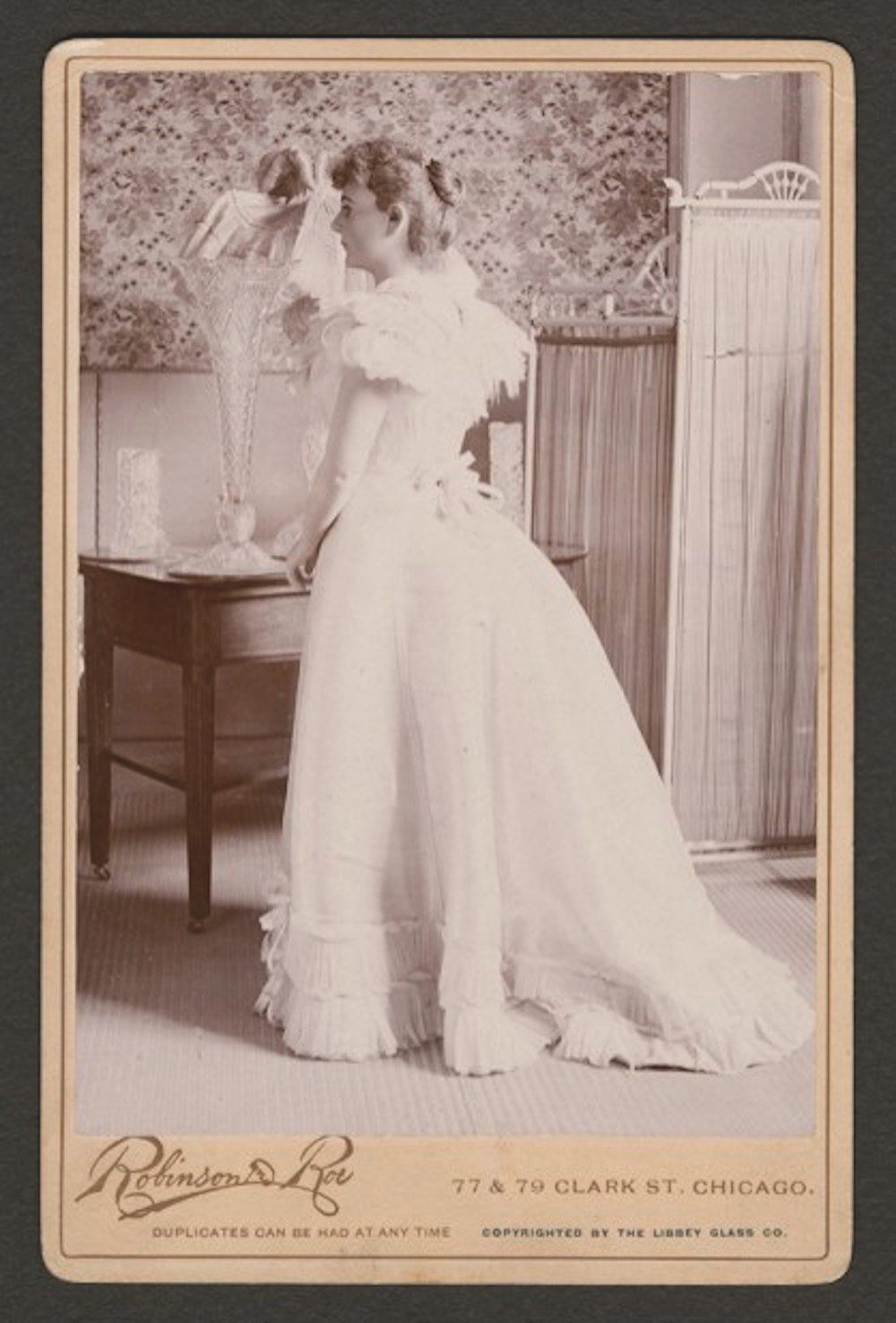 European royals had long been fashion trendsetters, so one would not be surprised that Libbey and other exhibitors thought that their "fiberglass" clothes could be the start of something new. Today, it's hard to picture what we know as fiberglass as a component of clothing. "We know it for insulation, or hulls of boats," Hopman says. "We think of it in a more industrial kind of way." At the time, though, when it was woven with other soft, shiny fabrics, some people "thought that fiberglass clothing was going to be this new big trend."
Newspapers agreed. Even before glass clothes captivated fairgoers in person, U.S. papers were reporting on experiments overseas. "It may seem a transparent falsehood to state that people wear glass clothing," San Francisco's Daily Evening Bulletin quipped in 1879, describing glass cuffs, collars, and veils said to be spun in Vienna, "but this sort of apparel may yet come into use." After the fair, papers extolled glass fabric's many virtues. Women who wore it would be "quite independent of the cleaner and the laundress," they promised, because the glassy garments just needed a quick scrub with soap and water. Wool made with glass fibers was "lighter than feathers," another paper added, and "cannot be distinguished from the genuine article."
A Pittsburgh paper reported that three local ladies had ordered glass outfits, and an Indiana daily noted that spun glass bonnets were "being turned out by the thousand by a Venetian firm." And, as ballrooms became illuminated with electric bulbs, women's gowns were often ornamented with crystals, satin, and other fabrics and accents that could catch and scatter the light. Glass fibers fit right in.

By the early 1900s, displays of glass garments traveled to department stores in Cleveland, Toronto, Chicago, and Detroit, where they stood in windows alongside some of the equipment—pots, iron molds, sand, lead—needed to produce them. One trade journal estimated that curious shoppers spent as much as 20 minutes gawking at a glass dress, which was modeled by a mannequin bearing a strong resemblance to the actress Maxine Eliot, who was said to have worn the garment on stage.
But Sarah Byrd, a fashion historian and instructor at the Fashion Institute of Technology, suspects that there wasn't much of a real-world market for these clothes. The dress served a different purpose, she says, in "a moment of scientific explosion when it comes to synthetic fibers." Silk was luxurious and valuable, but expensive and susceptible to pests. Textile makers and the general public were eager for cheap, durable alternatives.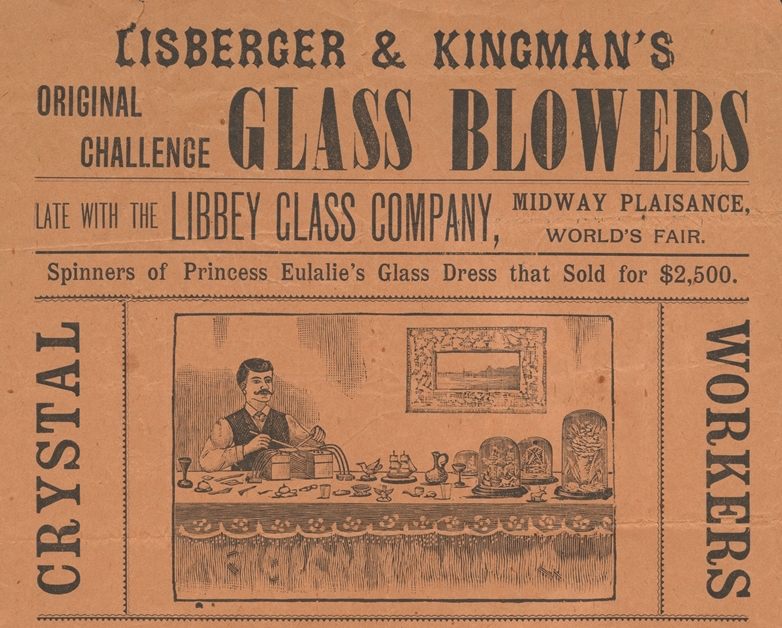 Over the coming decades, synthetic materials blossomed and then reigned. The early 20th century saw the development of rayon—made from cellulose—and then nylon, the first wholly synthetic fabric. Marketing materials often variously trumpeted its similarity to the material it mimicked and its wondrously unnatural origins, Byrd says. The fascination with fiberglass dresses presaged the textile innovations that really did revolutionize fashion.
Eulalia's sister donated her glass dress to the Deutsches Museum in 1924, but it didn't hold up well. By the time Holzer examined it in detail a few years ago, it was pocked with holes and covered in grime. (She speculates that the poor condition could be, in part, a consequence of damage sustained during World War II, when its storage facility was a hard-hit bomb shelter.)
The glass dress never became as ubiquitous as nylon stockings, but it is a wearable distillation of the excitement about science that brought nearly one in four Americans to Chicago in 1893 for awe-inspiring glimpses of the past and the future. And, before long, synthetic textiles would be hanging in just about every closet in the country.