Why Fighters Stare at Each Other So Intensely at the Pre-Bout Weigh-In
The art of defeating your enemy with your eyes.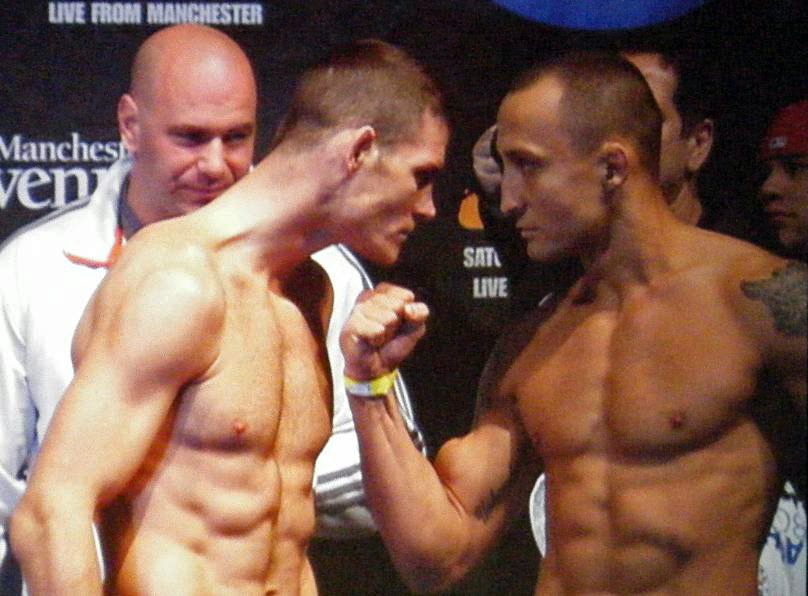 On the night of December 30, millions of mixed martial arts (MMA) fans around the world will watch fighters "Rowdy" Ronda Rousey and Amanda "Lioness" Nunes pummel the living daylights out of each other as they battle for the women's bantamweight title in the Ultimate Fighting Championship league.
For many fans, however, the real drama happens today at the weigh-in, with a ritual that has come to be commonplace before MMA and boxing bouts: the staredown.
The concept of the staredown is pretty self-explanatory: fighters, typically mere inches apart, stare into each other's eyes while the press and fans gawk. Photos are taken, and posturing ensues. Combatants may be aggressive, playful, serious, menacing, theatrical, sloppy, happy, foolish, bored, or all of the above. Whatever they are, they're usually entertaining. In fact, many MMA fighters have come to be known as much for their staredown antics as their fighting success.
The performance originated in boxing, from which professional MMA has drawn so much of its promotional and organizational structure. According to Eric Raskin, a veteran boxing writer and a former editor of Ring Magazine, archive photos from the '30s and '40s show boxers doing early forms of the staredown: fighters standing in various poses, turned toughly toward each other or the camera. He speculates that the modern form took off because it made for more compelling pre-fight publicity shots.
"If [fighters] are staring at each other from two feet away, you get this big dead space in the photo and it doesn't work as well," he says. "So somewhere along the line someone was nudging these fighters to get closer, get right up in each other's faces."   
When former UFC lightweight brawler Tyson Griffin starting competing in 2006, he didn't really care about staredowns. His staredowns were largely tactical; he would focus on his opponent's chin to help him visualize where to land his punches. As he took on more and more opponents, however, he started to appreciate the psychological benefits that came from a good old-fashioned hard stare. He's come to believe that "you get to learn a lot about people just by looking in their eyes." A quality staredown, Griffin says, involves "two fighters that have trained hard, are hungry, and want what the other person has." The staredown is an opportunity "to look into this guy's soul and see who it is I'm fighting."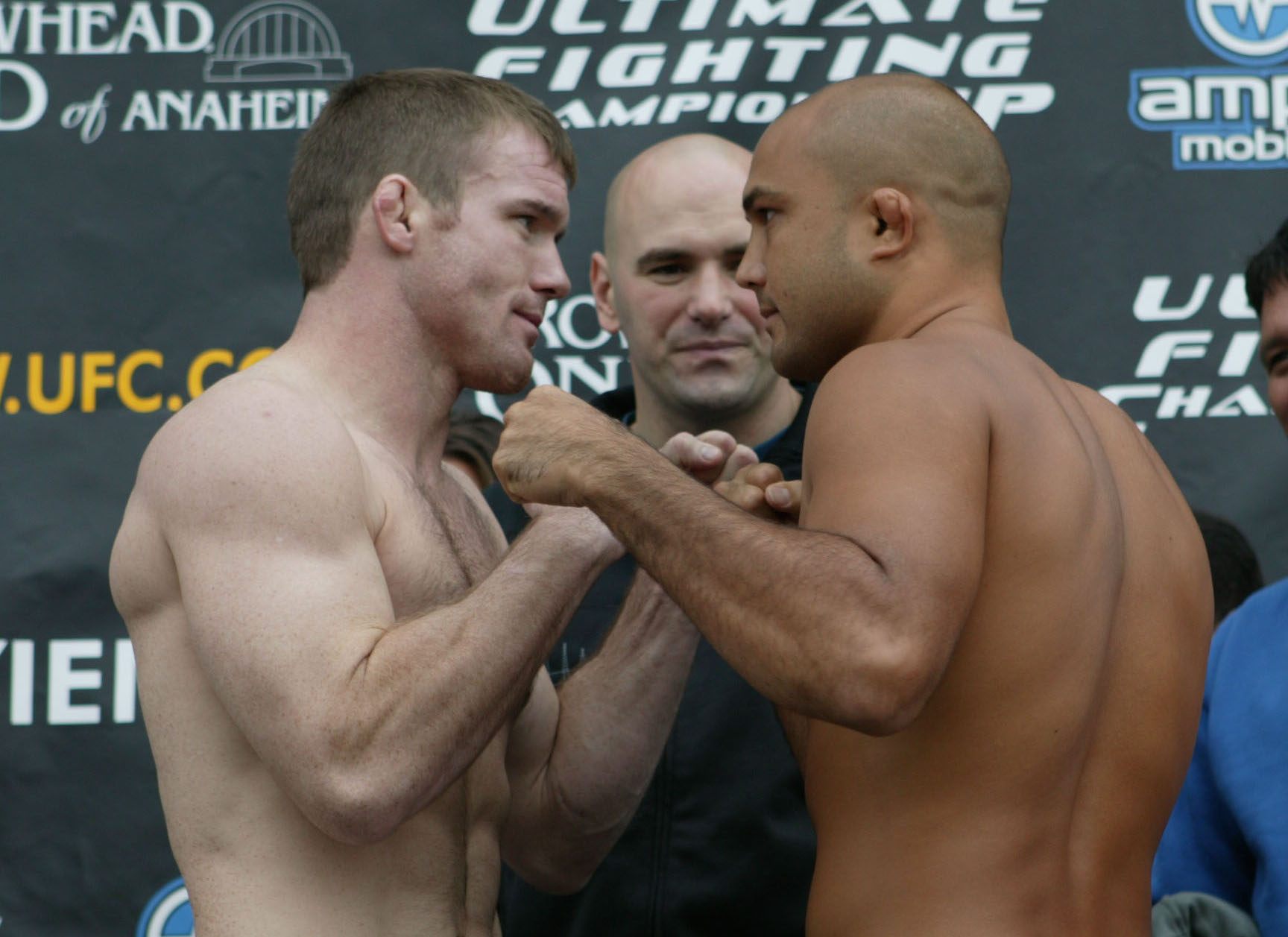 For MMA writer Eugene Robinson, the ideal staredown is like a seduction. "It's a very gentle dance, where you lull the opponent in, eliminate the physical distance, get some sort of intimate comfortability—and then turn on the steel. If you pull that off, it's pretty wonderful," says Robinson, author of the book Fight: Everything You Wanted to Know About Ass-Kicking but Were Afraid You'd Get Your Ass Kicked for Asking.
"You try to be a silverback gorilla," says Robinson; animals and other carnivores (including humans) will want to run for cover. A quick journey through YouTube will confirm this observation: input "MMA staredown" into the search field, and watch the shit-talking, scowling, and other conspicuous displays of dominance roll.
Professional fighter Ilima-Lei Macfarlane—fight name "The Iliminator"— doesn't put much stock in the staredown, however, apart from its potential hype value. The flyweight, who fights for Bellator (a rival MMA league to UFC), smiles during her staredowns. "I'm a friendly person. I've never been a shit-talker or have animosity toward my opponents, so it's just natural for me to smile when I stare at them."
Macfarlane acknowledges that most fighters probably don't share her philosophy—especially Rousey, who is well known for going wild at her staredowns. A fighter's performance is often judged against his or her level of staredown intensity (or insanity). The greater the disconnect between them, the greater the scorn.
As an example, Macfarlane cites the 2014 bout between Julian "Julz the Jackal" Wallace and Ben Nguyen. During the weigh-in, Wallace tried to aggressively intimidate a nonchalant and smiling Nguyen; less than 30 seconds into the fight, Nguyen knocks his tormentor out. A video of the staredown and the comeuppance has over 20 million views on YouTube. "People were like, Look at this guy trying to be all hard. And then he ends up getting knocked out," says Macfarlane.  
"I think that all your talking should be done inside the cage," she says. If she had to choose a favorite staredown technique, however, she prefers ones that are clever, like the staredowns by Sean O'Connell, whose moves have included playing rock, paper, scissors and taking a selfie with his opponent. Despite her own lack of interest, she readily admits the media value of dramatic staredowns. "Of course, [MMA] is a business and you need to sell the viewers and get people excited to watch."
Accordingly, it makes sense that UFC president Dana White has called the staredown his "second favorite thing" after fights. In a 2013 blog post on BJPenn.com, a popular MMA news site, writer Christopher Murphy explained how the UFC has seized on the staredown's hype potential: "What had typically been limited to an event with press and media, the UFC transformed into an arena-filling event for fans. They stream it online for millions of viewers, and weigh-ins have even aired live on network television."
In boxing, staredowns have long been used as viewer-pumping performances. Many of Mike Tyson's staredowns in the 1990s and early 2000s were SportsCenter ratings gold and undoubtedly contributed to the huge purses paid out for his fights. Tyson could also take things too far, to put it mildly. Raskin points to the press conference for Tyson's 2002 fight with Lennox Lewis: a brawl broke out between the fighters' entourages, and Tyson allegedly bit Lewis's leg during the melee. It's not in fighters'—or Pay-Per-View executives'—interest to have injuries before a bout, however, so non-scripted scuffling is rare.  
Whatever its publicity value, the staredown can evoke something much deeper than just pre-fight hijinks for some fighters. "It's an incredibly powerful experience. It underscores how much we have nonverbal conversations," says Robinson, who compares the ritual to Marina Abramović's 2010 work of performance art, "The Artist Is Present." Over a two-week period, Abramović famously logged 700 hours staring at volunteers willing to return her silent gaze from a chair at the Museum of Modern Art. "I like the idea of having a staredown competition without the fight."
Griffin takes a similar view of the staredown's relevance. In his opinion, the staredown in MMA or boxing is just an exaggerated version of real life. "Our bodies and brains are so similar it doesn't even matter if it's a competition for combat or two salesmen at a car lot," he says. Whenever humans go up against each other, a staredown is sure to follow. "A staredown happens every day in the streets."