What We'll Do
This course has already started! However, you can still join if you'd like to (and we hope you will!). Students enrolling after the course start date and time will have access to a recording of the first session (which will be emailed to participants within 72 hours) as well as the option to attend remaining sessions live. Please select the "Join Late" ticket type to enroll after the course has begun.
In this four-part lecture series, we'll explore colors as ever-changing social phenomena, tracing how they've evolved, taken on new meanings, and impacted societies throughout history.
Course Description
What is color? An effect of the eye? Of the brain? Of nature itself? Color is all of these things, but in this course, we'll explore the ways in which color is above all social—a direct product of history and culture. Join historian Carolyn Purnell in tracing the long history of colors in an attempt to learn more about the present, and ultimately, about ourselves. We'll start in the ancient world, where the sky wasn't blue and where one could use the same color word to describe honey, plants, and frightened human faces. Then we'll pivot to the eighteenth and nineteenth centuries, when new color technologies threw the visual and social world into chaos. This so-called "color anarchy" gave rise to a new consumer wonderland as well as new forms of class upheaval, environmental destruction, and scientific racism. We will also investigate the modern phenomena of color trademarks, color forecasting, and color psychology, asking whether, for example, yellow really does connote sunshine and happiness. By the end of our time together, we'll have a more nuanced understanding of the exceptional power colors have held across societies, and see how the meanings given to them aren't as universal or timeless as we may have been led to believe.   
Syllabus At A Glance
This course includes four total sessions, each lasting 1.5 hours on four consecutive Wednesday beginning February 15.
Session 1 (Wednesday, 2/15, 6:30–8:00 PM ET): Whose Hue? 
Color, as we know it, is a modern invention. This session will investigate the history of color prior to the 18th century and reveal the radical differences between our own assumptions about color and those of people in the past.
Session 2 (Wednesday, 2/22, 6:30–8:00 PM ET): The Color Revolution
The eighteenth and nineteenth century witnessed unprecedented technological, social, and economic changes that flooded streets with brilliant, cheap colors—some of which had never been seen before. Many people embraced this new colorful world, but others were afraid of the so-called "anarchy of color" that threatened to upend life as they knew it.
Session 3 (Wednesday, 3/1, 6:30–8:00 PM ET): Owning Color
Why were home appliances avocado green in the 1970s? Why were all major retailers pushing "millennial pink" a few years ago? Modern color is big business, and this session will cover color trademarks, the rise of color forecasting, and Pantone's ascendancy. We'll also discuss consumers' evolving relationships with specific colors.
Session 4 (Wednesday, 3/8, 6:30–8:00 PM ET): Real and Imagined Colors
People often talk about color symbolism as if it's universal (e.g. "red is passionate"), when, in fact, it's culturally and historically specific. We'll explore how modern color psychology came to be, how colors intertwine with our memories, and how, according to some philosophers, color could hold the key to world peace.
Between Sessions
Outside of class, students will be encouraged to complete optional activities assignments related to class content.
Pricing Options
This course is available at three ticket prices. This tiered pricing model is designed to increase access for a wider range of students as well as to support our instructors. In addition to tiered tickets, we offer a limited number of no-pay spots for students who would not otherwise be able to take this course. No-pay spots are selected via a randomized drawing two weeks before each section begins. For more information and to apply for a no-pay spot, please click here. To learn more about our pricing model and randomized selection process for no-pay spots, please visit our FAQ page.
Community Guidelines for Students
Please take a moment to review our community guidelines for students, which aim to share our classroom ethos and help set the stage for the best possible learning experience.
Atlas Obscura Online Courses
Our online courses offer opportunities for participants to emerge with new skills, knowledge, connections, and perspectives through multi-session classes designed and taught by expert instructors. Courses can take one of two forms: Seminars are intimate, interactive classes—capped at nine to 25 students—exploring topics and crafts through discussion, workshops, assignments, and in-class activities. We also offer lecture series that can be attended live, or viewed via a recording that will be shared within 72 hours after each session airs. Class recordings for lecture series will be available with a temporary password for up to two weeks following the final session of the course.
To learn more about our current course offerings, please visit www.atlasobscura.com/online-courses.
For answers to commonly asked questions, check out our FAQ page here.
Where We'll Be
Once registered, you'll receive a confirmation email from Eventbrite that will provide access to each class meeting. Please save the confirmation email as you'll use it to access all sessions of your course via Zoom.
About Your Instructor
Carolyn Purnell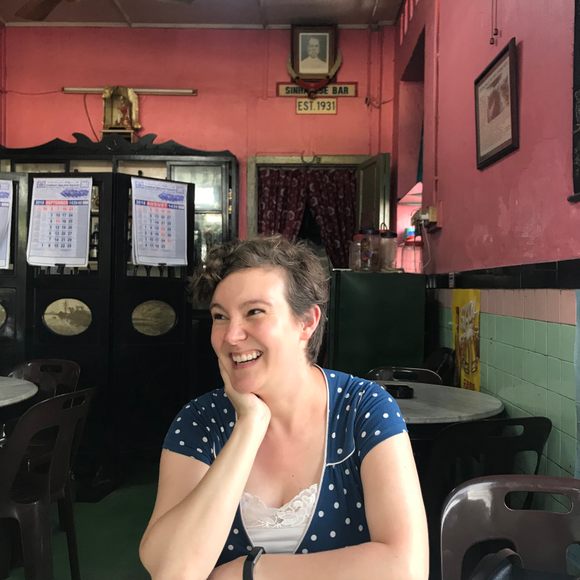 Carolyn Purnell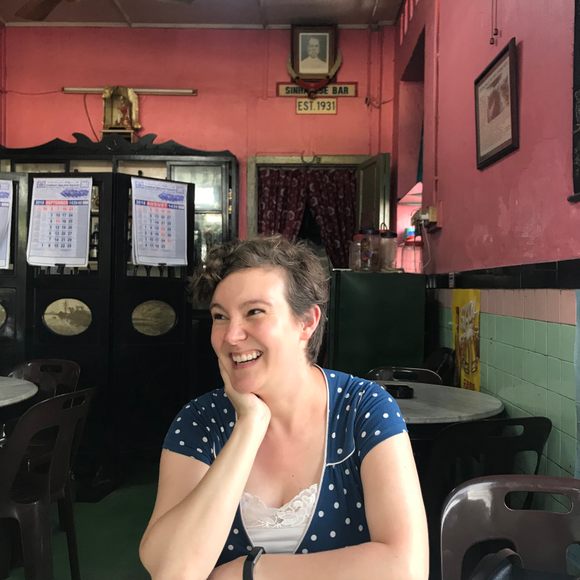 Carolyn Purnell is a historian, writer, and lover of all things colorful. She is the author of Blue Jeans (forthcoming, 2023) and The Sensational Past: How the Enlightenment Changed the Way We Use Our Senses (2017). Carolyn earned her Ph.D. in history from University of Chicago, and her work has appeared in publications including Psychology Today, Wall Street Journal, CityLab by The Atlantic, Good Housekeeping, and Apartment Therapy. She has received fellowships from the National Endowment for the Humanities, Huntington Library, Georges Lurcy Foundation, Brown Foundation of Fellows, and French Society for Historical Studies. Carolyn has also worked as a ghostwriter for some interesting folks, but you'll have to take her word for it since it's all hush-hush. 
What Else You Should Know
This lecture series is designed so students can participate live or watch a recording of each session, after it airs, at a time that is convenient for them. Sessions will take place live over Zoom, with dedicated Q&A segments for students to ask questions via video or chat. Within 72 hours after each session meets, students will receive access to a recording of the live session, which they can watch for up to two weeks after the course concludes.
Instructors may use Google Classroom to communicate with students outside of class. While students aren't required to use Google Classroom, instructors may use this platform to post resources, discussion questions, or assignments. This platform also offers a space for students to connect with one another about course material between sessions.
We provide closed captioning for all of our courses and can share transcripts upon request. Please reach out to us at experiences@atlasobscura.com if you have any questions, requests, or accessibility needs.