AO Edited
Chizhik Pyzhik
Perhaps the tiniest sculpture in Saint Petersburg is a little bronze finch inspired by a song.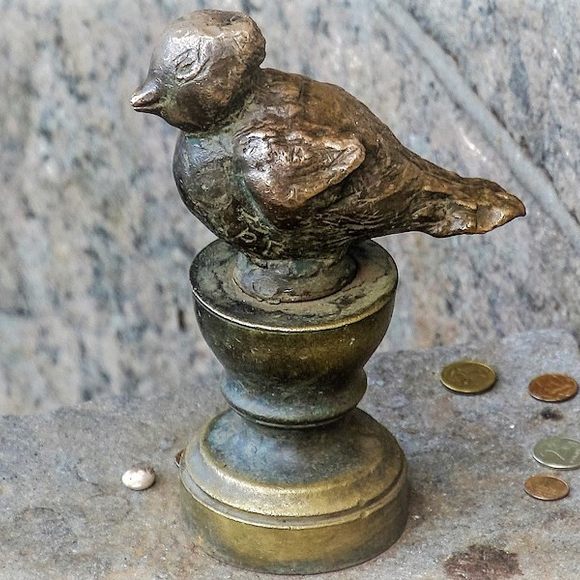 View all photos
Chizhik Pyzhik close-up.
One of the smallest sculptures in Saint Petersburg rests atop a small perch above the Fontanka River. At just about 4.3 inches tall, the little bronze bird is easy to miss, unless you know to look for it.
Chizhik Pyzhik is a sculpture of a siskin, a finch that's found throughout Asia and Europe. Though the artwork is only a couple decades old, it pays homage to a legend that dates to the days of the Imperial School of Jurisprudence.
The law school, which opened in 1835, was located near where the statue now stands. The students wore green uniforms with yellow buttonholes and cuffs, which reminded people of the colors of a siskin's plumage. Their bird-like appearance earned them the nickname Chizhik Pyzhik (chizhik means siskin in Russia).
There was also a beloved, humorous song written about the students, which starts with the lines, "Chizhik-Pyzhik, where've you been? / Drank vodka on the Fontanka." Though the law school has since closed, the rhyme has lived on.
The little bird sculpture was installed above the river in November of 1994, during the Golden Ostap humor festival. It has been stolen several times, though the tiny avian always manages to find its way back. People toss coins at the sculpture, as local legend says coins that successfully land on its perch and don't fall into the river bring good luck.
Know Before You Go
The best way of seeing Chizhik Pyzhik from close-up is to take a river boat tour on Fontanka River. All boats stop at the sculpture.
Community Contributors
Edited by
---
Published
December 22, 2017
---
Edit this listing
---
In partnership with KAYAK
Plan Your Trip
No purchase necessary. Winner will be selected at random on 10/01/2023. Offer available only in the U.S. (including Puerto Rico). Offer subject to change without notice. See
contest rules
for full details.