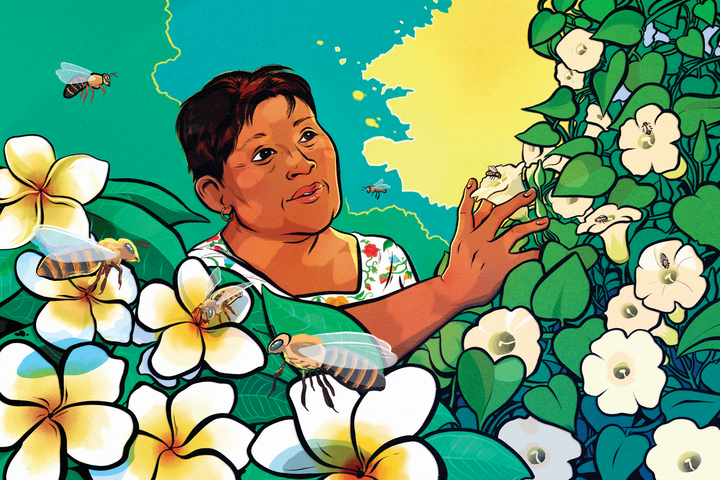 7 Trailblazing Women from Every Continent
In 2022, we traveled the globe to share the stories of powerful warriors, fearless activists, and more.
In 17th-century West Africa, an elite all-female army fought fiercely for the Kingdom of Dahomey. In 19th-century France, female foodies made sure women had a place at the restaurant table. In 20th-century Ecuador, Dolores Cacuango organized the country's first Indigenous peoples march. Records of the past often overlook the contributions of women, but this year, Atlas Obscura traveled around the world to uncover some of their stories. In March 2022, we highlighted many of these pioneers and mavericks in our monthlong celebration of women's history month, Telling Her Story. We also launched a new Q&A series, She Was There, where we meet female scholars who are writing long-forgotten women back onto the page. In this round up, we journey to every continent to share the stories of some of our favorite female trailblazers from the year.
by Gemma Tarlach, Senior Editor/Writer
For centuries, traditional beekeepers in Mexico's Yucatán Peninsula have tended to a tiny, stingless honey bee the Maya call Xunan kab. The sacred animal can be found in stunning temple reliefs and at other ancient sites across the peninsula. But in 2021, these bees and the beekeepers who care for them were on the brink of disappearing forever when the Mexican government permitted Monsanto to plant genetically modified soybeans in the region. When the bees collected pollen from the plants, they became disoriented and many died, alarming traditional Mayan beekeeper Leydy Pech. In a years-long battle against one of the largest agricultural companies in the world, Pech advocated for her community's bees. Her unprecedented success has become a blueprint for many other Indigenous communities facing similar challenges.
by Kimberley Brown
Dolores Cacuango, or Mama Dolores as she is affectionately known today, was one of Ecuador's fiercest activists for Indigenous rights. Born in the Andes Mountains in 1881, Cacuango organized the first Indigenous people's march on Ecuador's capital, created schools, and co-founded the first Indigenous rights organization in the country. Today, Cacuango has largely been forgotten. Textbooks and classrooms rarely mention her name, leaving only Indigenous communities and scholars to remember her many contributions. And yet, Cacuango's fight for Indigenous rights in Ecuador continues today and protestors often can be heard chanting "Mamá Guerrera!" (Mama Warrior) in her honor.
by Sarah Durn, Associate Editor
In 1907, Kathleen Bruce had already begun to make a name for herself as a sculptor. Unlike other women of the period, she wasn't particularly interested in getting married. Then she met Antarctic explorer Robert Falcon Scott. Within five years of meeting, Bruce married Scott, had a child with him, and then, tragically, became a widow. Scott and the rest of his Antarctic expedition team, Edward Wilson, Edgar Evans, Lawrence Oates, and Henry Bowers, perished on their return from the South Pole. The expedition left behind three widows, Bruce, Oriana Wilson, and Lois Evans, to pick up the pieces. In this She Was There Q&A, Atlas Obscura spoke to Anne Fletcher, author of Widows of the Ice: The Women That Scott's Antarctic Expedition Left Behind, about how these women shaped their husbands' legacies and the incredible lives they went on to lead without them.
by Alex Katsomitros
Today groups of female diners are an everyday sight in the world-famous cafes and restaurants of Paris. But that hasn't always been the case. In fact, there was a time when women restaurant-goers were actively discouraged. In the mid-19th century, France developed haute cuisine and eating out became a pastime of wealthy men. Women were largely excluded from the lavish affair, because it was thought that their presence would distract male diners from appreciating their meals. So women defiantly started their own private dining clubs, paving the way for female diners today.
by Line Sidonie Talla Mafotsing, Editorial Fellow
Hollywood seems to love the warrior women from West Africa's Kingdom of Dahomey (modern-day Benin). Viola Davis's The Woman King tells a fictional account of their story. Marvel's Black Panther uses them as the inspiration for Wakanda's elite female army, the Dora Milaje. In this She Was There Q&A, Atlas Obscura spoke with African art historian Lynne Ellsworth Larsen about the evolution of Dahomey's warrior women and their complicated legacy.
by Shoshi Parks
Scientists today remember Isabella Abbott as the "First Lady of Seaweed." A titan of marine biology, Abbott was the first Native Hawaiian woman to earn a doctorate in science. As a child growing up in the 1920s, Abbott and her siblings would comb Honolulu's beaches searching for edible seaweeds. Her fascination with marine plants only grew from there. She went on to write the definitive 1976 book on Pacific Coast seaweed, Marine Algae of California, and became the first woman and the first person of color to become a full professor of biology at Stanford University. Abbott's research revolutionized biologists' understanding of seaweed, and today her work is used as the bedrock for innovative conservation techniques.
by Sarah Durn, Associate Editor
If you hop in a time machine back to 13th-century Mongolia, you might just catch a glimpse of Khutulun, one of the Asian steppe's fierce warriors, descending upon an enemy like a bird of prey. Marco Polo wrote she was "so strong and brave that in all her father's realm there was no man who could outdo her in feats of strength." In this article, we unravel the little-known history behind the steppe's female warriors, a legacy that dates back hundreds of years before Khutulun.