Southern California's Anime-Inspired Food Scene
Fans of Japanese pop culture have opened cafes, pop-ups, and even an ice cream parlor.
THIS ARTICLE IS ADAPTED FROM THE JULY 22, 2023, EDITION OF GASTRO OBSCURA'S FAVORITE THINGS NEWSLETTER. YOU CAN SIGN UP HERE.
I've always found it interesting how fictional food makes its way into the real world. A few years back, I wrote an article about how fantasy-novel food is a cuisine unto itself, and I still regret that I was abroad both times that Denny's had an official Hobbit menu.

A few weeks ago, I was reminded of the existence of another fictional culinary genre: anime food. Over the last few decades, Japanese animation and manga has had a huge influence on global fashion, film, music, and art. I would argue that it's also familiarized people around the world with Japan's popular and regional foods.

I still remember learning about okonomiyaki as a teenager from a beat-up copy of Ranma ½ from the library, and, when I published an article about the history of coffee gelatin, many commenters mentioned that they had learned about this obscure dessert from the anime The Disastrous Life of Saiki K.

YouTube videos and cookbooks abound with recipes and how-tos for making foods from anime and comics, with an emphasis on the spectacular-looking dishes from Studio Ghibli movies such as Ponyo and Kiki's Delivery Service. People are often happy to DIY when it comes to the foods their favorite characters enjoy, but, as it turns out, there are restaurants and cafes in the U.S. that also cater specifically to anime fans.

I learned this fact at a recent anime convention, at a panel called "California Anime Eating & Adventures." The host was Ann T., a Southern California–based cosplayer. When she's not playing the game Fate/Grand Order, Ann is also a Gold Yelp Elite reviewer with hundreds of reviews under her belt.

On her culinary forays across SoCal, Ann noticed an uptick in eateries and businesses based on Japanese pop culture, such as tsun scoops, Asayoru Maid Cafe, and Fujiwara Tofu Cafe. Ann has compiled a list of spots to visit, and recently sat down for a Q&A with Gastro Obscura about the appeal of anime food.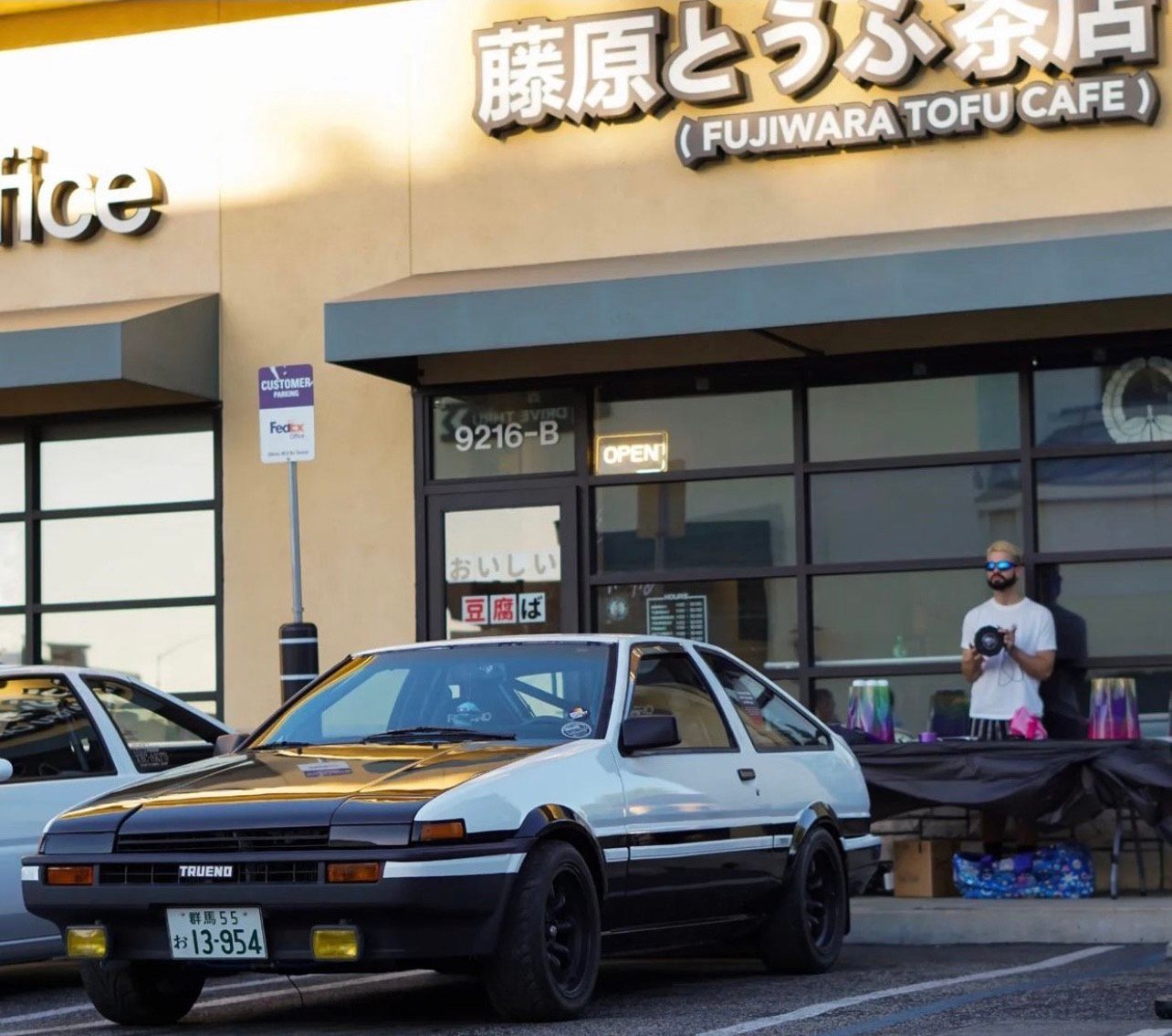 Q&A With Ann T.
How long have you been a passionate Yelper?

For six years. I review everything that I can. It's not just anime-related, but almost every food place I go to: gas stations, rest stops, department stores, et cetera. I'm just that type of person.

But I do really enjoy anime- and pop culture–themed things, and I realize it's hard to find a collection or a dedicated reviewer for that theme or niche.

A lot of those businesses, it takes a while for them to have a Yelp page. So as a Yelp user, you can also add the business there, too, and it's a good way to get them noticed.

During your panel at the convention, you mentioned the Fujiwara Tofu Cafe. And I thought that was so amazing that it even existed.

Fujiwara Tofu Cafe was inspired by, obviously, the original one [the tofu shop from the car-racing manga and anime series Initial D]. At Asayoru Maid Cafe, a couple of the maids studied abroad in Japan. They visited so many maid cafes, not only in Japan, but in Hong Kong and the Philippines, for research. [Note: Maid cafes, which originated in Japan, feature waitresses who dress in traditional maid outfits to serve, perform, and play games with patrons. There are also butler cafes.]

A lot of these, they're great in the sense that the people who run them and spent the money to create them, it's something that they're passionate about. They really put their all in. And you can see it in the food, the service, the decoration, et cetera. It's not as simple as a regular ramen place.
Why do you think people want to open these kinds of businesses in the U.S.?

It's a combination of, "This is something I've loved for a really long time with all my heart, something I'm passionate about," and "I want to share this with other people who love the same thing."

It also creates a community. Some of the events like Anime Expo, they're huge. It might not be so easy to find people who might like the same thing. But these brick-and-mortar restaurants and shops, as well as frequent pop-up events, give an opportunity for this community to build and grow stronger.

Why do you think people want to eat the foods they see in comics or animation?

Number one, it looks really good. If you see any Ghibli animation, it looks very appealing. It's like you can [almost] feel the texture, you can smell it, you can taste it, you feel the warmth. Ghibli is really good at that. Then there's the memories and that warm feeling you can get from certain scenes or characters that are associated with those foods as well.

Beyond brick-and-mortar stores, there's a big anime food pop-up scene in SoCal, right? How do you find out about those?

A lot of it is word-of-mouth. Following a bunch of social media accounts helps as well. On Instagram, if an artist you like is going to vend at an event, and it's going to be at this boba shop or bakery, they'll let you know.

Do you think we'll be seeing more anime food businesses in the future? Is the scene growing?

I do see it growing. It's going to be difficult for sure, but it starts out at these pop-up events. Sugoi Saturday [an anime art and merchandise market] happens almost every month here in SoCal, and they are able to rent the entire Honda Center to do it. It's going to proliferate.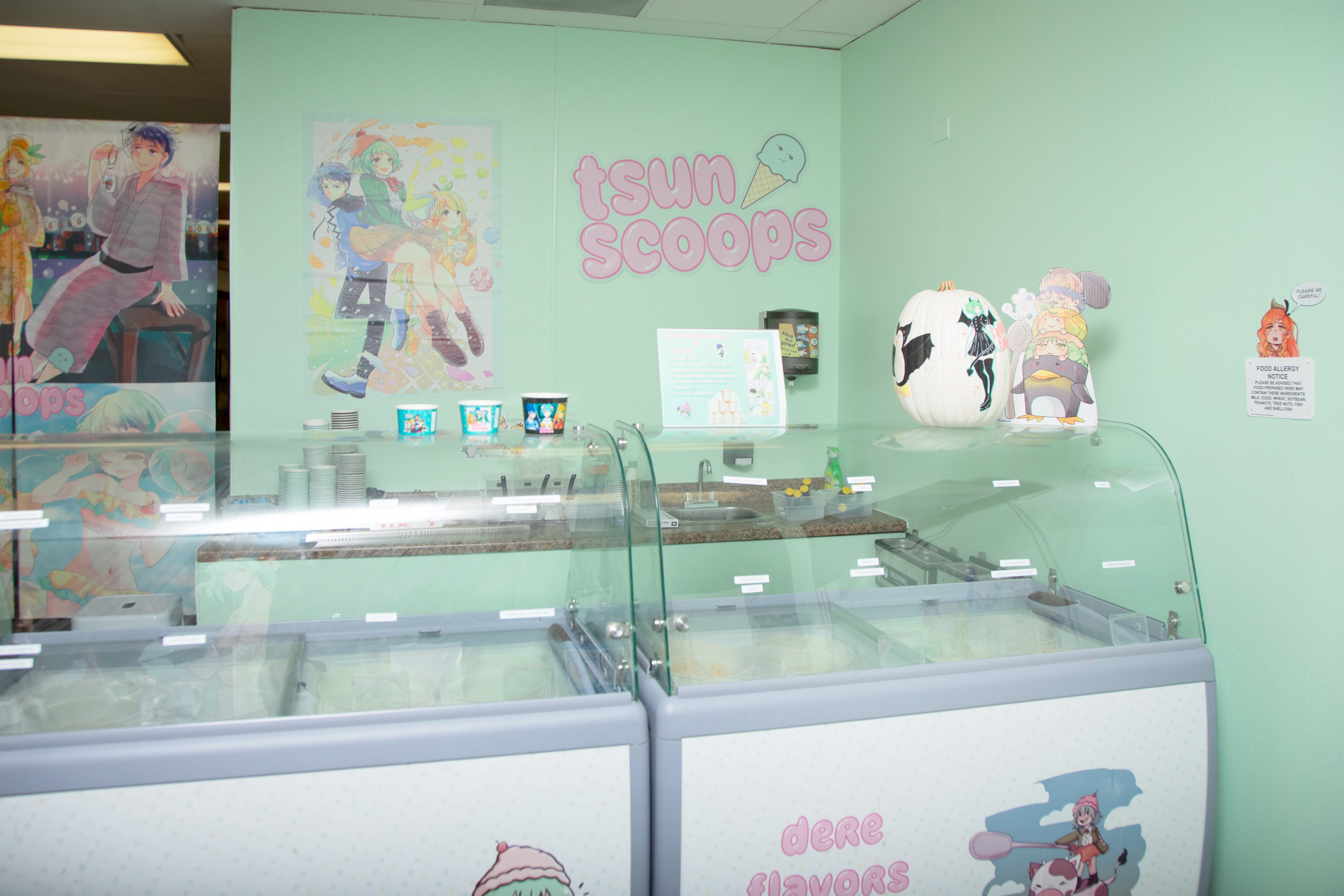 Ann's Recs
Asayoru Maid Cafe
Arcadia, CA

You have to go. It's one of the things I recommend to any anime fan who's visiting SoCal to go do, because it's the only brick-and-mortar maid cafe [in the U.S.] that's still alive. It's on the dot with everything they do. It's never boring.

Mingle's Mango
Fremont, CA

It's xiao long bao and traditional Chinese dishes, but they're all named after anime characters and video games. The guy who makes the dumplings, he loves anime. And I think it's his other workers who are drawing scenes on the walls, too. So I recommend it. You can tell these people love the food they make and love anime as well.
tsun scoops
Garden Grove, CA
All the pun names are A+ here whether they're a play off of popular anime series or common anime tropes/sayings (I-it's not like I like you or anything, Baklava, Notice Me Apple Sen-Pie, to name a few). Note that some flavors are rotated out, so check their Instagram! They have both sorbet and milky ice creams.
Gastro Obscura covers the world's most wondrous food and drink.
Sign up for our email, delivered twice a week.