Creating Stop-Motion Earthworks on 'The Loneliest Road in America'
Follow along as the land artist Paul Johnson embarks on "The Fellowship of the Loneliest Road."
Against a backdrop of pastel mountain peaks and the setting sun, dirt chunks circle one another to form a shape. Their quick, coordinated movements form a spiral, a monument to an ancient symbol that can be found carved into millennia-old petroglyphs at nearby Grimes Point. Then, as quickly as they've come together, the rocky sentinels disperse, settling back into the stationary shapes that existed long before the artist Paul Johnson arrived to film them.
"Coiled" above, is the first stop-motion animation in a series of works created for Atlas Obscura as part of The Fellowship of the Loneliest Road. The fellowship, created in partnership with TravelNevada, sent a single artist on a five-day journey across Nevada's Highway 50.
Stretching coast-to-coast in a line that neatly crosses 12 states and divides the country in two, Highway 50 was once a major thoroughfare that served America's burgeoning car culture. But when the interstate system was established in the 1950s, many Americans chose multi-lane efficiency over the sights and romanticism of the older routes. In Nevada, Highway 50 fell out of use as drivers rerouted to nearby I-80.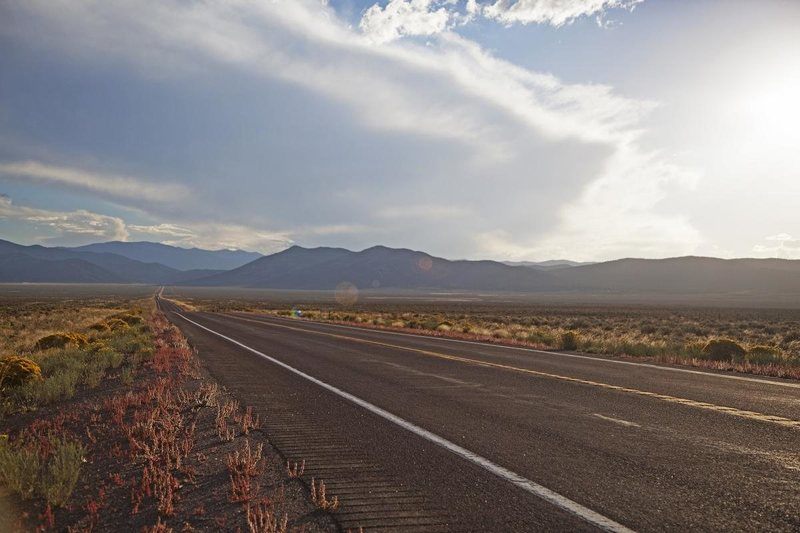 By 1986, the sight of travelers had become rare on Highway 50. One exception was a photographer from Life Magazine, who snapped a picture of the road that year and captioned it "America's Loneliest Road." Sensing an opportunity, Nevada officials embraced the name. Since then, Highway 50 has evolved into a pilgrimage site for adventurers looking for quiet, solitude, and a feeling of traveling back in time.
"I've always enjoyed solo travel and the unique opportunities it presents for discovery, exploration, and creative output," Johnson wrote in his application for the Fellowship of the Loneliest Road. "I generally feel the most creatively inspired when I'm doing things solo."
In his submission, Johnson proposed to use the fellowship to expand an ongoing series of stop-motion animations he'd been developing, loosely titled Landthropologic. The natural world has captivated Johnson since he was a child growing up on a wheat farm in rural North Dakota.
"When I was 9 years old I picked up a stick and started drawing in the sand on a family camping trip," he writes in his artist statement. "I spent hours on it. Something about the deliberate movements, repetition of shapes and the feel of the sand was meditative."
He began to experiment with art-making using natural materials, unaware that his practice was part of a school that had first come to prominence in the 1960s. During an art class in college, he watched "Rivers and Tides," a documentary on the contemporary land artist Andy Goldsworthy.
"I just loved it because I thought, 'This guy is doing this work as a career artist,' and I was just messing around with it.'" Goldsworthy uses sticks, stones, and other natural materials to create intricately balanced sculptures. Once completed, he leaves them to the elements to be blown or washed away, restoring the environment to its natural state.
Though Johnson counts Goldsworthy as an influence, his first work on Highway 50 owes a greater debt to another land artist: Robert Smithson. Smithson's "Spiral Jetty," a 1,500-foot long, 15-foot wide coil built of mud, basalt rocks, and salt crystals situated on the northeastern shore of the Great Salt Lake, is one of the best-known works of land art in the U.S.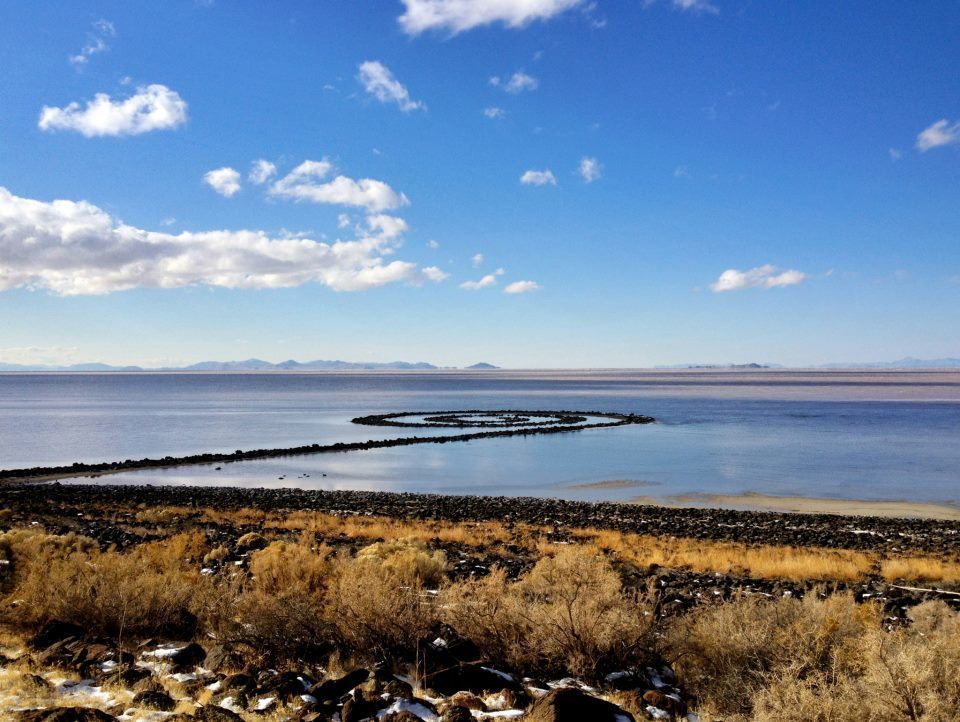 When Johnson arrived in Carson City, Nevada, on July 9, he had several spirals on his mind. In his research on Highway 50, he'd come across photographs of petroglyphs at the Grimes Point archaeological site. On one of the boulders, he spotted a spiral.
Johnson left Carson City to begin his journey on Highway 50 the next morning. "As the outskirts gave way to sagebrush desert, I got my first taste of the expansiveness of the Great Basin," he wrote in the trip's travelogue.
By the time Johnson set to work on "Coiled" an earlier attempt to create a piece with sticks had been foiled by the wind, and the sun was beginning to set. One reason he chose to create a spiral was practical: the animation would be simple to execute. Forming the shape with dirt chunks, he stepped into the frame between each shutter and simply threw a chunk out of the frame. The finished composition is a reversal of this process.
He also chose the spiral shape for its connection to both the land art movement and local prehistory.
After the sun had set, Johnson drove to Grimes Point to see the petroglyphs in person. The headlights of his vehicle cast a modern light on the millennia-old carvings. His day came to a close with one last spiral: the ancient symbol he'd seen in the photographs that inspired his first piece.
This post is promoted in partnership with Travel Nevada. Head here to get started on your adventure.