Before Bowie Or Prince, There Was Zeki Müren—Turkey's Gender-Bending Rock Star
As a new project, "Zeki Müren Hotline," shows, Turkey has never forgotten its own "Prince from Outer Space."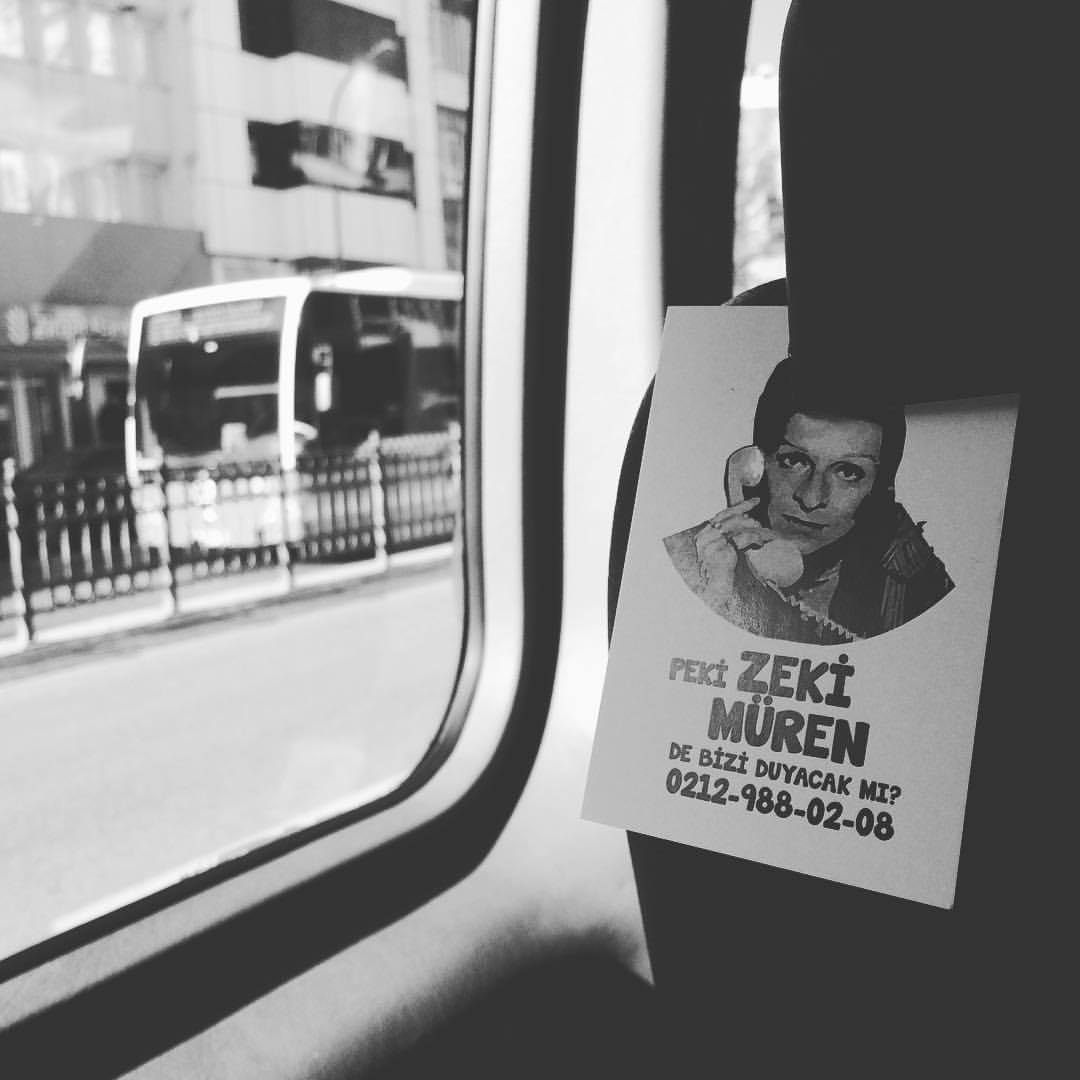 A Zeki Müren Hotline flyer, searching for stories on a Turkish bus. (Photo: Zeki Müren Hatti/Beyza Boyacioglu)
In September of 1996, Zeki Müren—singer, movie star, fashion icon—took the stage for the first time in years. No one knew it would also be his last. As he stood in front of the television cameras at the Turkish Radio and Television Studios in the city of Izmir, resplendent in one of his trademark rhinestone-spangled shirts, the show's host handed him a microphone. It was the same one he had used for his first radio performance, 45 years earlier. "I don't know whether to laugh or cry," Murën said, blinking slowly and revealing shiny, purple-glossed eyelids. Minutes later, he collapsed.
Twenty years after his death, Turkey still mourns. Need proof? Just dial the Zeki Müren Hotline. Set up earlier this year by filmmaker Beyza Boyacioglu as a repository for Zeki stories, the hotline has garnered hundreds of thoughts, tales, and homages from fans of all ages, small recordings to memorialize the man known as "Pasha" and "the sun of Turkish music." 
For his gender-bending fashion sense and long-lasted appeal, Müren has been called the Turkish Liberace, the precursor to David Bowie, and the "first Turkish rock star." But comparing him to others obscures the very particular role he played, and still plays, in his own country. "Different audiences can find different things in him and relate to him," says Boyacioglu. "For people from so many different backgrounds, he's the common denominator."
Born in 1931, Müren breathed new life into Turkish classical songs—long, emotional tales of love and loss that hang lyrical metaphors over swooping melodic lines. Unlike many singers of his time, he gained inspiration not from a single mentor, but from his heritage and his surroundings. Asked early in his career who taught him to sing, he replied, "My father, my grandfather, the radio, the singers at the tent theater, [and] records."  
In 1951, at age 20, Müren auditioned for Turkish Radio; legend holds that he sang for hours, drawing from an endless well of memorized standards. He got the job, and soon his voice was a fixture in living rooms across the country—according to one joke, when people shopped for radios, they'd first ask "does this one play Zeki Müren?" He made over 600 recordings and 18 films, most of which told, essentially, the same story, that of a young musician named Zeki Müren, overcoming obstacles to find love and fame (while, of course, repeatedly breaking into song).
His real life was slightly different. Müren's films usually feature him in understated suits and a subtle pompadour. In person, though, he preferred flamboyant, multicolored apparel: feathered capes, shiny miniskirts, and platform heels, many of his own design. He gave his outfits names ("Purple Nights;" "Prince from Outer Space;" "The Lover of Dr. Zhivago"). In this garb, he lit up the nightclub circuit. Despite the era's strict gender roles—it was the '50s, after all—he drew millions of fans to Istanbul's gazinos, where he would wring emotion from the microphone while sweeping up and down a T-shaped stage. "He was a revolutionary, in every meaning of the word," music historian Murat Meric told the BBC. "He was always 10 years ahead of his time."
Müren reigned over stage, screen, and radio dial for three decades. When he died, his state-sponsored funeral drew tens of thousands of mourners. "We were just so upset," one fan told Boyacioglu. "There was a line in front of every liquor store." This January, a museum retrospective in Istanbul had about 50,000 visitors, which the BBC called "an unprecedented number in Istanbul."
Boyacioglu, who was not even a teenager when Müren died, first became interested in his story after running into him in very disparate contexts. His face peered out of her grandmother's record collection, but it also shone from signs at Istanbul pride parades. Although Müren never came out as gay, "he started becoming a resistance icon in Turkey," she says. "At the same time, he's my traditional Turkish grandma's favorite artist. So I thought, what's going on there?"
Although documentaries about Müren exist, they're all very straightforward—"right after his death, his public persona was immediately claimed by the state," says Boyacioglu. So when she began working on her film, she wanted to to solicit stories from his audiences, namely people who hadn't been given a chance to speak before. They responded instantly. "People spent around 400 minutes on the line in just a couple of days," she says, listening to each other's messages and leaving their own. 
Callers are greeted by a chipper sound clip from one of his films: "Hello, Zeki Müren speaking." Then it's their turn. Some offer renditions of Müren's best-loved songs, in homage. Older people reminisce about his performances, while younger people speak about his posthumous status as a queer icon. One woman recalls her early wish to bring Müren himself into her family: "I used to cry and cry," she says, "because I wished my mother was Zeki Müren… today, I sometimes cry listening to your songs. I love you very much."
So far, Boyacioglu says, over 700 people have left messages for Müren. Press coverage inspired an early rush, but now, months later, the hotline still gets about one caller per day—not bad for a campaign running only on word of mouth, she says. She hopes her upcoming film sparks even more interest (and she encourages new fans to call in, too—the number is 0212 988 02 08.)

These days, as the news cycle rolls from event to event without pausing for breath, it can be difficult to predict exactly what or who will make a lasting impression. When David Bowie exited Earth's orbit in January, social media was overrun with tributes. Last month, after Prince's death, the world lit up purple for a night. The immediacy of such tributes, though extremely affecting, doesn't tell the whole story. As Zeki Müren Hotline shows, the most complex revolutionaries linger on, speaking to us long after they leave this world.