Get Lost in a Cold Warrior's Illustrated Calendar History of the 1980s
Find Reagan side-by-side with pagan holidays.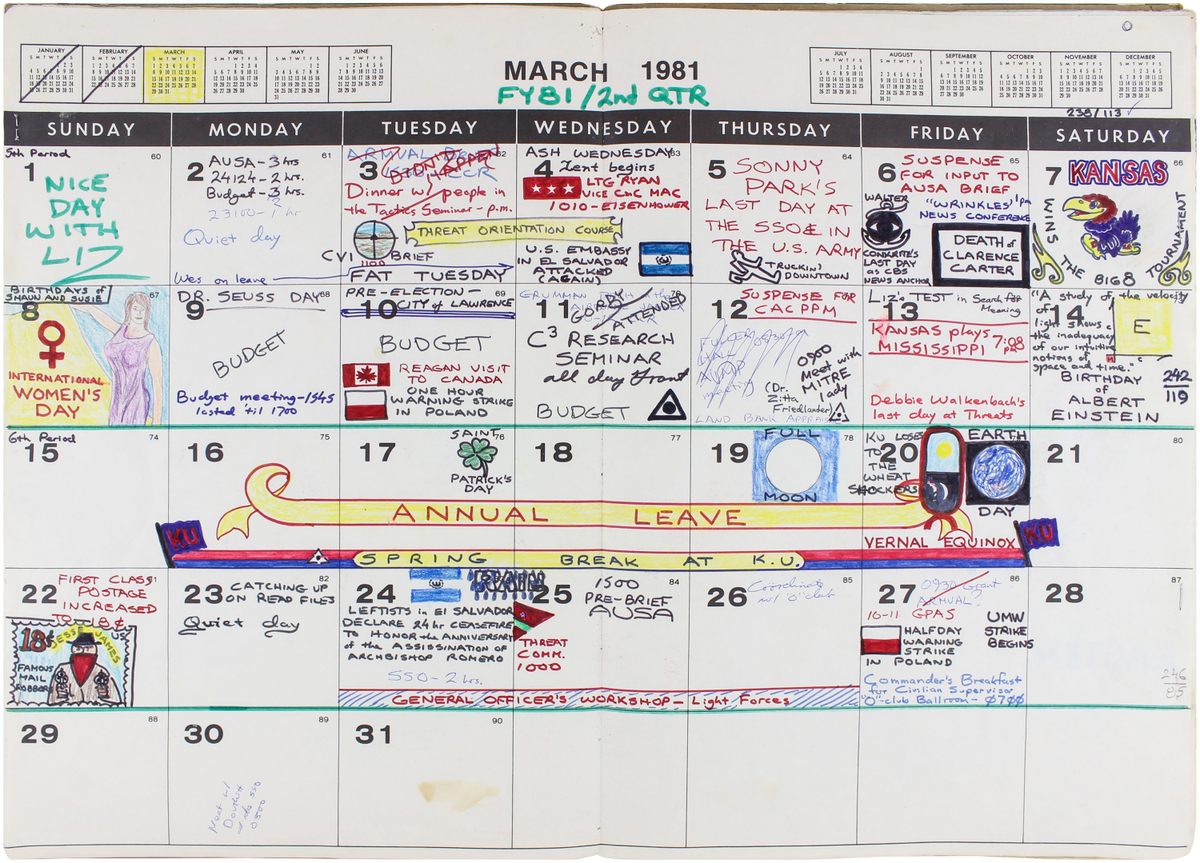 In the first week of March 1981, here's what a mid-level government employee working in Leavenworth, Kansas, for the U.S. Army's Combined Arms Combat Development Activities division, noticed about the world. The U.S. embassy in El Salvador was attacked (again). Lent began. It was Sonny Park's last day in the U.S. Army, and Walter Cronkite's last day at CBS. Kansas won the Big 8 Tournament. He had a "nice day with Liz." All of these details, along with many more, were recorded in brightly colored notes and illustrations in a government-issued calendar.
Over the course of the 1980s, most days, the calendar artist recorded details of his personal life and public affairs. He chronicled truckers, terrorism, snow at home and in Lebanon, the death of a Nazi collaborator, Reagan's 72nd birthday, Israeli politics, football results, the first female Supreme Court justice swearing in the first female Secretary of Transportation, overlong budget meetings, full moons, vernal equinoxes, Beltane, International Women's Day, a killer tornado, Tunisian riots, trade deficits, and much more.
"It all seems to be here: the end of the Iran hostage crisis, the invasion of Afghanistan, Poland's Solidarity movement, supply-side economics, and the Space Shuttle, to name just a few, along with hundreds of lesser-known events all but forgotten today except by scholars," writes Boston Rare Maps, which is offering eight of the "massively illustrated" calendars for sale. The artist seemed to have an unusual interest in pagan holidays, and the calendars come with pamphlets dating the 1990s for a "Pagan Network" in Oregon.
The dealer, which specializes in antique maps, acquired the calendars from a book dealer, who said they had acquired them from another book dealer. They're an unusual window into one person's life and the world as he saw it—a unique history of the 1980s, captured in pen, pencil, and felt-tip pen. Looking through the months is a bit like looking through a Where's Waldo? book, chock full of worldly details and small surprises. Go ahead—get lost in his world.