Feast Your Eyes on This Glorious Crocheted Food
Trevor Smith's creations are fuzzy, cozy, and downright edible-looking.
Like many who crochet, Trevor Smith is hooked. "I find the repetitive nature therapeutic," he says. But there's nothing repetitive about his series of crocheted foods. A Technicolor ham, a whole fish garnished with lemons, and an elaborate cheese platter are part of his yarn oeuvre, all of which pop in three dimensions.
According to Smith, who is a cultural collections officer in Portland, Australia, his crochet work used to be a bit flatter. His mother, who "tried every craft craze from the 1960s to the 1990s," taught him to sew and crochet at a young age. He crocheted into adulthood, making rugs and doll clothes for younger relatives. A few years after completing a degree in sculpture in the early 1980s, he turned to patchwork, quilting, and costuming as his hobbies instead. Sometimes, he contributed his work to local art projects and competitions. After a 25 year interval, Smith's love of the craft was reignited in 2009, when he created site-specific crochet works for a community project themed around a local swimming hole. He's been crocheting—often in three dimensions—ever since.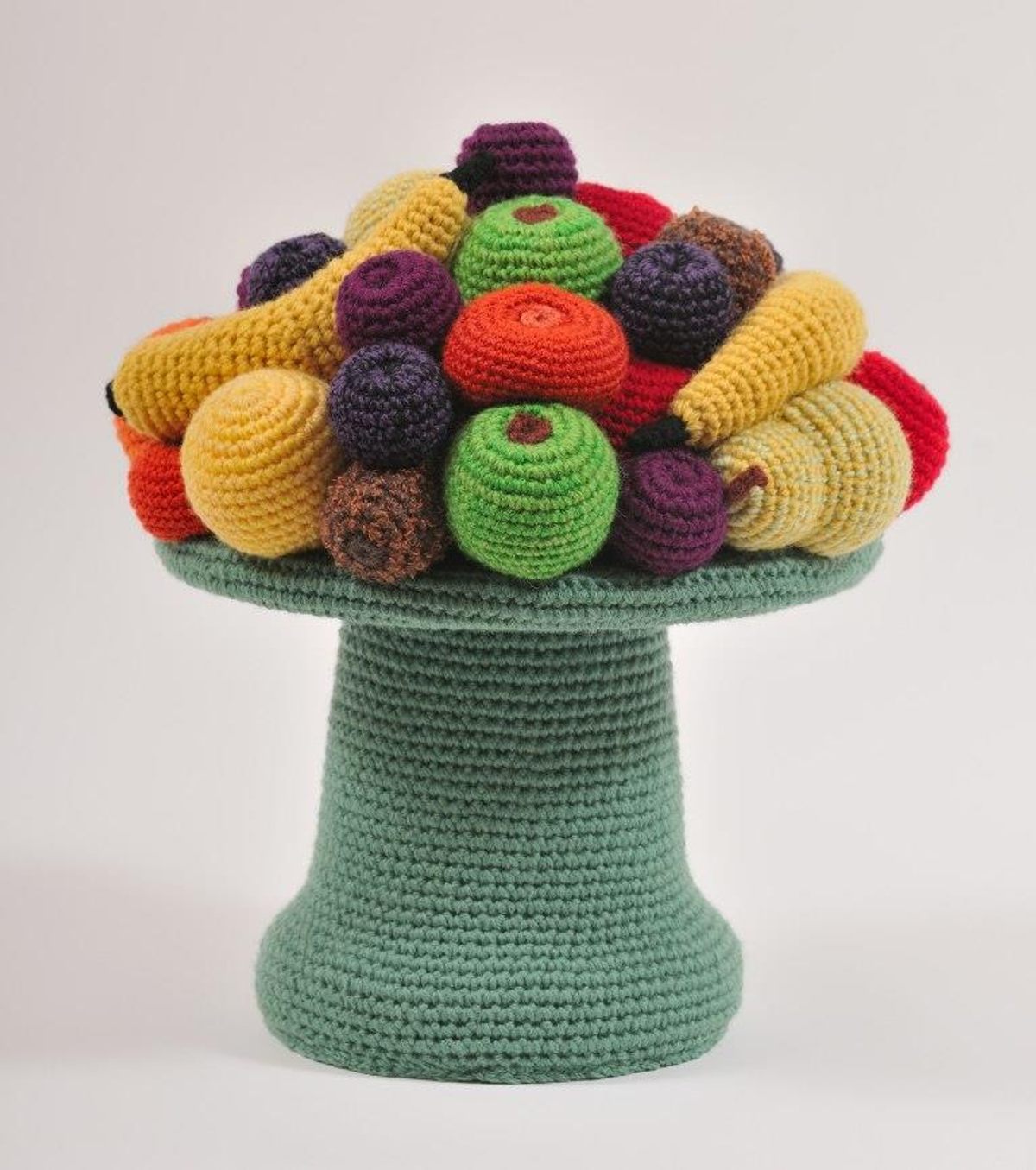 He started his food series for an exhibition last year at the Michael Reid Sydney gallery. Smith says he had already been imagining how to make his lobster platter piece for years. The exhibition, which was retro-domestic themed, was the perfect stage for Smith's soft, sculptural creations, which also include a black forest cake, a crown roast, and even vintage appliances.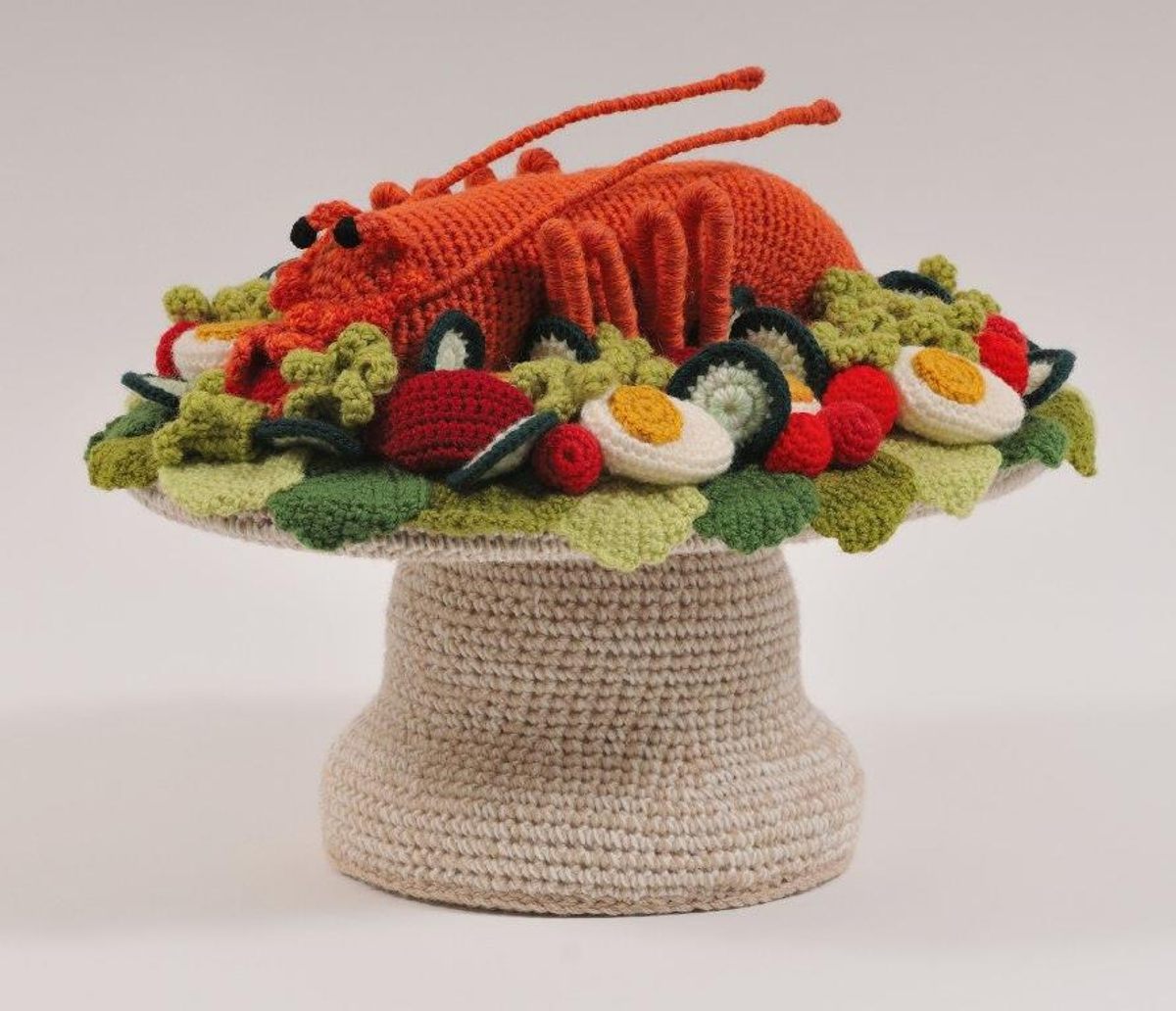 But his foods can't stay upright on yarn alone. Smith uses different materials to mold, shape, and support his creations. His ham remains round thanks to sculpted foam rubber, and the fish is stuffed with wadding. For rounder objects such as fruits and vegetables, Smith crochets over polystyrene shapes, while using free-form techniques to develop more delicate forms that include leaves and flowers. Then, he stitches together the display platters and foods, before adding decorative details. For spikier shapes, such as the bones of the crown roast or the lobster legs, he uses wire. Each crocheted dish takes around 15 to 30 hours.
Smith took his inspiration from the vivid spreads in midcentury entertaining magazines. Growing up on a sheep farm, such exotic food creations weren't on his family's dinner table: Their meals were more rural Australian cuisine, instead of hams decorated with "rings of tinned pineapple and glacéd cherries." Smith always liked the food styling and photography of that era, which when crocheted strikes his admirers as retro and a bit humorous.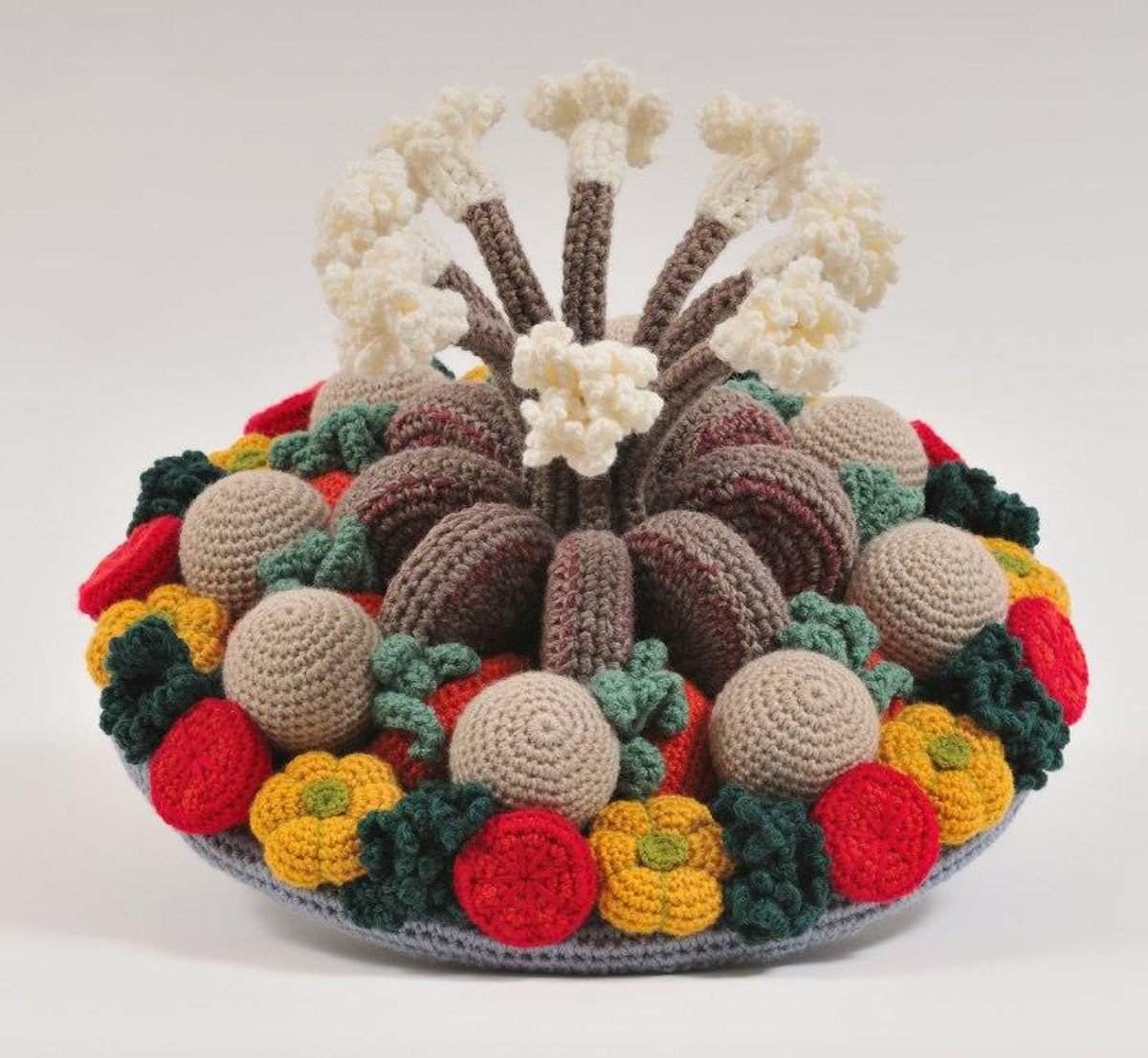 But there's nothing retro about Smith's attitude on being a man who crochets. "Since childhood, I have created with textiles, using techniques generally perceived as 'what women do,'" he says. For Smith, crocheting feels normal. Even in high school, he was the only boy in his year in home economics (he won an award for outstanding achievement in the subject). He points out that sewing and cooking are also traditionally considered female domains, yet famous male chefs and designers abound. Trevor is also becoming well-known for his work, both from local exhibitions and national news coverage. His series of sculptural tea cosies has earned him titles such as "crochet master" and even "Crochet King."
And the crochet feast isn't over yet. In 2018, a solo exhibition of Smith's work will include crocheted cakes. But this time, he says, they'll have a more contemporary feel. Maybe a trendy ombré cake is on the menu.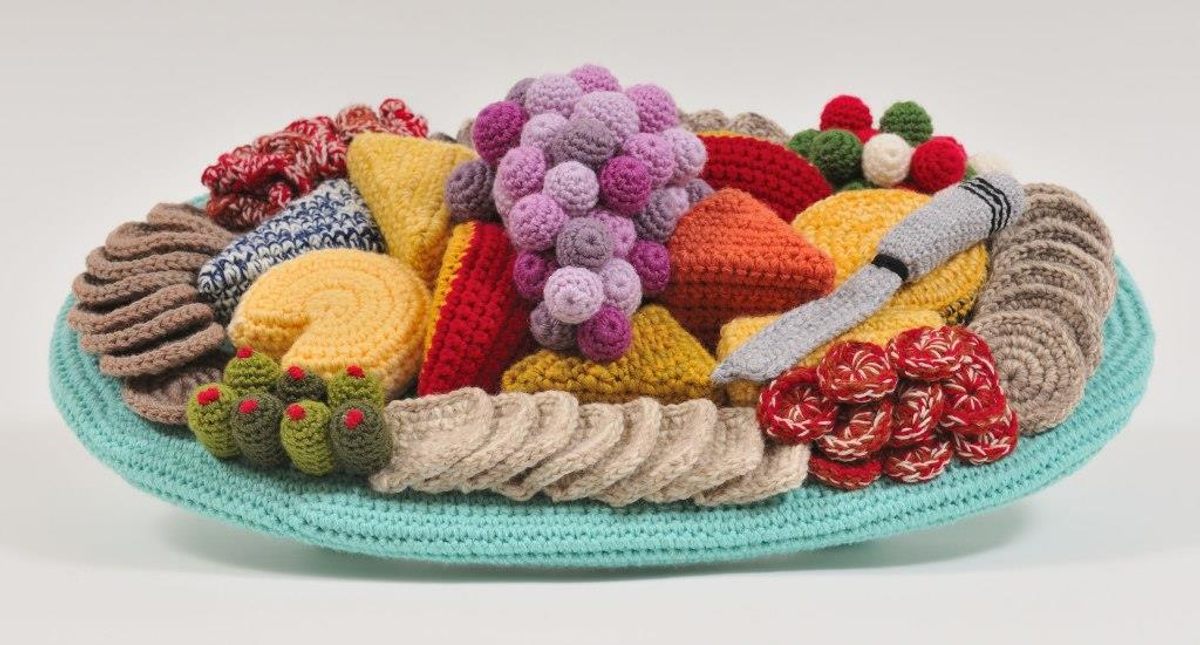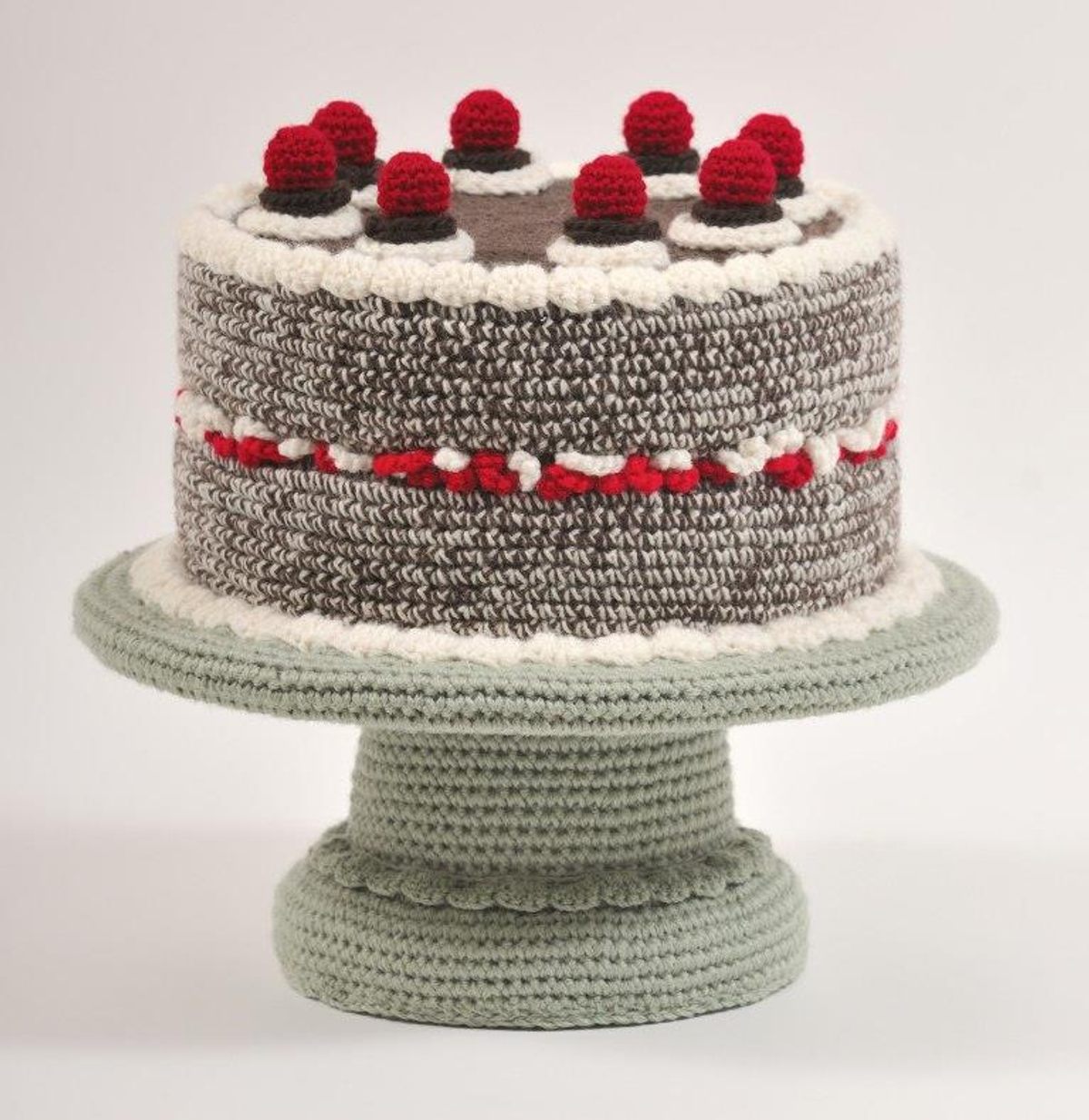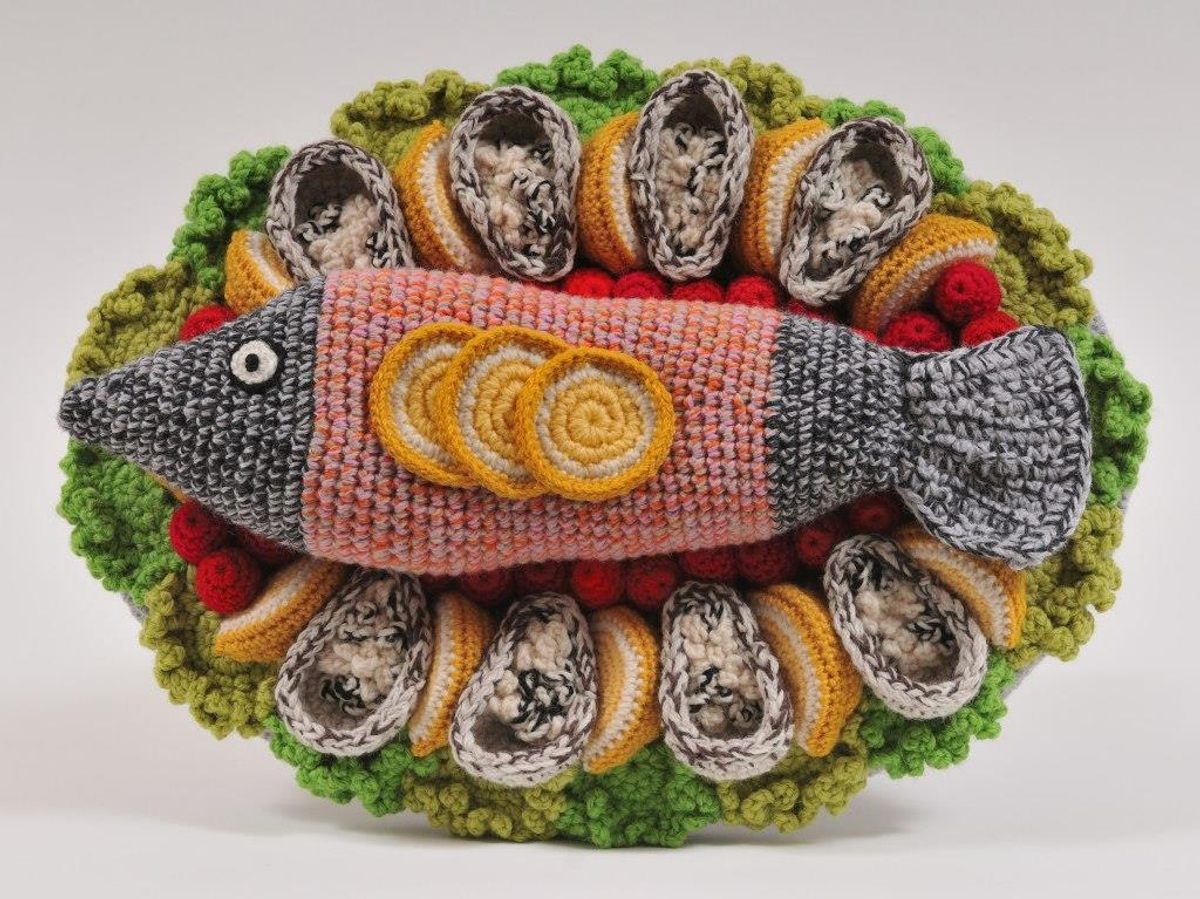 Gastro Obscura covers the world's most wondrous food and drink.
Sign up for our email, delivered twice a week.