Charming Crochet Versions of Fish, Fries, and Other Foods
Kate Jenkins's delicacies often look better than the real thing.
In the seaside town of Brighton, England, textile artist and knitwear designer Kate Jenkins has been making delectable crocheted foods since 2007. After working in fashion knitwear for more than 20 years, she started experimenting with crocheted food art when she realized she needed appealing photographs to put on her website. Her first creation was the Wool English, a knitted version of the full English breakfast, but over the years, her pieces have become grander in scope. In 2015, Jenkins knitted and hand-embroidered an awe-inspiring, life-size fish counter for The Knitting and Stitching Show in Dublin.
Her oeuvre of yarn-related deliciousness covers a variety of foods, but seafood is clearly her forté. Besides her regular assortment of sequined sardines, diva lobsters, and golden-eyed squid, Jenkins has made a knitted and crocheted Fishmas Wreath, with mussels, shrimp, crabs, and oysters, garnished with woolen lemons and parsley leaves.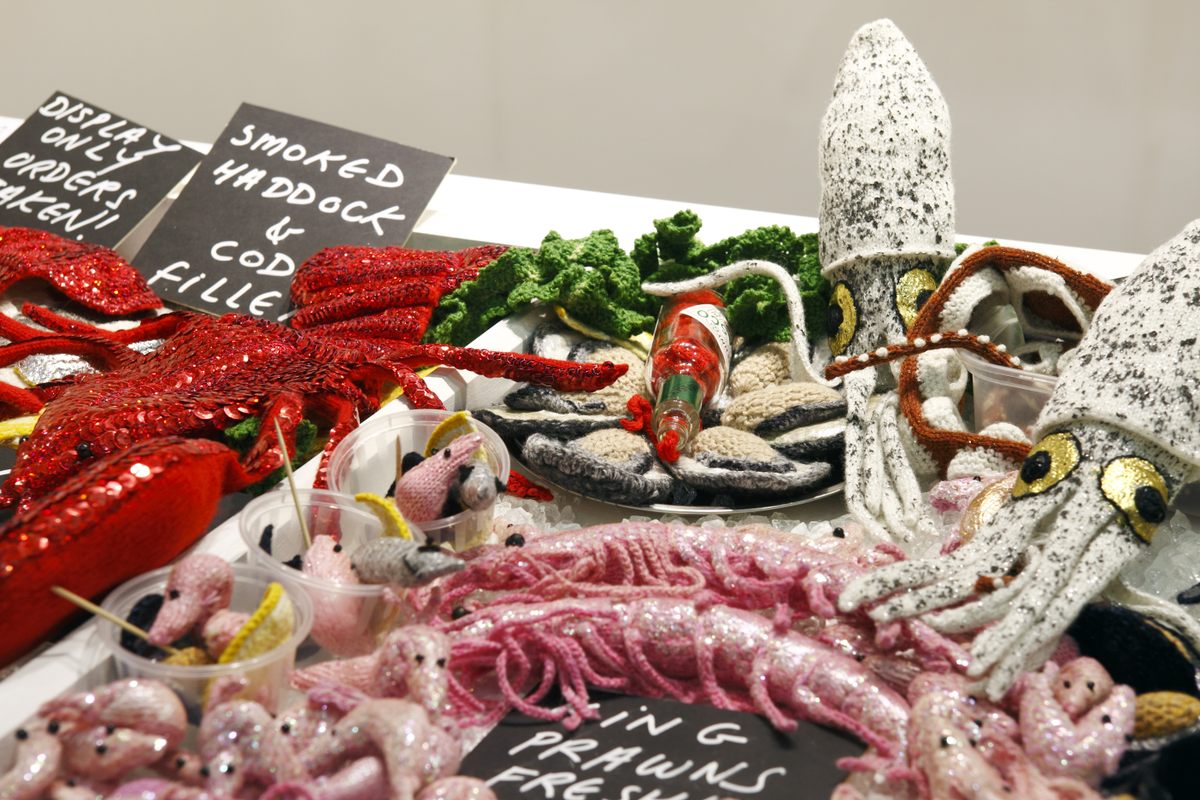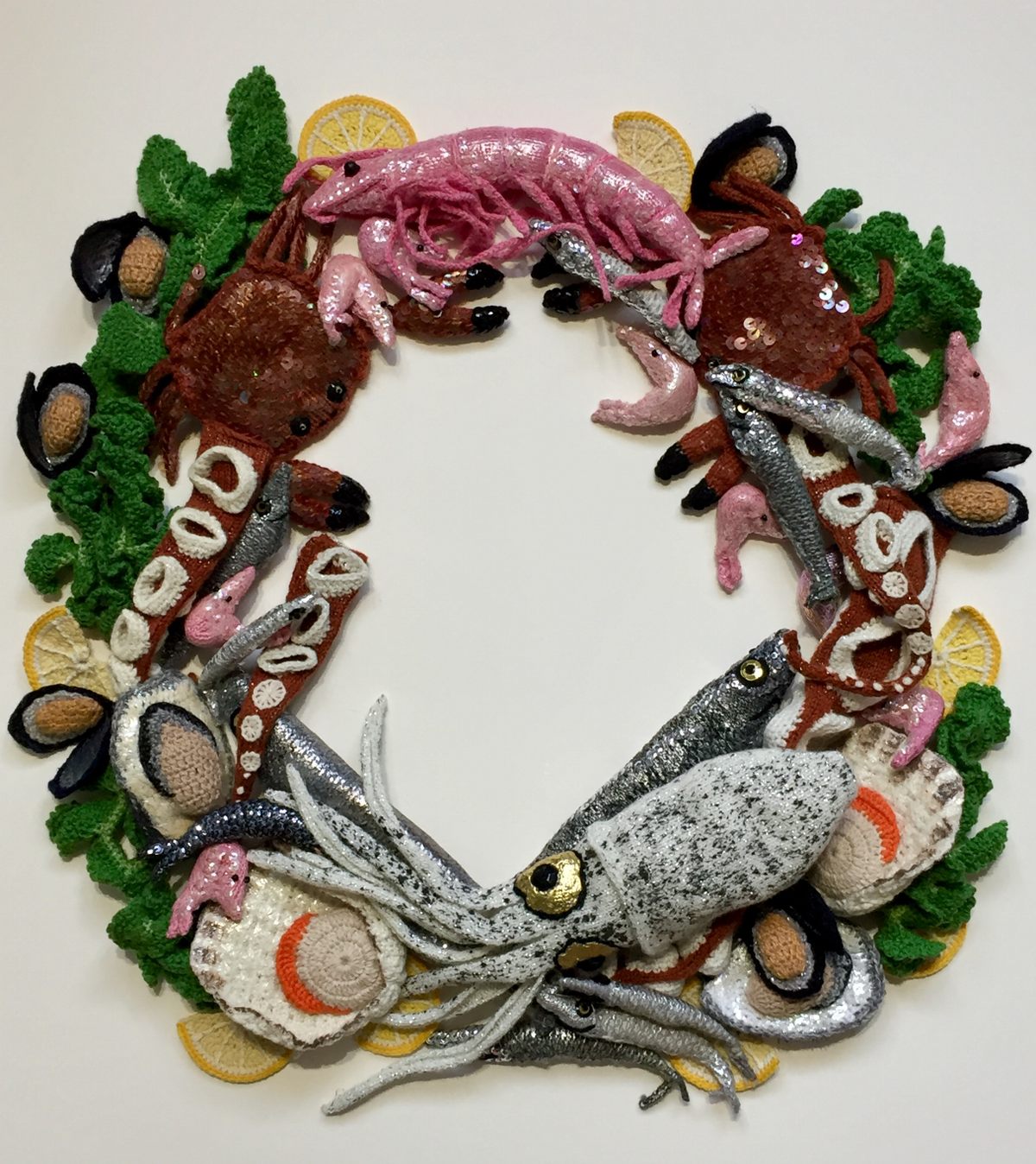 "I've spent all my life developing technique, it's like drawing with wool. My crochet is a pencil," says Jenkins. She always buys the food she plans to replicate, so she can ensure her pieces are to scale and look as close to life as possible. "I'll literally have a prawn on my desk to look at while I'm knitting a 3D prawn," she says. She takes lots of photographs and sketches out designs. It took her nine months to make Kate's Plaice, her fish counter exhibit, but she's made so many sardines by now that she can finish one in an hour.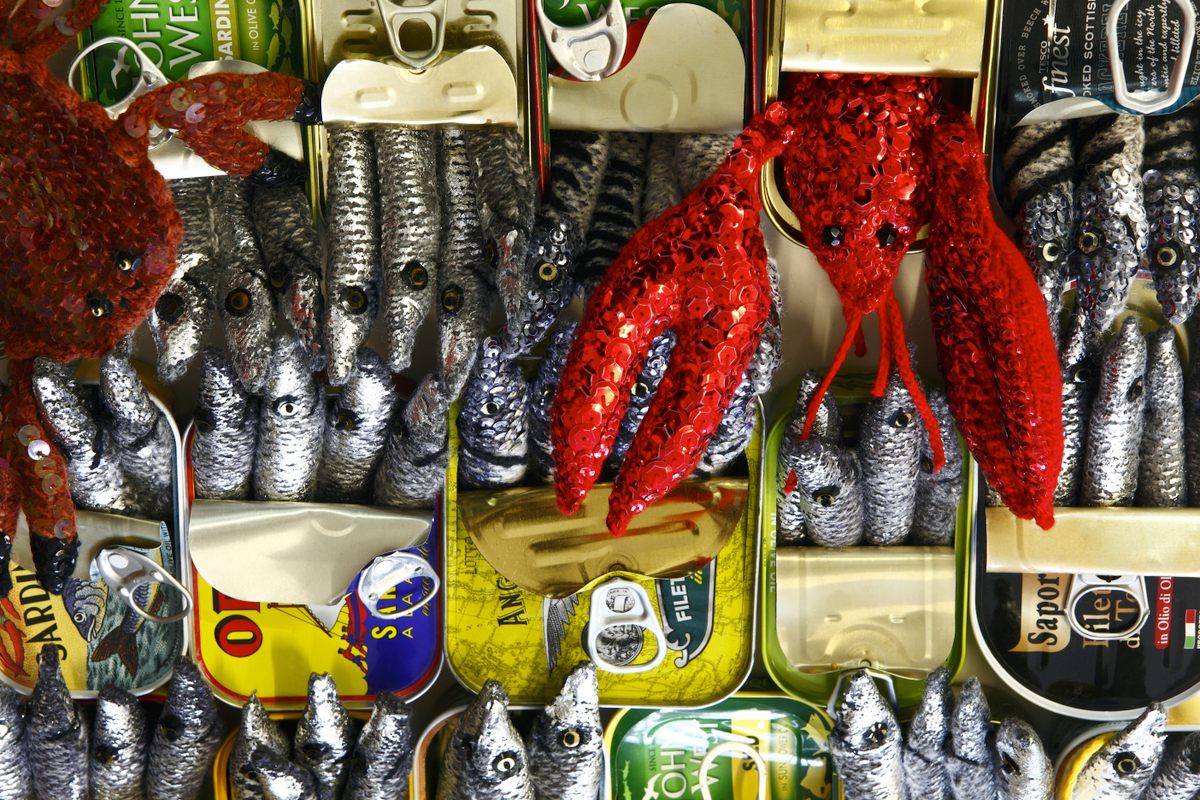 While she's careful to accurately depict texture and proportion, Jenkins likes to add wit to her creations. Her french fries are stylishly French, right down to the beret and thin mustache, and the battered fish on her plate of fish and chips wears a bandage.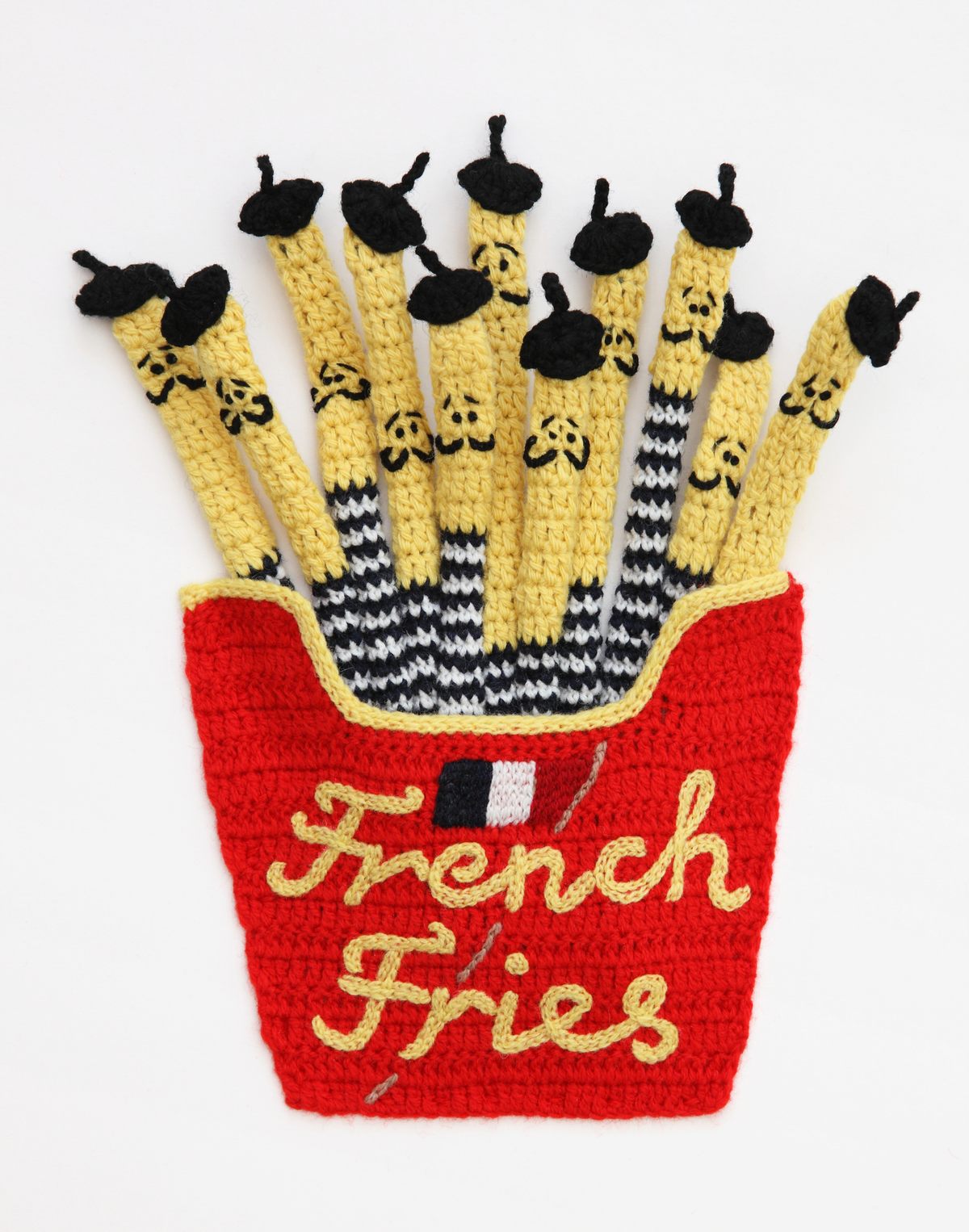 Jenkins has some well-known fans, including clothing labels Anthropologie and Boden, who have commissioned her pieces. Luxury shoe designer Charlotte Olympia Dellal has been collecting her pieces for years, and every time Dellal has a child, she asks Jenkins to create a piece based on their favorite food. To that end, Jenkins has crafted a box of Smarties candy with Dellal's son's name on it, a jar of honey, and a box of Sun-Maid raisins—all of which now adorn Dellal's kitchen. But an unusual commission came after the birth of Dellal's fourth son. "She said, 'He's the most enthusiastic breastfeeder. Can you make a pair of breasts?'" laughs Jenkins, who subsequently knitted a pair of breasts with the child's name tattooed on them.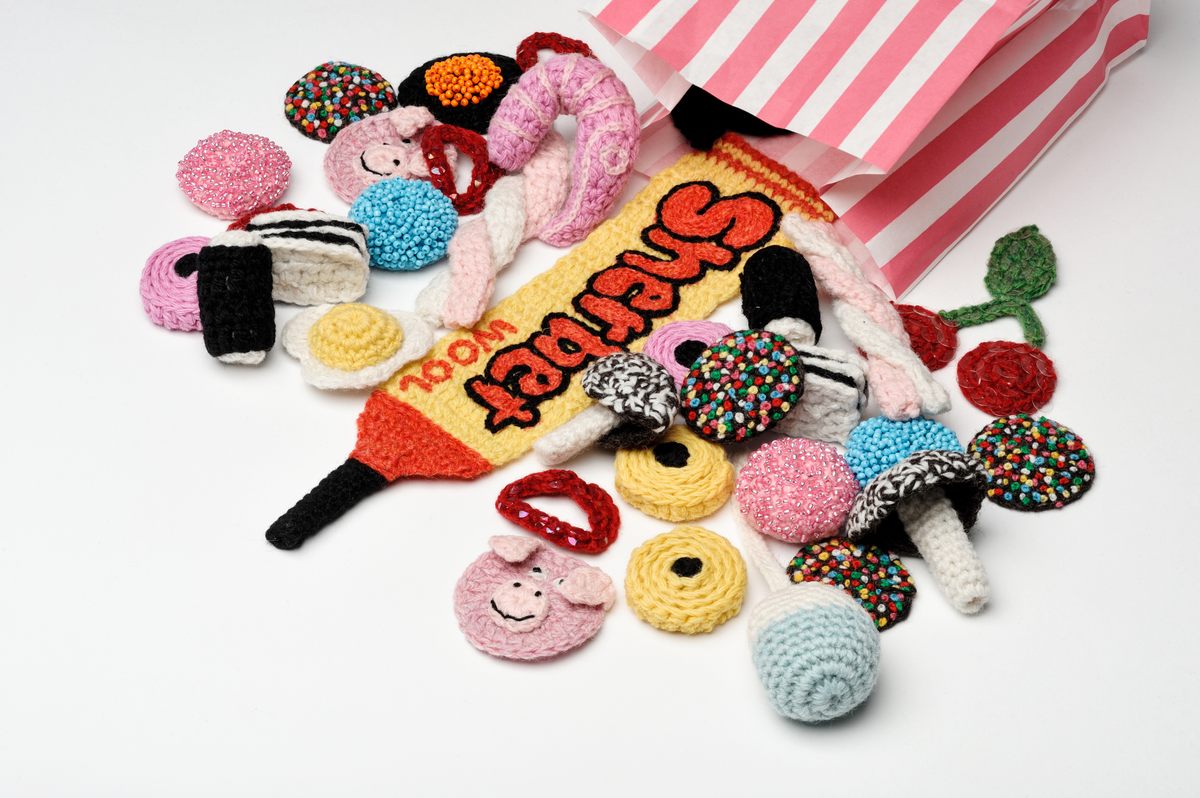 Jenkins is excited about her next exhibition, titled Kate's Bakes, which will be a full-size knitted and stitched bakery that she hopes to exhibit in Barcelona in May, and then tour around the world. She wants to have showings in London, Paris, and New York, with tweaks to the exhibit that take into account local baked goods. "I've probably been to 50 different kinds of bakeries in the last several weeks," she says, and mentions being especially inspired by the bakeries in Marrakesh.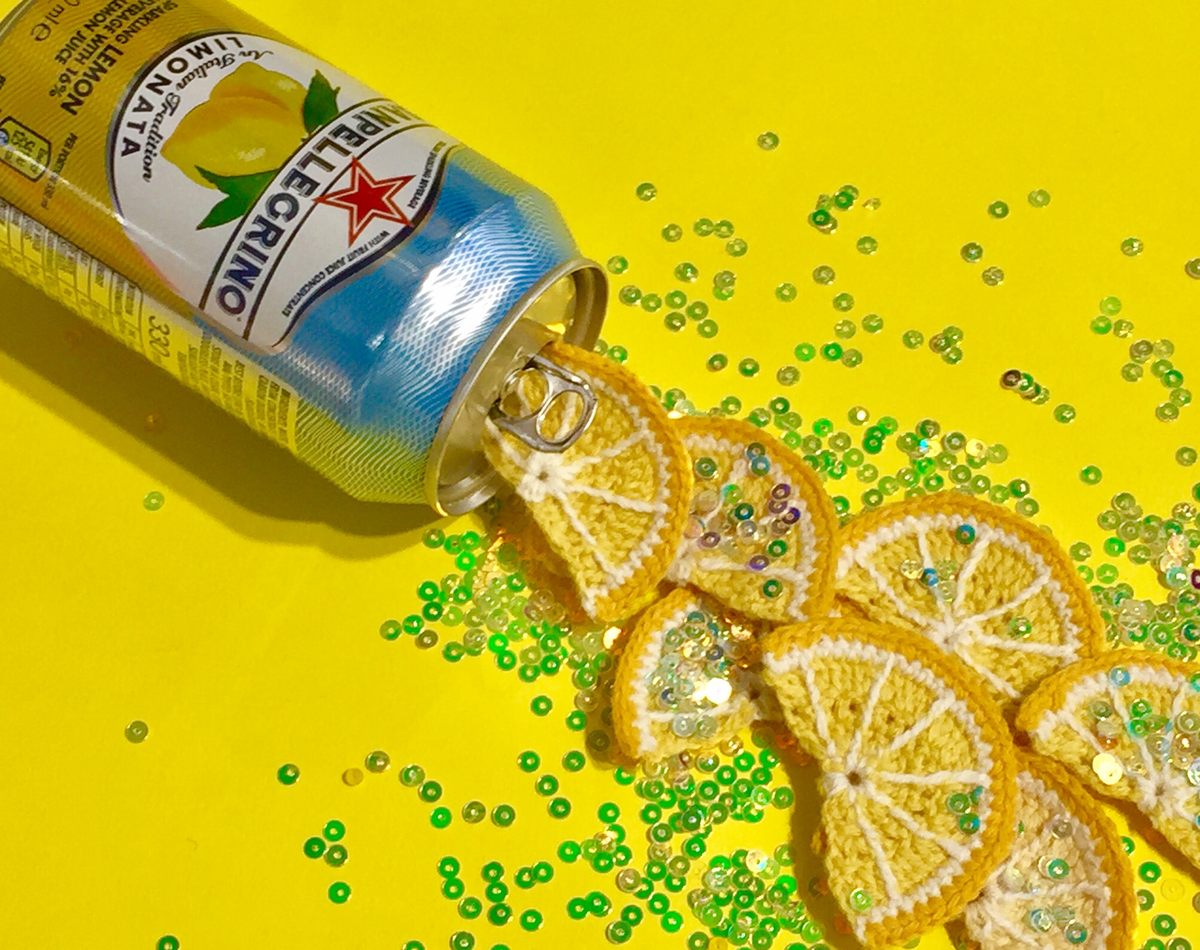 Knitting, crocheting, and crafts are seeing a resurgence, with online crafting communities and a revival of knitting circles. In a distracted digital world, Jenkins's designs inspire a desire to pause, to appreciate the small, everyday things in life, and to perhaps memorialize those objects and foods in sparkly, cozy form.
Gastro Obscura covers the world's most wondrous food and drink.
Sign up for our email, delivered twice a week.