Welcome to the Little Cuba of the Sahara Desert
The surprising story of how Spanish, baseball, and arroz cubano came to permeate some desert camps in Africa.
Out in a flat plain of reddish sand against a wide blue sky, a group of men set up a baseball field. The home base is made from a green plastic crate propped on a tire, and the players stand in an outfield, stark figures against an expansive horizon. Spanish phrases interlay the general chitchat in Arabic. The batter crouches, ready for the ball, as the pitcher pivots his leg to throw. His ball strikes the ground far ahead of the plate, and the batter stands straight as if to say, 'Come on? Really?'
This game is just one of Cuba's influences on a number of refugee camps at the border of Western Sahara in Africa, 4,580 miles from Havana in the Caribbean. These camps are home to the Sahrawi people, who have been waging a war for independence against Morocco since the 1970s and have long-found comrades and collaborators in Cuba. Tags of Che Guevara pop up on odd corners of Smara refugee camp, and a few miles away, children study at the Simón Bolívar school staffed by Cuban teachers.
The Sahrawis are indigenous to Western Sahara, but soon after the end of Spanish colonialism, they found their phosphate-rich land occupied by neighbors Morocco and Mauritania. They formed a Marxist guerrilla movement called the Polisario Front, and since then, a close relationship has formed between the Caribbean island and the Sahrawi fighters.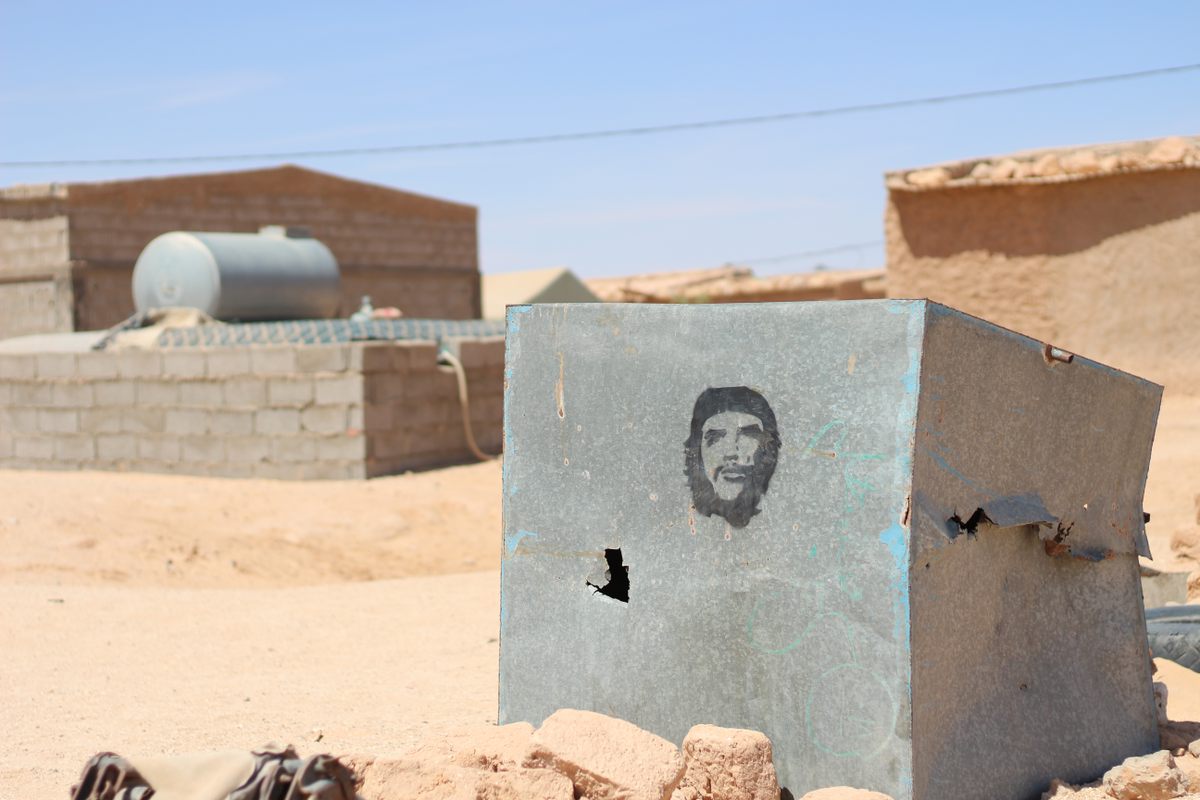 Many Sahrawis had to flee to Algeria due to the fighting between Western Sahara and Morocco, which began in 1975. Fidel Castro was a close ally of Algeria during the war of independence against France. The Polisario, propped up and sheltered by Algeria, immediately got Castro's sympathies for their fight against what they called the "neo-colonizer" Morocco. Over the decades, Cuba has sent weapons, doctors, and teachers to the refugee camps, while thousands of young Sahrawis went to study in the Caribbean country. To this day, Cuban professors and doctors from the Brigada Medica Cubana live and work in the camps. When Castro died in 2016, the Polisario ordered three days of national mourning.
Film producer Dah Salama is part of the group that plays baseball on Fridays in the Hamada, a flat, rocky desert in southwestern Algeria. He was 14 when he left the camps and took a plane to Cuba. That day was the last time he was able to speak directly to his family until 2005, when he was 17. In those pre-Whatsapp days, they communicated with cassette tapes sent in the mail overseas. Salama studied at boarding school with other Sahrawi children, eventually focusing on accounting as he got older. He lived for a total of ten years in Cuba, spending most of his teen years and early twenties on the island. Today he feels both Cuban and Sahrawi. Salama is part of an entire generation, nicknamed the "Cubarauis," who studied in Cuba for over ten years before coming back to the camps, carrying with them knowledge, Cuba's national sport, and also a sense of displacement.
Abderrahman Budda, a writer and owner of the library "Alhambra" in Laayoune refugee camp, is another who was sent to study in Cuba in 1975 when he was eight years old. "It was nice there," Budda says, "I lived with other Sahrawi children on the coast near La Habana. I never came back to the camps until I finished my studies, when I was 18. We left as children and returned as men."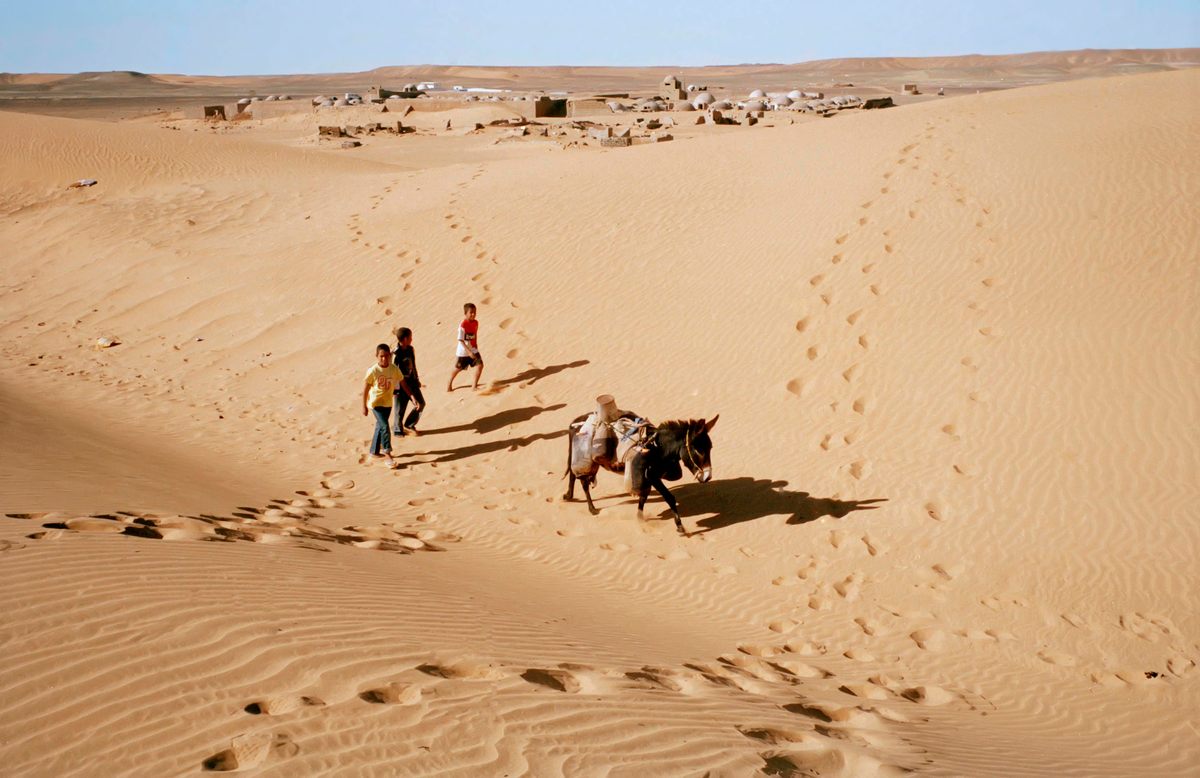 According to a study published in 2015, nearly 800 Saharawi children went to Cuba yearly from 1980 till 1999. But studying abroad drained the most educated population out of the camps. Though some Cubarauis stayed in the community upon returning from Cuba to Algeria, many often left to other countries to pursue opportunities more aligned with their newly acquired college degrees.
"In particular, high esteem for Cuban medical education has facilitated Spanish-speaking Cubaraui medical personnel's onward migration to Spain," wrote Elena Fidian Qasmiyeh, a professor of migration and refugee studies at University College London. She points out the irony of this, since, in Spain, "they work for the Cubans' and Sahrawis' common former colonial power."
That wasn't the only issue. "[The education program] has also come to be associated with long-term separation and loss on personal, familial and collective levels (…)," continued Fidian Qasmiyeh.
In Spain, a group of Cubarauis gathered together to publish their works of poetry in Spanish in a series called: "The Generation of Friendship." Many poems reflect permanent feelings of exile. For example, Luali Lehsan, a Sahrawi poet who studied in Cuba for 15 years before returning to the camps and eventually emigrating to Spain, wrote:
"and our childhood was shipwrecked
in the tumultuous waves of the exodus
the warm drizzle of love soaked our bodies in a strange bed
and the weight of distance woke us with a broken heart."
In order to reduce the dwindling of the population and sense of displacement, the Polisario leadership gradually decreased the practice. Between 2000 and 2002, the number of annual departures of children going to Cuba dropped to 200. Today, a different program has become more popular to help the young people. Thousands of children get the chance to leave the refugee camps to go to summer camps in Spain, Italy, or France through a program called Holidays in Peace.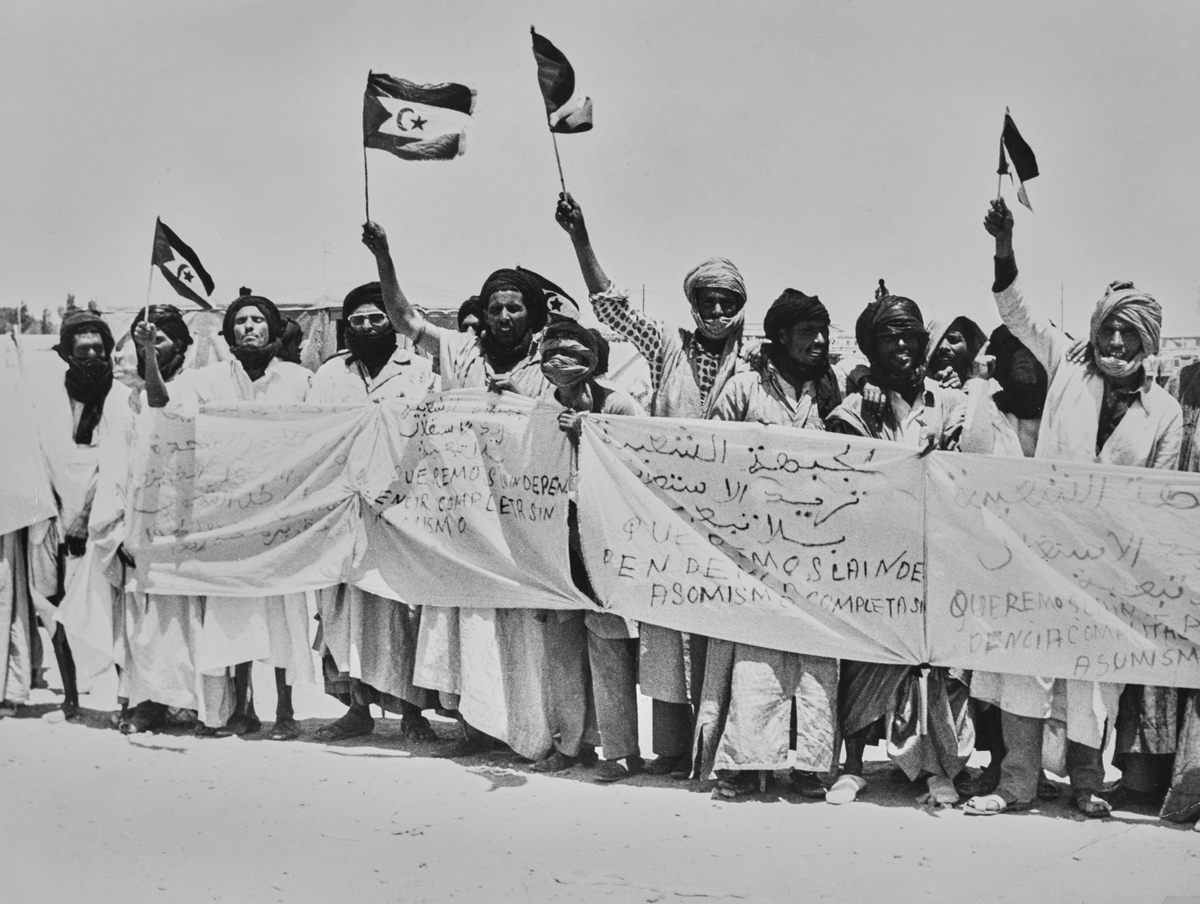 Another attempt to educate the children without having to go abroad involved the opening of a secondary school in the Smara refugee camp. The school is named after someone who is certainly not a local: Simón Bolívar, the Venezuelan leader who led movements of independence from Spain in several South American countries in the early 19th century. The Simón Bolívar School opened in 2021 with funds from Venezuela—another old-time friend of the Polisario—and personnel from Cuba.
Maelis Tamayo, a physics professor from the province of Granma, Cuba, teaches here along with three Sahrawi teachers and 10 other colleagues from Cuba on a three-year shift. The environment in the camps is very different from the lush province of Granma. "Here is tough," she says in an office of the school, sheltered from the sun, "but I chose to come here and I'm happy to be here. We use the exact same curriculum we use in Cuba, and books and our salaries are paid by La Habana. It is a significant effort for a country as poor as Cuba."
All the classes are in Spanish and kids must pass a Spanish test to enroll. Murals of Bolívar are painted on the low buildings. Each year, around 10 graduates go to university in Cuba. "The kids once went to Cuba when they were 10 or younger. Now they go when they are 18 to 19," says Tamayo.
Tamayo cites the difficulty of separating students from their parents at such a young age as one of the reasons for Simón Bólivar's founding. "When it became clear that the kids were too young to be sent to Cuba, they built the school," she says.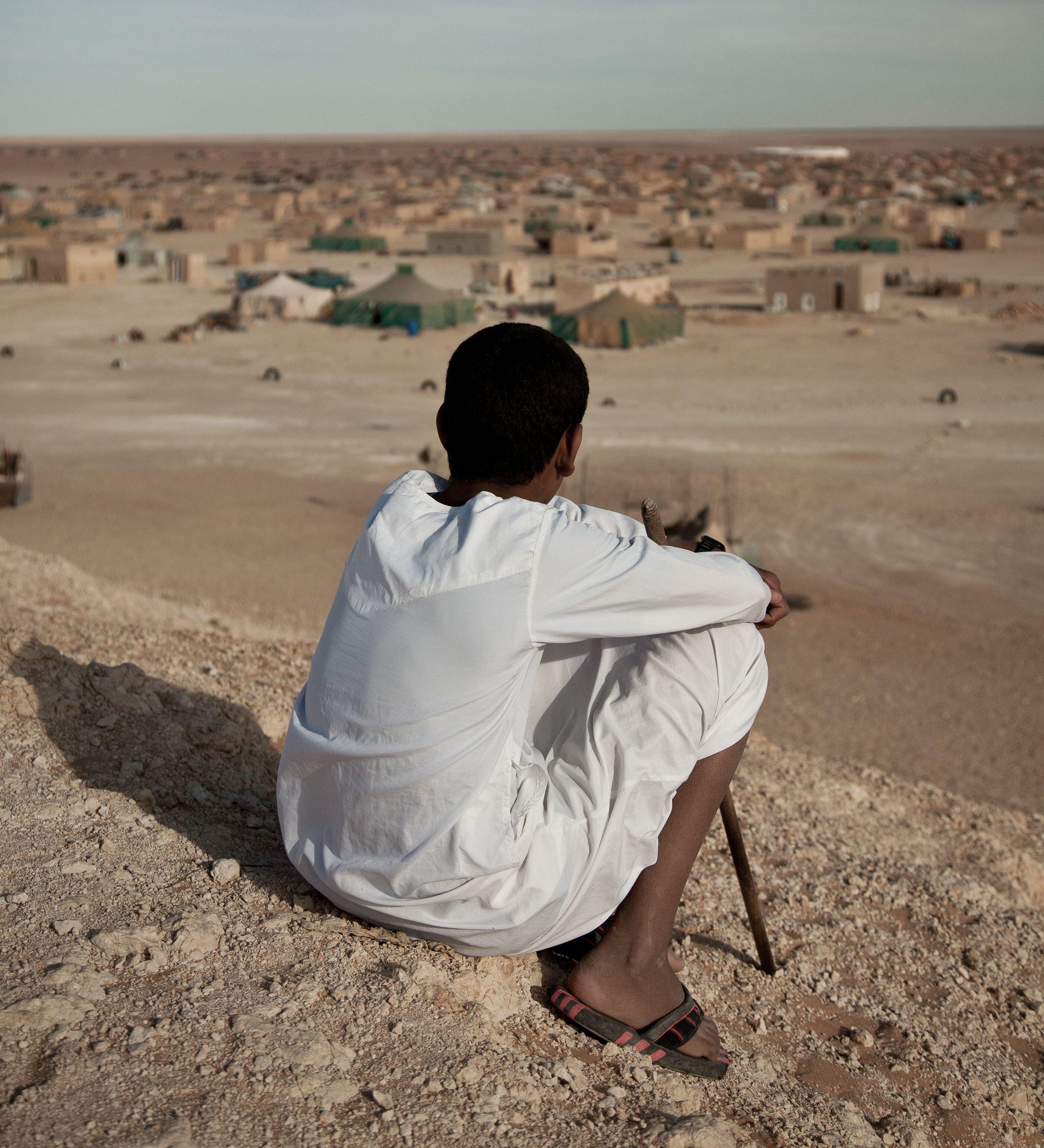 Though educational programs for the Sahrawis have shifted over the years, the overseas practice that created the generation of Cubarauis seems like an experiment that will not be repeated. But for those who went to Cuba and came back to Western Sahara, they continue to preserve their two distant cultures in one place.
There are still many Cubarauis living throughout the camps including artists, writers, administrators, and at least one doctor named "Castro." In Smara refugee camp, one of the larger settlements, a sculpture depicting a massive teapot frozen in the act of pouring streams of tea into a circle of glass marks the home of an art center where two Cubarauis make their studios. Many of them have found ways of sustaining both cultures.
The baseball player and filmmaker, Salama, participates in a WhatsApp group with around fifty members that coordinate Cuban activities for the Cubarauis, whether it be dancing salsa, making arroz cubano (rice, tomato, and eggs, with an optional fried banana), or playing baseball. He sticks close to the Cubarauis, who understand his own bifurcated experience. These are the people he went to school with and then came home with him. As Salama says, "They are like a family."