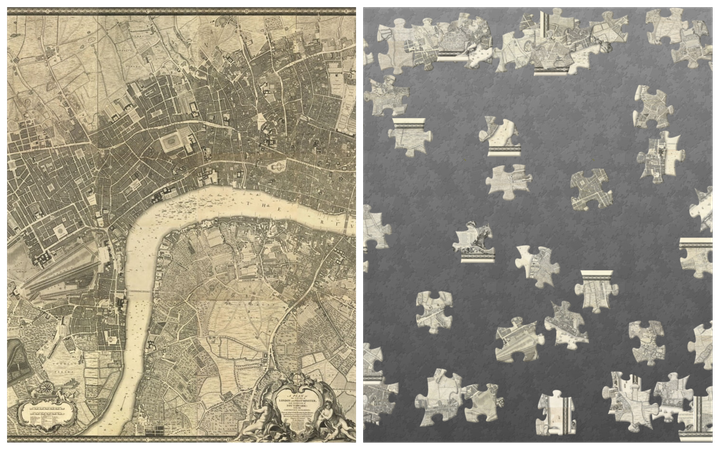 Cartographic Puzzles Are Poised for a Comeback
When nothing in the world seems to fit together, "dissected maps" offer a cognitive balm.
As millions of people hunker down at home amid the COVID-19 pandemic, the humble jigsaw puzzle is enjoying a renaissance. Several puzzle-makers recently told NPR that in March and April, they saw U.S. sales leap by 300 percent or more compared to the same time last year. That means that kitchen tables and living-room floors are probably scattered with bits that add up to all kinds of scenes: litters of kittens, beers of the world, monuments and streets that are now forlorn.
But several centuries ago, jigsaw puzzles were mainly made out of maps—and if you've already assembled every last puzzle you have sitting around, you can throw things back to the objects' cartographic roots by trying your hand at new customizable digital versions made by a team at the London-based map-and-prints dealer Daniel Crouch Rare Books.
Maps were always a natural fit for puzzles, says Daniel Crouch, the outfit's owner. Geographic boundaries were already irregularly shaped, and boasted interlocking borders. Early jigsaws, known as "dissected maps," made use of those ready-made attributes: They were often cut along county Iines or other borders, instead of being randomly cleaved.
Jigsaw puzzles made from maps are generally thought to date to at least the 1760s, and are often credited to the London cartographer and engraver John Spilsbury. But it's hard to pin down who introduced the idea, says Anne Williams, a professor emerita of economics at Bates College and author of The Jigsaw Puzzle: Piecing Together a History.
Lady Charlotte Finch, who was royal governess to the children of George III when Spilsbury was pasting maps onto wood, owned a handsome wooden cabinet fitted with drawers for storing puzzles that the young royals assembled. She also commissioned some dissected maps for those little puzzlers, including ones made from plates in atlases by the French cartographer Jean Palairet. Some of those are now in the Victoria & Albert Museum of Childhood, which also owns a 17-piece map of Italy, "possibly drawn" by Finch, and cut to her liking.
Others argue that Jeanne-Marie Leprince de Beaumont—a French author known for pedagogical lessons and her classic 1756 version of "Beauty and the Beast"—beat the others to the puzzle punch. Yet the question of who first made dissected maps, and when, remains thornier than an enchanted rose.
"Finch and de Beaumont have their champions, but not everyone agrees, and there are no surviving puzzles with their labels," Williams says. She notes that some scholars have suggested that other European mapmakers made puzzles even earlier than these three.
Whoever made them first, the puzzles were clearly intended for kids. "Map puzzles were most often political maps with familiar territories like states and counties, and they were used in classrooms and as educational toys," writes Garrett Dash Nelson, curator of maps and director of geographic scholarship at the Boston Public Library's Norman B. Leventhal Map & Education Center, in an email.
Assembling puzzles was a good way for kids to hone their visual-spatial skills. But Megan Norcia, a scholar of children's literature and material culture at SUNY College at Brockport, has argued that they also taught kids to think about the world as something to be ordered—possibly toward political ends. Slotting the pieces together, she wrote in a 2009 article in the journal Children's Literature, tasked kids "with the responsibility of assembling the diverse pieces of the world into a comprehensible whole."
In the 1760s, Williams says, dissected maps were extremely expensive, "intended for aristocratic parents whose children would become rulers of empires." The imperialist mindset, apparently, was present in both work and play.
The 32 digital puzzles the Crouch team has produced thus far aren't a ploy to inspire you to pillage or conquer. They do, however, give you a lot of room to roam. There are world maps, large-scale maps, pictorial maps, and prints, so you can choose from aerial depictions of Amsterdam, Rome, and St. Petersburg; colorful maps of the London Tube; and the British painter James Northcote's striking image of a stalking tiger. You can change the number of pieces in the puzzles too; if 300 tiny tiles seem daunting on your computer screen, toggle to 24.
At a time when so much is maddeningly uncertain and fixes feel far off, Williams says, an engrossing puzzle can feel like a balm; it's no surprise that puzzlemania spiked during the Great Depression too. "Puzzles offer an escape, and a sense of triumph when completed," she says.
So if you could use a small victory, go ahead and start clicking. Then watch the world fit together—for a few minutes, at least.