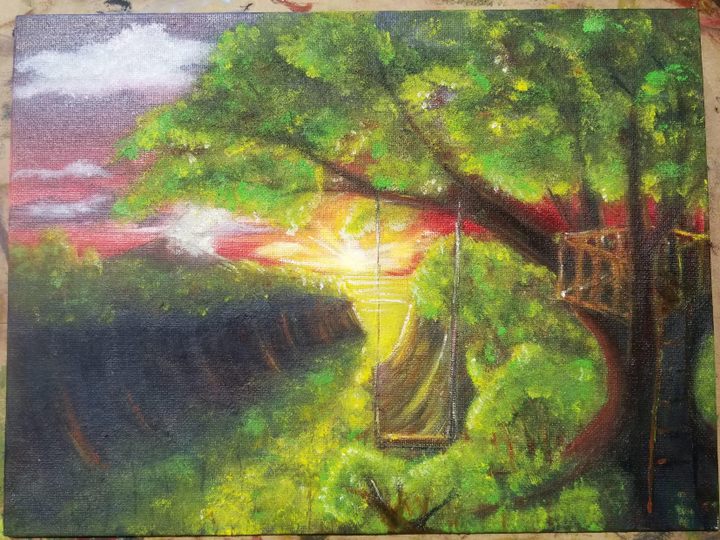 Art Challenge: Readers Draw Places They've Never Seen
Some of your creations are even more extraordinary than their real-life counterparts.
A few weeks ago, we set out a challenge: Draw a picture of a place from Atlas Obscura using only a written description for reference. The results were beyond impressive. We received submissions from readers young and old, experienced artists and casual doodlers, each with a unique take on one of places in the challenge.
We saw submissions that came pretty close to matching the real thing, and others that were something completely fanciful and new. They came in a variety of mediums, from pencil to ink to oils, such as Alexandrea Farquhar's beautiful oil painting of the Swing at the End of the World, above.
While we couldn't include all of the artwork we received, we've compiled a few of our favorites here—followed by images of the actual place. If you still want to try the challenge yourself, stop scrolling now! We'd love to see what you create in the forums or by email to places@atlasobscura.com. Thanks to everyone who participated—keep an eye out for future Obscura Academy challenges!
---
On the edge of Black Rock Desert in Nevada, this otherworldly hot spring formed around the site of an improperly-sealed test well. If a large rock with multiple cone-shaped geyser spouts weren't strange enough, the mound is covered in algae that color the surface bright red and green. Some of our readers it as tall and skinny, others short and squat. And one young artist put his math skills to work determining the geyser's proportions.
The real thing:
Wisconsin's most beloved monster—depicted in a statue in the town of Rhinelander—is described as a mashup: a frog's head, an elephant's face, a dinosaur's spiny back, thick short legs like a komodo dragon, and a tail covered in spikes. With that many different parts of the animal kingdom in play, it's hard to figure what this beast is supposed to look like. We saw a lot of elephant trunks. (Understandable!)
The real thing:
At this Buddhist temple in Thailand, an enormous green dragon scales bubblegum-pink walls. Young artist Joshua Backhouse was able to capture a very close likeness—without seeing photos!
The real thing:
It's not every day that you see a museum shaped like the artifacts it displays. But the El Cemi Museum in Jayuya, Puerto Rico, gets both its shape and its name from the cemi, a spiritual object that is important for the Taíno, an indigenous people of the Caribbean. Hugh Eckert pulled off a pretty close rendering, and even gave us multiple angles!
The real thing:
The elements are simple enough: a sturdy tree, a wooden treehouse, a hanging swing. But what sets this place apart from the average backyard swing is its location—on the edge of a cliff, near an active volcano.
The real thing:
There are so many different styles in this eccentric palace in Sintra, Portugal, that drawing it would be challenging even with a photo. The estate is huge, filled with grottoes, fountains, tunnels, and caves. This drawing from Elena, age four, captures its spirit, some of Quinta da Regaleira's towers and spires, and a pair of cats for good measure.
The real thing:
We were so excited about the response to this challenge, and can't get enough of your Atlas Obscura–inspired art. Some of the places described in the original story were not included here, if you want to try capturing one of those mysterious places. Keep your eyes peeled for another round—we'll do this again soon with a whole new set of places.