Around the World in 14,000 'Do Not Disturb' Signs
Edoardo Flores has amassed a remarkable number of ways to say, "Not Now."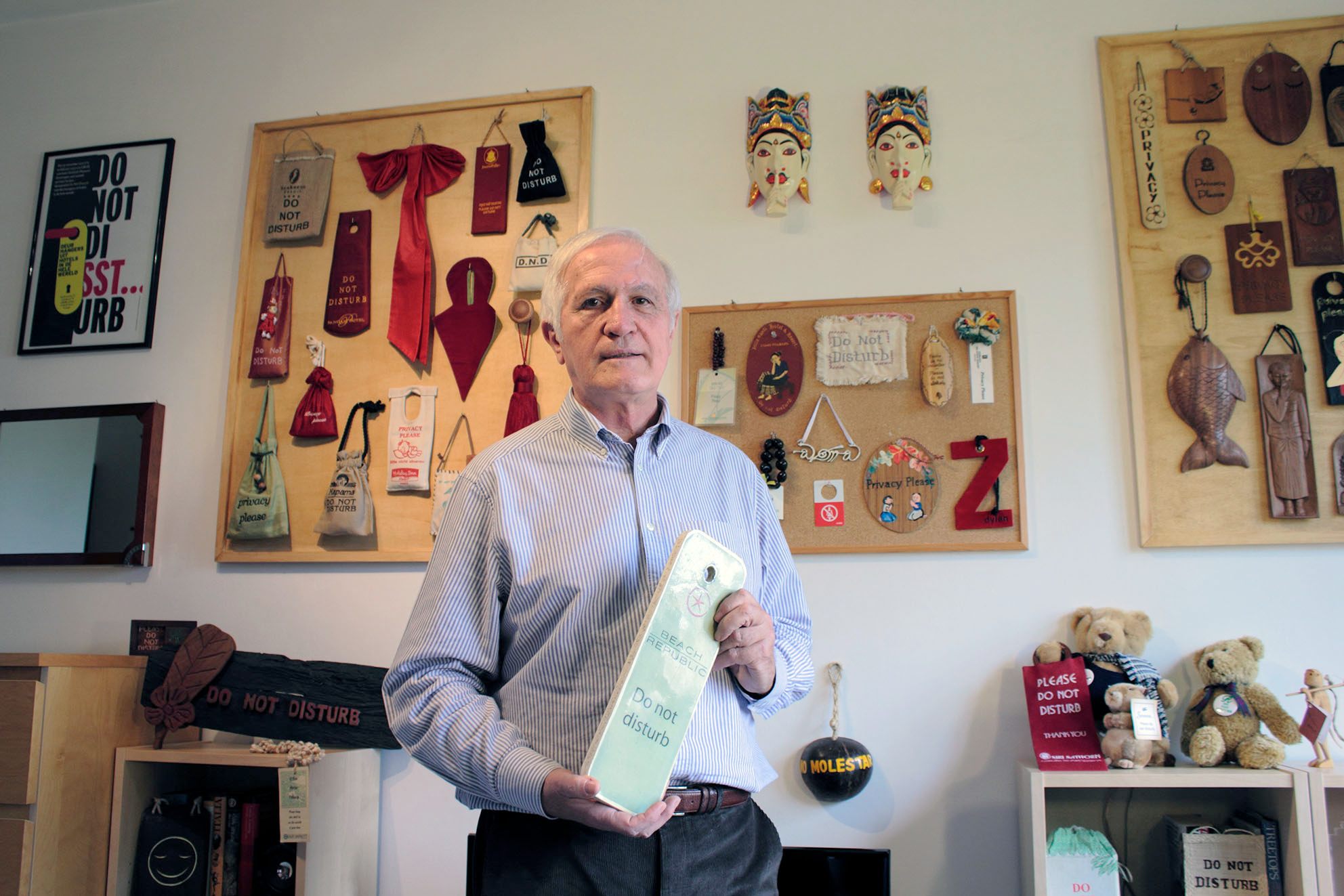 The "Do Not Disturb" (DND) sign is an icon of the hospitality industry. Meant to wave off over-eager hotel staff from entering guests' rooms at inopportune moments, the little hangers are as ubiquitous as they are multivarious. They can range from flimsy utilitarian plastic flaps emblazoned with corporate logos to hand-carved wooden visages shushing passersby. And while they're increasingly being phased out by some larger hotel chains, one collector, Edoardo Flores, is working hard to make sure that they are never forgotten.
"Do Not Disturb signs are sometimes an overlooked and underutilized facet of hospitality marketing," says Flores. He began collecting DND signs in the early 1990s, after spending years traveling for his job as a training specialist with the United Nations. "I had one sign in my office that I had brought back from Pakistan as a souvenir. It was from the Holiday Inn in Islamabad. A friend saw it and suggested I should start a collection," he says.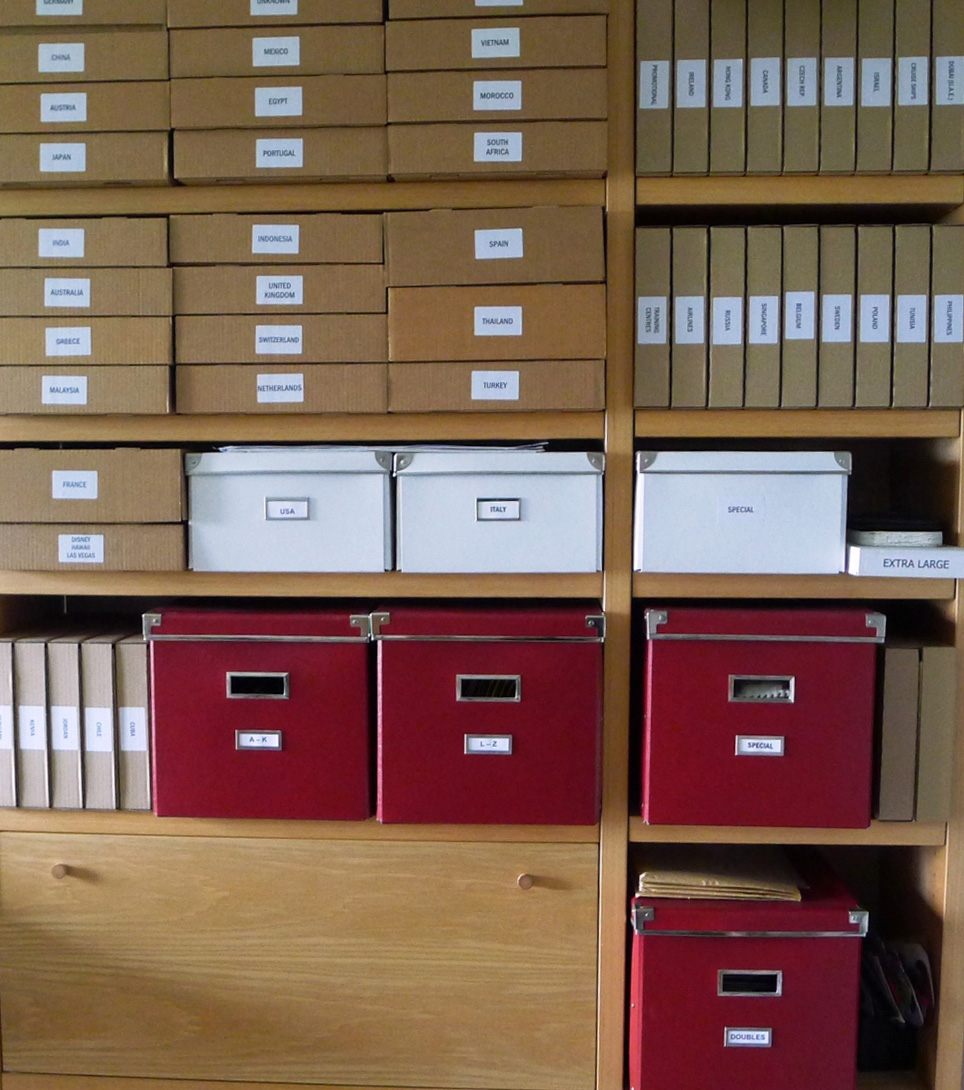 In the years since, Flores has amassed a staggering array of ways that hotel guests can say, "Go away." His collection contains over 14,000 DND signs from more than 200 countries around the world, each one dutifully cataloged, photographed, and filed in boxes around his house. "What I like about DND signs is the creative combination of graphics and text. There are some really witty signs, mostly from the U.S.," he says. He gets his signs from a number of sources, including donations from fans of the collection, and from hotels themselves. He doesn't like to "steal" them, he says, and usually either purchases one or asks for permission to take it home.
As he told The Washington Post in 2013, Flores looks for DND signs from hotels or cruise ships for his collection, regardless of their aesthetic value. He isn't interested in other hotel signs, such as those for laundry service, nor does he want to turn his hobby into a business by selling the signs.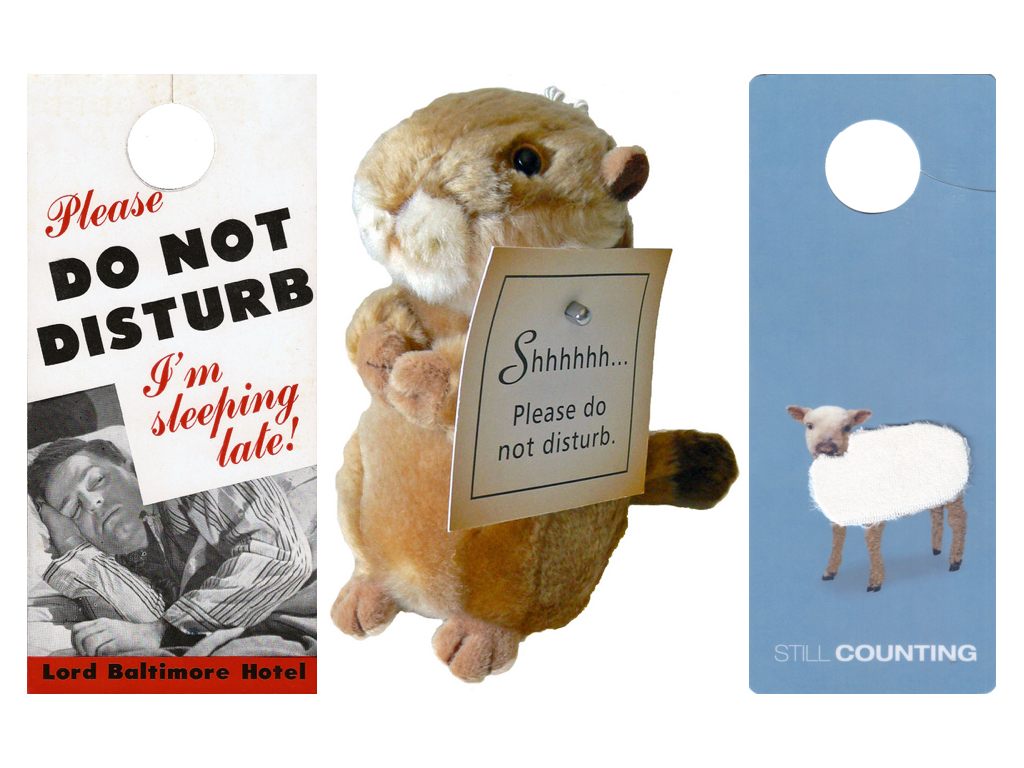 There are DND signs made from just about every material you could imagine, including plastic, wood, metal, and fabric. Some are made from seashells. Some are magnetic. There's even one from a hotel in St. Andrews, Scotland, that's just a teddy bear. Flores says that some of his favorite examples come from Asia, where many DND signs are carved from wood. "Being handmade, each one is a unique piece, often a little masterpiece."
While he has trouble picking a favorite among his enormous collection, Flores does know which one is the rarest. "One of my most exclusive signs (though not very attractive) comes from Vatican City," he says. "It comes from the Domus Sanctae Marthae, where the current Pope is now living. The Domus Sanctæ Marthæ functions as a guest house for those having business with the Holy See."
Most of his collection is carefully filed away by country, but he keeps some of his favorites on display. There are no current plans for a permanent exhibition or home for his collection outside of his own hands. But Flores isn't opposed to the idea. "I have often thought that they would figure well in a permanent display open to the public. But where? A DND museum?"
With such a large and specific collection, one might assume that all the door knobs in Flores's house have a DND sign hanging on them. But really he just loves the way they look, not necessarily their ability to keep people out. "I live alone so there is no threat to my privacy," he says. Check out more highlights from Flores's collection below: