In Museums, Real Rhino Horns Are an Endangered Species
Natural history collections are topping their specimens with replicas.
One night in August 2011, long after the last visitors had left the galleries, a man slipped into the Natural History Museum at Tring in Hertfordshire, England. He entered some time between the cusp of midnight and the very early morning—when the only creatures around were the stuffed specimens peering out from glass cases.
The museum is claustrophobic, in the Victorian wunderkammer way: narrow corridors and tall cabinets, lined with perched birds, sprawled lions, and a polar bear with a dopey grin. This man had a mission, and no time to dawdle. He headed for the stuffed rhino.
When he reached it, he used a hammer to loosen the horns, the BBC reported. He snatched them and then fled.
Real rhinoceros horns are made of keratin, the same stuff that makes up human hair and nails, and the thief at Tring had good reason to assume that these horns were, too. But Tring, and many other natural history collections, have been on their guard. They'd taken stock of their holdings, and were thinking ahead.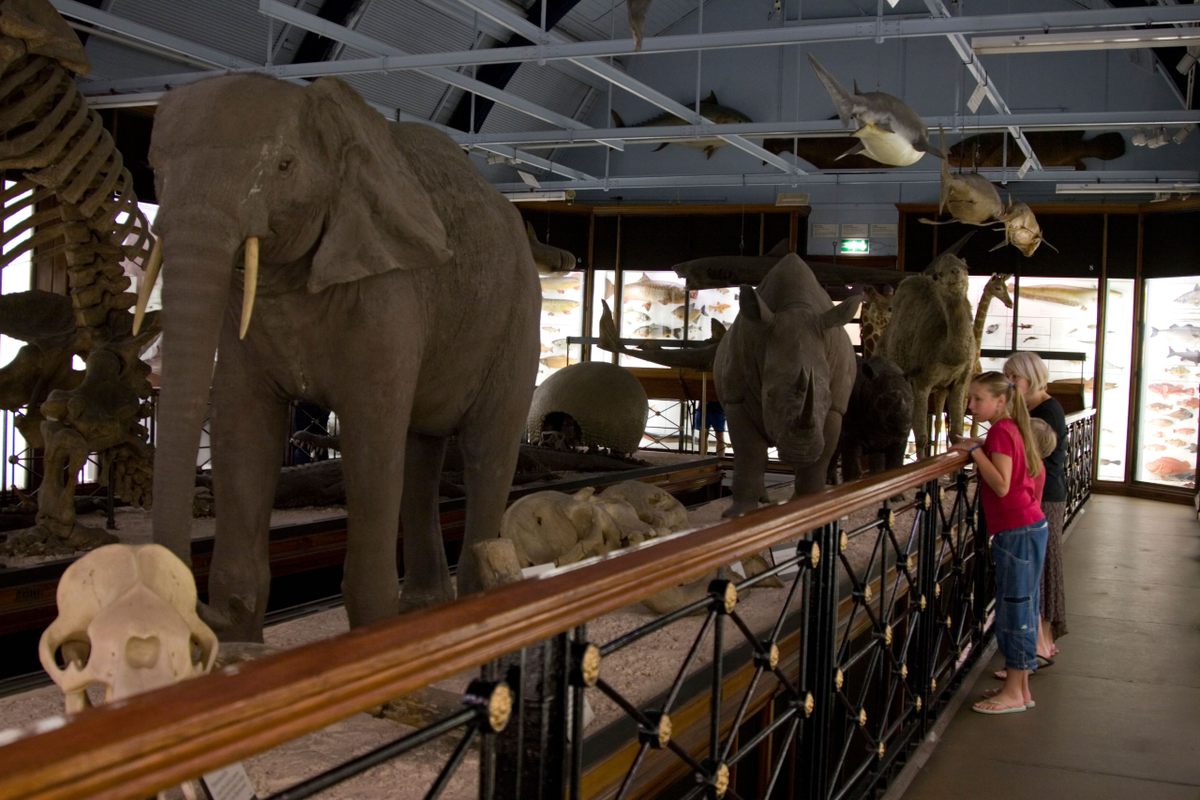 Rhinos have struggled in the wild, in the sights of poachers's weapons, and at the time museum workers around Europe and beyond saw that taxidermy specimens and isolated horns in museum displays were at risk, too. The thefts first began ramping up around 2009, says Jack Ashby, museum manager at the University Museum of Zoology in Cambridge, and a trustee of the United Kingdom's Natural Sciences Collections Association, after an unnamed Vietnamese official circulated an unsubstantiated rumor that rhino horn vanquishes cancer. Rhino horn has long been prized for its alleged and unproven medicinal benefits and as a luxury item. In traditional Chinese medicine, for example, it is said that it can be used to treat fevers, gout, or rheumatism. In several countries, horn is also a status symbol. The market wasn't new, but the rumor accelerated demand. "We're pretty confident that [it] started the spate of thefts," Ashby says.
Over the next few years, dozens of horns were stolen from museums across Europe—sometimes in secret at night, other times in broad daylight with brazen shows of force. Some thieves used teargas; others tied up security guards. At Norwich Castle Museum, in Norfolk, England, thieves on a smash-and-grab were tackled by onlookers. In summer 2011, The New York Times reported that powder from ground-up horns was selling for $45,000 a pound on the black market—more than gold or cocaine.
Just a month before the incident at Tring, thieves had targeted the Ipswich Museum, about 100 miles away, and pried a horn off of a rhino that visitors had affectionately named Rosie, a museum mainstay for over a century. (The museum installed a condolence book nearby for people to scribble "get well soon" wishes for the unfortunate ungulate.) Tring had already seen thieves go after its bird collection a few years prior in pursuit of brilliant plumage, so when the staff heard about the rhino horn break-ins, they took steps to safeguard the collection. The man who stole the horns—and would be caught and sentenced to 10 months in jail—had taken resin replicas.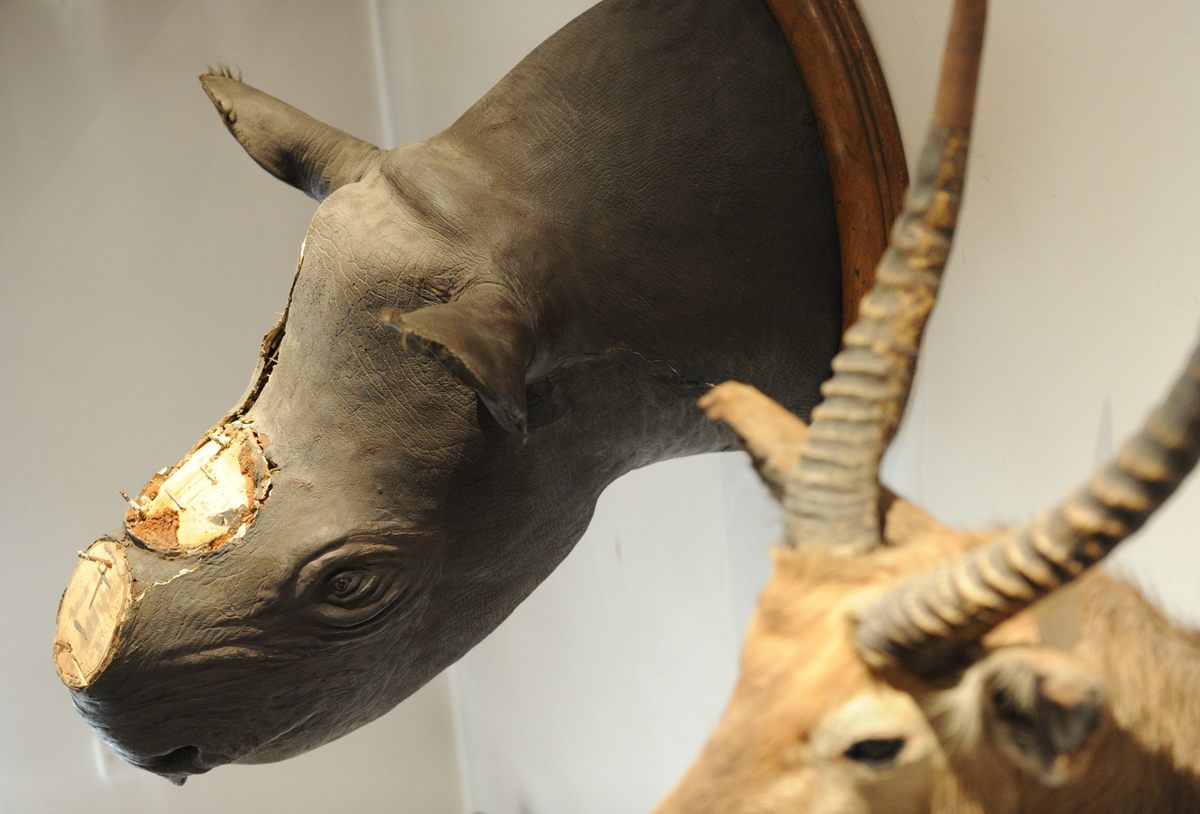 ---
There are many reasons a museum curator, conservator, or staff member might put a replica on display. Because the fossil record is fragmentary, many skeletons are incomplete, so rather than install a quagga teetering on three legs, museums often craft missing pieces out of wood, plaster, resin, or 3D-printed plastic to help visitors get a sense of a creature's full form. Replicas can also lessen some of the stress and strain that a fragile, fossilized skeleton might encounter. And a big, bonafide tusk might require unsightly supports, unlike lighter papier-mâché and resin.
Rhino horns fall into a different category: Because they're alluring to people with illicit plans, many museum professionals believe that putting them on display is just too dicey.
Since the rhino horn heists, the Natural Sciences Collections Association has issued guidelines for what museums can do to keep their horns safe. It starts with a security audit, explains Paolo Viscardi, a zoology curator at the National Museum of Ireland, and the chair of the association. Security begins with the display case and moves out from there. Is the horn behind bulletproof glass and multiple locks? Are security staff roving the galleries around the clock? Are there cameras? Do police officers hang out nearby? If the security can't be brought up to snuff, the guidelines suggest loaning or donating the specimen to another museum.
The guidelines also encourage museums that do have authentic rhino horns to keep mum—or at least not holler about it. "The very first line of security you have is, don't tell people about it," Viscardi says. "The Lord of the Rings sums it up: 'Keep it secret, keep it safe.'" If museums post images of their rhino horns on Twitter, Viscardi adds, they should only use fake ones and make that as clear as they can. Ashby's museum in Cambridge has extended this idea to the label text. Next to their rhino displays, small signs read, "All rhino horns on display at the museum are replicas." This is to discourage anyone from even trying. Though a stolen fake is less devastating than a real pilfered horn, the act can still damage the museum, the display, and—most importantly—the preserved animal.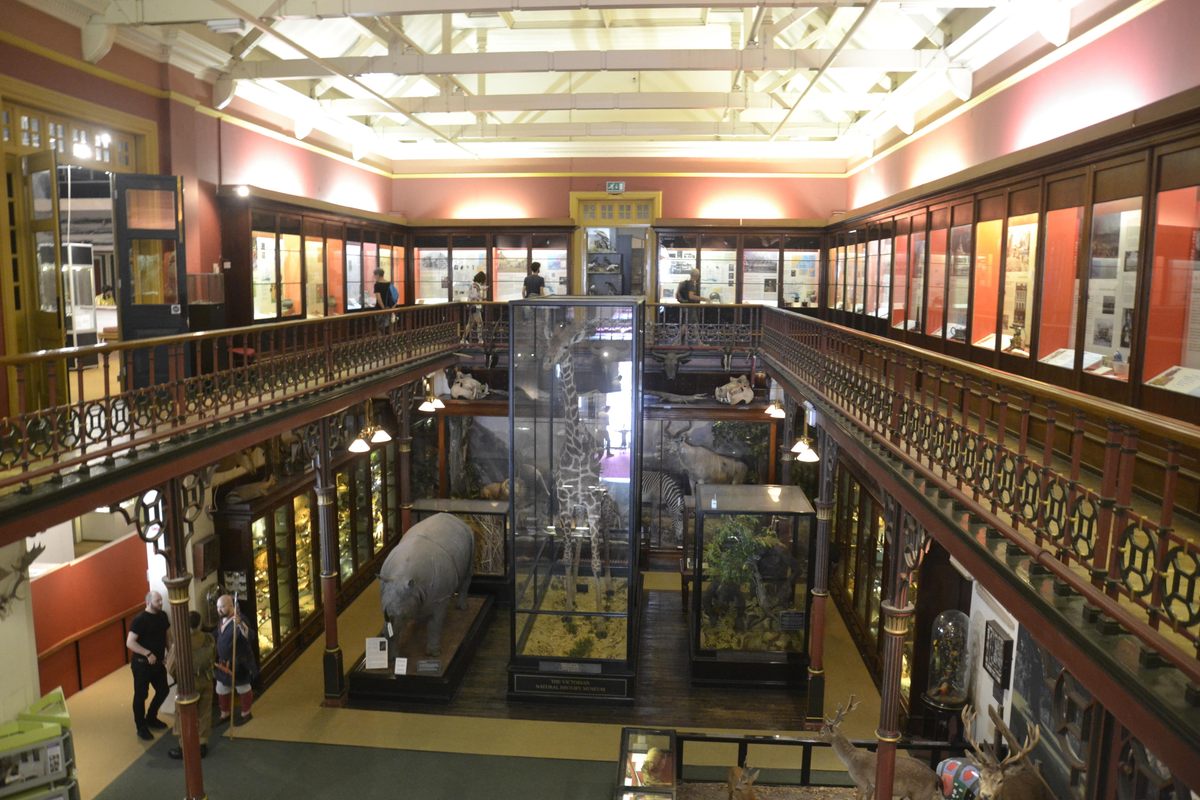 Museums with rhino horns will sometimes prepare themselves for the worst by collecting DNA samples from the horns, in case they ever go missing. They take these samples by, for instance, drilling a one-millimeter hole in the base of the horn and collecting the powder, Viscardi says. There are also international projects, including the Rhinoceros DNA Database Project, run by the Scottish government, that invite museums to contribute the genetic information to a single repository that can help police or customs agents trace seized horns.
At this point, packing away authentic rhino horn is "pretty much universal" across museums, Ashby says. It's "not a decision that museums make lightly," he adds. "Changing a historic specimen is rarely done." But safety often comes before the impulse to leave old specimens be. Viscardi says that pretty much every museum he knows has taken their horns off display, tucked them into secure storage, and fitted synthetic replicas. The average visitor will likely never be able to tell the difference, unless label text trumpets the swap.
Several museums contacted for this story declined to comment about horns in their collections at all, citing security concerns. In rare instances in which museums do keep the originals on display and are willing to talk about it, they make it clear just how tight security is. The Field Museum in Chicago has real rhino horn on display on a taxidermy specimen from the early 1900s. Because the horn is affixed to the original mount, removing it would involve potentially damaging the specimen, which the museum wants to avoid, says Adam Ferguson, collection manager of mammals. But that's not to say that horns are just sitting out in the open. "I wouldn't feel comfortable with our stuff on physical display if we didn't have a physical barrier and then added security," Ferguson says. Talking about the precautions, he says, "highlights that we take this stuff seriously. Like, 'Damn, that's hard to get that stuff.'"
All of the museum's rhino horns are behind glass, and the cases are outfitted with alarms and surveillance cameras, Ferguson says. (The same goes for convincing fakes, attached to an entirely unnatural specimen fashioned from cellulose acetate, which yields an uncannily lifelike impression, down to the wrinkles of the skin.) Another rhino horn and other objects with temptingly high black-market appeal are sealed up in storage facilities behind biometric locks. There, rhino horn sits alongside narwhal ivory, and priceless type specimens—the definitive and diagnostic examples of a given species—are clustered with pangolin scales in locked cabinets, only accessible with badges. The museum doesn't want to hide stuff away, Ferguson says, but it's tricky to find the right balance between sharing and safeguarding these items. "You lose the 'wow' factor of having it out and on display," hen says, "but you've got the balance the risk versus the gain."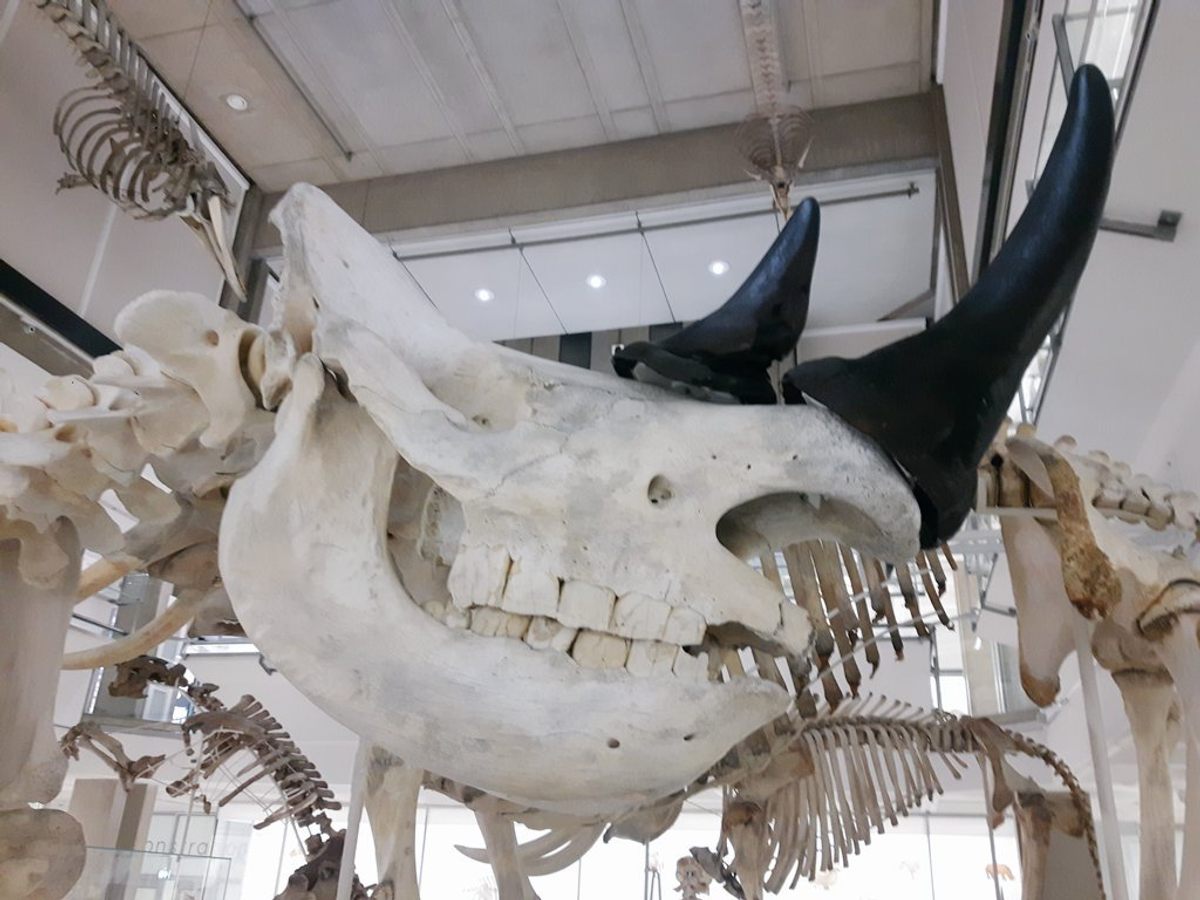 Demand for rhino horn may wax and wane, but the replicas and security probably aren't going anywhere. "I could see security practices changing slightly or becoming lax, but it'd be hard," Ferguson says. "It would take such a long time—it's not something I could see in my generation or lifespan, someone saying, 'Let's get rid of that security altogether.'"
If anything, high-quality fakes might get even more use. A recent paper in the journal Scientific Reports made the case for trying to flood the rhino horn market with imitation horn made from horsehair. (Speaking to Wired, many conservationists voiced concerns that such accurate knockoffs might just fan the desire for the real thing.) There are good scientific reasons for keeping rhino horn on hand, but fewer for putting them at risk on public display, at least until security is locked down and demand fades. "No one thought it was an issue until they started smashing and grabbing horns," Ferguson says. Now it's just safer to keep them out of sight.