Sold: A Letter Where Hemingway Complains That He Sucks at Bullfighting
At least it gave him lots of material.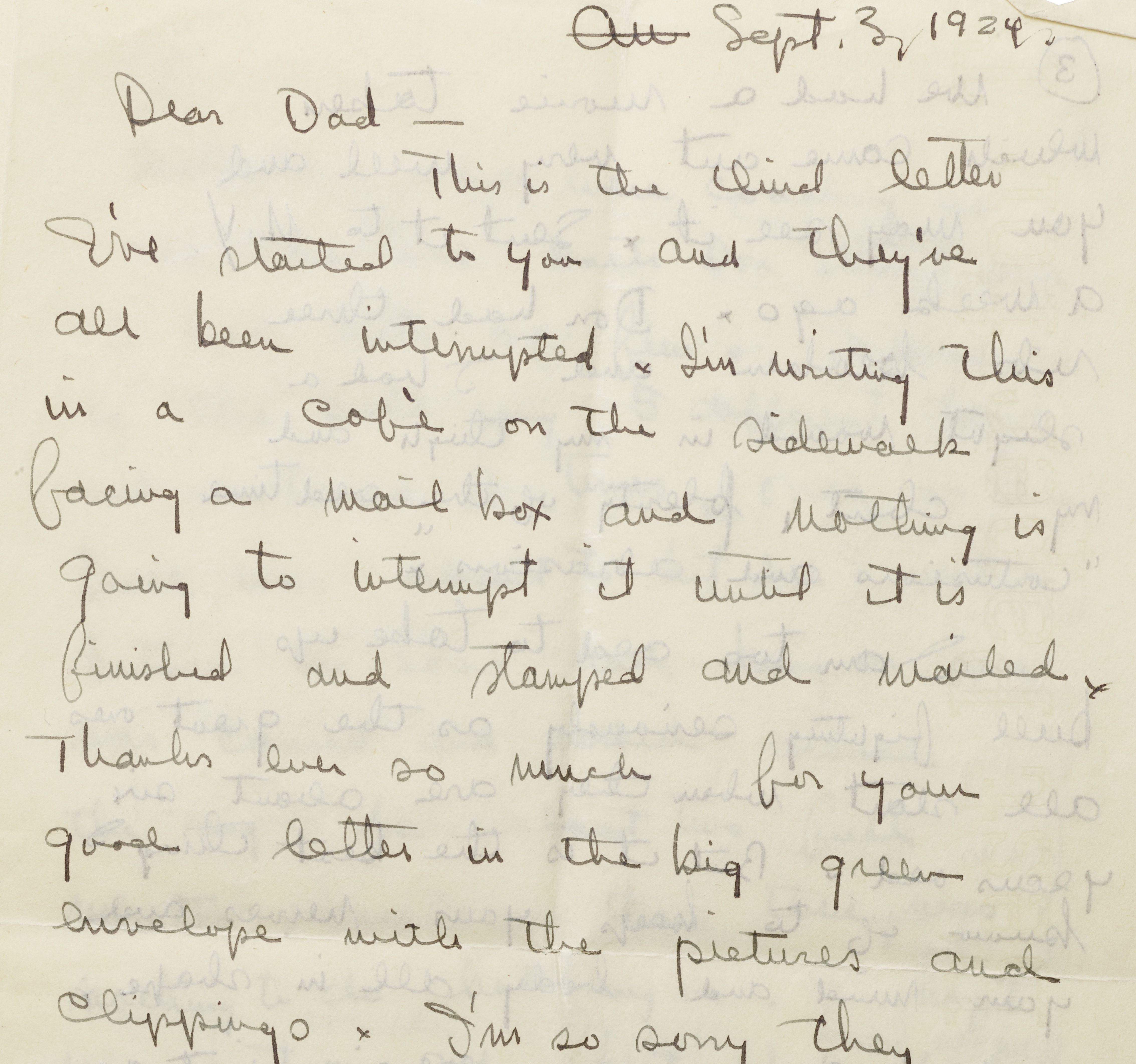 Ernest Hemingway had a lot going for him when he sat down in a Paris cafe on September 3, 1924 to write a letter to his father. He was fawning over his infant son, hanging out with the literati, and thinking up The Sun Also Rises: his first major novel and a modernist milestone still read widely today. But he just couldn't get over how awful he was at bullfighting.
That's one of the key points made by the writer in this letter home, which was auctioned today in Bonhams's New York sale of Fine Books and Manuscripts. Never before published, it sold for more than $25,000.
Writing of his time in Pamplona, Spain with his friend and fellow writer Don Stewart, Hemingway tells his father that he "was in the bull ring 5 different days and was tossed 3 times, once as the bull was about to hit me I went in between his horns and hung on, and was carried…for about two full minutes…" Even for a notorious bruiser like Hemingway, it was a bit too much to take. "I am too old to take up bull fighting seriously," he continues, "as the great ones all start when they are about six years old…a man's courage needs exercise just as much as his legs do…" At least it wasn't all for naught. "I have some great bull fight stories to write," he deftly humblebrags. Those stories would indeed help him craft the breakthrough novel on his horizon.
The rest of the letter's eight pages deal with the more tranquil, domestic sides of life, especially those involving Hemingway's infant son John Hadley Nicanor "Jack" Hemingway, otherwise known as "Bumbie." Hemingway assures his father that Bumbie "is very healthy and happy and," moreover, "everybody says he is the best looking and strongest baby they have ever seen…" Of all people, the credit for Bumbie's good health may belong to the Imagist poet William Carlos Williams, who was also a physician. Williams was friends with Hemingway, who praised the poet in the letter as "a very good baby doctor" who even "made out a diet schedule" for the child while visiting Hemingway in Paris.
According to Bonhams, the letter comes straight from descendants of its original recipient, Hemingway's father Clarence. It's been so hidden away that it wasn't even included in the 1923-1925 volume of Hemingway's collected letters. The 1932-34 set is due out soon, and it may contain yet more tales of Hemingway's bullfighting fails: In 1932, the author published Death in the Afternoon—a nonfiction book about the sport he loved so well but at which he performed so poorly.